Interview:
65daysofstatic, on how they created an infinite soundtrack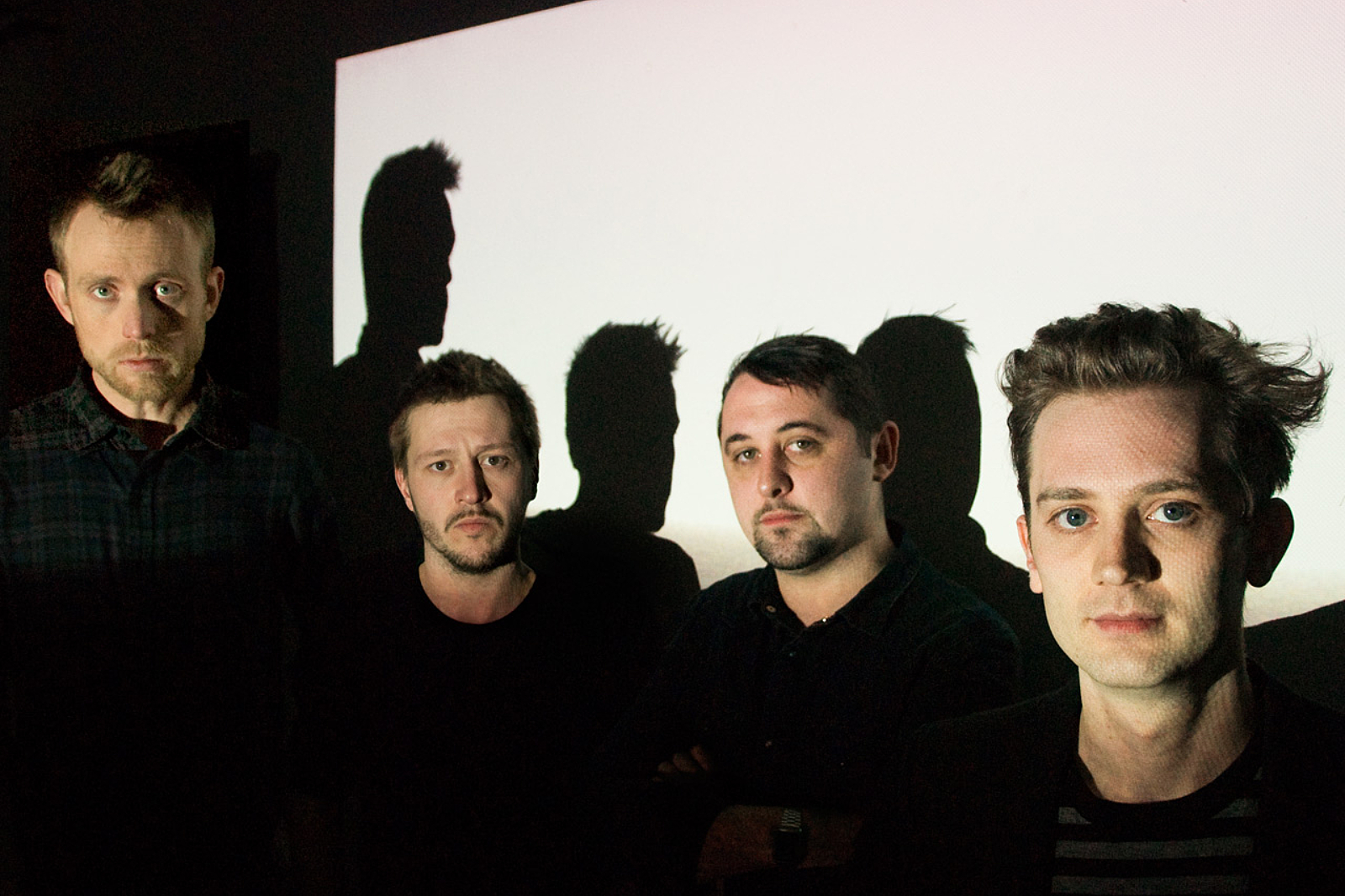 Band provide the music for 'No Man's Sky', a game that also lives forever. Paul Wolinski explains how it happened.
65daysofstatic have been crafting the soundtrack to outer-space for years, grand soundscapes and cinematic instrumentalism never afraid to leave this world behind.
It was inevitable, in this case, that 65days would one day find themselves working on a project such as 'No Man's Sky', a video game soundtrack that dreams big. What nobody would have predicted though was just how big that project would be.
For those unconnected with video game world, 'No Man's Sky' is a new title from Hello Games, set in an infinitely regenerating universe; new planets, galaxies and lifeforms continually forming in new ways as you journey through ALL OF SPACE. This game isn't infinite in a 'Yeah, it's pretty massive' sense - it's actually infinite. You can play forever and still find new stuff.
In equally mind-blowing fashion, 65dayofstatic are providing the soundtrack, which is also - you guessed it - infinite. It regenerates as the game does, creating new soundtracks for the new worlds as they pop up. As well as creating a 'normal' album of songs that have actual ends and everything to coincide with the release of the game, 65dos have found themselves slap-bang in the middle of one of the most ambitious projects around. It's no wonder then that frontman Paul Wolinski is still a little taken aback by the whole project, as DIY catches up with him upon the "kinda" completion of the project.
"We're sort of left out of the loop and I'm quite thankful for that! It's easier. Until everything exists, sort of nothing does" Paul jokes of the difficulty of saying whether they've actually finished or not. With the game still being developed 65days have done all they can, creating massive sound libraries of various stems, loops and melodies ready to be procedurally layered and combined by the game's massive 'audio brain' once the project is completed.
How did you come about being a part of 'No Man's Sky'?
We were on tour in America and this email came through from Hello Games and they were working on this game, called Project Skyscraper at the time, and they asked if they could use 'Debutant' in a trailer for the game that they were releasing soon. They sent us a screen shot and it looked as it looked now, this beautiful, colourful sci-fi landscape. It was immediately clear this was a bit special, it wasn't just a bunch of kids in their room making their first computer game - it was like, 'Wow.' So we emailed back and said 'Yes, have you got anyone doing the soundtrack to your game yet!? If not we should probably do it!' Me and Sean (Murray, game creator and founder) met in a coffee bar in London, and I'd gone as the 65days representative ready with this full on pitch as to why we should be chosen but he turned up with the exact same pitch, why he though we should do it. It was the nicest, easiest meeting ever.
What's the process of taking a band and putting it in the game environment?
This is fortunately where we had a lot of help from Paul Weir (sound designer and audio director) and his programmers who are building the audio brain. Their decision was to not have any digital synthesis in terms of creating the music. A lot of generative music is literally creating synthesisers so you can play any note; it's being made by the virtual synths. Instead its sample based, which is what's quite new about it. We've recorded everything on a rig in a studio somewhere but we have all these separate tracks and stems and that's going to be the sound library. Then the audio brain can pull on this stuff and bend it to the rules and logic we're building with the audio people, so it knows what it's allowed to play and what it's not and combinations for situations. It'll be layered.
There are moments in the game that are scripted where an actual song will play like a normal soundtrack but for this generative level time the music will be less full on 65, for when you're just wandering around. It'll be like 'Okay there's nothing threatening happening right now so we'll use this this this and this' and so on. It's all very clever, and I'm not sure how much I'm supposed to talk about it.
How much would you attribute to the computer and how much to the band in terms of the final product?
Good question. That remains to be seen I suppose. What we've strived to do is create a distinct sound, even if everything else fails in terms of the generative nature, hopefully it won't sound like any other attempt at generative music, we've avoided that ambiance. I suppose it's like making algorithms. Somebody was telling me how it works last night but I can't quite remember! One of the questions in digital media is about algorithmic content. I think the intellectual property rights stay with the algorithm itself. The question is who owns the stuff it makes. I can't remember the answer! Maybe the coder.
"It was immediately clear this was a bit special, it wasn't just a bunch of kids in their room making their first computer game."
— Paul Wolinski
Whether you legally own it, do you still feel it's something that you have made?
I'd like to think! I think writing music, for us, has always been making it up as you go along, even something like putting a distortion pedal on a guitar is deliberately adding chaos but at the same time you're kind of curating that chaos in a way that you can made an educated guess about how it's gonna sound, but you never know exactly. So it's almost like that scaled up - deliberately injecting chance and someone else's agency but trying to make an educated guess that you know what it's going to turn out to be.
Do you think it will have an impact on 65daysofstatic as a band?
It would be great to tap into that. I have no idea how it would work commercially, but gaming culture as I understand it generally seems to be great, really enthusiastic and passionate - especially the indie scene. It reminds me of indie labels 20 years ago, people actively supporting these small teams of people making these small interesting games that aren't just about shooting and fighting but something a bit different - it seems like a really healthy scene and a really exciting one in terms of creative development. We went to Vegas last year which was insane, to play at a games conference for No Man's Sky in a massive warehouse. It was very different from a normal gig. I think people were mostly annoyed that we were stood in front of all the exclusive No Man's Sky footage that they'd come to see! But the atmosphere was great. I've never really been to any of those but it such a friendly welcoming atmosphere. If any of them become fans, that would an absolute delight.