Introducing:
Get To Know… Buzzard Buzzard Buzzard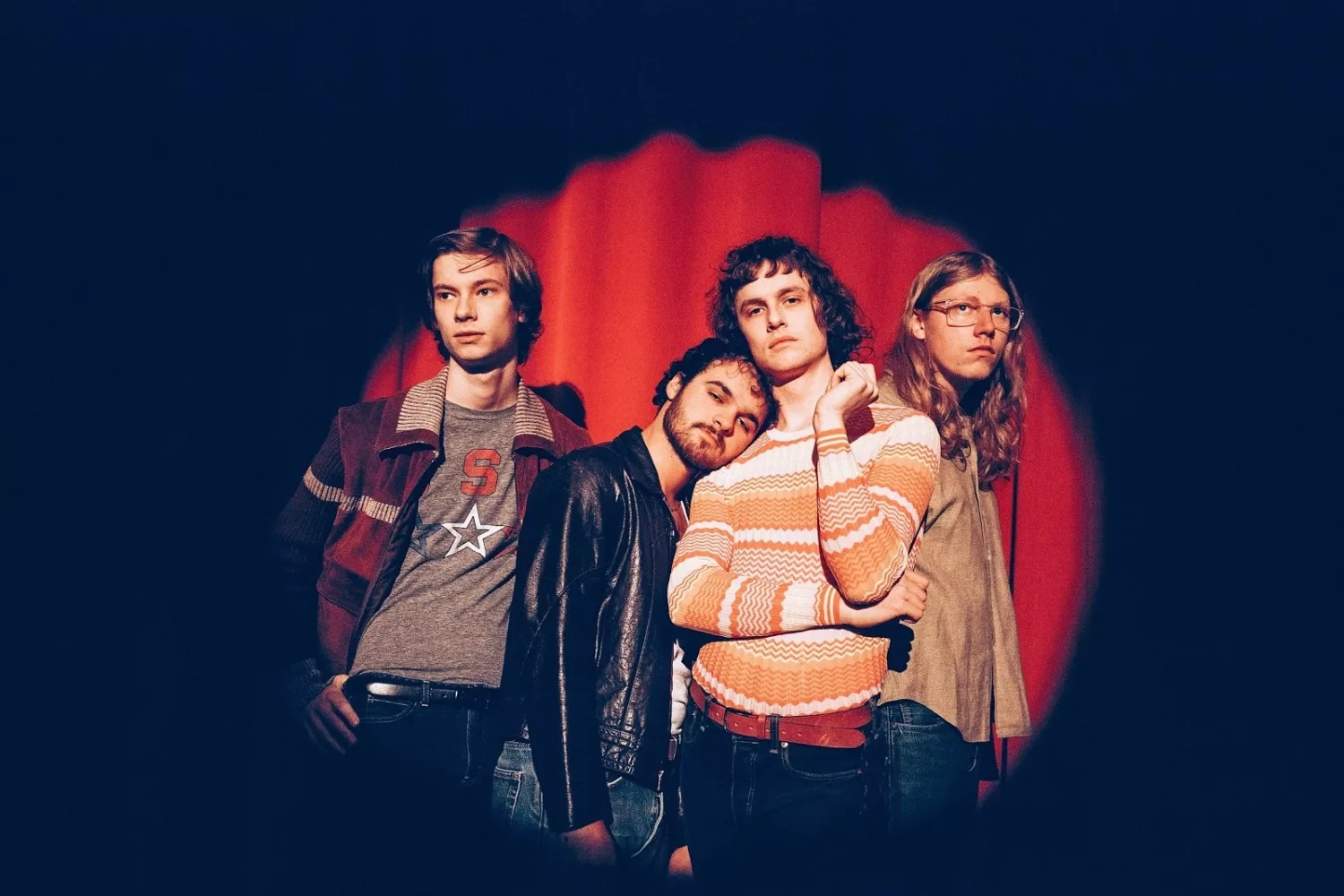 With their new song 'John Lennon is My Jesus Christ' out today, we meet the Welsh glam rockers.
Hello and welcome to DIY's introducing feature, Get To Know… getting you a little bit closer to the buzziest new acts that have been catching our eye as of late, and working out what makes them tick.

Recently we've met internet sensation mxmtoon, NYC artist Okay Kaya, jangly-pop Canadians Kiwi Jr., pop's boldest new voice, Jerskin Fendrix, and now we're introducing you to Cardiff glam rockers Buzzard Buzzard Buzzard.
Taking inspiration from the likes of T.Rex and Thin Lizzy, the quartet have just shared their brand new track 'John Lennon Is My Jesus Christ', a tongue-in-cheek ode to some of the music greats. "'John Lennon Is My Jesus Christ' started as a bit of fun more than anything," they explain. "It developed into a conversation around idolisation, and how fandom, servitude and dedication to a certain character is universal, and not limited to any particular religion or art form. I thought it was interesting to explore ideas around idolisation in an instance where the subject being idolised isn't a good person, which is certainly the case for John Lennon - it was a provocation of my own idolisation of John, in the knowledge that he was truly an awful and wrathful person in reality."
Accompanied by an 8-minute long vid, complete with a piano version of the track and a dance break because why not, we thought it was about time to find out a lil' bit more about them.
Describe your music to us in the form of a Tinder bio.
I've never had tinder so a little clueless here but would probably go with:
'Really into birds of prey and Bon Scott' - sounds pretty sexy right?
What's your earliest musical memory?
I got "Hey Baby" by DJ Otzi on CD from my mam on my 12th birthday and I remember dancing around my room visualising my future self in a dimly lit night club fist pumping to the sound of that hot, over-compressed kick drum and thinking "wow, I'm really someone".
Who were some artists that inspired you when you were just starting out (and why)?
There's of course all the big hitters, T. Rex, John Lennon etc. Though it was Norman Greenbaum and Todd Rundgren who tipped me over the edge, especially Rundgren's glam sensibilities, plus his recordings, Todd is God!!
You're from Cardiff! What do you think of the music scene there at the moment?
Cardiff's wild! We have a really great community of musicians and bands coming through at the moment, everyone seems to be towing the same "rock is kind" line as well which is great, everyone's into helping each other succeed which is really refreshing. For such a small city we have such a wild variety of music too, from bands like Private World to the Bug Club, we pretty much cover the entire musical landscape.
Are there any other artists breaking through at the same time that you take inspiration from?
I'm a huge Katy J Pearson fan she absolutely rocks, I saw her at the Lexington the other week and her voice broke me down to a pile of dust I felt like a five year old boy it was wild. I think Private World are one of the best bands on the planet at the moment too, all their music is so clean and calculated it makes me feel born anew.
Who would be your dream collaborator?
The reanimated corpse of Bon Scott.
Musically or otherwise, what are you most looking forward to this year?
We're playing SXSW this year which is a really big deal for us, we're really obsessed with American music, and American culture blows my mind (the birth of pop culture man!) so that will be real fun.
Outside of that we're going on our first headline tour at the end of April, which I would never in my whole life thought would happen so that's pretty cool, really excited to meet people who are digging the music.
If people could take away one thing from your music, what would it be?
All I'd ever want is for people to forget about everything else that is going on and have a moment of focussed happiness. We, more than anything, want to be a great rock band, so as long as we can capture people and help them to only think about rock for a couple of minutes, I'm happy, there's a whole lot else that doesn't bear thinking about right now.
See Buzzard Buzzard Buzzard live at the following dates:
FEBRUARY

26 | Electric Brixton, London w/Twin Peaks
MARCH
07 | Radar Festival, Zurich

13 - 22 | SXSW, Austin
APRIL
26 | The Louisiana, Bristol

27 | The Cavern, Exeter

28 | Hare & Hounds, Birmingham

29 | The Garage, Glasgow
30 | Bodega, Nottingham
MARY
01 | YES, Manchester
01 - 03 | Sound City, Liverpool
JULY
31 - 02 AUGUST | Truck Festival

Get your copy of the latest issue