Album Review
Spinning Coin - Hyacinth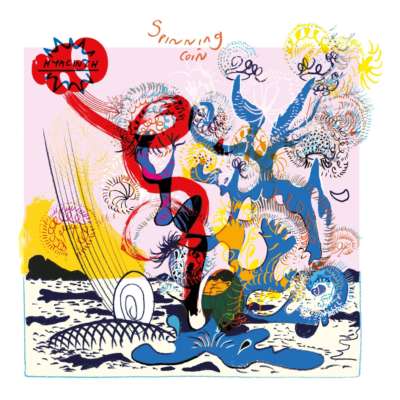 They're OK with dipping their toes in the water of something new, but will leave you wishing they would just jump in.
Label: Geographic
Released: 21st February 2020
If you don't laugh, you'll cry, as the saying goes. Spinning Coin's second album, 'Hyacinth', is an exercise in chasing silver linings, blindly trying to salvage diamonds in spite of the rough. In the intervening years since 2017 debut 'Permo', the Glasgow quintet have had more than their fair share of divide: personal, as well as geographic. 'Hyacinth' sees the newly-inducted Rachel Taylor come the fore, despite the gulf between the band's native city and Berlin, where she was forced to relocate due to suffocating immigration laws in the UK.
'Hyacinth' is a record which promises you, "I'm fine," with tear-stained cheeks. While the tapestry of the album is woven from summer-of-love psychedelia and sequinned guitars, it's impossible to ignore its raw nerve. Disaster and laughter become curdled together on 'Despotic Sway', a diseased drawl reaching hysterics over a catchy slow-jam. 'It's Alright' with its stumbling guitarwork is a thunderous anthem, swaying between mess and clarity. The fact Spinning Coin are unafraid to show a little ugliness is what separates 'Hyacinth' from its endless peers.
"I know something good is going to happen," Rachel sighs over and over like a spell on the finely-spun 'Black Cat', her voice exquisitely braided with her breath. The track is entirely her own, unshared, carrying the same nocturnal quality as indie forerunners Mazzy Star. Her voice is almost an instrument in its own right, and her addition into the band has given it a much-needed new dimension.
In a genre that can so easily become paper-thin, Spinning Coin have tried to fortify themselves with different textures, from the harmonica on 'Soul Trader' to the analogue bubble-popping on 'Get High',but it feels as if these are tacked on for the sake of variety, while its jangling guitarwork is the pair of comfy slippers that they slip into at the end of the day. 'Hyacinth' shows Spinning Coin are OK with dipping their toes in the water of something new, but will leave you wishing they would just jump in.
More like this