Introducing
Get to know… BLACKSTARKIDS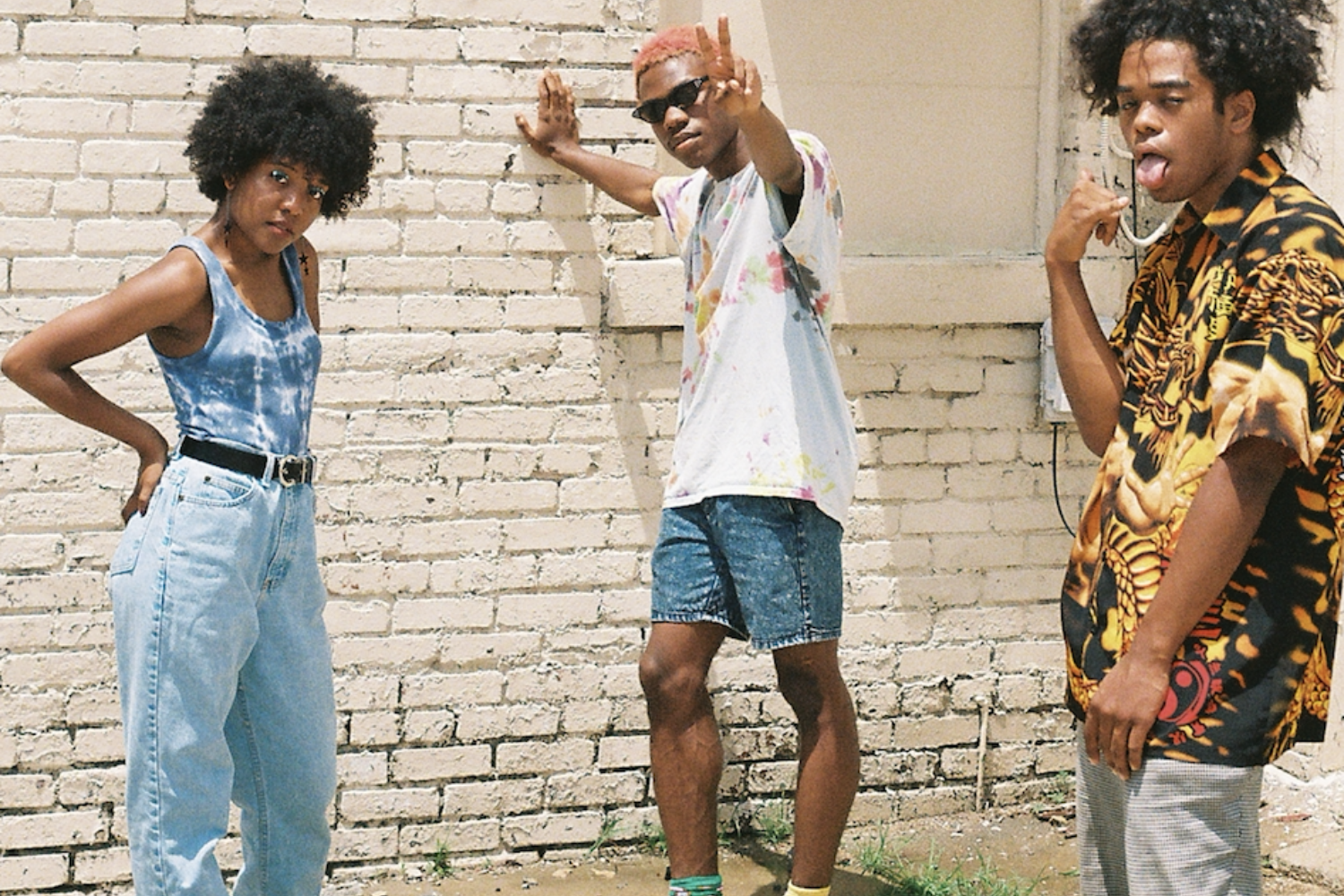 With their new album 'Whatever, Man' out now, meet your new fave pop band.
Hello and welcome to DIY's introducing feature, Get To Know… getting you a little bit closer to the buzziest new acts that have been catching our eye as of late, and working out what makes them tick.
Recently we've met Scottish newcomer Dylan Fraser, lo-fi wunderkind JW Francis, alt-pop's newest prodigy renforshort, genre-blending Toronto duo MONEYPHONE, and now we're catching up with your new fave pop band BLACKSTARKIDS.
Hailing from Kansas City, the trio - made up of Ty, Deiondre and Gabe - make experimental nostalgia-tinged pop bops, mixing elements of hip-hop and indie into dazzling bangers, with their newest album 'Whatever, Man' showing the group flexing their genre-blurring musical muscles over 10 fab tracks.
We sent them over a few qs to find out a bit more about them!
Describe your music to us in the form of a Tinder bio.
Gabe: I love guitars, synths, and referencing Weezer. I'm super nostalgic and love the early 2000s. If I had to choose my favorite genre of music I wouldn't be able to because I define my own genre. I'd say I'm charismatic, genre bending, and express my self the truest way possible so swipe left.
Deiondre: Interested in lots of things but not interested in anything serious at the moment...
Ty: If you need a friend you can call me.
What's your earliest musical memory?
G: My earliest musical memory would be singing twinkle twinkle little star on my dad's microphone and amp before bed every night. It was like a nighttime routine for awhile. Eventually my parents told me it "broke" but I'm 110% positive it was because they were tired of my singing every night.
D: My earliest musical memory is listening to 'Discovery' by Daft Punk and my dad showing me 'Aerodynamic'. I thought that was one of the coolest songs ever.
T: My earliest musical memory is probably listening to 'Work It' by Missy Elliott, I remember thinking that song was insane. I've always wanted to make music for as long as I could remember.
Who were some artists that inspired you when you were just starting out (and why)?
G: Tyler, The Creator was definitely someone who inspired me the most. Him just being a black artist and making the music he does influenced me to explore sounds to play with. He made me feel like I can create any type of music I wanted because that's exactly what he was doing. He still is one of my biggest inspirations today. Also this guy named Sam Gellaitry was someone who I was fascinated with at the time. I wanted to be DJ before I was rapper/singer when I was just starting out making music. He was someone who really inspired me because I've never heard anything like his sound before. He made me want to push boundaries and create the craziest stuff I could come up with. Also have to pay homage to Janet Jackson because she just so awesome.
D: Prince, Mac DeMarco, Kevin Parker, Toro y Moi, The 1975. These guys are inspired the hell out of me to learn to play every instrument and to start recording myself and experiment with every sound no matter what gear I had or where I grew up at the moment, it was about being DIY and making good music with what you have and taking it somewhere higher.
T: Starting out I was inspired heavily by Childish Gambino and Odd Future who I related to heavily as a kid, but also I was inspired by Nirvana and Smashing Pumpkins, and the first Internet album was a huge inspiration on me as well.
You're from Kansas City! What do you think of the music scene there at the moment?
G: The music scene here is really nice. There are a lot of bands who are super talented and do all types of genres. The jazz music here is really great as well. Kansas City is honestly a hidden gem when it comes to music. I feel like you can meet an artist anywhere and anyplace in this city
D: The music scene here is getting cool now, there's a lot of jazz musicians that go to school for music here too but you can find people from different scenes all over if around the city.
T: The Kansas City scene is great, the community here is so supportive and genuine. This is a really prideful city here and I think they're finally getting the musicians they deserve.
Are there any other artists breaking through at the same time that you take inspiration from?
G: I'd have to say Beabadoobee, AG Club, Huron John, Vida, Paris Williams, Medici, and Jamesdroptop!
D: AG Club, Medici, Huron John, Paris Williams.
T: Huron John and AG Club is the future, all of our friends like Paris Williams and Medici but also I have to say Sam Troof and Hadji Gaviota.
Who would be your dream collaborator?
G: My dream collaborator would be either Tyler, The Creator or Pharrell. I'd want them to produce for me for a solo project.
D: Kevin Parker, I feel like me and him could talk about space and reality and make it into an album.
T: Working with Pharrell Williams, Toro Y Moi, or Dev Hynes would all be a dream come true. It be insane helping out on some of Ariana Grande's music too.
Musically or otherwise, what are you most looking forward to this year?
G: This year I'm looking forward to having my very own vinyl!
D: Definitely looking forward to our album honestly! it's hard for me to listen to other stuff!
T: Looking forward to Jean Dawson's new album, he's really dope. Outside of music I'm looking forward to getting these shoes that I want and shooting more videos!
If people could take away one thing from your music, what would it be?
G: I'd want people to know that BLACKSTARKIDS music is black expression in the most charismatic way! It's fun, young, nostalgic, and we put so much of ourselves into our art! Also our music is 100% us and no one else!
D: Don't limit yourself, you're never too old to have fun, and do what YOU think is awesome and true to yourself.
T: The biggest take away for me I'd say is to be yourself, value yourself, and don't be overly critical of yourself.


Get your copy of the latest issue