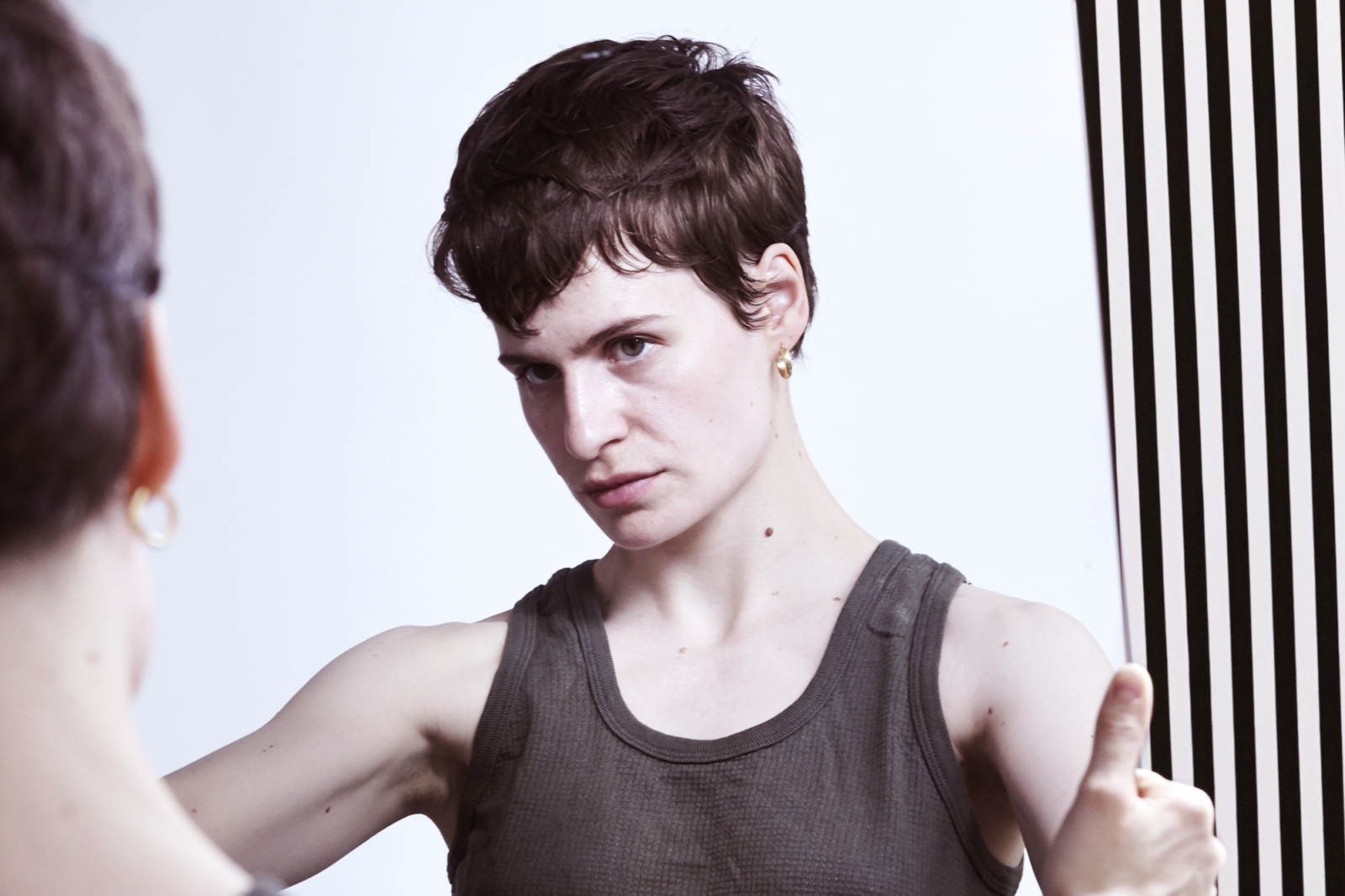 Dirty Dancing: Christine & The Queens
After a meteoric rise following the release of her debut album, Héloïse Letissier is back with its slick and sexy follow-up, and she's out to prove one thing: nobody puts Chris in the corner.
Two years on from the original release of debut album 'Chaleur Humaine' in her home country, a strange set of circumstances led to Christine and the Queens, then a freaky French outsider, suddenly infiltrating the mainstream.
First came her rendition of 'Tilted' on Later… with Jools Holland, which blew the lid off most other static, staid performers. Then, after Graham Norton read about her by chance in an inflight magazine, he booked her for his own show following a cancellation from Drake (thanks, Aubrey!). Suddenly, her uniquely expressive choreography, curiously-told stories and sharp-tailored suits had found an audience of almost four million unsuspecting viewers. A career-defining performance at Glastonbury '16 - the very same day that hundreds of thousands of sleepy campers discovered that the UK had voted to leave the EU - followed. "The elements were wild, people cowered under the rain, Brexit happened, and there was a sense of, let's try to transcend this weird situation," the singer remembers today.
The rest, as they say, is pop history. 'Chaleur Humaine' became the fastest-selling debut of the year, with a million copies sold across the world. By the end of the whirlwind, she was back where she began on Jools; this time as the star of the New Year's Hootenanny. It was a surreal whirlwind for an artist that began on the fringes, and it's obvious, two years on, that it's given her a boost of super strength. "I do want to turn your world upside down, you get it?!" she jokes today. "I'm not here to just excite you. I'm here to take your place! No, no, but I am here to reverse things a bit," she revises. "Being a woman in power made me think about how disruptive I could be."
In pressing the detonation button on this new era, Christine and the Queens first disrupted what she had already built. Taking a pen to her moniker and scribbling out the majority of her name, a sexier, more playful character arose out of the radical softness of Christine. Chris herself was met with positive confusion. "A positive confusion," she ponders, "I agree with you. Right now I kind of like it when people call me Chris, but I'd say it's up to you."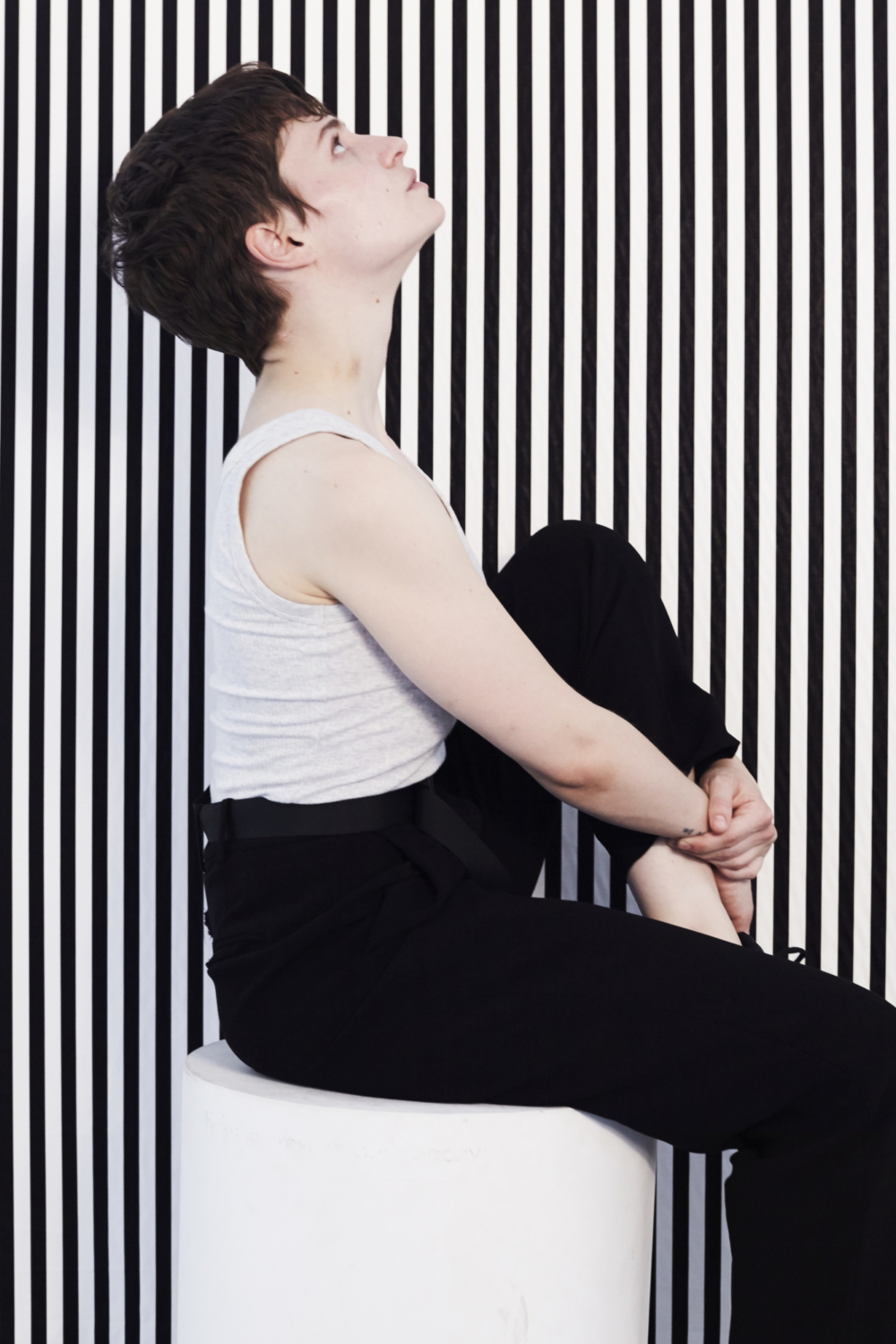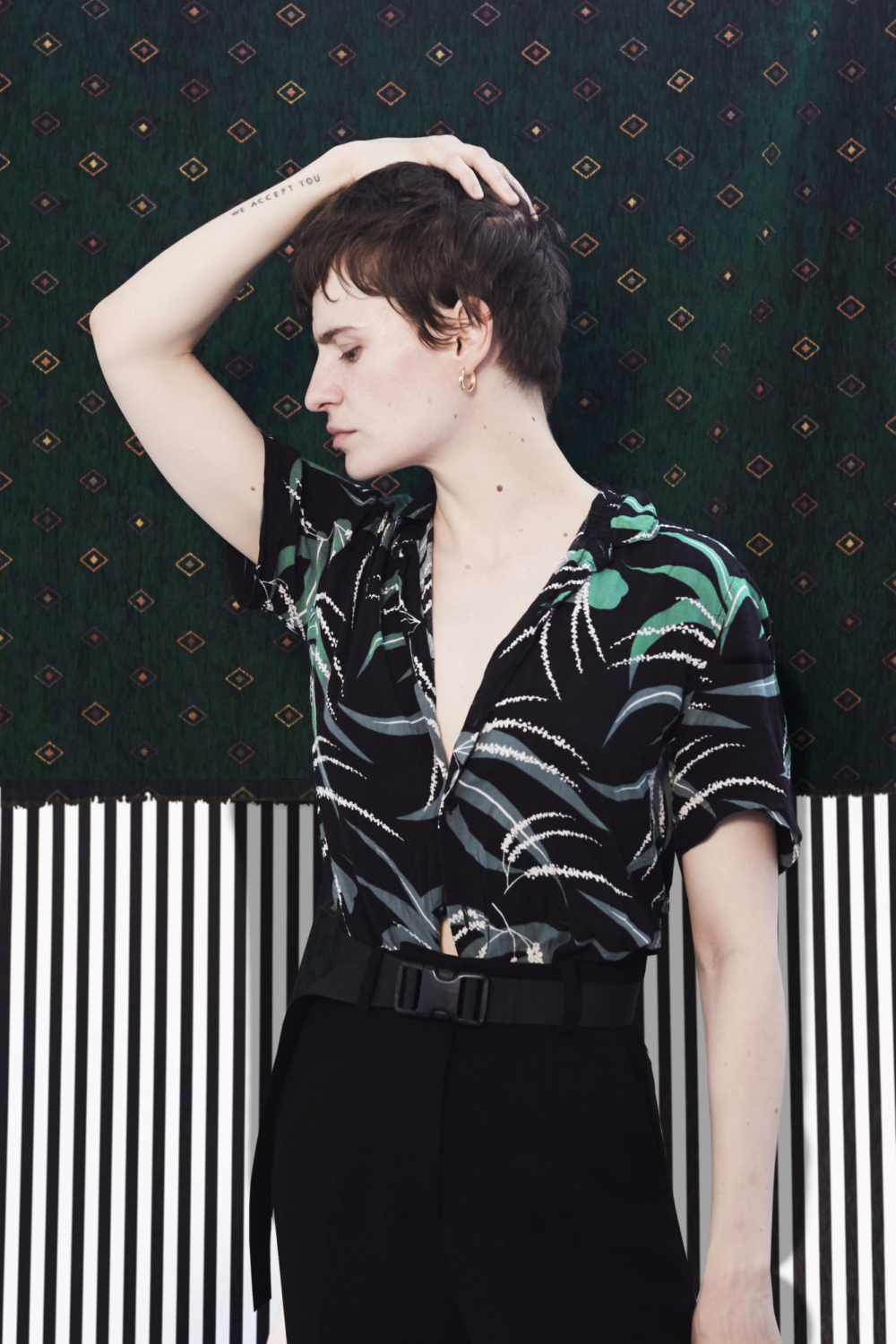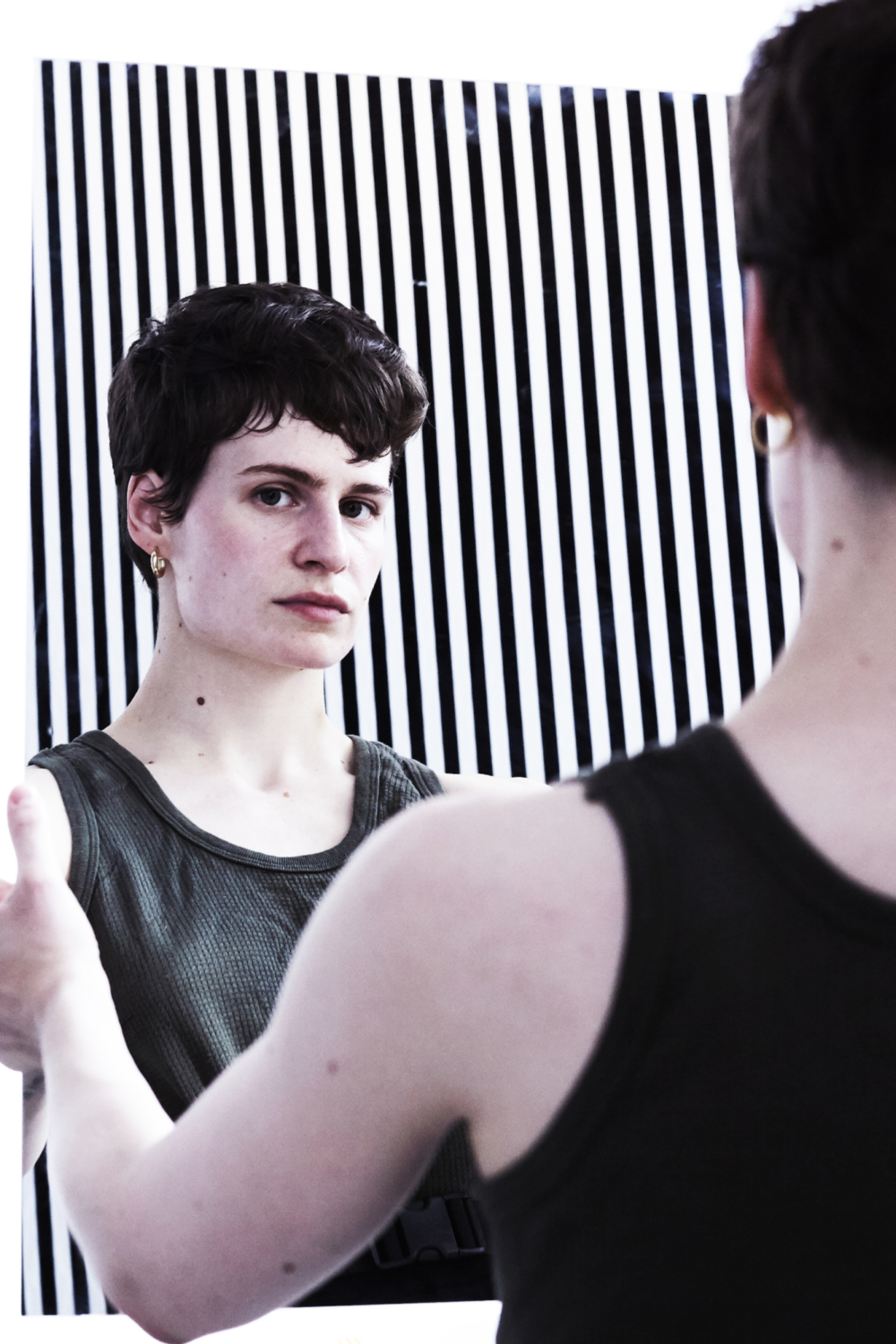 "
I'm not here to just excite you. I'm here to take your place!
After performing comeback single 'Girlfriend' on Radio 1 this morning, Chris has slung a denim jacket over the top of her black and white shirt and, shortly, she'll be back on the move. This time, she's hopping on a train back to Paris. She has mixed feelings about the trip, and groans melodramatically, throwing herself across the velvet seats of the restaurant booth. She's paused for lunch in a swanky hotel next door to the Eurostar, and a somewhat chaotic, lust-related situation apparently awaits her the other side of the channel. She won't elaborate further on that one.

"I was richer, and I was more powerful," she states matter-of-factly, pondering her new place in pop. "I was the boss onstage," she continues. "I was lusting for sex, and all of that. Sometimes, that confused people and scared them away."

It is true that society is not kind to powerful women in charge of their own desires. We are told repeatedly by certain people that meticulous powerhouses like Beyoncé are actually workaholics, and that countless other female artists are arrogant for recognising - and speaking about - their own immense talents. Dip into the online comment sections beyond your own bubble, and you'll see people claiming Grimes doesn't produce her own music (false!) or that Rihanna is unladylike for singing about lust without restraint. While template male rock stars are celebrated in the same breath for their sexuality and hedonism, powerful women are branded either a threat or a fraud. It's exhausting to navigate, and so 'Chris' takes a different approach. It's the musical equivalent of exclaiming "fuck it!", in more than one sense.

While 'Chaleur Humaine' was all soft edges and warm evocation, with a "chamber album quality", 'Chris' is rough and raw, laced with filthy beats that gyrate and strut. New York producer Kashif's work on Whitney Houston's early dance-funk tracks, and Janet Jackson's go-to production duo Jerry Jam and Terry Lewis come to mind, and both were firmly pasted onto what Chris calls her "moodboard for the sound stuff" (she creates moodboards for everything, it seems). She also paid a lot of attention to Michael Jackson's 'Dangerous' era in the early '90s. "I was searching for a production that could fit the stamina of the record," she says.

"['Dangerous'] was really expressive, they just sampled shit like crazy broken glass and a car starting, this almost cartoonish energy. This album has accidents, the songs are like a skin that gets caught." And where 'Chaleur Humaine' grappled introspectively, constantly negotiating with the world and protesting that it's possible to be both good and 'Tilted', its follow-up is more concerned with other questions. Notably: what gets Chris off?

"It's me oozing with desire and telling you about it," she says with a conspiratorial glint. "I would talk to you really close about it."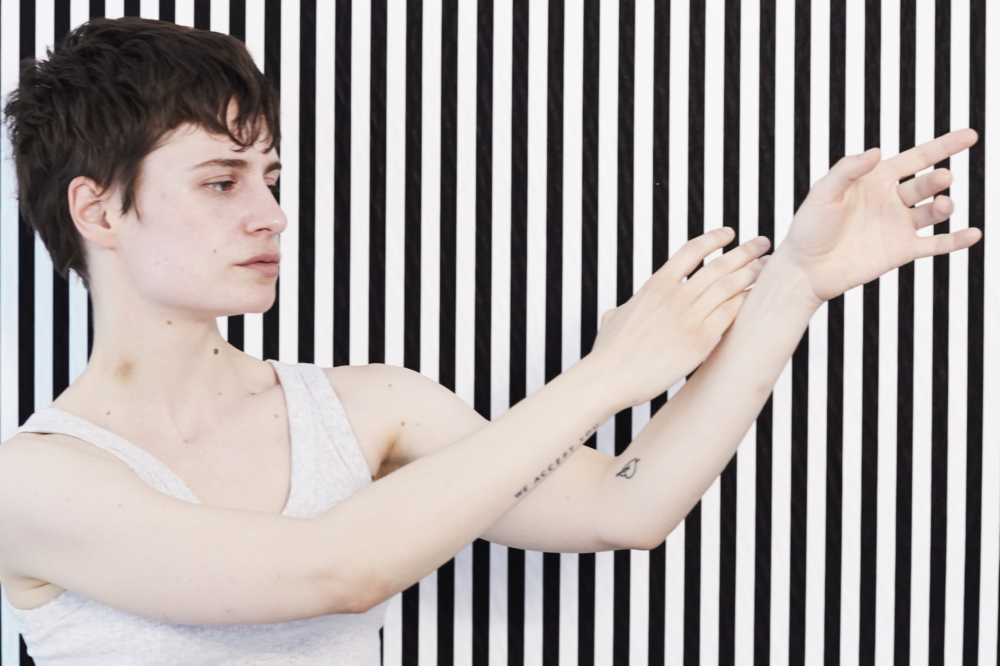 "
It's me oozing with desire and telling you about it.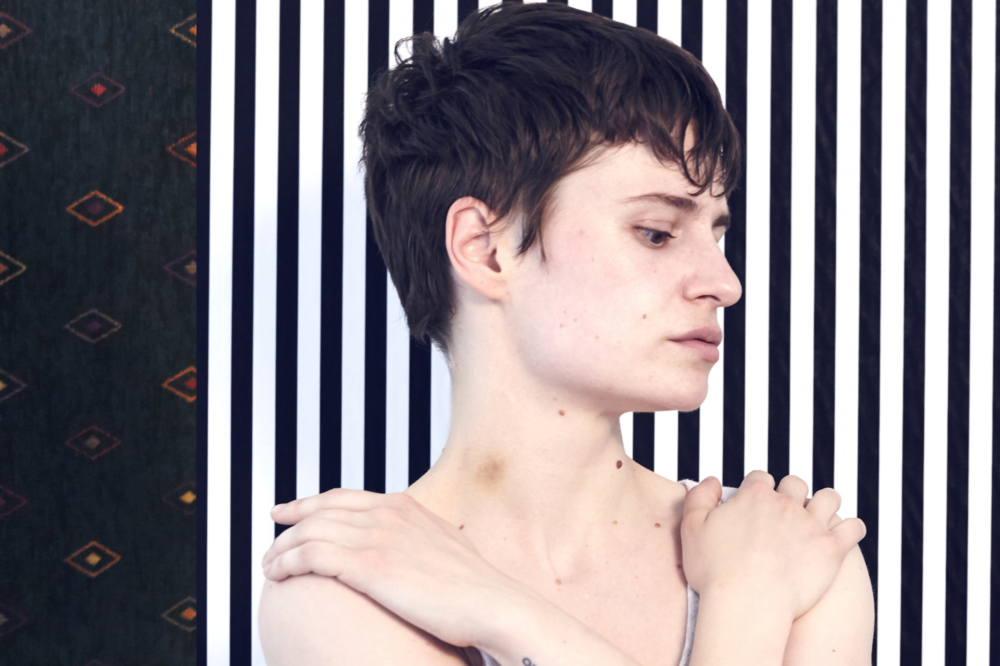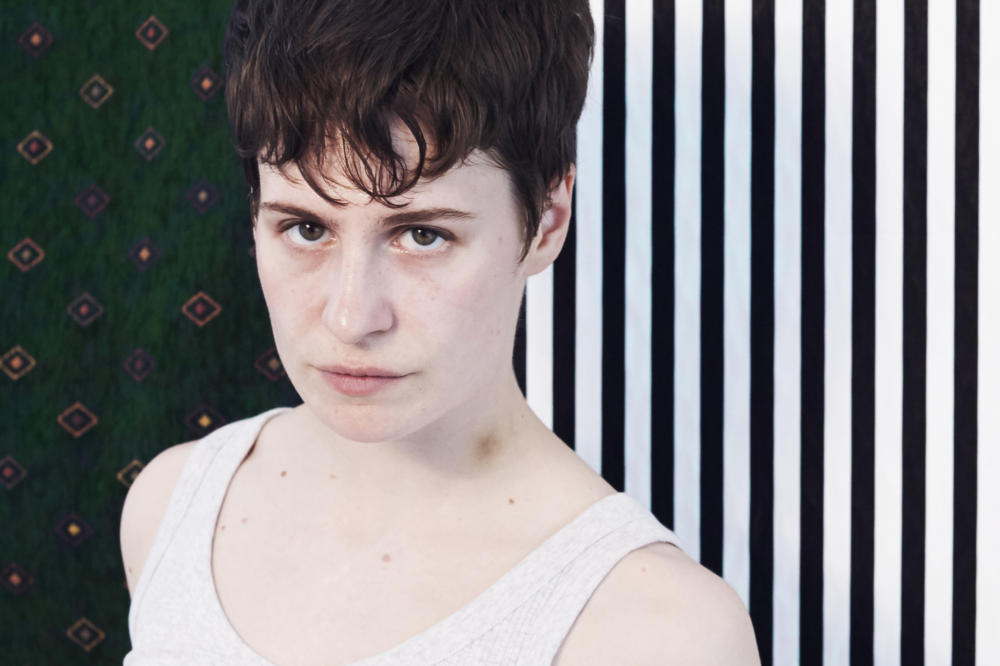 In articulating all of this, she looked first to the aggressive women of the '90s, and their "square shoulders and healthy bodies that could lift shit." Sigourney Weaver's character Ellen Ripley in Alien - all tank tops, gun-slinging and streaks of oil - appeared on yet another moodboard, as did Madonna. "Instead of trying to excite you, she's telling you, I'm getting off on this," observes Chris, remembering a segment of the Blonde Ambition tour where Madonna gleefully simulated wanking atop a velvet bed during 'Like A Virgin'. "It's a small nuance that matters to me," she adds. "Even when I'm writing something like "Para follarse… para joderse," (Chris adds a third linguistic string to her bow on the sleazing 'Damn (what must a woman do)', expressing her want "to fuck" in Spanish between short-of-breath French whispers) "this record is me being excited more than me trying to lure you. What is made to excite people when you're a woman?" she goes on, wondering aloud. "It's so much about restraint, and being not too much. Slutty, but not too much. Silent, not talking loudly, shit that almost killed me at some points…" she trails off.

"Done with that," she decides more jovially. "Oh yeah! And now I'm eating a sea bass at the restaurant! It's actually quite good!" she notes. "Enjoyable."

Drawn to powerful femininity and delicate masculinity at the same time, Chris pasted more figures still onto her growing character-study collage: "Leonardo DiCaprio in Romeo and Juliet, this tiny scoundrel, this tiny brat," and Eminem's "deliciously devilish" Slim Shady both figured too. And gradually the ambiguous, androgynous figure of Chris started to emerge with oiled biceps and a mischievous air. Flexing, thrusting and body-rolling along a steel joist in the video for 'Girlfriend', flanked by a troupe of strong, fast-impact dancers and lit by an artificial sunset, it straddles the two worlds of campy, and straight-up sexual. "I was obsessed with stealing out of patriarchy, stealing out of those tiny macho characters and using all of those codes to my advantage," Chris explains. "It's diffusing it from the inside. There's these videos of sailors activating machines; it's super macho but it's super homoerotic as well. It's so camp in the way that it's used. What if I use all those sets for myself?"

We've come to expect such evolution. Originally, this character arose in the face of heartbreak. Morphing constantly - from Héloïse Letissier, to Christine and the Queens, and now, to the snappier, sultrier Chris - it all began when she found herself lost in London, with no idea how to exist alone. A bunch of drag queens sternly encouraged her to turn her sadness into a musical outpouring, and then came 'Chaleur Humaine'. "Christine is there as a survival technique," she explains now.


"
I don't want to be something that can be labelled onto a plastic bag and sold.
Cropping her hair short like an expelled choir boy for album two, accessorising with a stonking great love-bite, and singing about getting lost in the most filthy, carnal aspects of life with an artful turn of phrase that's more like poetry, 'Chris' makes sense completely from an artist who continually breaks the rules and structures of the world around her. On '5 dollars' she toys with the idea of paying for pleasures ("It turns me on because it's timed," she goads) and in another, 'The Walker', she manages to make bitten flesh sound delicate. "I am out for a walk, and I will not be back til they're staining my skin / This is how I chose to talk / With some violent hits, violet blossoms akin." Ooh la la…

"I was eager to try and write a record that could give some justice to the complexity of a female figure in pop music," she reasons. "It's about trying to be a pop character which is complicated," she adds. "The notion of nuance and detours and actually all the small alterations, I'm interested in. I don't want to be this glossy surface. Even in the queerness and the way I dress my queerness, I don't want to be something that can be labelled onto a plastic bag and sold, you know?"

In 2016, when the Christine and the Queens effect first started to take hold, Chris found people trying to package her in exactly this way. Her whole aesthetic became, for better or worse, very fashionable. Google "how do I dress like Christine and the Queens?", and you'll find reams of articles hailing her as our brand new gender-defying fashion saviour, followed by a comprehensive guide to shopping in the men's department. It's perhaps no accident that British Vogue published an article entitled 'How To Wear The Suit This Season' in November that same year. Christine's style, her swagger, was everywhere.

Clearly, empowering people to express themselves without boundaries is a brilliant repercussion. For many young, queer listeners, seeing Christine and the Queens plastered across London Underground billboards, rocking the shit out of a suit, was powerful. Unfortunately, 'everywhere' also included Chris heading up every single ridiculous listicle of The Best Queer Artists To Listen To as if the whole thing could be condensed down into yet another glossy trend. She hated it. "It pisses me off!"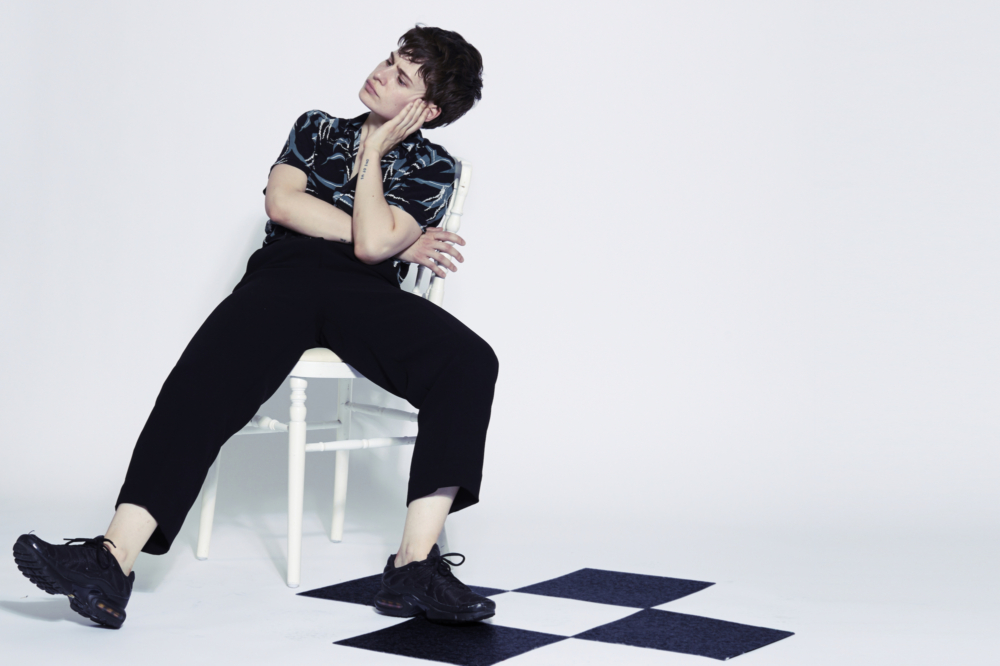 "
It always made me slightly uncomfortable when I understood that people were thinking of me as a trendy queer girl.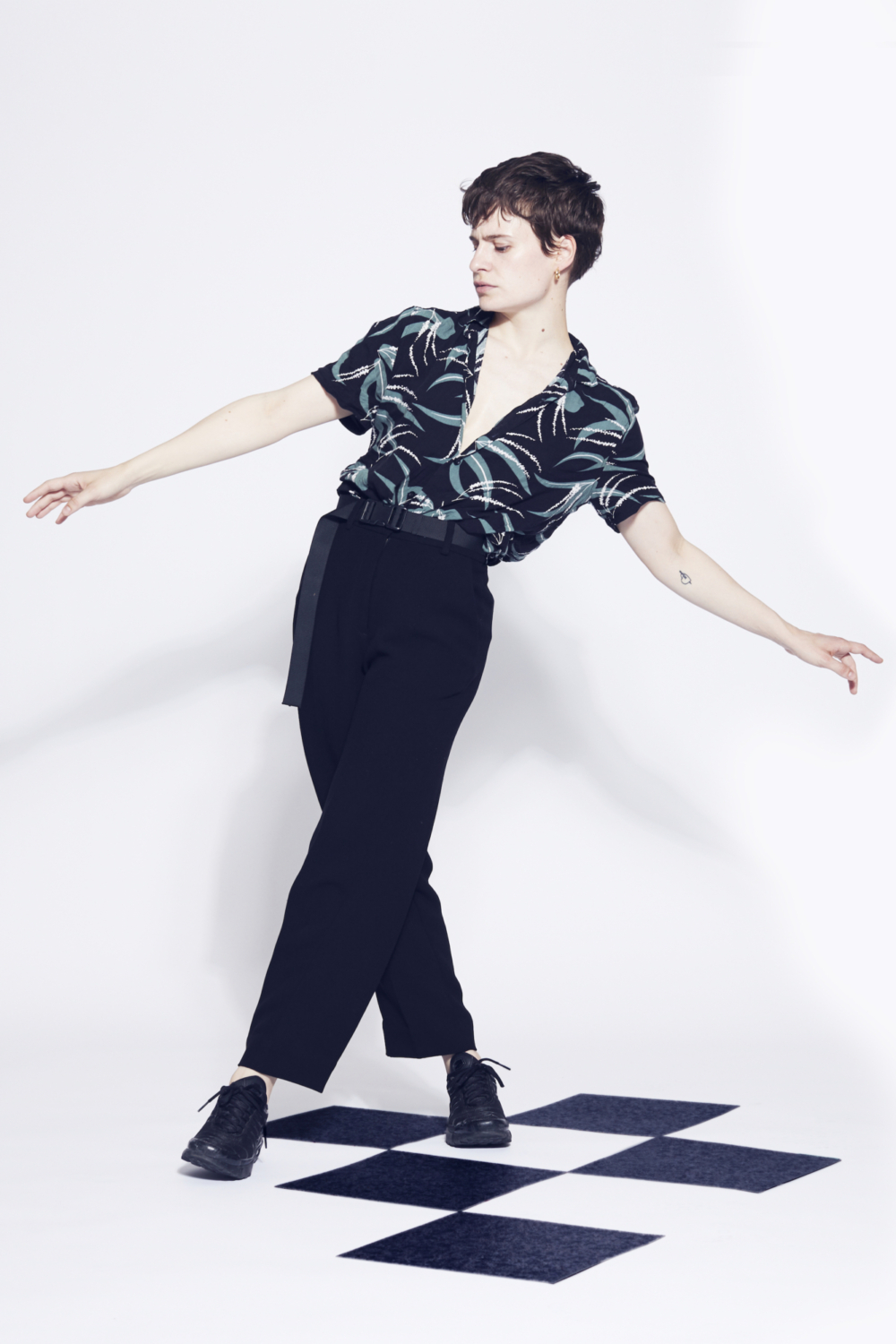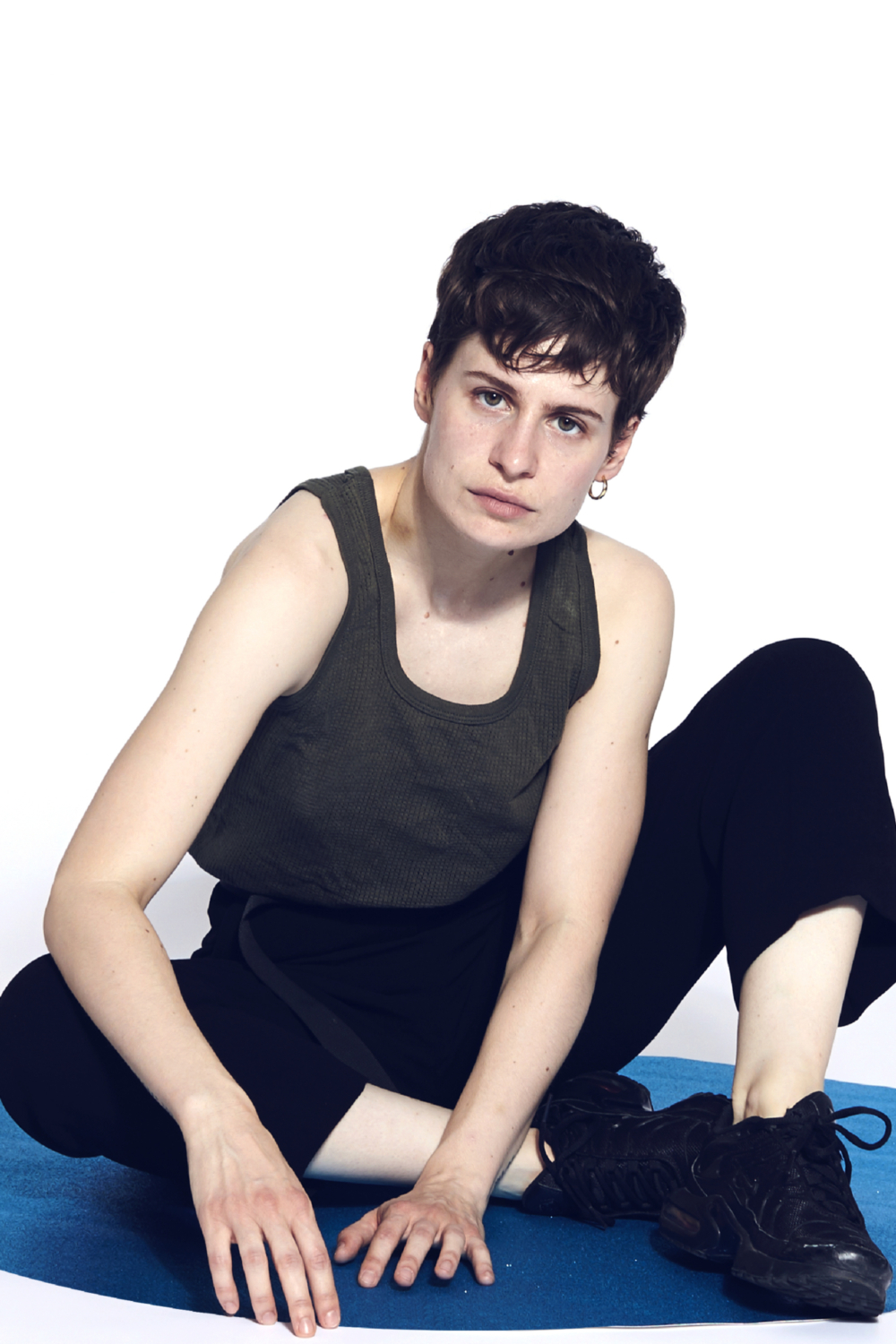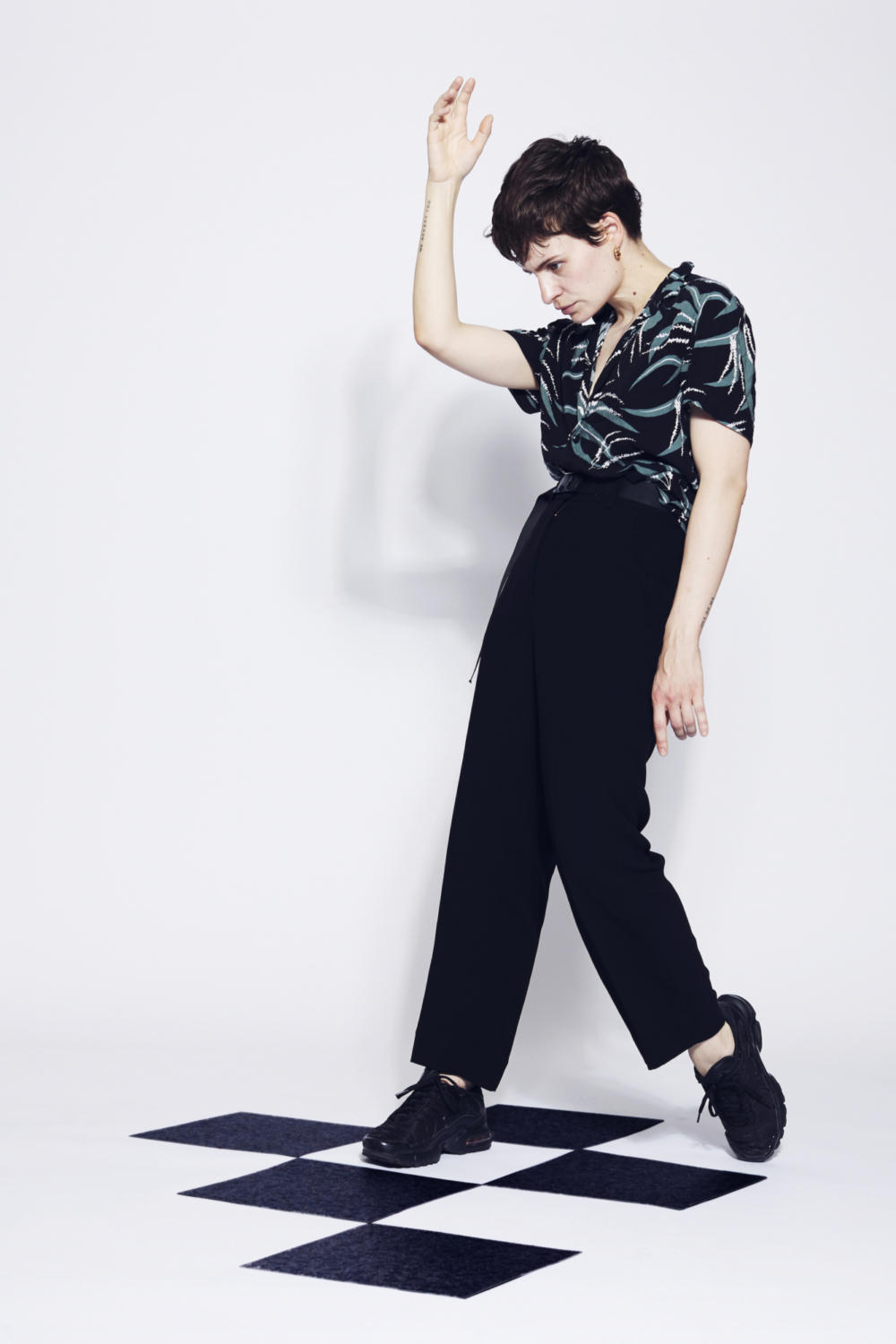 "It always made me slightly uncomfortable when I understood that people were thinking of me as a trendy queer girl," she expands. "I was like, you don't get it! I freed myself through that character. I remember the beginning of Christine as something really freaky in the best tasty way in my life. I could be disruptive and threatening and dirty! I will never want to be this glossy two-dimensional…" she adopts a cheerily vacuous tone, "'queer'. "Love everyone!" she eyerolls. "It's way more than that. As a girl, being queer freed me from all the suffocating injunctions."

"Sometimes I felt like I was explaining the fact that I felt like I couldn't fit into a box, and people were putting me in yet another one," she adds. "You know, I was talking about [my] pansexuality, and how desire is a force of chaos and reinvention, and they were like 'oh, you're gay!'" She pulls an unimpressed face. "If you want, but how? My queerness is me, and my eroticism is me finding hesitation and doubts and disruption, this is what excites me."

"Working on something even rawer than the first album, sometimes blunt, was a way to still be uncomfortable in the best way. I do believe that queer is a threat, in a good way; a threat to an established society with established norms. I think that [queerness] should also be a resistance to a lot of things that are to be questioned for me. It's, above all, a counter-culture. It's not about me refusing for it to be mainstream. I'm really scared of it being digested, or made more sugary."

'Chris' should put a stop to any fears of sugary digestibility. In one track, the bouncing 'Goya Soda', she references fizzy pop and the Spanish master painter Francisco Goya - who was best known for his sexually-charged paintings of demonic night terrors - in one breath. "Who came there to see, who is seen, and qui mange quoi," (who eats who?) she wonders, looking at a painting, thinking half in French. And in the opening track, 'Comme Si', you'll find her mission statement for the record nestled within the cryptic "as if's." "There's a pride in my singing / The thickness of a new skin / I am done with belonging." If it sounds like a dizzying puzzle of an album to dissect, that's because it is. Want to know who Chris is? Move close, and listen.


'Chris' is out 21st September via Because Music.