After a decade of Run the Jewels, "Killer" Mike Render tells his origin story in the shape of a new solo album. This is how he became the most political man in hip hop.
It was 29th May 2020. Killer Mike was eating fish sandwiches outside Bankhead Seafood, not long after buying the restaurant with his friend and fellow Atlanta rapper TI. Joints were being passed around. The New York rapper Noreaga was there popping a bottle of Moët. "I was having a typical rapper day," says Mike.
Then TI received a phone call from Keisha Lance Bottoms, Mayor of Atlanta. People were protesting in the city, outraged by the recent murder of George Floyd in Minneapolis, and the peaceful demonstration was starting to turn. Mayor Bottoms appealed to TI for help, explaining that she would have called Mike but didn't think he'd say yes. "I was like 'Sheeeit…'" Mike remembers. "'They right!' And I got back to smoking and eating fish sandwiches."
But TI persisted, eventually deciding he would only lend the Mayor his support if Mike did the same. "So what the fuck I'm supposed to do?" asks Mike. "What would you do if yo friend say, 'Well if you don't go, I'm not gone go'? From where I'm from, you man up and you go with your friend. Even if you got half a pound of marijuana in your truck." Mike made it to City Hall and delivered a tearful, gut-wrenching speech asking Atlantans not to burn down their own city. Speaking on Mike's podcast Love & Respect, Mayor Bottoms called it "probably one of the most impactful speeches of the last 50 years."
This is Killer Mike: a beloved hip hop man who loves everything about the rapper lifestyle, bleeds Atlanta blood and has friends throughout the rap community. But also a political leader, a figure of hope in a country more divided than ever, a friend of Bernie Sanders and devout student of history whose public missives are broadcast on headline political television programmes like Newsnight and 60 Minutes.
Now 48 and more than 20 years into his music career, Mike is taking time off from Run the Jewels - his hell-raising double act with NY rapper-producer El-P - to bring us 'Michael', a solo album detailing how he went from a working class kid in the west side of Atlanta to the most politically active rapper in America. It's an album album, carefully considered where his RTJ work is rough and instinctive. And the story it tells is worthy of a motion picture.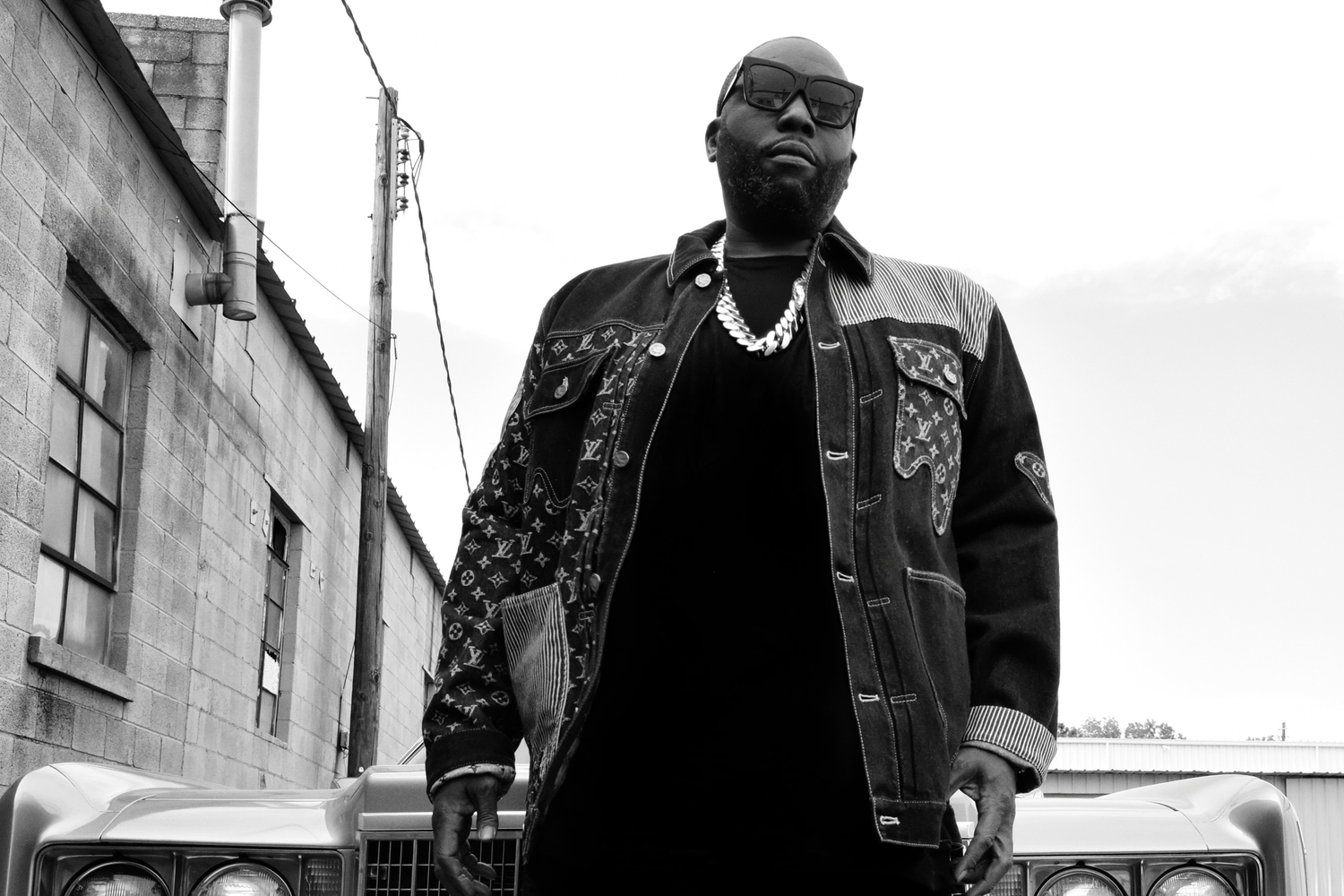 "
"Black people in the media, they talk from the perspective of a minority, right? I didn't grow up with that perspective."
"This shit is so Atlanta," Mike declares at the end of 'Down By Law', the record's opening track. "If you see Black people in the media, they talk from the perspective of a minority, right?" says Mike today. "Black people who grew up in New York, a minority; Black people who grew up in Los Angeles, a minority; even places like Miami, a minority. I didn't grow up with that perspective. I grew up in an all Black neighbourhood, that was all Black on purpose." He talks and talks about Atlanta, mentioning his working class grandparents (a nurse and a dump truck driver), wealthy Black business owners from the area, Atlantan civil rights heroes like Joseph Lowery, James Orange and Martin Luther King, and other "salt of the earth Black folks" he grew up with.
One such person was his mother, who comes up a lot on 'Michael' and throughout Mike's discography. "In loving memory of Druzella Denise Clonts," reads a message at the end of the video for 'Motherless'. Denise had Mike when she was 16, and Mike and his two younger sisters were raised by their grandparents. But his mother was a huge part of Mike's life. "She was my girl," he says. "She was so close in age to me that we had, at times, more like a big sister / little brother relationship."
The 'Motherless' video's prequel 'Don't Let the Devil' takes place at a raucous party filled with smoke, drinks and card games, modelled on his mother's basement. "In the spirit of OG Mama Niecy's Friday night get downs," reads a message. So who was his mum? "She was a queenpin," says Mike. He uses this word as the feminine form of 'kingpin' (the term also cropping up on 'Promise I Will Not Lose', from his 2006 mixtape 'I Pledge Allegiance to the Grind'), and he prefers it to 'gangster'. "She did a couple gangster things," he caveats nonetheless. "I saw a guy try to rob her once, and her stab him the fuck up and still take us to school. But she wasn't out there fighting guys on a daily basis or doing dumb shit like letting off shots."
Denise was a florist, arranging flowers for the Christmas trees of local athletes' wives and mothers. "My mother was approached by white middle class women that she was working for, and they would ask her for coke," says Mike. "This was the '80s, everyone was doing coke. She knew some coke dealers, so she hooked up a couple of ladies. Before you knew it, it turned into a thriving side business." He remembers watching the news once, two weeks before his 15th birthday, and seeing a man and woman arrested trying to buy 10 kilos of cocaine. It was Denise and her new boyfriend (he took the hit; Denise got off).
About a year later, Mike experienced the cocaine era first hand. On new song 'Something for the Junkies' he raps: "Man, I was geeked once / Man, that was no fun / I had to call mom / Because I am Denise's son." The line refers to a time when, aged 16, Mike and his friends snuck into local strip club, The Foxy Lady. "So we're in there and we're smoking with guys we don't know," Mike says. "Just stupid shit you do as a kid, tryna be more of an adult. Then my heart started pumping like it was jumping out of my chest." His friends took him outside and found a gas station with a payphone. "I don't know who else to call, but I knew my mother knew what to do."
Denise told Mike's friends to go into the gas station, get him some bread and some milk, then come home, which they did. "I'm thinking I'm in big trouble, I'm thinking she's gone lose her fucking mind cos I've snuck in the club and got high," Mike remembers. "And she just laughed, pulled me into her bosom and says, 'You was just geeked, son'." As Mike explains, 'geek joints' were introduced to Atlanta by Miami dealers who liked to sprinkle cocaine into their weed. Being slipped one unawares at 16 was enough to put Mike off ever getting into coke.
"A record like 'Something for the Junkies' has never been made before in rap," Mike says. "There's no one showing true empathy for those with addiction." He remembers his grandparents having to board up their windows with burglar bars, "because the same people who had been your neighbours from a few streets back just a year ago had become addicts and started breaking into houses." By the age of about 17, Mike was a drug dealer himself. He worked at UPS and a few other odd jobs too, but dealing was a good source of income. "I wasn't gonna drop out of school and make it my job, but if I had a prom coming up, I wasn't gonna have to ask my grandparents for no money," he explains. "I knew I could get out there and get a couple thousand dollars."
"
"Even if I move a thousand miles away, I will make sure the west side of Atlanta remains a place that Black children can go and feel complete."
Mike got his name while rap battling as a teenager, when an Atlanta DJ called Double D heard him spit and announced "this kid's a killer". Mike then got into Atlanta's preeminent art school Morehouse College (alumnae include Spike Lee, Samuel L Jackson and Martin Luther King), where he met Teeth Malloy of production crew the Beat Bullies, who introduced Mike to Big Boi - one half of OutKast.
Mike was in the studio with Big Boi and André 3000 as they recorded their second album 'ATLiens'. "I remember hearing that record as they were working on it and just being absolutely blown away," he says. "Like, 'Oh my fucking god, this is gonna change the sound of Atlanta'." OutKast paved the way for the city to become the hip hop capital of the world, birthing TI, Ludacris, Lil Jon, Waka Flocka Flame, Future, Young Thug, Janelle Monáe, Gucci Mane, Lil Yachty and a million others. Mike rapped verses on OutKast songs like 'Snappin' & Trappin' and 'The Whole World' (which won a GRAMMY), then signed to Aquemini, OutKast's Columbia Records imprint.
His debut album, 'Monster', was released in 2003, reaching Number 10 on the Billboard Hot 200, yet the period was still one of frustration. In the era of 50 Cent, Eminem and Dr Dre, and not long after Biggie and 2Pac - artists whose albums went platinum, at least - Mike never got sufficient backing from the label. "My record pops up and most of the staff there is tryna convince me to change my name from Killer Mike," he says. "The same people that was like, 'Man, this is never gonna work' came up to me a year or two ago like, 'Damn, we was wrong'. I was like 'Yeah, I know. I knew y'all was wrong'."
Prove them wrong he did, but it took a while. He left Columbia and spent the 2000s releasing a string of underrated mixtapes, during which time he momentarily fell out with André and Big Boi. "It's not easy helping an artist discover how to tap into their thing," Mike says. "It takes a lot of time. And they're artists themselves, and they're focusing on not only growing the OutKast brand; André at that point - I realised in retrospect - was figuring out what he wanted to do with the rest of his life."
OutKast released their final album 'Idlewild' in 2006, after which André 3000 all but exiled himself from the studio, limiting his musical output to occasional, precious guest features on other artists' songs. There's one on 'Michael', called 'Scientists & Engineers'. "I been tryna get a feature with him for over 10 years," says Mike. "I ask [on] every Run the Jewels record. Usually he'll say, 'Send me the record.' He'll listen to it, and he's like, 'Man, y'all shit jamming, y'all shit hard as fuck… but this record ain't for me'." This time, however, Mike invited André to listen to the album with him. "He pulled up, listened, and again he was like, 'Shit hard, Kill… can I send you suttin' tomorrow?' He sent back like, 10 records and said 'Pick what you like'."
Mike says he and André recorded another song that's "like, 11 minutes long and absolutely crazy", the release of which is TBD. "I don't bother 'Dre with the whys," he adds. "I just let him know, if you ever wanna drop a solo record or an OutKast record, the world would love it." For now we'll have to content ourselves with blue-moon André sightings like on 'Scientists & Engineers' where, in between ambiguous lines about petrol prices and cutting his "corner lips" on crisps, he drops the poignant line: "Hope I'm 80 when I get my second wind".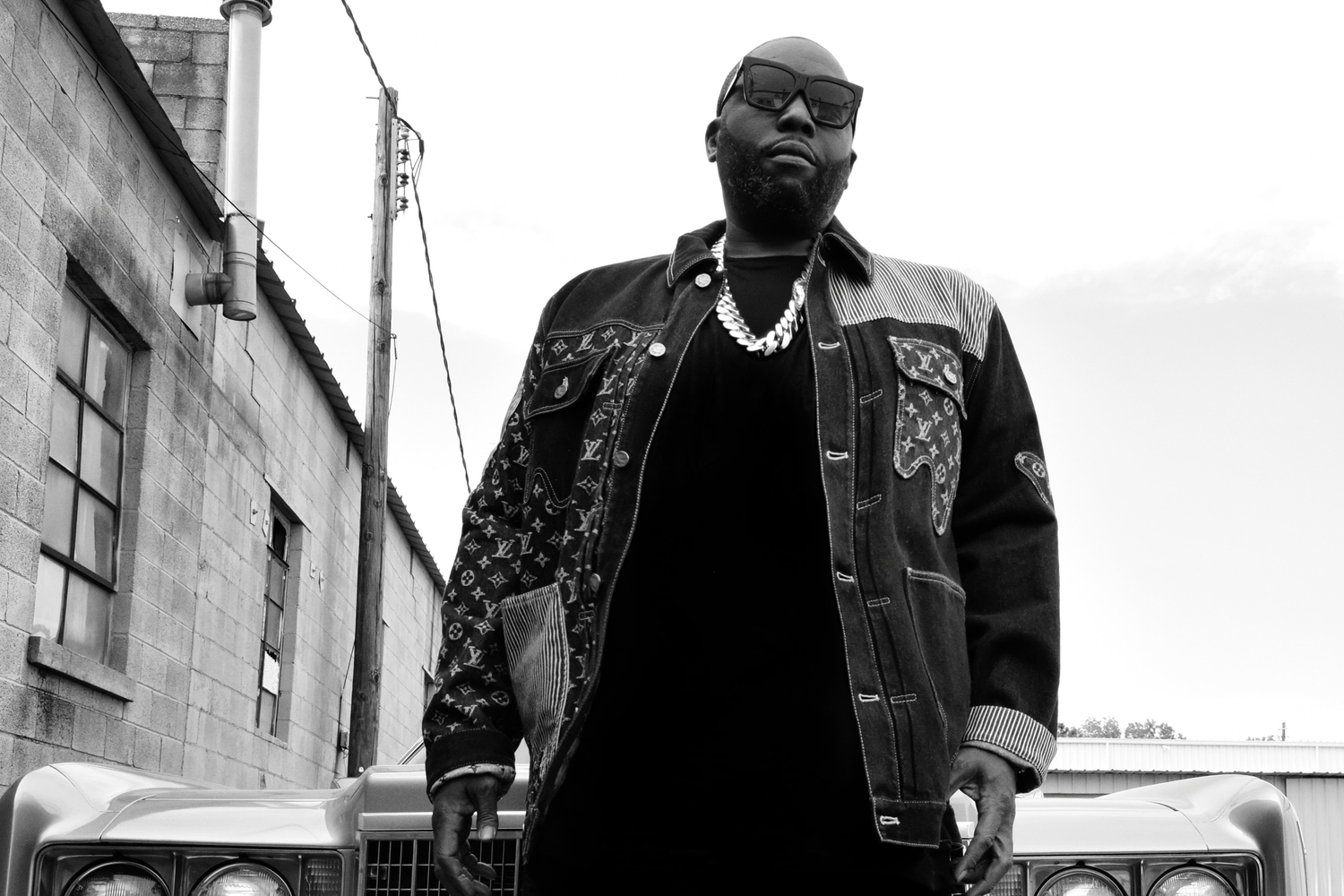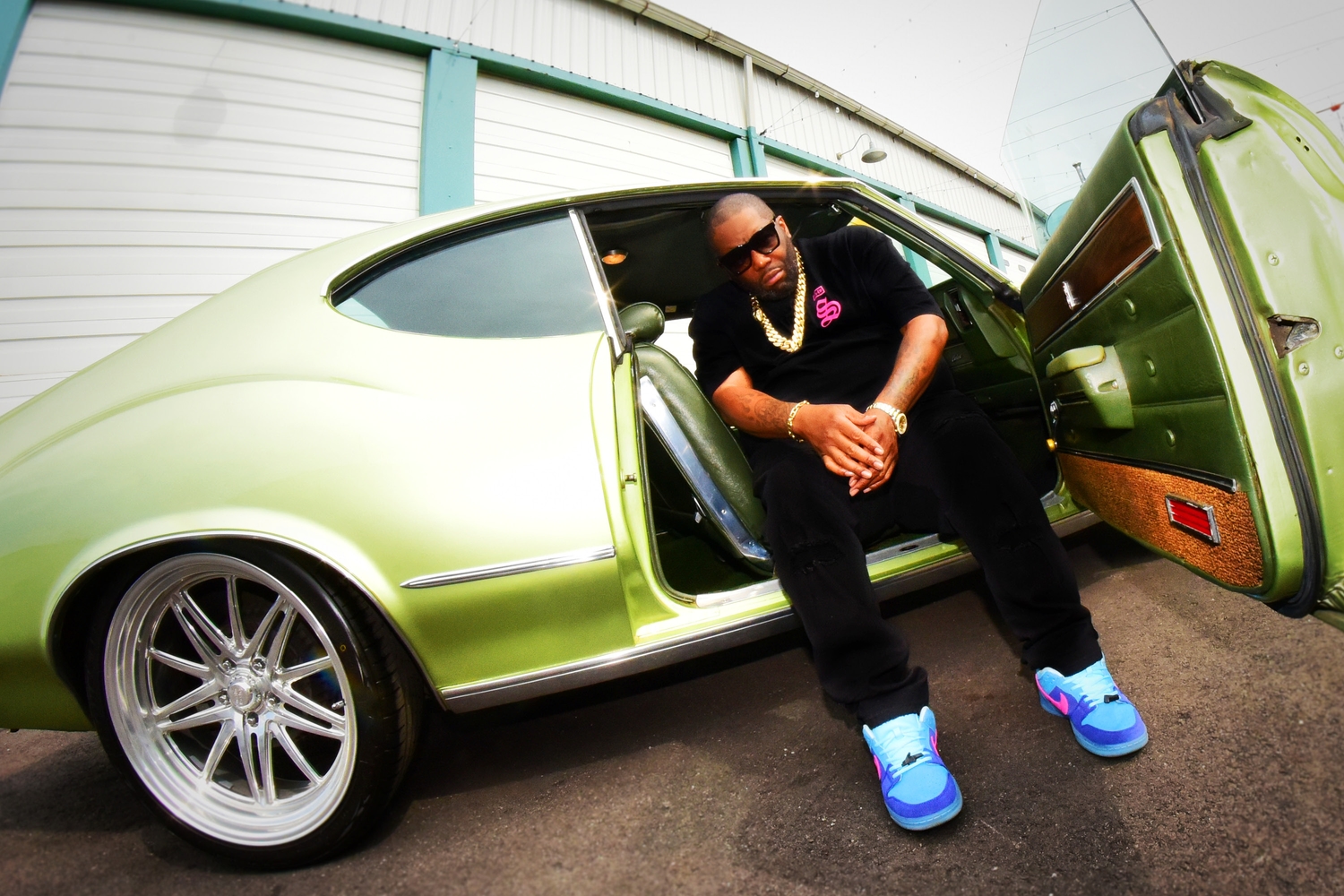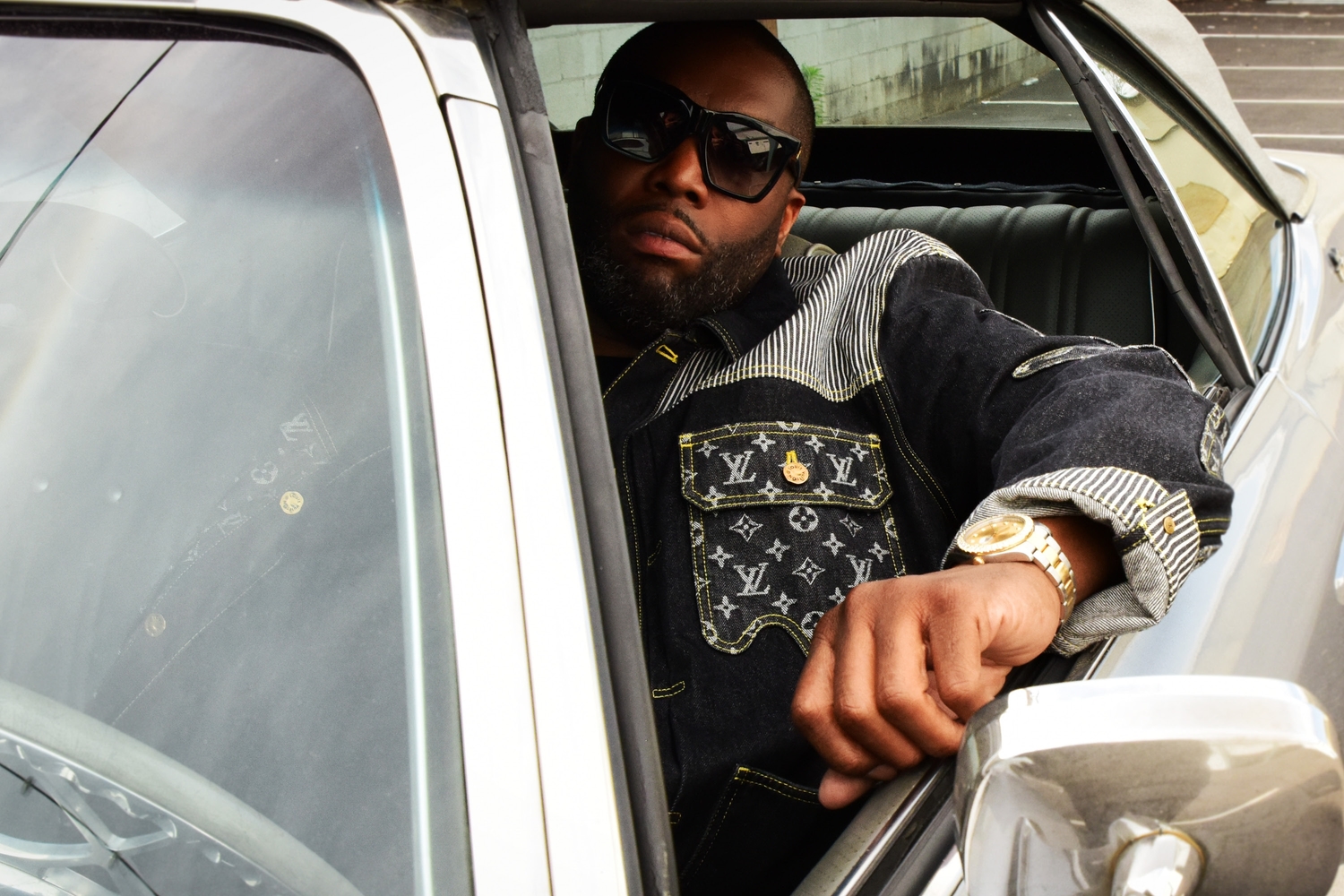 Mike's To Watch List
The rapper on the films that inspired 'Michael'.

"Whether it was watching Planet of the Apes with my grandfather, kind of understanding social order through watching that, or watching The Spook Who Sat By the Door and kind of understanding government influence in my community, and how this film proposes that an agent of government is using the government to form a counterrevolutionary movement, that stuff enticed me and moved me. So whether it was The Education of Sonny Carson, or Shaft, or Super Fly, or The Mack, or any of these other blaxploitation movies, they forced me to think. Even as a young child - 10, 11 years old - I can remember my father letting me watch A Clockwork Orange and us discussing it later. They made my mind think differently. I hope this record influences those listening to check out those movies."
Mike's career has enjoyed one of the most fruitful second winds in the history of hip hop. After several mixtapes, he released album 'R.A.P. Music' in 2012, produced entirely by El-P - a denizen of the underground scene, semi-known as a member of 1990s trio Company Flow. 'R.A.P. Music' is a classic; a confederation of supercharged beats and politically anarchic raps delivered with the ferocity of a polar bear waking up from hibernation. Among its many highlights is the controversial single 'Reagan', a fiery critique of the president Mike grew up with, containing lines like: "Ronald Reagan was an actor, not at all a factor / Just an employee of the country's real masters / Just like the Bushes, Clinton and Obama / Just another talking head telling lies on teleprompters."
It prepared the ground for four Run the Jewels albums, each of them more successful, more timely and more artfully, politically brutal than the last. Mike and El released 'RTJ4' two days earlier than planned, inspired by the protests sweeping the world in the wake of George Floyd's murder, reaching Number 10 on the Billboard 200 (his highest charting album since 'Monster') just a week after Mike's speech in Atlanta.
At this point it should be stressed that not everyone likes Mike. He often splits opinion with his outspoken support for the second amendment - guns - and his speech in 2020 drew the ire of some who thought him wrong to condemn Atlantan rioting. But put this to Mike and he'll only double down. "So you're driving to your speech like, 'Oh boy. Shit," he begins. "You walk in, see policemen lined up left and right, ready to go in - violently if need be - to disperse this crowd. You see their Black female mayor telling a white female police chief, 'STOP it. Don't you do anything yet, until we have an opportunity to speak.' I saw a lady being a total badass in that moment."
He remembers police officers, knowing Mike's dad and cousin were both in the force, pleading with him to say something so they wouldn't have to resort to violence. "I felt compelled as the son of this city," he says. "I felt compelled as a product of my grandparents' household. I felt compelled as my mother's son to do what was right in the moment. I didn't wanna be there; I wish you motherfuckers that criticised me could have made the speech. I woulda rather eat fish sandwiches, smoking marijuana, drinking Moët with Noreaga."
He's not done. "That speech was not special because it was a rapper, was not special 'cause it held a lot of truth. That speech was special because my grandmother…" - his voice cracks - "prepared me for that moment. She prepared me for that moment when she took me to city council meetings as a child and complained on behalf of poor people. She prepared me for that moment when she let me know that, morally, you have an obligation to the community you live in, even if you don't live there anymore. Even if I move a thousand miles away, I will make sure the west side of Atlanta remains a place that Black children can go and feel complete, to know that they are competent to be confident to be leaders."
At risk of ending on a teary note, there's enough time to ask Mike about the chances of an 'RTJ5'. "In my mind, we've already started 'RTJ5'," he says. "I'm aggravating the shit out of El. Like, 'Hey man, let's do 5'. I'm in rap animal mode.' I would like 'RTJ5' to drop with a movie, like the Blues Brothers."
In the recent third season of hip hop sitcom Dave, rapper-protagonist Lil Dicky visits an Atlanta strip club, meets Rick Ross, and asks him about Killer Mike. Ross gives possibly the most astute summary of Mike anyone's ever stumbled upon: "He one of those smart motherfuckers. Connected in the community-type shit." Damn right.
'Michael' is out 16th June via Loma Vista Recordings.
Read More