It's Charli, baby: A comprehensive guide to Charli XCX
With new album 'Crash' on the way, we take an in-depth look at Charli XCX's shapeshifting career so far.
Across years of albums, mixtapes and collaborations, Charli XCX has made a name for herself as a popstar with a huge degree of versatility. Since her stint as a DIY cover star back in October 2014, Charli has released second full-length album 'Sucker', followed it up with three mixtapes, lent her hand as a songwriter for a huge range of cross-genre artists and dropped some of the catchiest (not to mention commercially successful) pop tracks of the decade.
From boundary-pushing, hyper-modern mixtapes to chart-topping hits and stadium tours with Taylor Swift, we chart Charli's rise from her humble beginnings performing in warehouse raves to her current status as an artist that's managing to transcend traditional pop boundaries and make a career on her own terms.
Charli may be known as a bona fide popstar by now but her start in music was considerably more DIY and less polished. After starting out songwriting at 14 and making her first recordings using a loan given to her by her parents, Charli began playing gigs at warehouse raves after posting some of her demos to MySpace at a time when most of us were still drinking WKDs in the park with our mates. "I think it was at those shows that I picked up my performance style," she told Rolling Stone in 2012. "Everyone at those shows was out of their mind on ketamine and tossing glitter around, so being only 14, I felt like I really had to prove myself."
Over the next few years, she made a name for herself on the underground performance circuit and started to gain traction in the press. Here she is wearing an amazing curly blue wig as part of a photoshoot for Rankin's Youth Music Project in 2010…obviously.
From those early club shows came the recording of an unreleased album '14' and two singles, '!Franchesckaar!' and double A-side 'Emelline'/'Art Bitch', which were released under her own label Orgy Music in late 2008. The original tracks are no longer easily found online, but clips of '!Franchesckaar!' and 'Art Bitch' still exist in remixed form on YouTube. Pretty different from what was to come, these early tracks show Charli XCX blending together pop and nu-rave in a brash style that embodies her DIY beginnings
After signing to Asylum Records in 2010, Charli took a break from music which she's described as a "lost" period and eventually attended the Slade School of Fine Art at UCL before dropping out after her first year. But before first album 'True Romance' was finally released in 2013, she dropped two mixtapes in 2012 - 'Heartbreaks and Earthquakes' and 'Super Ultra' - both 8 track, one-track files, released exclusively as online downloads. The mixtapes feature Charli singing over everything from Drake and Blood Orange to Jai Paul and it's interlaced with samples from movies such as Kill Bill, Cruel Intentions and American Beauty in a weird but brilliant mash-up of '90s nostalgia and of-the-moment music.
With neon colours, statement winged eyeliner and backcombed hair, Charli's 'True Romance' era brought together off-kilter goth-pop with an aesthetic borrowed from the 90s. Musically, the album poised Charli as a Tumblr-pop princess, full of glitchy synths and upbeat electro-pop innovative enough to keep her away from being filed under 'mainstream pop' yet strong enough to begin to establish herself as a upcoming artist to be reckoned with.
The album was critically praised but commercially not a huge success, though it did offer up singles such as the Gold Panda sampling 'You (Ha Ha Ha)', 'What I Like', 'Nuclear Seasons' and 'Take My Hand'.
Pretty much anyone who's ever listened to music is familiar with Icona Pop's massive hit 'I Love It' and, by association, the fact that the Charli XCX-penned track became a breakout hit for both artists. But, alongside building a name for herself through her own tracks, Charli has built a huge career as a songwriter in her own right.
She's lent her skills as a songwriter for hire on songs for Camila Cabello ('OMG'), Selena Gomez ('Same Old Love'), will.i.am ('Boys & Girls'), MØ ('Drum'), Danny Brown ('Float On') and "father of disco" Giorgio Moroder ('Diamonds'), as well as being recruited to write for Rihanna, Gwen Stefani and Sky Ferreira.
But how about Charli writing a song for James Blunt? Or Blondie? Well, that happened.
On her career as a songwriter, Charli has been vocal about how it's both a creative outlet for her as well as a money-making exercise to fund her wider creative projects. "When it comes to songwriting for other people, I've become quite ruthless. I see it as a creative outlet whilst I'm creating it, but after the song has been made, I wanna make money. I want the biggest artists to cut these songs, and I want them to be No.1," she told Fader shamelessly in 2014, adding: "When it comes to my own record, that shit doesn't happen, so that's where I think about what I believe to be artistic, what I believe to be beautiful."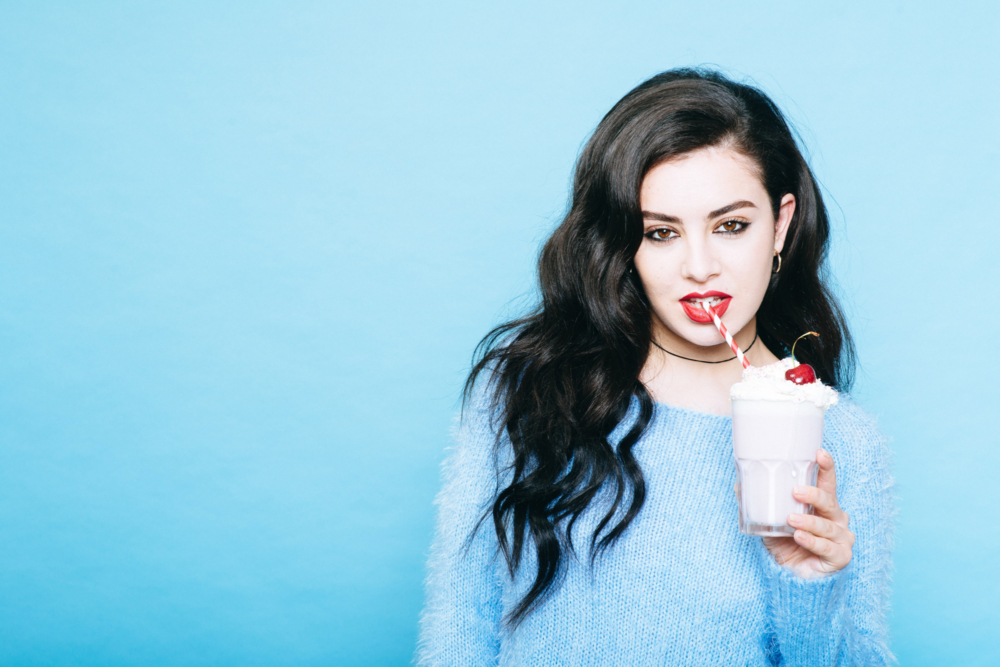 Entering the 'Sucker'-era of her discography in 2014, Charli released her most pure pop album and, with it, managed to finally take her success truly global. The album's first single 'Boom Clap' was her first to break noticeably into the charts, peaking at no. 6 in the UK and no. 8 in the US whilst a feature on Iggy Azalea's 'Fancy' shot both artists straight to No.1 on the US Billboard 100 and gained platinum-selling status across multiple countries.
Live, Charli stepped up her show after releasing 'Sucker'. Whilst touring the album, she recruited an all-female band to play with her, rotating between a variety of schoolgirl and cheerleader stage costumes and threw in gimmicks like 'playing' a human-size inflatable guitar on stage. This was Charli at her most conventionally pop and, for a while, it looked as if she might have left her alt-pop beginnings behind for something more mainstream. That is until, post-'Sucker', she gave her sound a complete 180 turn.

In a July 2015 interview with i-D, Charli XCX said that she was working on her third album and described it as "the most pop thing, and the most electronic thing" she'd done. But what came next wasn't officially an album. In 2016, Charli announced the launch of her own label Vroom Vroom recordings, a label aimed at "brand new experimental pop" and dropped the four track EP 'Vroom Vroom'. The EP had a heavy production influence from PC-Music affiliated producer SOPHIE (who recently released her first full length album as an artist) and featured collaborations with PC Music founder A.G Cook and artist Hannah Diamond.
The result was, in some ways, a return to Charli's club roots, featuring glitchy pop tracks that eschewed traditional songwriting convention. "Vroom was like an assault," Charli told Fader in 2016. "Vroom was not us trying to appease anyone. I think my label got afraid, and I think a lot of people were confused…. That's the scene I came from when I was younger, that club scene. That's originally what I saw in SOPHIE, and I'd never actually made music that was representative of that."
Vroom Vroom marked the start of an ongoing collaborative relationship with A.G. Cook, who returned as producer on Charli's next two mixtapes - 'Number 1 Angel' and 'POP 2', both dropped in with just a few months between them. Both mixtapes are presented as collaborative efforts, rather than just being solo ventures for Charli, and featured a huge range of both underground and mainstream collaborators, including MØ, Uffie, Tove Lo, Carly Rae Jepsen, Cupcakke and Mykki Blanco.
A ten-track mixtape gathering all the tropes of girl-group pop and hyping it up through a futuristic lens,'POP 2' in particular formed the inspiration for the next evolution of Charli's live shows. Whilst on tour with Taylor Swift, Charli's setlist was mostly full of her radio-friendly 'Sucker'-era hits, but for her 'Pop 2' shows in London, Paris, New York and LA, gone was the live band and high school kitsch she previously used live. In its place was a live performance packed full of guest appearances, A.G. Cook DJing the show and a futuristic PVC aesthetic that altogether made Charli's vision of the future of pop look like one incredible party.
Though we're all pretty OK with the future pop of 'POP 2' taking over the planet, let's not forget Charli's still been putting out regular pop banger after regular pop banger whilst she's also been building her huge alt-pop machine. How could we forget about 'Boys'?! Or 'After The After Party' or '5 In The Morning'? Add that to the recently released double AA side of 'Focus' and 'No Angel', which have been live favourites for some time now without ever having had a proper release, and it seems there's no pop echelon that Charli XCX can't transcend.
After the unexpected but thoroughly fascinating diversion Charli took on her 'Number One Angel' and 'POP 2' mixtapes, Charli's third studio album finally arrived in 2019. Firmly hammering home the personal nature of the record, and how it presented a fully-formed, rounded view of her as an artist, she titled it 'Charli'.
To bring her vision to life, she brought in a huge list of collaborators, from Christine & the Queens to Sky Ferreira, HAIM, Clairo, Lizzo and more. As she had always threatened to do, 'Charli' brought together the singer's leftfield, modern leanings with her undoubted knack for a pop hit, most gloriously on Christine collab 'Gone', and showed the world exactly who she was.
Now, at the end of 2021, the idea of a lockdown album is seared into our brains. Across the past 18 months, many artists – looking at you, Taylor Swift – have used the isolation and introspection that coronavirus brought (not to mention the sheer terror) to make some of their most vital work yet.
In April 2020, though, it was Charli XCX who was at the cutting edge of the new normal when she invited fans to collaborate with her and get a window into her creative process as she pieced together a new album called 'how i'm feeling now', written and recorded in just over a month. When it arrived in mid-May, it proved a lifeline for many, as Charli interrogated the terror and reckoning that lockdown brought all of us.
"'how i'm feeling now' is not a doom and gloom record," we said in our review of the album at the time, adding: "Yes, lockdown is shit, yes, these are "strange and unprecedented times," and yes, Charli has made the perfect banger-filled album to get us through it. Get the Zoom party ready."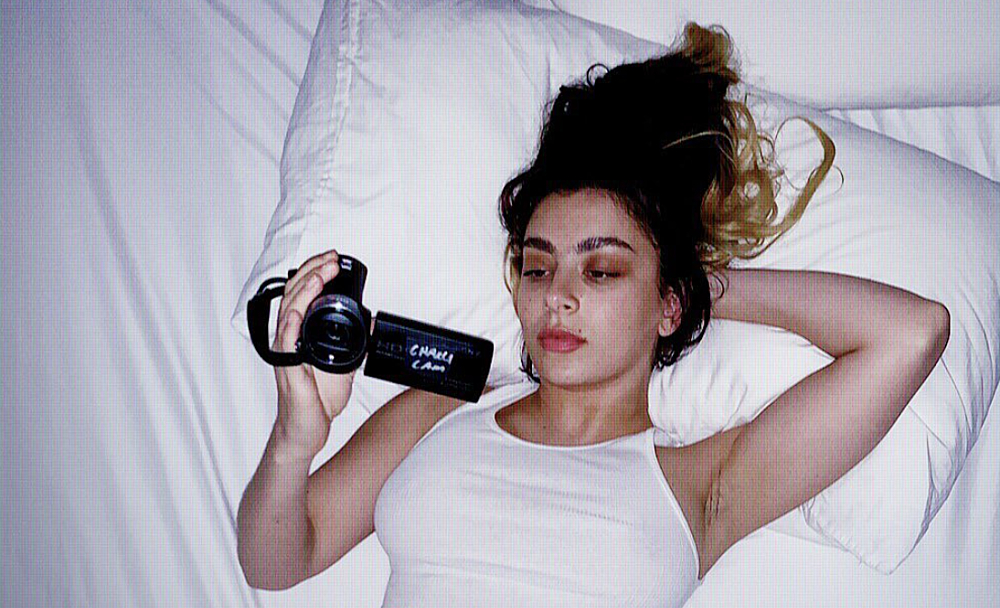 Somewhere among all the near-constant touring, songwriting, mixtape-dropping, collaborating and more, Charli manages to have a laugh and not take herself too seriously. In the past, she has dressed up as Ed Sheeran for US TV show Lip Sync Battle to perform a rendition of Ed's 'Shape Of You' (it's more ridiculous but still way better than the original tbh) and has a significant history of upping the banter levels to dangerous heights while on camera.
Whatever direction she takes her music in next, we know Charli XCX will continue to push the boundaries of pop as we know it, while making sure to have the most amount of fun while doing it.
Into the future, once again
2022 will see Charli release her fifth album 'Crash', previewed by recent singles 'Good Ones' and 'New Shapes', an all-star three-way collaboration featuring Caroline Polachek and her old pal Christine & the Queens.
Teasing the record, Charli told InStyle that 'Crash' is "kind of all about sex and sexuality" and "can make people dance and cry at the same time". Always arriving at the right time, the isolation of 'how i'm feeling now' will be followed by 'Crash' as we enter a new year (hopefully) full of festivals, dancing, community, and letting it all out. Let Charli be your guide.


Get your copy of the latest issue