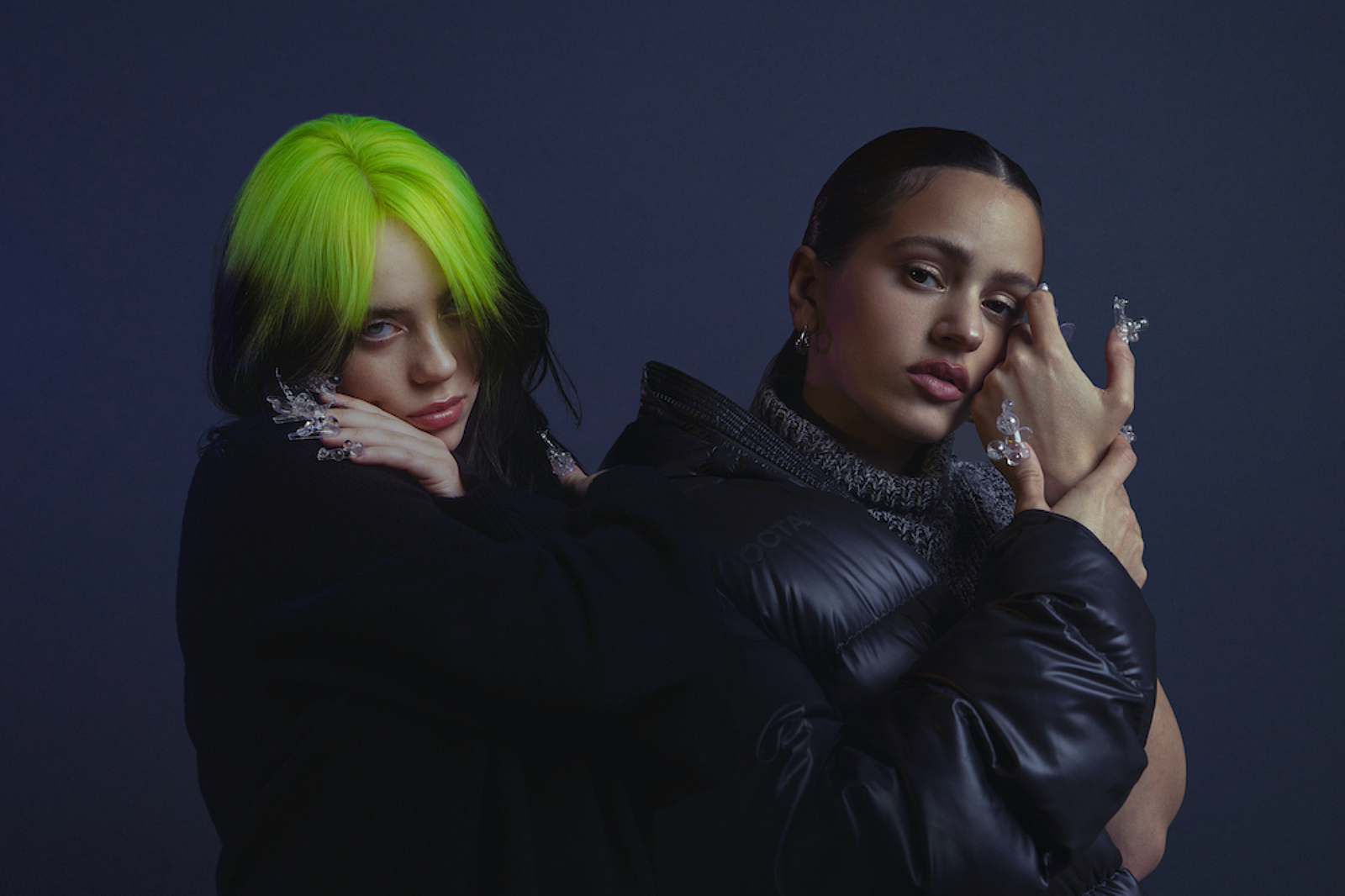 Photo: Matty Vogel & Zhamak Fullad
Tracks: Billie Eilish x Rosalía, Royal Blood, Hayley Williams and more
The biggest and best new music from the past fortnight.
Is that… the sound of 2021 settling in? World events are slightly less tempestuous, we've been given space to laugh via a rare wholesome meme, and artists have started announcing big new releases. This week sees pop stars Billie Eilish and Rosalía team up for a telly-featuring number, Royal Blood have announced their new album, Hayley Williams made a music video straight after a shower, and that's just the start.
To keep your device up to date with the biggest new releases, subscribe to our Essential New Tracks playlist.
Billie Eilish and Rosalía - Lo Vas A Olvidar
After first teasing a collab back in 2019, Billie Eilish and Rosalía have finally delivered the goods, unveiling new track 'Lo Vas A Olvidar'. Written for HBO's hit show Euphoria, the haunting song is mostly sung in Spanish, and follows a poignant tale of a break-up, with Billie's final line of "If I wasn't important, then why would you waste all your poison?" hammering home the heartbreaking story. With the duo's vocals intertwining effortlessly over the simple, yet chilling, backing, get ready for goosebumps.
In these most distinctly un-lairy of times, sometimes a dose of back-to-basics rock'n'roll turned up loud is just the tonic to another evening spent trying to pretend that doing a jigsaw is genuinely how you wish to use your precious young life. Welcome back then, Royal Blood. Because if the question is, will 'Typhoons', with its big, escalating riffs and absolute lack of nuance, change the minds of historical RB haters? Then the answer is, of course, no. But if the question is, will Mike'n'Ben's unapologetic dedication to pouty, stompy, pints in the air earworms give you an injection of much-missed silliness? Then well, we've just Deliveroo-ed ourselves a 12-pack. (Lisa Wright)
Hayley Williams - Teardrop
Originally performed as part of her set for Jack Antonoff's The Ally Coalition's Talent Show late last year, so poignant was Hayley Williams' take on the Massive Attack number that fans soon demanded it was given its own release. Listening back, it's no wonder why: as woozy and expansive as the original - which you can tell must've influenced 'Simmer' - her bedroom rendition arrives with an added glimmer.
Olivia Rodrigo - Drivers Licence
Set in a monotonous suburbia, Olivia Rodrigo's debut single shows us a glimpse of the stories that find a home there. The seventeen-year-old Disney actor has clearly studied at the school of pop, carefully sharing personal details ("you're probably with that blonde girl who always made me doubt") while ensuring her delivery is always relatable. The track's atmosphere builds on moody piano and the sound of a car signal, giving way to melodies that climb and climb before shattering into a tear-soaked chorus. Already breaking records and topping charts, the world is evidently enchanted by the newcomer, and with an EP due out later this year she's likely to soundtrack more than a handful of heartbreaks. (Eloise Bulmer)
Tom Jones - Talking Reality Television Blues
There isn't much Tom Jones hasn't done by now, musically or otherwise, but if you'd been told in advance the first single from the legendary crooner's next record would sound more like Radiohead than the Oxford band do themselves some days, you'd think 2020 madness had finally gone too far. But that's just what 'Talking Reality Television Blues' does. The 2019 original by US singer-songwriter Todd Snider is sonically pure country-folk, but Tom's take has him using his instantly-recognisable burr for ominous effect on this spoken-word number. "Reality killed by a reality star," he proclaims, as the tension-filled track crashes around him. Expect the unexpected is a mantra by now - but this one really has taken us by surprise. (Emma Swann)
Chai - Action
Increasingly proving that they've got more up their sleeves than just the hyperactive sugary punk of their debut, Chai's latest instead comes on like something taken from a lost Erol Alkan mixtape. Sending you straight back to the more electronic end of the late '00s indie club scene, 'Action''s bouncy beats and cheeky vocals could nestle up to some of nu rave's more credible counterparts and sound like reasonable bedfellows. Which is, obviously, a high compliment. (Lisa Wright)
Deap Vally ft. jennylee - Look Away
What happens when you combine the gnarly garage rock of Deap Vally and the shoegazey wonder of Warpaint bassist jennylee? The first cut from Deap Vally's forthcoming collaborative EP, 'Digital Dream', with its hushed vocals and almost-looked repetition, 'Look Away' is a gently mesmerising number: think the softer side of The Kills, or Lana Del Rey if she swapped the country club for the counterculture. (Emma Swann)
Sheer Mag - Crushed Velvet
'Crushed Velvet' was recorded by the band for the soundtrack of upcoming film The Ultimate Playlist of Noise. Kyle Seely and Matt Palmer's guitars may have lost the garage punk edges they had in parts of the Philadelphians' last album, 'A Distant Call' (2019), but the band have (necessarily) added a strongly cinematic feel to their sound. It's particularly easy to imagine Seely's virtuoso solo working well over a montage sequence. (Greg Hyde)
Weezer - All My Favorite Songs
If there's one thing Weezer excel at, it's self-pity. "What the hell is wrong with me?," repeats Rivers Cuomo in the hook to this first single from the unexpected 'OK Human', out next week. A record started after their planned 2020 release 'Van Weezer', but completed during lockdown late last year, it's slated to feature Abbey Road string sections and largely piano-based material. Both are on show here, with the group's trademark chord changes, backing harmonies and heavy dose of nostalgia. (Emma Swann)
Delilah Holliday - Goddess Energy
Following her making a name as vocalist for London noiseniks Skinny Girl Diet, and more recently featuring as the hook-bringing third of B.E.D, her collaboration with Baxter Dury and producer Etienne de Crécy, Delilah Holliday has steadily been releasing lo-fi R&B records, of which latest effort 'Goddess Energy' is already a highlight, a club-ready bop for whenever clubs themselves are ready. (Louisa Dixon)
Lana Del Rey - Chemtrails over the Country Club
Having so far followed 2019's smash 'Norman Fucking Rockwell!' with more column inches than chord changes, Lana returns with the title track from her forthcoming seventh studio album. Like much of the singer's music, 'Chemtrails Over The Country Club' comes doused in nostalgia, her words painting a vivid picture of dreamy American summers. The track evolves from a sparse beginning into an atmospheric soundscape with pulsing piano, overlaid vocals and a driving beat. Just as dreamily pop as you'd expect. (Flo Stroud)
Architects - Dead Butterflies
The third single from Architects' 'For Those That Wish to Exist;, 'Dead Butterflies' is a swelling rock song which ebbs and flows, using strings, brass and electronic elements. Architects have always excelled at moving between soft and hard sounds, and accordingly 'Dead Butterflies' has its delicate moments, but when they dial the sound back up again, the music hits like a wave. Once again, the group have delivered a song that's equal parts tragic and epic. (Aliya Chaudhry)

Get your copy of the latest issue