Upbringing: METZ
Now their five-star second album 'II' has cemented METZ's place at the top, they take a seat and reflect on their musical foundations.
With their latest album 'II', Canadian noise-punks METZ brought about something seismic. Channelling pure fury through a foundation of gritty melody, it immediately marked itself out as one of the year's most vital records upon its release back in May.
We gave 'II' the full five-stars, pinning it as "an advert to be a whole new generation's Sonic Youth or Nirvana," but we couldn't stop there. 'II' is a record that deserve to be pored over and dissected, and who better to guide that process than the band themselves? We teamed up with the band to get the full scoop on 'II' with a limited edition zine, designed and illustrated by the band's drummer Hayden Menzies (turns out he's a dab hand with a pencil as well as a drumstick). A track-by-track guide to two, accompanied by Hayden's warped illustration - you need this. They're a beautiful guide to a gut-punching record and you can pick them up for free from their merch stand. More on that below.
First, though, we had a little catch up with METZ to quiz them on their musical foundations and influences. Everything from power-tools to INXS, The Beatles to crappy Christmas presents - it all fed into making METZ one of the most exciting heavy bands in the world.
What was the first gig you ever went to?
The first show I ever saw was Hoover. It was held at a venue called 5 Arlington in Ottawa. It was the basement of a house and was just a sweatbox stuffed with kids. Going to that show changed my life and how I thought about music in general. It was an all-ages gig, in a house, with bands that didn't have record deals and everyone was there for the pure love of music. Check out the Hoover record 'Lurid Transversal of Route 7'. I saw many other great bands there including Drive Like Jehu, Shotmaker, and Wool. (Hayden Menzies - drums)
Were there a good supply of venues in your hometown?
There was a small amount of places to play but they were really welcoming open-minded inclusive spaces. Club Saw did amazing all-ages shows that had a huge impact on our music and way of seeing the world. I think punk and hardcore music saved my life. Shawn Scallen put on most of those shows, as well as ran a college radio show. Thank you Shawn. (Alex Edkins - vocals/guitar)
Can you remember the first song you ever developed an obsession over?
'This Boy' from 'Meet the Beatles' was an early obsession. I would listen to The Beatles endlessly, sitting on my parents couch. I still think its one of my all time favorite Lennon vocals. I also remember dancing endlessly to Michael Jackson's 'Thriller'. (Alex)
What's the story behind you getting your first instruments?
Instead of my Dad going to the mall to buy me a Christmas gift, he decided to just give me his old shitty guitar that was collecting dust. I later tried to pawn my axe for something better and found out it was worth $30. I still have that guitar. Thanks Dad. (Chris Slorach - bass)
What's your worst musical habit?
While at home I play along to every movie I watch and try to learn the soundtrack. My wife seriously dislikes this habit. (Chris)
What was the first album you ever bought with your own money, and why?
'Kick' by INXS was my first. 'Devil Inside' had a skateboard in the video and I was hooked. (Chris)
INXS - 'Devil Inside'
What kind of inspirations outside of music have an impact on your songwriting?
I think our music is influenced by film, literature, media, visual arts, world events, politics and personal experience. It all seems to find its way into our lives and then of course seeps into our music. I'm a big fan of Raymond Carver's open-ended writing style, we are also heavily influenced by the sound of power tools. Belt sanders and such. (Alex)
What's the best piece of advice you've ever been given as a musician?
Captain Beefheart once said "never clean your guitar". I've followed his advice. (Alex)
If you could be any band from the past two decades who would it be, and why?
Jamiroquai had great hats.
Grab a copy of DIY's limited edition METZ zine at any one of their UK shows:
OCTOBER
30 Birmingham, Hare and Hounds
31 Leeds, Brudenell Social Club
NOVEMBER
01 London, Scala
03 Bristol, The Fleece
04 Manchester, Sound Control
05 Glasgow, Stereo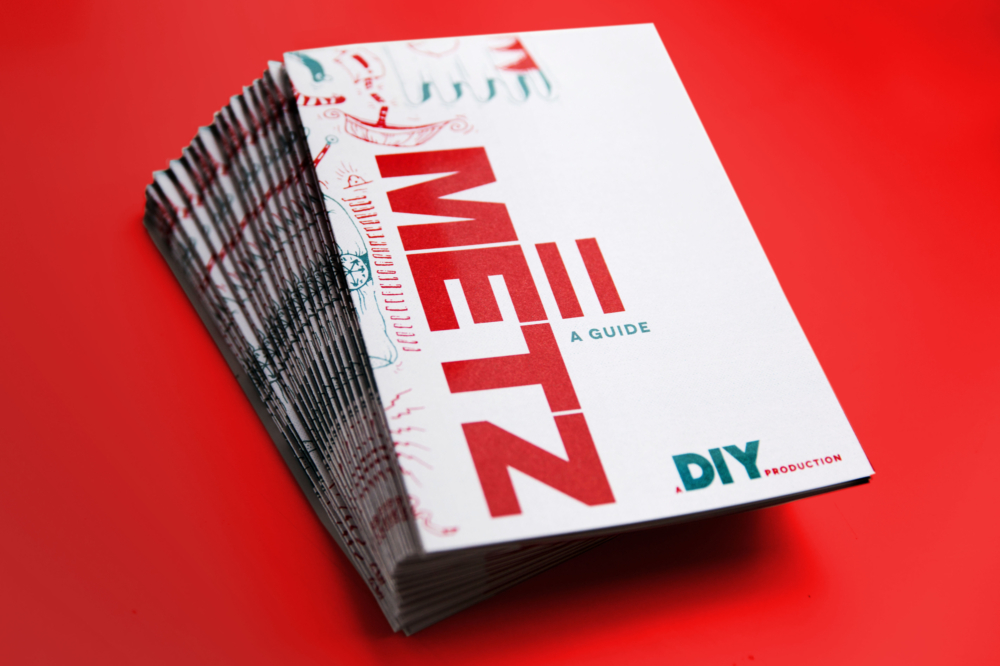 Get your copy of the latest issue