A Grand Unveiling: Sundara Karma
While many of us spent lockdown avoiding video calls and queueing for the local shop, Sundara Karma did things differently. Now, they've returned with a new EP in tow, and their boldest statement yet.
"The true meaning of the word 'apocalypse'," offers up Sundara Karma's Oscar Pollock within the first few moments of introductory chatter, "the Greek definition of it, is 'the unveiling', which is super cool. I think, right now, we are in the apocalypse," he smiles, "because [so many] things are being unveiled."
It feels somewhat apt for such grandiose matter to be the sentiment with which the singer begins a conversation about the band's newest and, arguably, most bold chapter to date. An EP that was predominantly written over the last year, but completed during lockdown, 'Kill Me' also marks Sundara's most cohesive work yet - a body of tracks that directly speak to the frontman's recent lived experience.
See while, for many of us, lockdown was a stretch of endless Zoom quizzes and a lack of real concentration, for Oscar and the band, it became a hugely creative period. "Some of these songs are from the collection that I'd just been chipping away at [over the past year]," he elaborates. Yet, having originally begun writing for what he envisioned would be the band's third album, the global situation shifted that idea. "It was lockdown that became a catalyst for the focus of it. These ideas were there but they were finished in reaction to the current circumstances," he nods.
"I think that pop right now is doing something that no other genre is doing."
— Oscar Pollock
Sundara Karma aren't exactly strangers when it comes to thinking outside of the box. With their previous full-length - last year's second album 'Ulfilas' Alphabet' - the quartet found themselves trading in the indie-pop hooks of their debut for an altogether more classic approach, pillaging the back-catalogues of influences like David Bowie and Elton John, and trying on different sounds for size. Ultimately, it was an exploratory time for the band, which proved they didn't need to play by any rules.
"Musically, our last album was me testing out and experimenting with what I liked and what I wanted to do," Oscar explains. "That last record, I look back on it and think it was just an honest, pure expression, just for the sake of it. Really there was nothing else on my mind other than experimentation and trying to fit together all of these different elements, without forcing them. I think of it as a really organic time in terms of my artistic output and my songwriting." It was also a means for him to try and unpick some of his own sense of self too. "What's funny about it is that I was unaware of it at the time, but looking back now, I was also really lacking that sense of identity myself, and knowing what it was that I was, and what my voice was."
"I really admire people who are able to have a very distinct vibe from the get-go, but I just haven't been one of those types of people, and that's alright," he nods. "It's just taken me a while to find my feet, and I hope this EP is a start to me really finding that, you know?"
And indeed, this time around, the band are broadening their sonic horizons once more. While the opening title offering comes doused in darkly ethereal synths that match the cynical melodrama of Oscar's lyrics ("From a lost adolescence / I've become co-dependent…"), the likes of 'O Stranger' and 'Lifelines' are altogether glitchier affairs that tap into the more futuristic vision of pop that PC Music, and 'Kill Me''s creative director Hannah Diamond, have become so renowned for.
"I think that pop right now is doing something that no other genre is doing," Oscar muses. With the critical acclaim of artists like Charli XCX and Dua Lipa this year alone, you'd be hard-pressed to argue. "Pop music has always been inclusive," he continues. "It's giving artists the freedom to experiment, and it feels as though it's pushing things along way more than some other things. We've always essentially written pop songs, but we've just dressed them differently."
And was Hannah's own ethos somewhat influential for the project as a whole? "All the music was done before Hannah and I started conversations about where the aesthetics should go, so I feel like I knew, already in my mind, what kind of world it needed to have," he confirms. "That's exactly why I reached out to Hannah."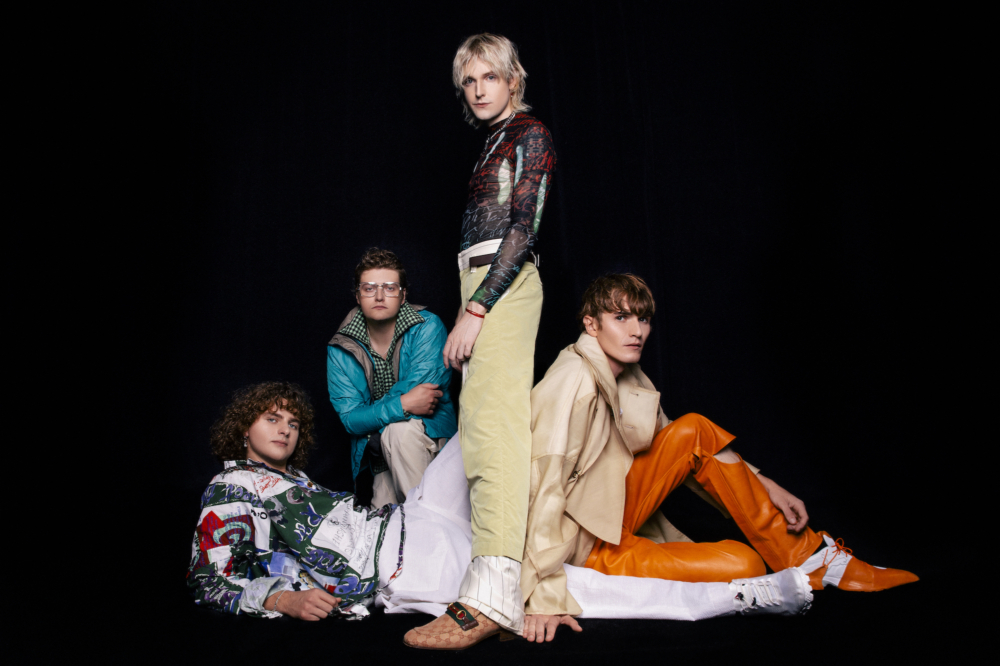 "I really admire people who are able to have a very distinct vibe from the get go, but I just haven't been one of those types of people."
— Oscar Pollock
Bringing his vision to life wasn't just about the stylistic side, either. Despite being unable to work together in person, the band recruited producer and artist Clarence Clarity - who's more recently worked with the likes of Charli and Rina Sawayama - to help put the finishing touches to their final product. And while the process became more about emailing song stems and notes back and forth than hammering it out in a studio, it was one that Oscar found even more rewarding.
"It's almost better over email, because sometimes in conversation, you just react off maybe what feels right at that moment," he explains. "You're looking at that other person and seeing their facial expressions, and maybe you're being influenced by that psychologically or subconsciously. When it's over email, you're very much more detached from everybody else's inclinations, so you're actually really forced to think about how it makes you feel, which is really cool. I think [the EP] totally evolved and changed its form as each song was finished."
Utilising Clarence's penchant for attention to detail, the pair found themselves building in more sonic textures. "I know it sounds like a subtle thing, but that really can change where it sits in my head. As the sounds changed, the visuals would change, the aesthetic of it would change, and it'd become clearer."
And while 'Kill Me' - both the track, and EP - is an admittedly personal and introspective dive into Oscar's own mind over the past year (he confirms the title track "is so close to the bone and I really am baring all"), it's equally a project that couldn't have evolved without the collaborative team he's built around the band. "That plays such a huge part in the development of a person, the conditions in which they're surrounded. It feels like a lot of elements have come together at just the right time, which makes me think, 'OK, maybe this is what I had been wanting for so long'," he nods. "As much as there is an internal struggle to find something that will be fulfilling in the long run, it's also so reliant on what's happening externally, around you, and the other people that you're working with.
"In the past, I think I've struggled with cohesiveness, you know, and with putting a frame around things," Oscar admits. "But working with Hannah and Clarence has really helped me define what I want to say. I think it's maybe a point we've been searching to find for a while now. It definitely feels like a different kind of energy, and there's a freshness to it."
As for what he'd like the EP to say about this time in the band's life? He briefly pauses, before picking back up. "I want to say I'd like this to represent a significant point in our journey as a band; to signify a bolder sense of ourselves, a clearer sense of ourselves."
'Kill Me' is out 24th November via Chess Club.
Read More