A weekend away: American Football
Seventeen years after writing an album that defined a genre before swiftly parting ways, American Football's return sees them more content and happier, but still vital.
The story behind American Football's re-emergence - over 15 years since they disappeared with little fanfare - has been consistent. Asked to reform for two sets, in New York and at their hometown festival in Illinois, to coincide with label Polyvinyl re-releasing their self-titled debut as a fancy gatefold LP with lost bonus tracks, the coming together proved more than the band thought, and spiralled into shows further afield, and even to the UK in May of last year.
It was somewhere along that tour that the idea of writing another album came to Mike Kinsella, Steves Holmes and Lamos, and the newly instated Nate Kinsella, who joined the live band for the first gigs, and was a shoe-in for any potential songwriting from then on. "He's the best musician of us by far," says Mike.
Speaking to DIY just after the band announced (and swiftly sold out) a series of UK shows at the end of 2014, drummer Steve Lamos stated that the most fun part of American Football mk. 2 was three old friends - and one new one - having more excuses to travel across America to hang out and play music more often. It just so happens that thousands of fans are also waiting on their every move.
"I don't have to be the same person I was then in order to write an American Football album"
— Mike Kinsella
Today, with their second, also self-titled album finished, that sense of excitement and giddy wonder still fills the band. Entering a conference call from all sides of the country - Nate is in New York, preparing to play some shows with his own Birthmark project, Mike and guitarist Steve Holmes are at their respective homes in Chicago, while Lamos enters the call almost half an hour late after locking himself out of his office in a University in Denver, Colorado - the band see the opportunity as a chance to simply catch up, as well as converse over the album they thought they'd never make.
"There was never any plan," Steve Holmes begins. "I just found some old demo tapes from around the time of the first record, took them to Polyvinyl, and from there everything just snowballed." While both Steves now work full-time jobs away from music, Mike has been a lynchpin of the American emo scene, with his solo project Owen on its ninth(!) album, and having been a member of countless other bands. It has, therefore, been easier for Mike to track the history of American Football's growing legacy, and the adoration they receive having contributed literally nothing for a decade and a half.
"I don't think I thought about American Football much in the time away," Lamos reveals, "but I did miss playing. When we came back to play those shows, it was amazing that people would essentially pay us to travel around and play those songs again, and also great because we had excuses to leave our lives for weekends at a time and come and hang out together."
That camaraderie is still free-flowing, nearly two years after the wheels starting rolling on the re-emergence of American Football, with the same atmosphere as you can have expected down in that Illinois basement on weekday evenings in 1999. While the reunion shows came relatively risk-free for the band, there was a bit more thinking to doubling their discography, adding to an album that so many consider to be American Football.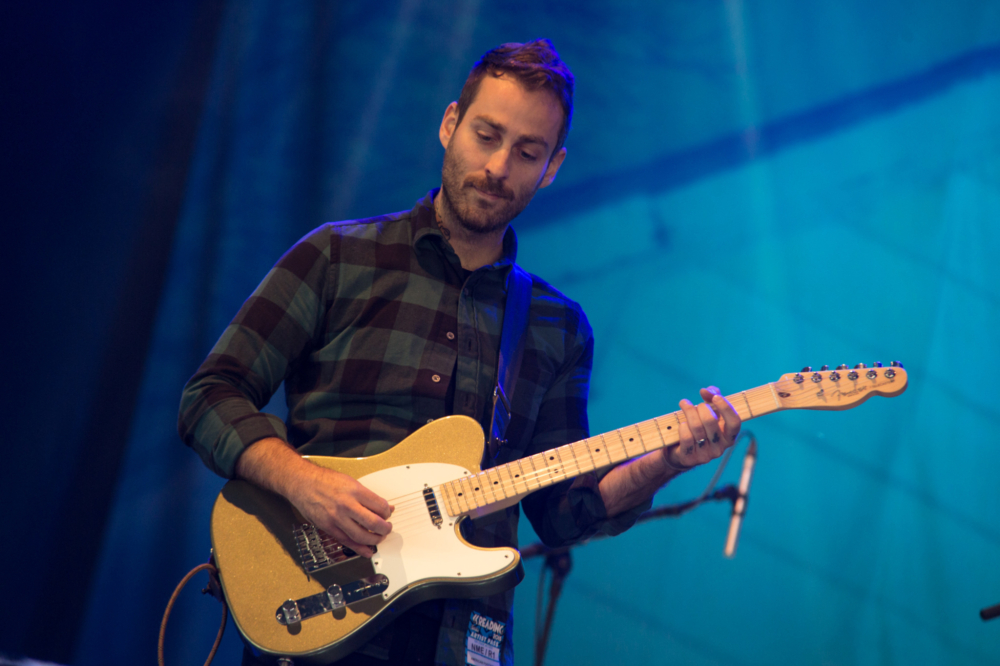 "There was never any plan."
— Steve Holmes
"We always said that we could tap out at any time," Mike says, "and leave it there, but as well as being a lot of fun, starting this band up again is a real commitment, and takes a lot of time out of each of our lives and away from our families. As such, we felt a duty to make the best album we possibly could if we were going to do this."
After thoughts of LP2 first emerged while noodling away at soundchecks, the band then threw ideas across the country at each other via a Dropbox folder - not the most romantic, ideal situation for American Football's first album in seventeen years to emerge from, but a necessary one, and one which showed the band's commitment to making this work.
'American Football' is an album that is strongly indebted to its predecessor, and not a reinvention in any sense, but an album that allows the band, all now either in their 40s or heading towards them, to travel back to the headspace in which they wrote these songs that became anthems. "I don't have to be the same person I was then in order to write an American Football album," Mike says, and when the lyrics do get heavy on the album, his cry of "doctor it hurts that I exist" on 'I've Been So Lost For So Long', it's with a knowing nod back, and a comfortable transition to singing these songs while not being a hyper-emotional twenty-something.
While every lyric on 1999's 'American Football' was stabbed out with urgency, its follow-up has a greater flow, and is representative of the state these three friends are now in, and what they want from American Football in 2016. "For as long as this continues, it'll bring more weekends to goof around with our friends a bit more," Steve Holmes concludes, "and if that's all we get, it's enough."
American Football's self-titled album is out on 21st October via Wichita.

Get your copy of the latest issue
Read More