Rooted in the gnarly tangle of modern society but heading into intergalactic new sonic airspace, 'Divine Machines' is Demob Happy's most adventurous album yet.
One October night in Edinburgh in 2018, Demob Happy had an "out-of-body experience." It was the final night of the Brighton-via-Newcastle band's short run of dates supporting Jack White who, over the course of the previous four nights, had kept to himself. "He sustained himself as a very mysterious and enigmatic character throughout," drummer Tom Armstrong says. "You don't wanna go backstage and just find him investing in crypto." At Usher Hall, though, things were different, and as a parting gift to the trio, he invited his support act on stage for an impromptu jam of The Dead Weather's 'Cut Like A Buffalo'.
"I just remember him shouting out chords at me, and I was like, 'OK, alright, I'll play that chord, Jack'," guitarist Adam 'Baz' Godfrey recalls, recreating his shell-shocked manner from that night as he talks.

It wasn't just the White Stripe who was sitting up and paying attention to Demob back then. Having been on a slow burn upward since releasing their debut EP in 2011, on their second album – 2018's 'Holy Doom' – it felt like the band's momentum was finally rising more sharply. In just under two years, they played countless festivals and completed 14 tours: their first US headline dates, support slots with Royal Blood, The Amazons and more, as well as these shows with White. Even Aquaman himself was a convert to the Demob experience, with Jason Momoa spotted perusing the band's vinyl at a US gig.
The trio might have confounded many over the years – too heavy to be strictly indie, but not quite hard-riffing enough for the rock and metal sect. But finally, their hard work was paying off and driving out the need to be categorised. "I've never had any doubt that the cream rises to the top," smiles frontman Matt Marcantonio. "You've just got to get through a lot of shit together."
After 20 months on the road, a pandemic-enforced break was a much-needed one for the band. "We were spreading ourselves too thin across the world," Tom says breezily. But while the world has since had to rebuild itself following that pause, Demob Happy have managed to return feeling like they haven't missed a beat.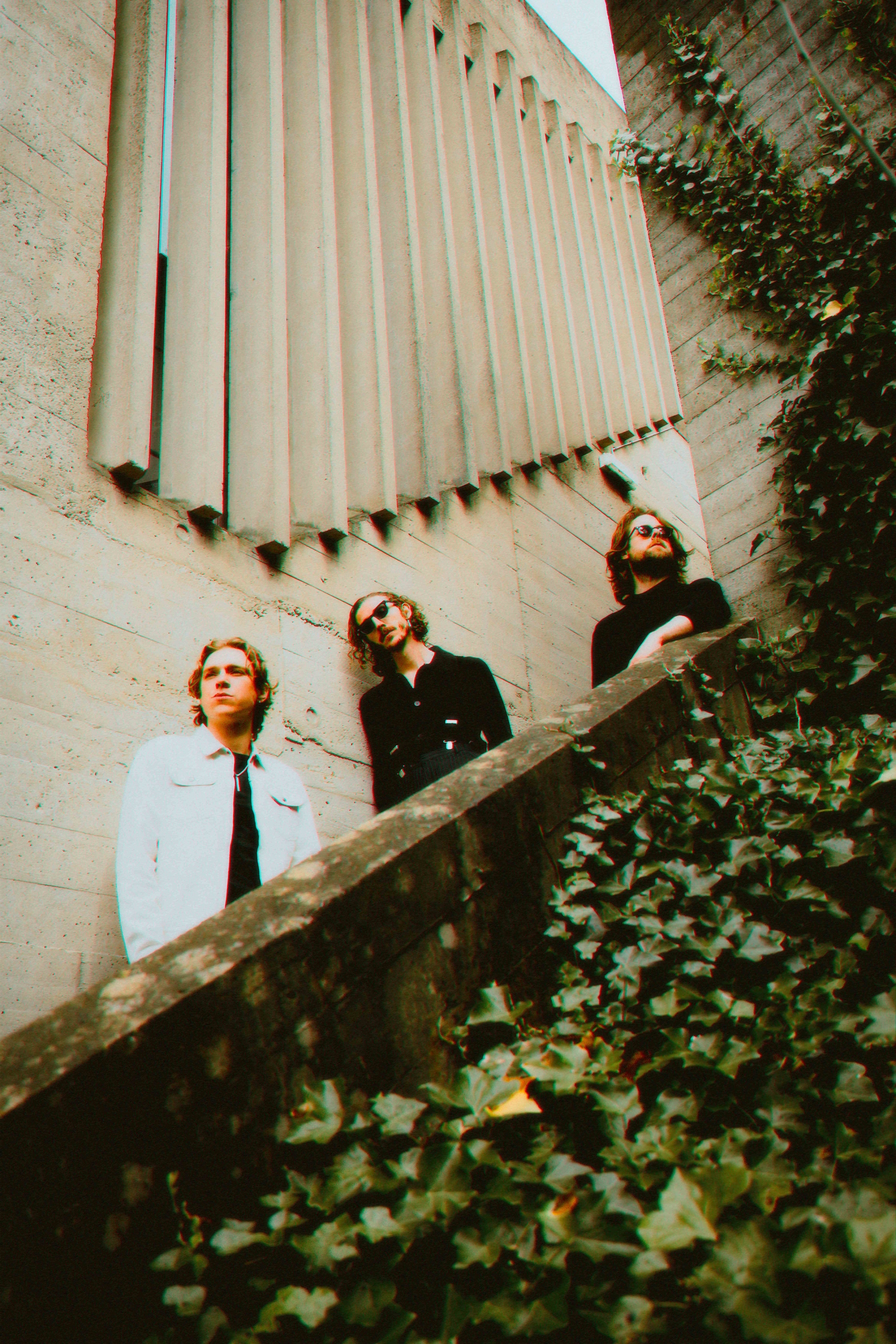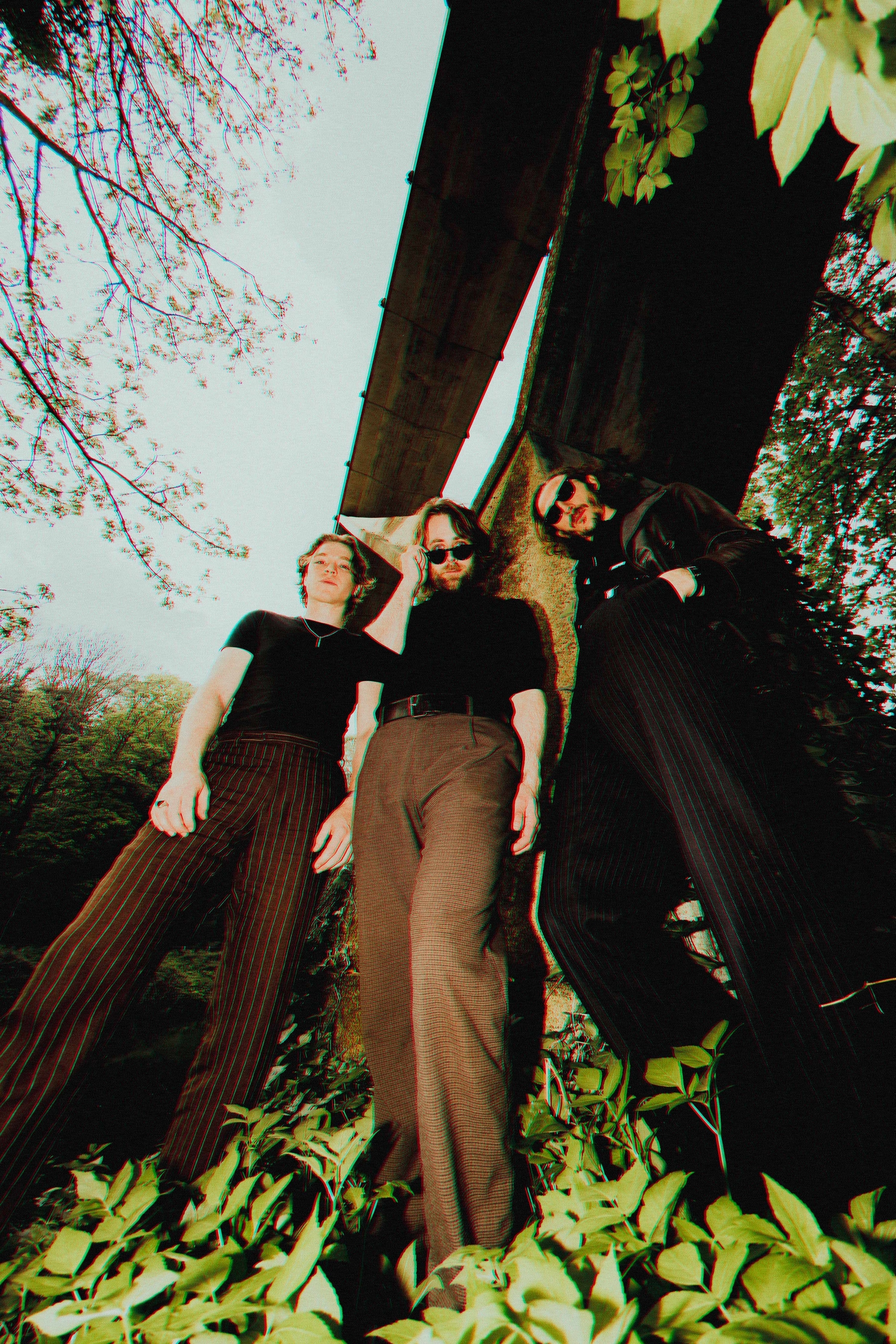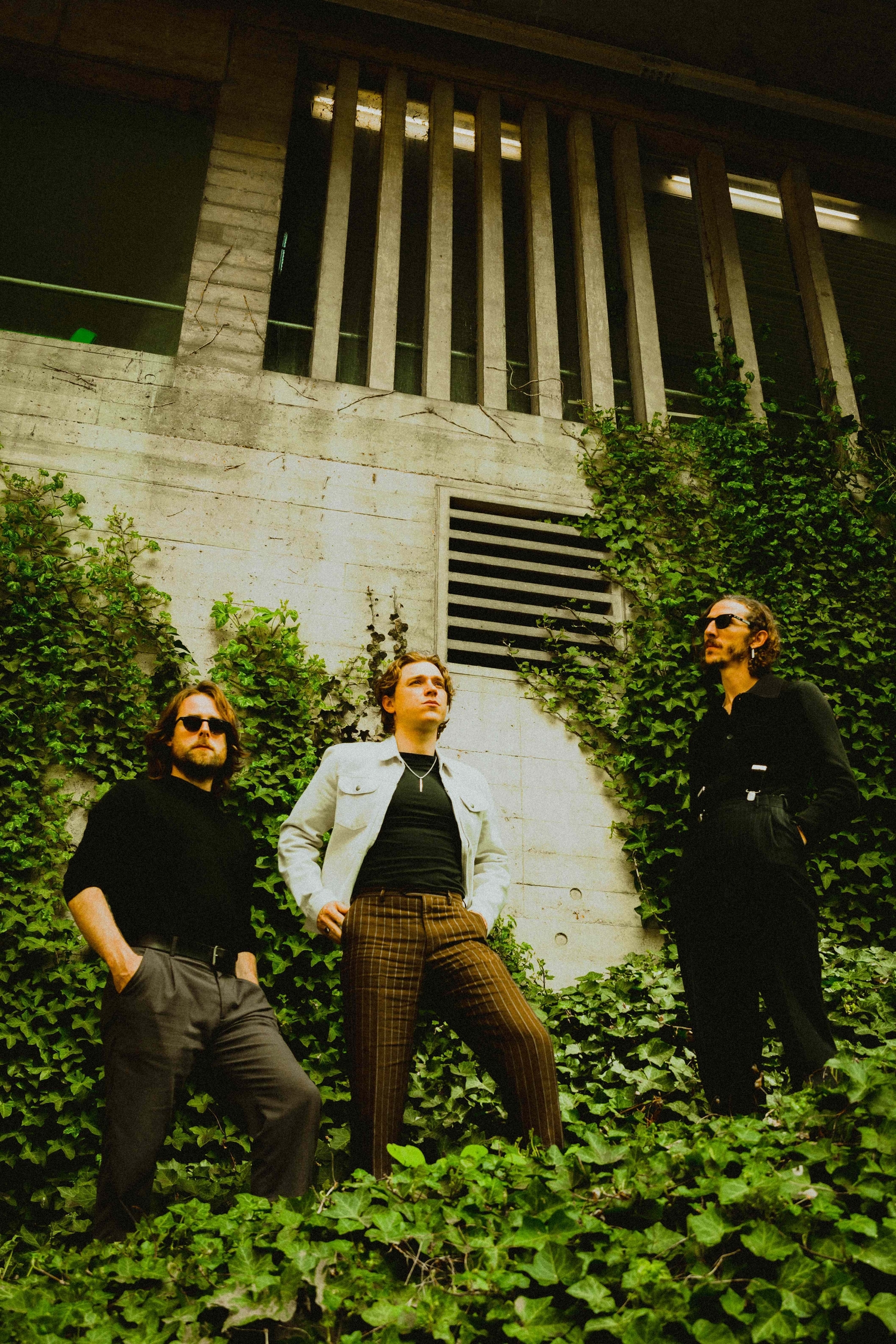 "I think it took us a while to think we could do anything other than just be musically aggressive." - Matt Marcantonio
Third album 'Divine Machines' picks up right where the band left off in early 2020, riding a wave of momentum to thrilling new heights. It's grand and ambitious in its scope, packing in the classic Demob DNA – crunchy, grungy riffs and psychedelic flashes – alongside fresh sounds and ideas.
There are layers of spacey, sci-fi sonics, like the ominous sparkle of the intro to 'Super-Fluid' or the galactic instrumental of the title track. But alongside a healthy dose of dystopian atmospherics, there's plenty of hope, too. 'Tear It Down' sees a future where nuance is king and misinformation is challenged, while 'Muscular Reflex' sings of self-acceptance. More than ever, the band's output feels like a reflection of the world around us; one where, if you change your perspective, you can still find some beacons of light.
"It's quite easy to live in the reality of the screen and what's presented by the media," Adam reasons. "But, human-to-human, there's still a lot of kindness there." "When we were in Joshua Tree a few weeks ago, I was trying to buy a coffee at the gas station, and I couldn't get my card to work," Tom offers as an example. "The dude behind the counter just pulled five bucks out of his pocket and bought my coffee for me. I nearly cried and he said, 'Just pass on the kindness, man'. He was just a person being kind to another person – a simple act."
The record also contains important, conversation-starting songs that could, hopefully, lead us to a better future. The piano-led 'She's As Happy As A Man Can Be' is perhaps the most thought-provoking of these, capturing Matt's feelings about some of the byproducts of where he and his bandmates grew up. "It was thought of as a bit soppy to wear your heart on your sleeve almost," Adam offers as an explanation, while Tom nods and points to the difficulties of "shaking off toxic masculinity".
"You weren't allowed to express certain sides of yourself," Matt continues. "It feels odd to still be affected by those things, but you can't really help it until you face them." Growing up in the same environment and having known each other for so long brought elements of that emotional restriction into the band, too. "I think it took us a while to think we could do anything other than just be aggressive," he says. "That was the only level – aggression and expelling those demons and anger in music."

"It's quite easy to live in the reality of the screen but, human-to-human, there's still a lot of kindness there." - Adam Godfrey
As well as looking inwards, the album casts its gaze outward too – particularly (as on roaring, urgent closer 'Hades, Baby') in the direction of the one percent. Ironically, the track was recorded at Abbey Road as part of a session for Amazon Music. "You joked about doing a dirty protest," Tom grins at Adam as conversation turns to that day. "So you had a bottle and put it on top of the amp."
"Not just randomly, of course," Matt reassures us, "but a comment on Amazon workers having to piss in bottles. [That song is] literally about Jeff Bezos. These mega-rich megalomaniacs – who knows what their intentions are, but they're not going to take any of that [money] with them when they die. What's the point in amassing such wealth and doing nothing of any good with it?"
"Apparently, Bezos' ex-wife can't give her money away quick enough before she just makes more. That's how rich she is from getting however much money she got from the divorce," Adam says, shaking his head. "It's nuts." "How much did they say it would cost to end third-world hunger?" Matt replies. "About £3 billion or something? [A 2019 report claimed £5 billion could wipe out hunger in Africa] What are the chances she does?"
The former Mrs Bezos might not be about to reach into her pockets and lend a hand, but in their own way, Demob are doing their bit for our world. A key theme on 'Divine Machines' is the idea of inspiring change, and – despite all the bad things we're told about our society – the band still believe in music's power to connect and reroute the conversation.
"We're encouraged to look at the world through the lens of pessimism," Demob's frontman says. "Because then we're all sad and the system continues to work. But we've always tried to make genuine music we care deeply about, and have never compromised. Our hope is people will hear that, and it'll inspire people to listen more deeply and, because of that, have a connection to art.
"People are always going to need music; they're always going to need art," he affirms. "The human consciousness is extremely adept at sifting through the bullshit."
'Divine Machines' is out now via Liberator Music.
Read More
Featuring King Gizzard & The Lizard Wizard, IDLES, Tkay Maidza, Sleater-Kinney and more.