The National frontman's debut solo album started out as a covers record. With a little help from his friends, however, the singer ended up making a prescient statement for troubled times.
It's 7am in Venice, California when Matt Berninger calls. Even down by the ocean, you can feel the effects of the wildfires that are currently raging along the entire West Coast of America, he tells us, adding literal flames to the metaphorical forest fire that 2020 has already proven. "I smoke a lot of weed and I go outside and I can feel the air, and it's more toxic than the weed," the singer half-chuckles, half-winces.
"It's really scary, and really depressing, all the fires and everything," he continues, the early hour seemingly no barrier to heavy chat. "There's never been anything like it. There's been fires, all these fires… but nothing like this year. It's just terrifying and devastating. And it's all our fault, too. There's a great sadness and a great reckoning, and it's at our doorstep, this climate crisis." He pauses. "But anyway, the record! Let's move on…"
Ah yes, the record. Despite the more-than-distracting real world crises that still loom large, we're interrupting Matt's breakfast to talk about The National frontman's debut solo album: the mournful, exquisite, frequently beautiful 'Serpentine Prison'.
"This record was completely finished before the pandemic, and so I've been talking about [it] a lot, and having people ask me about its relationship to the pandemic and politics and the environment, and the truth is I was really just thinking about myself when making this record," he explains.
As we have become accustomed to in this strangest of years, though, any discussion about music or art suddenly, and understandably, folds out into a wider rumination on the past, present and future of a nation and a planet. It seems 2020 really is demanding an all-encompassing stock check from all of us, and it's one Matt enters into hungrily from the off.
"We've been in such crisis," he says. "Everybody has been in the same existential, dreadful crisis for 15-20 years I think. 9/11 was such a shock, and George W Bush being elected, frankly, I couldn't believe that. Everything since has been a series of traumas. Global traumas, but also very, very deep American traumas.
"It's just been guns, massacres in the streets, and Nazis everywhere. It's overwhelming. But it is the truth of our country here, and Donald Trump is our President, and he was chosen by Americans. It's not exactly his fault, it's our fault. He's a tool of our own demons. Trump is a manifestation of America." Not your average wake-up call over a croissant and a latte, huh?
Yet, despite this (entirely legitimate) sense of despair with the world at large, it's in music and art, Matt says, that hope and escape can be found among the chaos.
"There's a great sadness and a great reckoning, and it's at our doorstep."
'Serpentine Prison' wasn't supposed to be Matt Berninger's debut solo album. Originally, the idea was to record a covers record, inspired by his love for Willie Nelson's 1978 LP 'Stardust' - a favourite of Matt's dad's. The concept was then pushed further into his mind after he and his father went through a particularly difficult period of their relationship. "This record isn't about my dad, but it's for him," he says.
To execute the vision, he reached out to previous collaborator and production legend Booker T Jones, who sculpted 'Stardust' alongside Nelson. However, upon hearing a number of the original tracks Matt had floating around, Booker urged him to expand and write more of his own songs. "I didn't have any need to make a solo record," Matt says. "I've had three bands in my life and all three I love. I am also constantly working with other artists, individually and on other projects, so there wasn't really much of a need for this."
Instead, any need for a solo album was replaced by a sudden, unexpected want for one - he and Booker found themselves with more original music than covers, and a full-length solo album began to take shape before their eyes. After some polite nudging from National bandmate Scott Devendorf, who vetoed working titles of 'Matt Berninger and Friends' or 'Matt Berninger's Serpentine Prison', Matt thought, "'OK, this feels right, it feels like it's time, and I'm ready - let's do it'. Then I embraced the idea of the solo album. In the cocoon of the studio, it turned from a covers album into a solo record."
The album borne from these sessions is at once quintessentially Matt Berninger and also somewhat of a significant departure. While 'Distant Axis' and 'Take Me Out Of Town' lean on the kind of confessional balladry he's been mastering for decades with The National, the mid-album highlight of 'Loved So Little' possesses a creepier twang, one that could easily soundtrack a Western. Elsewhere, the album's closing title track hinges on a quietly anthemic chorus, while 'All Or Nothing' is based around a cutting heartbreaker of a piano riff that leads into a stunning, rapturous, horn-filled outro.
"Music has pulled me out of so much sadness and depression so many times. It's the only thing."
Despite the anxiety that courses through today's conversation, and of much of the album, 'Serpentine Prison' is also a record cut through with dry humour, a trait the singer has been cultivating online and on stage for the last half-decade. "Sorry, I'm fishin' without permission," he sings on the title track, while 'All For Nothing' sees him "standing in the quicksand with a smiling face."
"Even when I was a designer or a painter, humour has been an essential tool," Matt says. "So is frankness, and I love the artists that can put something hilarious next to something crushing. Or it's both at the same time."
Perhaps unusually for the brooding frontman of an often downbeat indie-rock band, Matt has steadily crafted an online persona for himself that's as much goofball dad as it is sentimental crooner, and it's shown best on his frequently hilarious Instagram account. Whether he's applying National lyrics to videos of chirping birds or posing in-store at Sephora, a stark humour courses through it all, with a steadfast refusal to take himself too seriously.
Though he's never touched Facebook or the "heroin"-like Twitter, and calls himself "a bad emailer", Matt professes his love for Instagram, though he "wishes it didn't exist". "It's an addiction, and so are phones. Googling things is an addiction, and it's designed that way. Mark Zuckerburg and the developers knew how to get people addicted."
While he somewhat surprisingly sings the praises of streaming services ("Some artists have suffered" because of Spotify, he says, "but art itself has flourished. I've got my parents listening to 'WAP'! I've got my parents listening to Run The Jewels!") there's a world-wariness to 'Serpentine Prison', and it's an album that demands better of the status quo, through both its light-hearted moments and its weighty ones.
"Music and art are the only things that really cut through all that shit," Matt believes. "Films, books, novels. Things that exist for someone to talk about themselves in the context of their surroundings, for other people to relate to and then feel empathy. That's what art does, whether it's a Jackson Pollock painting, or the movie 'Jaws', or 'Nebraska' by Bruce Springsteen. Those things make us understand each other."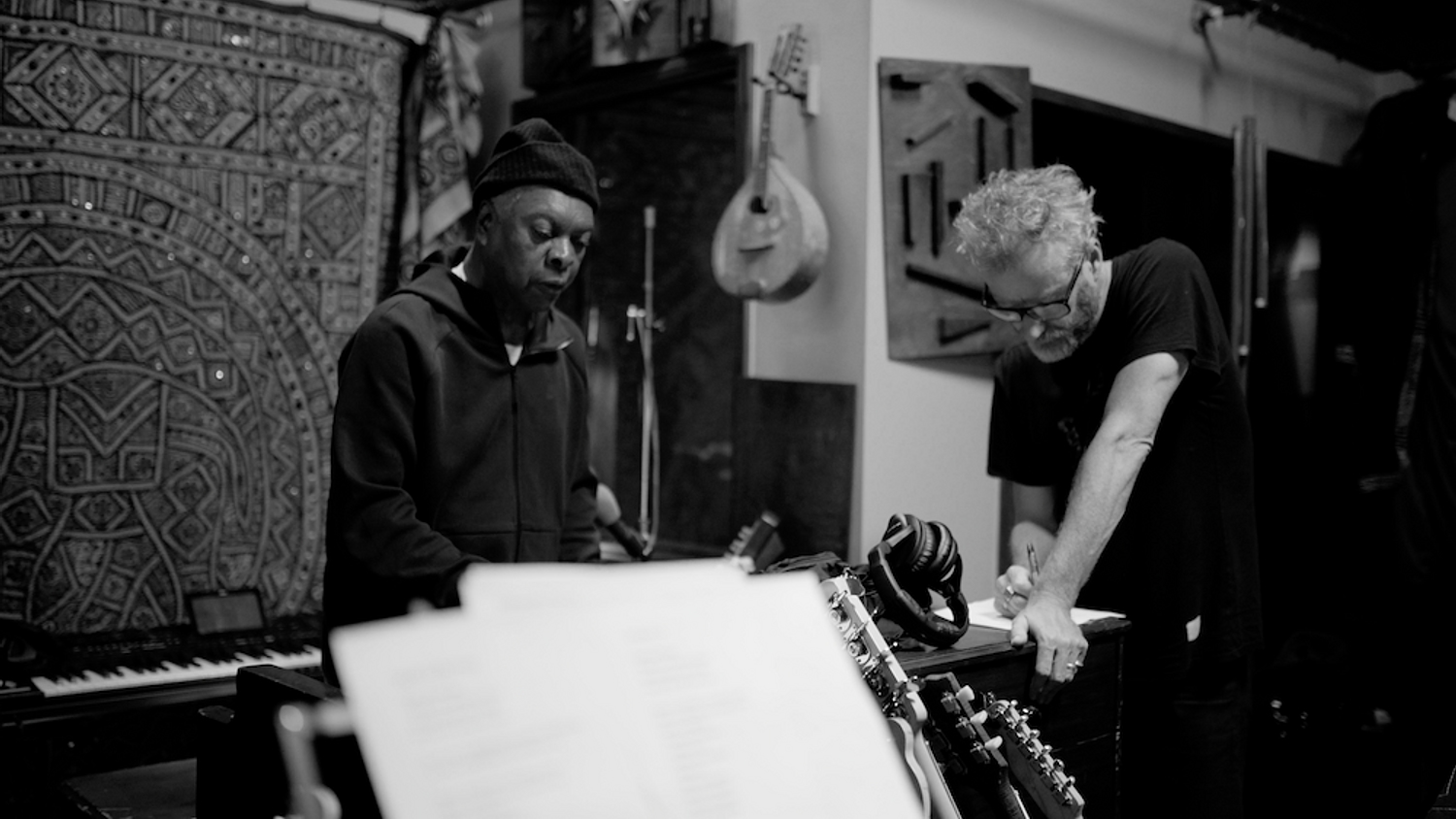 "Donald Trump is our President, and he was chosen by Americans. He's a tool of our own demons."
This abstract comfort that art can offer to those suffering is also shown strikingly on album highlight 'Oh Dearie' - one of the starkest, most open songs Matt has ever committed to tape: "I am near the bottom / Name the blues, I got 'em," he sings mournfully. "I know a lot of people who suffer from real depression," he says of the album's crushing centrepiece. "I suffer from mild waves of up-and-down, but I do not have what I know a lot of people get, which is genuine deep paralysis, and they can't even bring themselves to open the window or make food for themselves or sustain themselves."
The singer then recalls an article written in the New Yorker in the first weeks of the pandemic, entitled 'Music Will Be Important'. In it, author Donald Antrim discusses how music helped him "find [his] communion with others who were alone" during a period of severe depression, and how it could also help unite and comfort those living through this current period of turmoil. "Sometimes art and music can give you enough of a battery charge so you can work through that impenetrable paralysis," Matt says.
"Music has pulled me out of so much sadness and depression so many times. It's the only thing. I wanted to write about that feeling of being under a thousand miles of concrete. Under the bottom of the sea. In the bottom of the abyss. Nothing makes sense, and sometimes nothing anyone can tell you even resonates."
It's this notion, then, that gives this often-terrifying early morning phone call a silver lining, and that keeps Matt Berninger going when the fires continue to burn outside. It's an offering spread throughout 'Serpentine Prison', too - an album that solidifies his status as one of this generation's most affecting songwriters, and serves as a vital outstretched hand of community to those in need.
One of the artists who offered Matt "a way out" in dark times, he explains, was Nick Cave. "Nick Cave songs, every one of 'em is a tiny candle," he offers, "and it's like [Cave] once said, you have to keep that tiny flickering candlelight inside you at all costs."
'Serpentine Prison' is out now via Book's Records.
Read More
Featuring James Blake, Romy, Marika Hackman, yeule and more.