Viva La Revolución: Shame take the charge across Europe
We head to Spain to spend two chaotic days on the road with the band lifting a generation out of apathy and having a hell of a good time along the way.
"COULD THIS TOUR GET ANY MORE SPINAL TAP?!" Eddie Green yells at the skies, to eruptions of laughter in Shame's dirty, tour-worn van.
It's ten days from the end of the band's non-stop four-month thrash around the planet, and they've hit a bout of bad luck. Travelling from last night's show in Barcelona to tonight's in Madrid - the South London five-piece's first headline shows in both cities - they've come into contact with the less-than-savoury Spanish police for the second time in the space of twelve hours, before yet another incident unfolds just hours later outside the Madrid venue they're set to lay waste to. And to rub horrific-smelling salt into the wound, this particular incident happens directly next to a pig farm off the motorway, emitting an astonishingly strong stench. "It's not always like this," guitarist Eddie gestures in our direction, through a grin that threatens to become a wince.
Indeed, though things threaten to conspire against the band, who released their furious, fantastic debut album 'Songs Of Praise' at the start of the year, today, their tour - which began in Australia just after Christmas, headed to the States for a six-week run which included them becoming one of SXSW's most talked-about acts, then was brought home for a triumphant, sold-out UK run before finally taking them across mainland Europe - has been nothing short of a revelation. Everywhere the five-piece tread at the moment, they're greeted with something approaching pandemonium.
Their Barcelona show, at the small but well-established Sidecar venue, set just off one of the city's grand squares, is the band's first in the city. It sold out in advance. In fact, they're never met by anything less than a packed house in each of the seventy five cities they've played in over the last sixteen weeks. Turns out vocalist Charlie Steen is a facts man, and rolls off the figure before the show without even having to think.
The gig sees the band rip through 'Songs Of Praise' in its entirety, barely pausing for breath. The likes of 'Concrete' and 'The Lick' are bellowed back at the band with fervour, while closer 'Gold Hole' sees the frontman clamber atop the crowd before kicking out at the plastic ceiling like he's trying to swat away an insistent wasp. A sea of confetti - still laying on top from a previous show - begins to rain down on the moshpit below.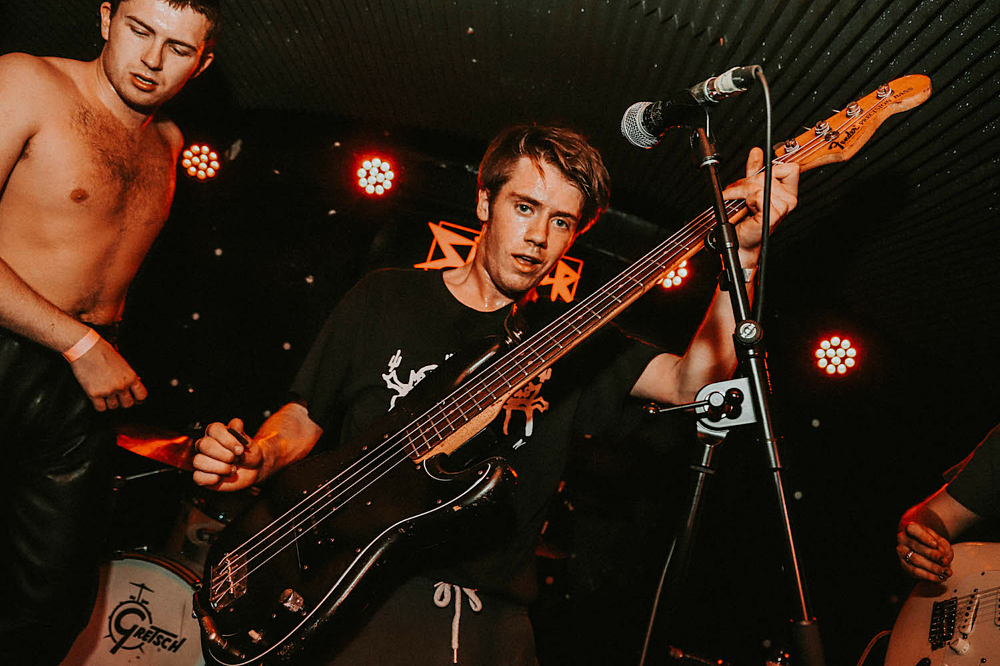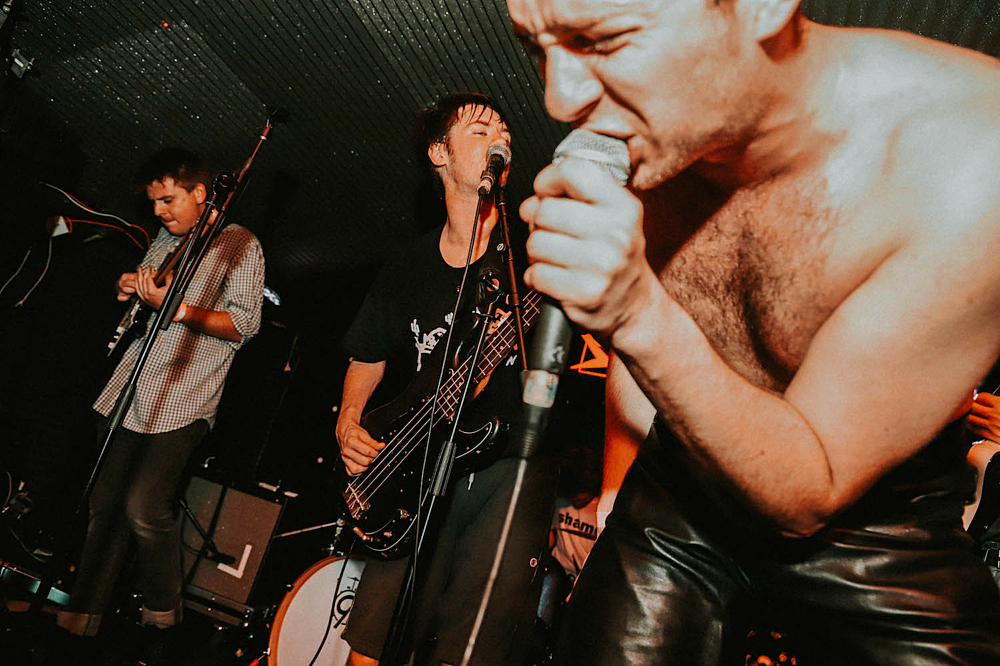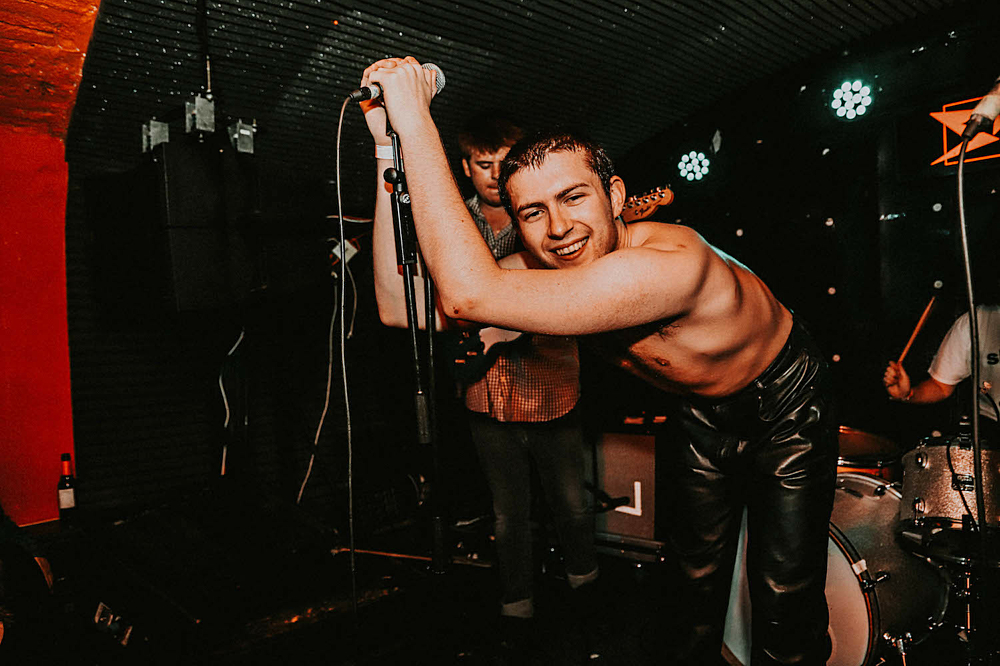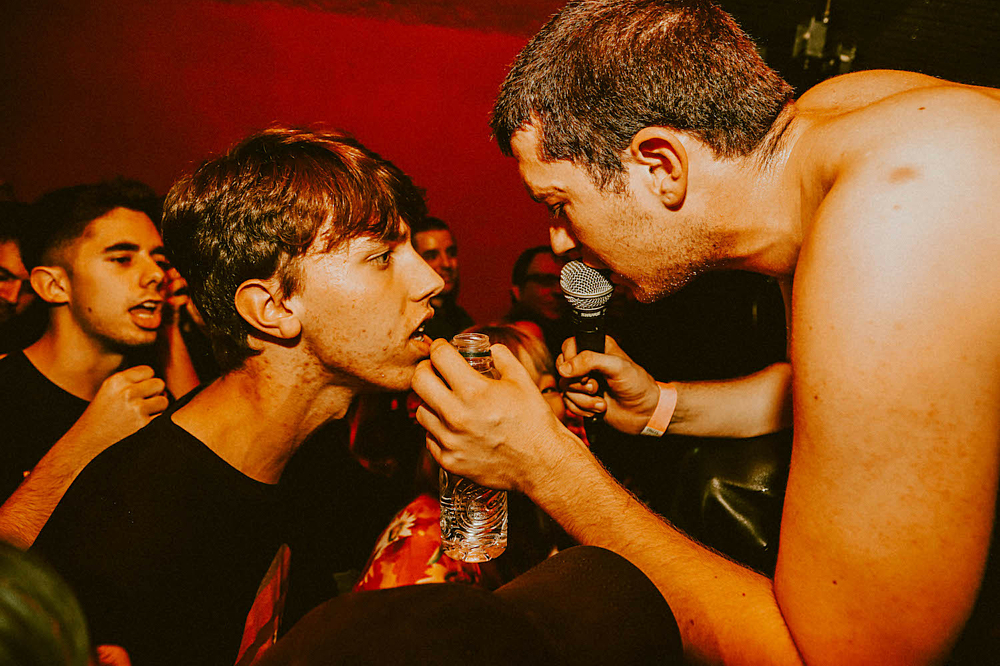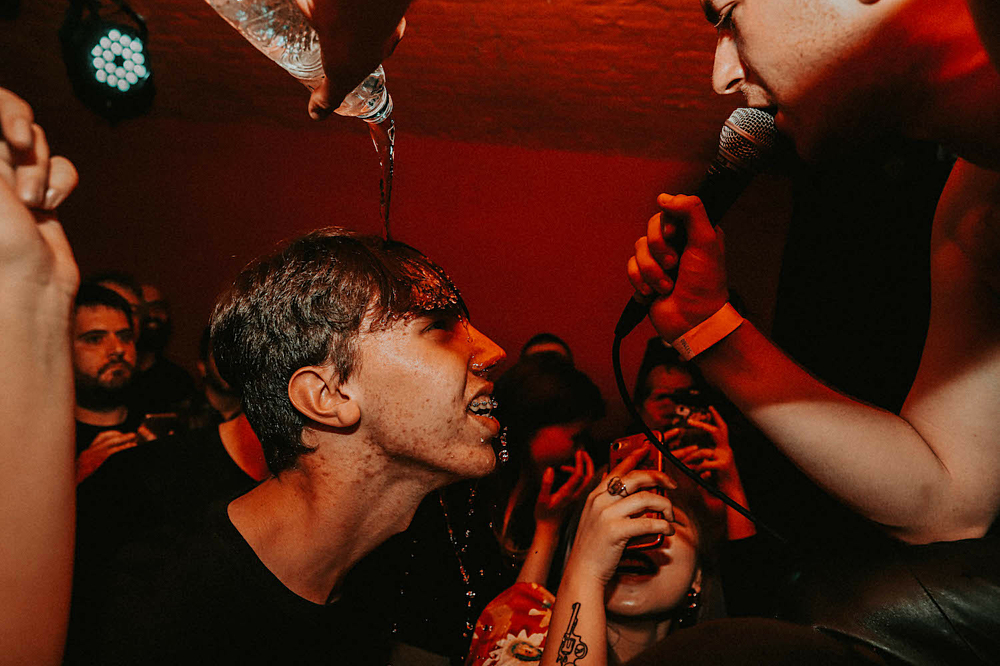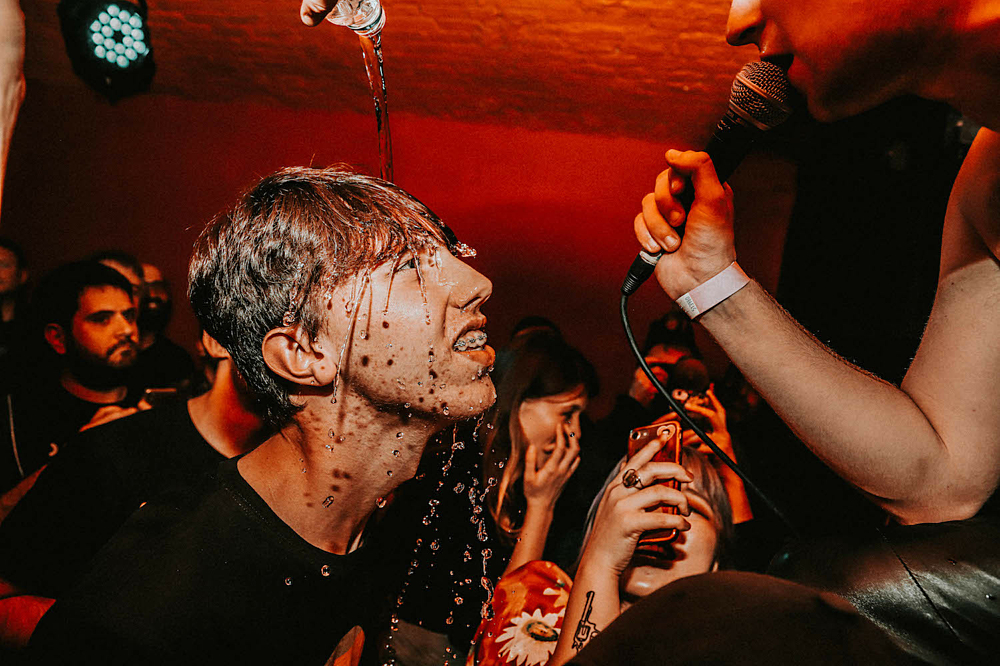 "We have a Portuguese YouTube following that actually think we're a Christian rock band."
— Charlie Steen
Charlie has become a remarkably good frontman over the past two years, as well as a clever, decisive lyricist. On 'Songs Of Praise' highlight 'One Rizla', he uses his own imperfections to find a powerful self-acceptance, while on 'Friction' he turns the camera outwards, calling out bullshit in others' behaviour with pinpoint precision. Though Shame are an extremely British proposition, and their rallying calls and channelled anger appeal most to an audience close to their South London base, it's through the openness they present it with, not to mention the sense of community their shows demand - every Shame gig is punctuated by an insistence that personal space is respected in the audience, and everyone takes care of each other in the often hectic melee in front of the stage - that mean they're really connecting beyond their roots.
"Their attitude and energy is amazing," one fan tells us, still sweating after the show, one of hordes of new converts or otherwise, itching to greet and congratulate any of the band. "It's universal. In Catalonia especially, we're really angry about everything right now," she continues, "so the anger in their songs applies to us very well. They put everything into their show and that energy translates to any language. Also, sugar daddies are everywhere!" she chortles, referencing 'Songs Of Praise''s brilliantly seedy centrepiece 'Gold Hole'.
An encore of 'Donk' sees band and crowd expel any last drops of energy, and everything including the metaphorical kitchen sink is thrown at the performance. It's attacked like it could be their first show of the year (in reality, their gig count for 2018 already stretches into the hundreds), before t-shirts, records, ticket stubs and magazine covers are signed, plenty of selfies captured, and Barcelona can be considered well and truly conquered.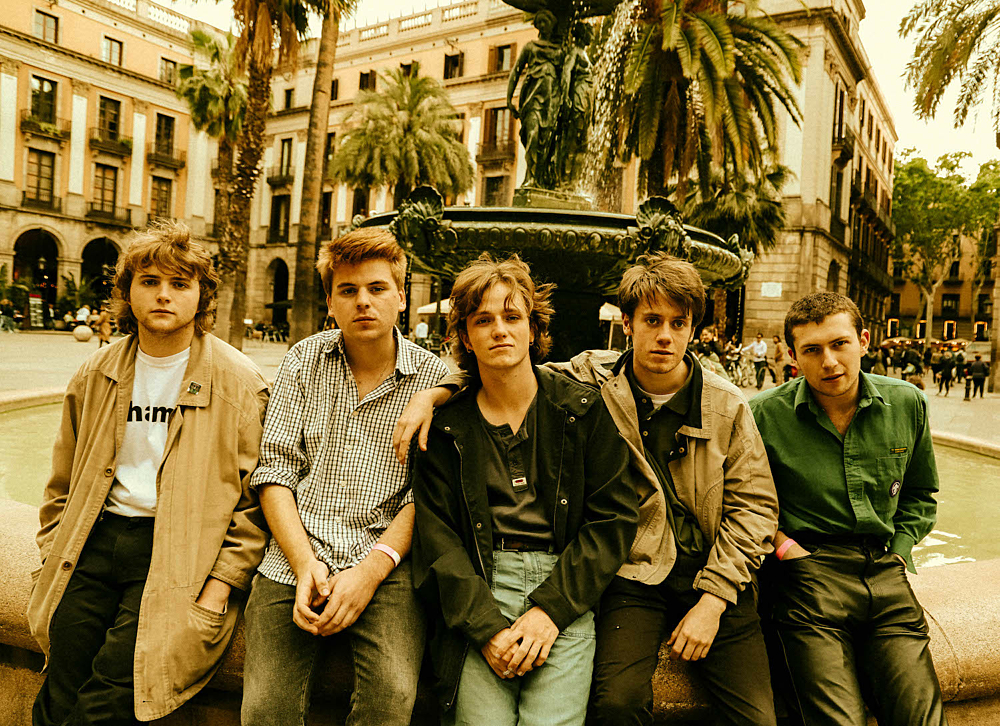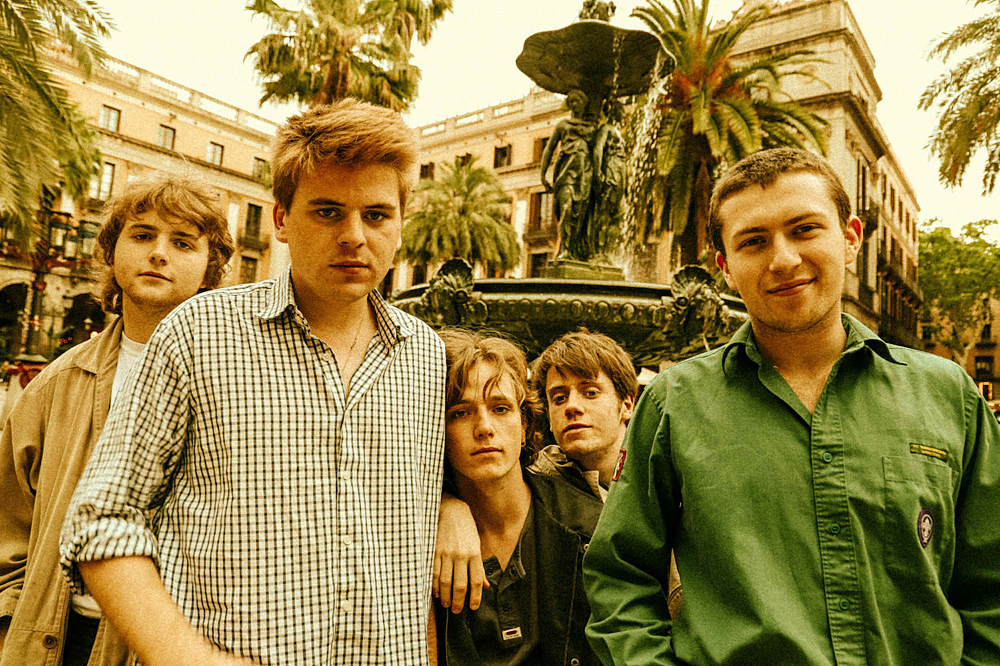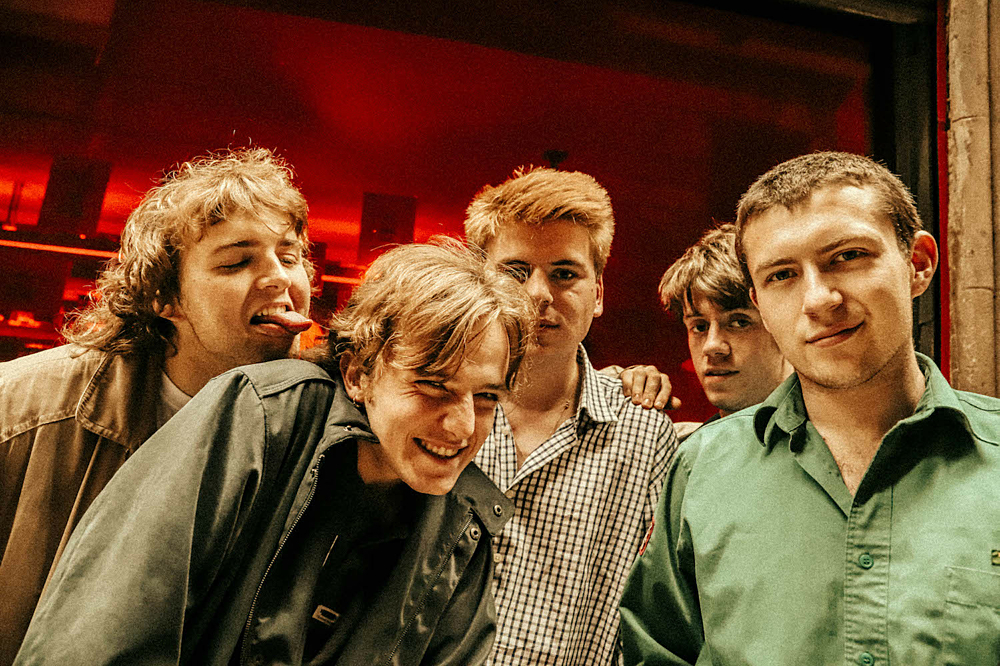 "My dad was hanging over the front barrier at the Electric Ballroom, crying."
— Sean Coyle-Smith
Meeting when they were still at school, and forging the beginnings of Shame in the upstairs room of The Queen's Head pub in Brixton day after day, the band - completed by guitarist Sean Coyle-Smith, bassist Josh Finerty and drummer Charlie Forbes - have an infectious, intuitive energy that runs between them, both on- and off-stage. "I think we've gone beyond friendship now," the frontman explains a while later, "and I think that happened quite a while ago. We've experienced everything together."
As such, the van is a place where no-one's safe from relentless japes, with any pisstaking one-upped by their effervescent (and very sweary) tour manager, a close friend of drummer Charlie's dad and undoubted sixth member of the gang. As a result, tour life with Shame often feels like one long character building and painfully funny holiday, if you ignore the brilliant, important punk shows that punctuate the end of each day.
"There's not much room for relationships [in my life], because I'm in a relationship with four other guys," the frontman chuckles. "You have all the arguments, the makeups…"
"It's gotten to the point where you don't even need to speak to each other," Sean continues. "You just know. You can happily sit there in silence and just know what would be said. You also know that if you're sharing a room with Steen and he goes back early, you'll get in and he's gonna be naked and munching on a packet of peanut M&Ms disgustingly loudly with his headphones in."
When the band started, they were often tarnished with the same brush as their significantly looser forefathers from The Queen's Head - including notorious regular visitors Fat White Family - but over the past year, and with the release of 'Songs Of Praise', two things have become apparent about Shame: firstly, they're relentlessly committed to their music, and secondly, they're almost as insistent on not taking themselves too seriously.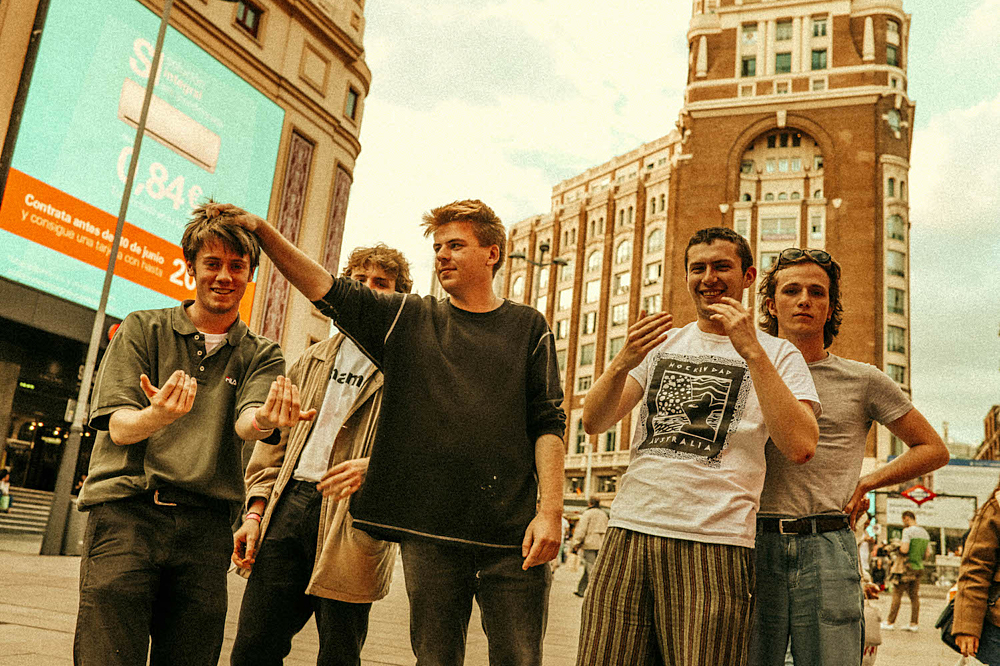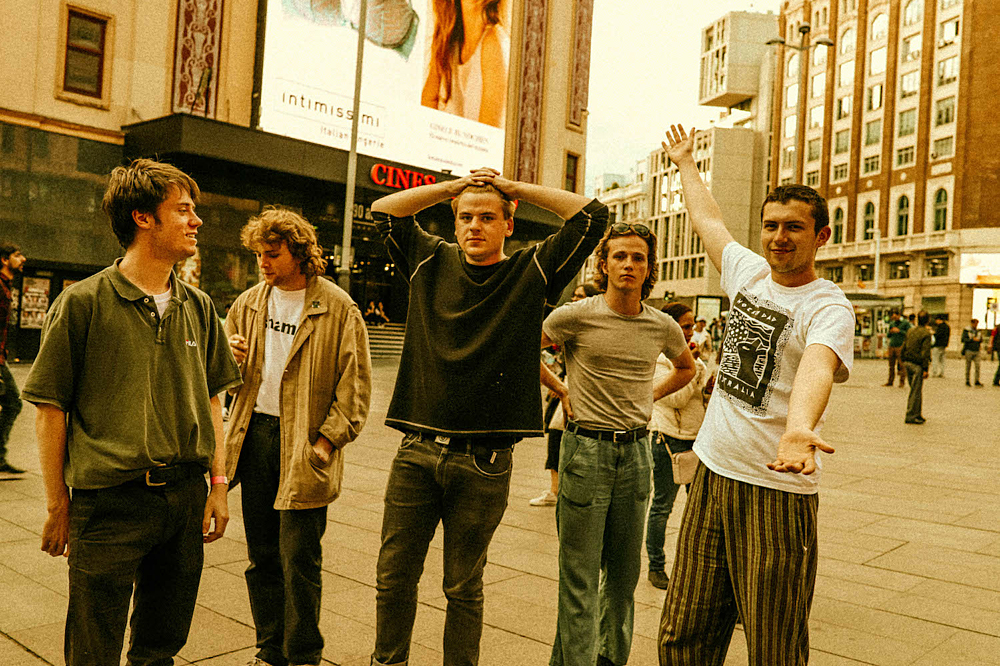 "We were quite surprised that the humour translated."
— Charlie Steen
"We have to approach everything with humour," Charlie lays out a while later, sitting down before the Madrid show, a larger gig that's also creeping towards a sell-out. "We did all of the shittest gigs possible at the start, and if we didn't look at it in the way of it being hilarious, we'd probably have given up by now," he continues, before Eddie recites a particularly painful early memory.
"We played at this thing called Richmond Riverside Festival, and we saw the word festival and were just like 'Siiiiick let's do it!', so we did it, and turns out it was basically a village fete," he begins, with his bandmates letting out chuckle after chuckle.
"There were like five people there, one of which was Josh's dad and the other four were just 8 year-olds doing cartwheels. Steen was also asked half-way through the set to tell the crowd that there was going to be storytelling in the opposite tent in ten minutes. We got paid in cumberland sausages and cider. This guy came up to the stage and was just like 'Please, there's kids here. I'm not going to tell you again, please stop.'.
"There was a cricket field on the other side of the road," Eddie continues, "and I was playing and remember looking over and thinking 'Wait, what the fuck?' and I could just see my dad playing cricket on the other side of the field, and neither of us had any idea that the other was here. Afterwards I went to see him and said 'Oh I just played a gig over the road' and he was like 'What? With who?' so I said 'With my band?'. 'You've started a band?!' That was a weird day."
"We got docked £20 cos they didn't like it," Sean cackles. "In hindsight, we were probably a fair bit more vulgar back then. It's one of our proudest moments, that we made it through that gig and didn't give up."
But give up they didn't: building themselves up via relentless touring and an album that took shape over the space of three slow, formative years, Shame carved a reputation as a formidable live band and entered 2018 ready to explode.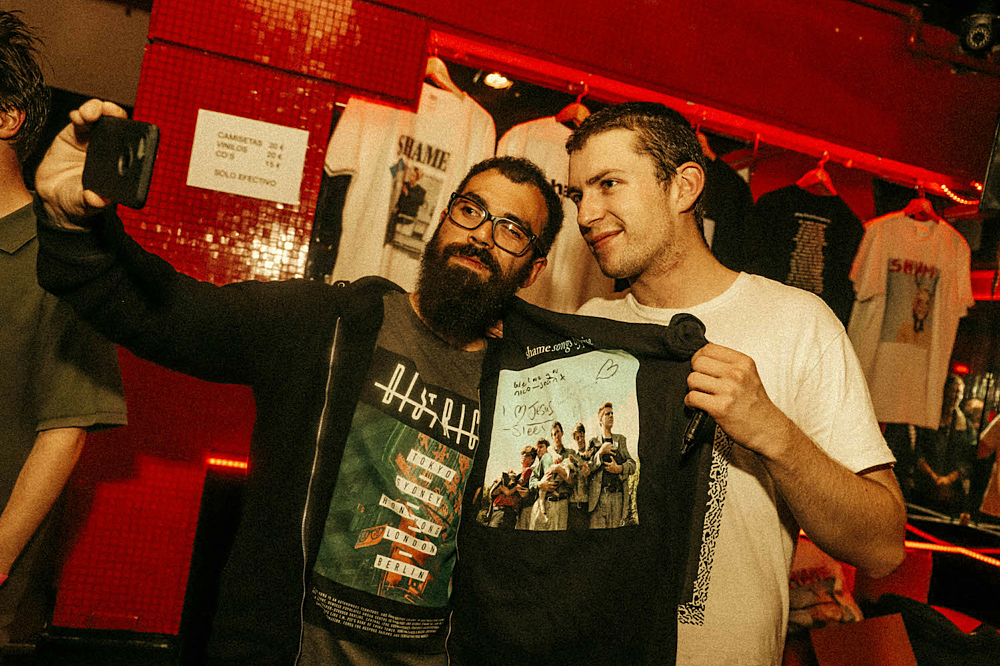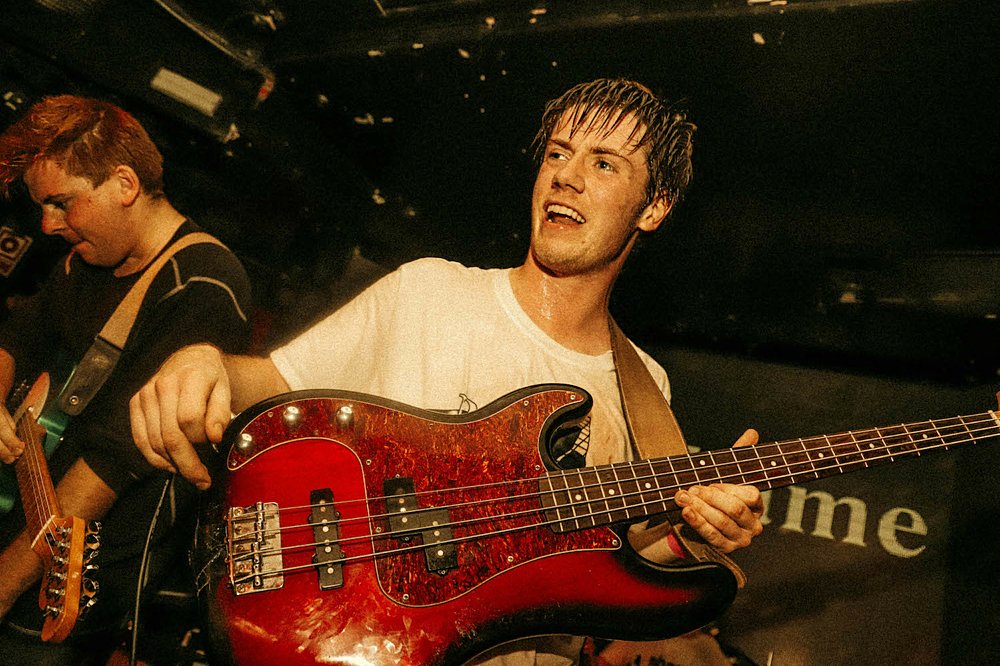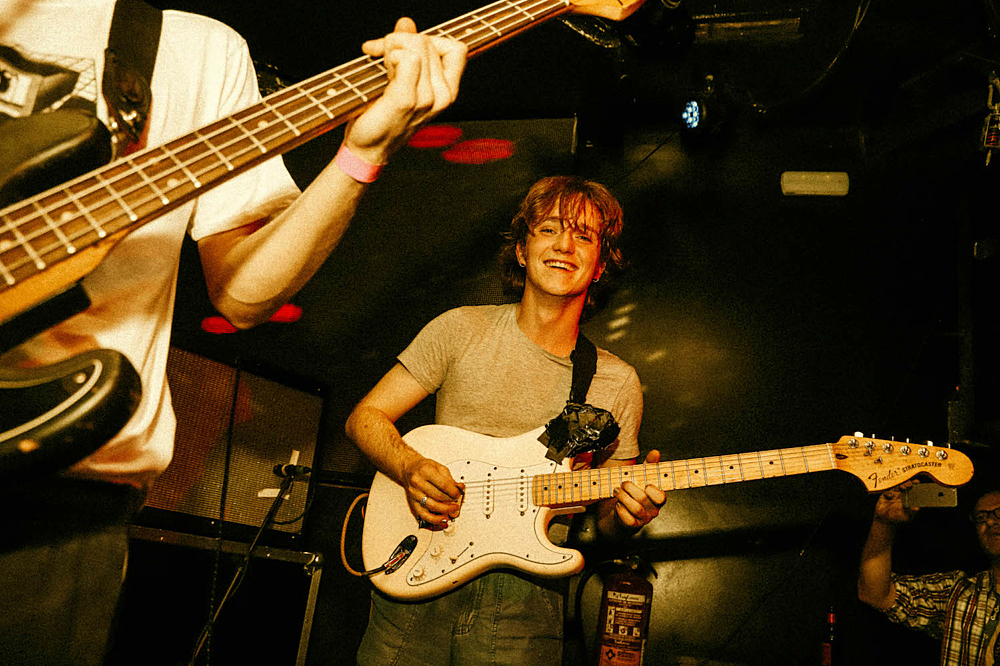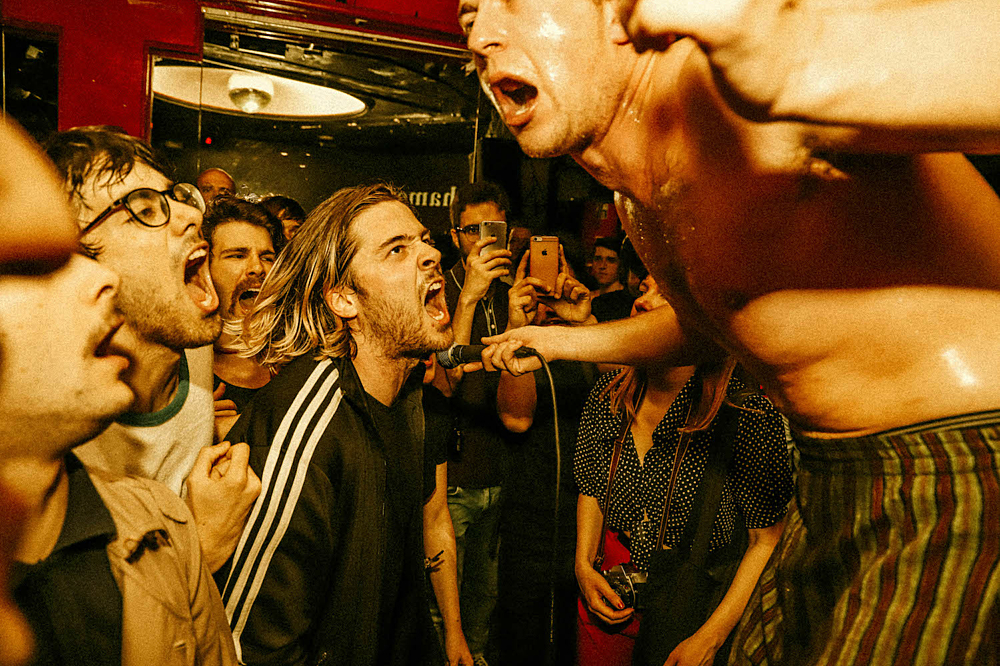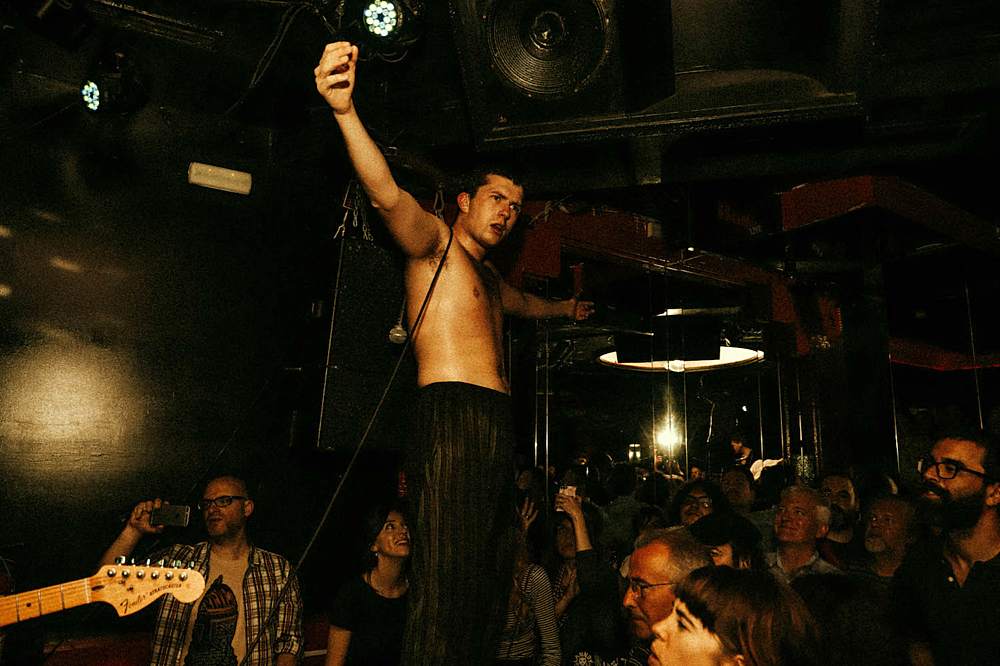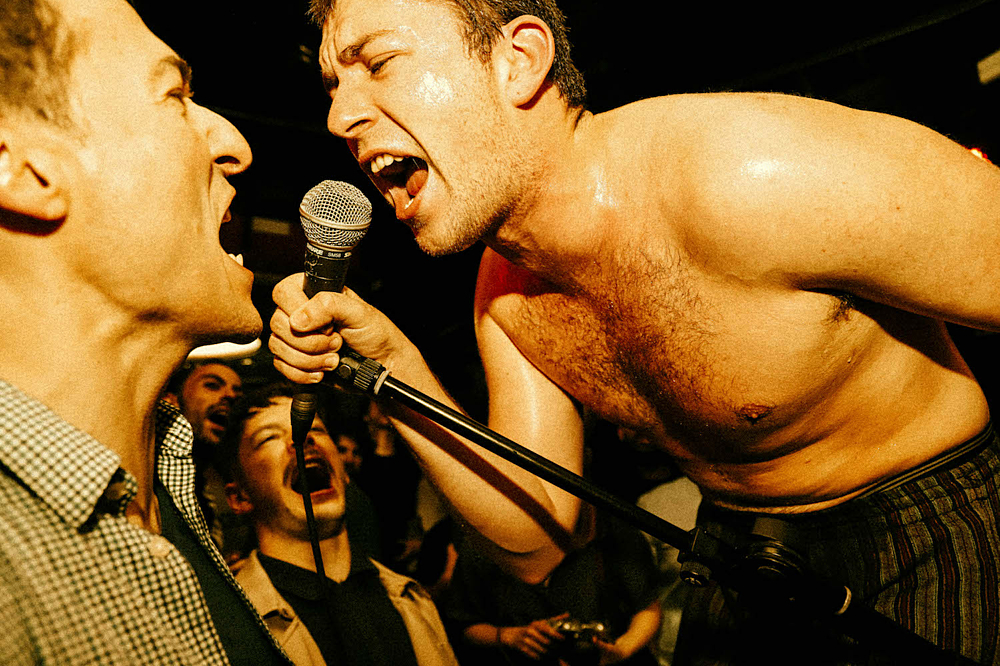 "There were like five people there, one of which was Josh's dad and the other four were just 8 year-olds doing cartwheels."
— Eddie Green
"It does seem like it's all happening in one very short, abrupt burst," Eddie says of the band's whirlwind year so far. "We've been working hard on this for our entire existence as a band, and we've been taking it seriously and gigging hard and trying so tirelessly to make it our full time profession, and then this record started getting underway, and when it came out, all of this stuff was just done for us already: the position we dreamt about being in this time three years ago, it feels like it happened as soon as this record came out.
"We'd been so used to being on tour and thinking 'Shit, we've only sold 10 tickets for tonight, this might be a bit rough' to…we've been on tour for 4 months now and every single show has been rammed. It feels like that goal was just achieved out of nowhere. Obviously it wasn't, because we worked hard to write these songs, but the actual practical stuff just happened."
"It was mad," Sean affirms. "Every day we'd be together after the album came out, and one of us would just say 'Holy shit, London just sold out!' and then a few hours later 'Oh and now Bristol's sold out!'."
The revelations just seem to keep coming for Shame, from an exhausting but fantastic slew of SXSW shows, to a triumphant, sold-out show at London's Electric Ballroom, and bringing 'One Rizla' to the iconic Later… with Jools Holland, it's been a year packed with 'moments', ones which have allowed the band to have a mental stock-take. Only hours earlier in the van, they're beaming with delight when the latest update comes through for their November UK tour, seeing that ticket sales for the cavernous Kentish Town Forum have passed the thousand mark.
"It does seem like it's all happening in one very short, abrupt burst."
— Eddie Green
"To have that homecoming show felt really special," Charlie says of the formative show in the capital back in April. "It was quite hilarious to watch my dad hanging over the front barrier at the Electric Ballroom, crying," Sean affirms, to more buckets of laughter.
"America was also amazing," the frontman picks back up. "We sold out New York, LA and Chicago, and almost every show was packed. We were quite surprised that the humour translated. People did understand it, and did connect with it," he continues, though citing one particular show on the run where his onstage jape about Shame being "a Christian rock band, here to spread the word of Jesus H Christ" went a little too far, leading to a few irate audience members. "We do have a Portuguese YouTube following that actually think we're a Christian rock band," he sidelines, grinning.
"I don't think that our Britishness is necessarily inaccessible for Americans or Europeans," Eddie expands, and as well as coming from a country with a heritage for producing some of the biggest bands in the world, Shame's message, and their dissatisfaction with the current state of affairs, is one that transcends borders, and is delivered with a brilliant, crystal-clear inclusivity. "I like the rage [in the music]," a Madrid native confirms, stopping to get his ticket signed by the band. "It's a rage that we all feel, and one you can connect with and use for good."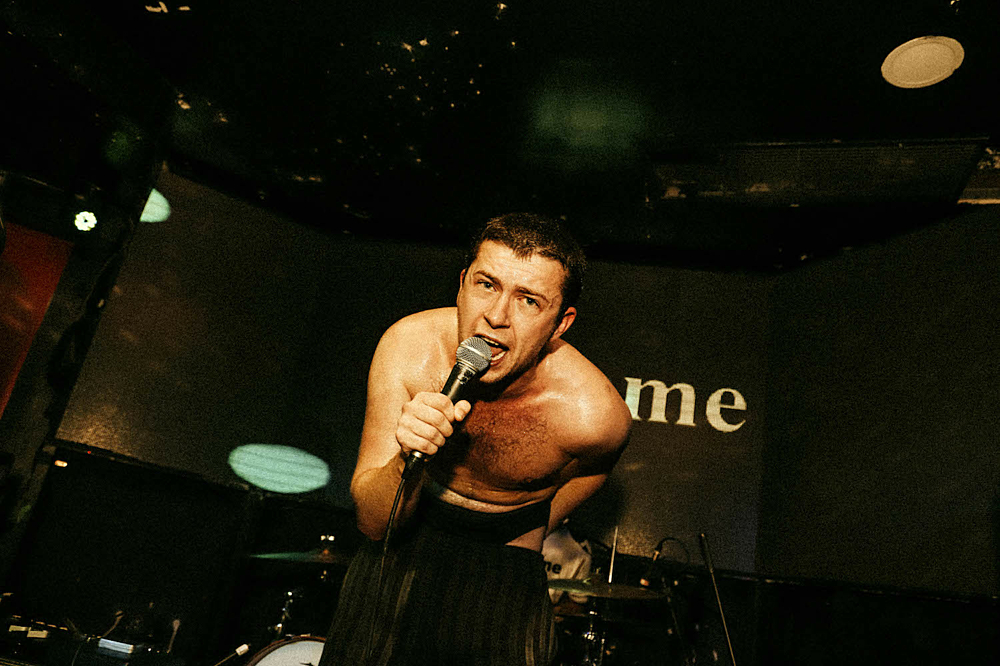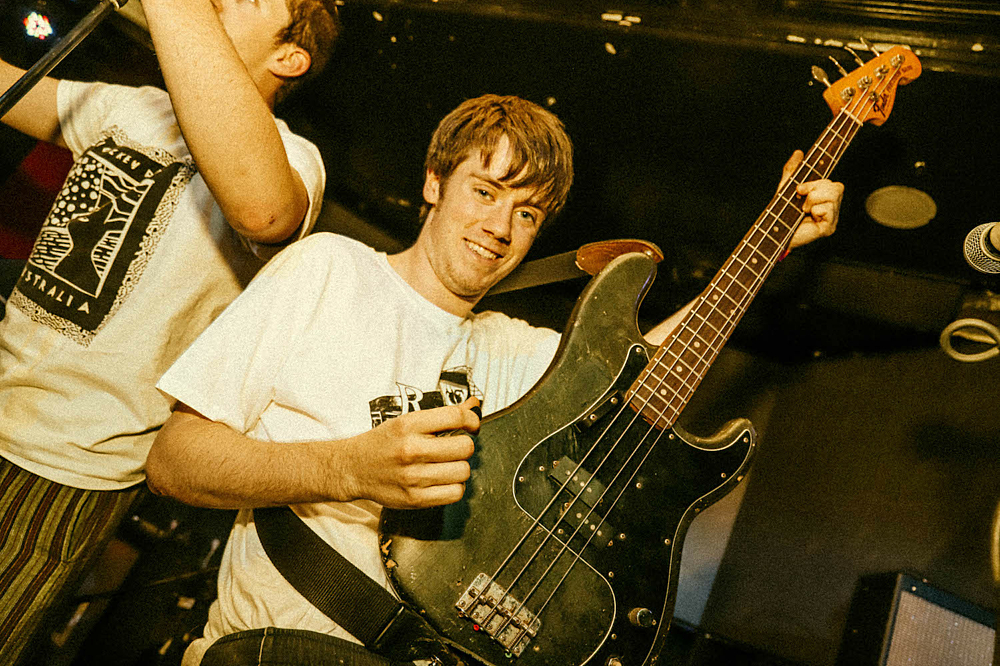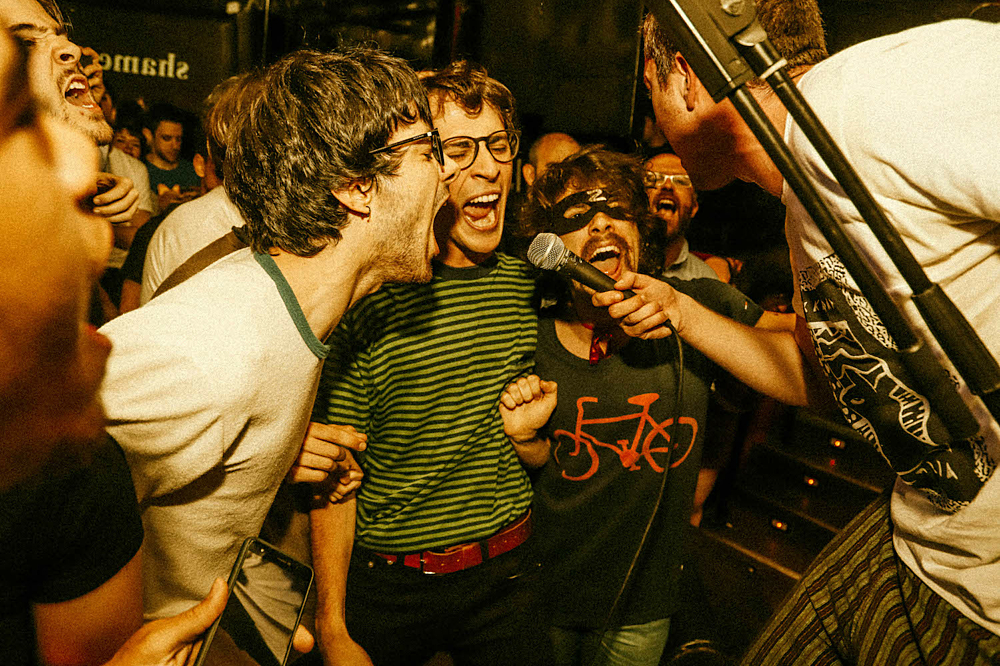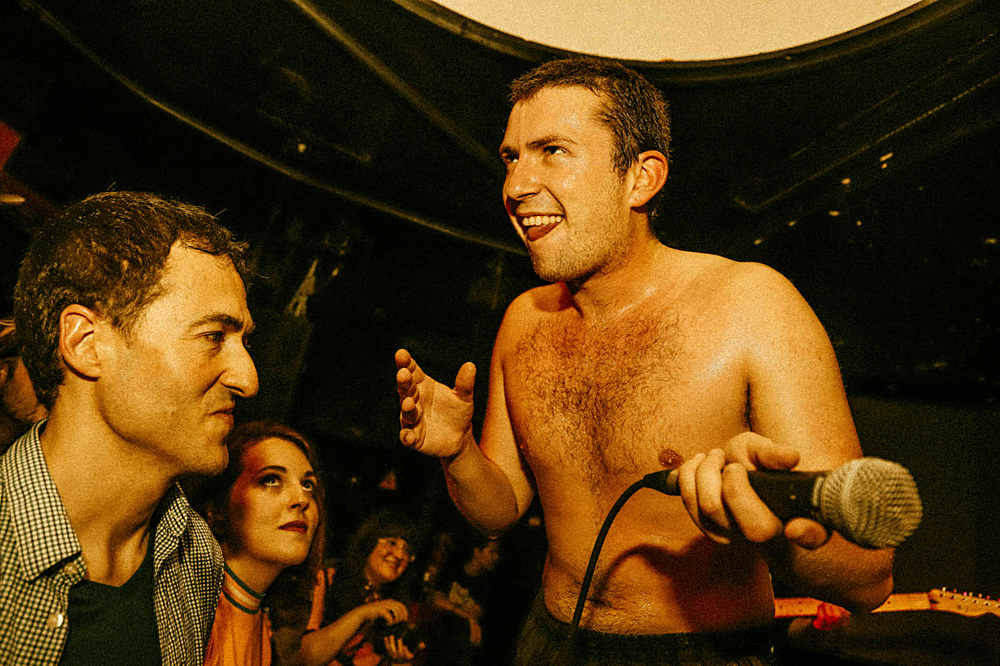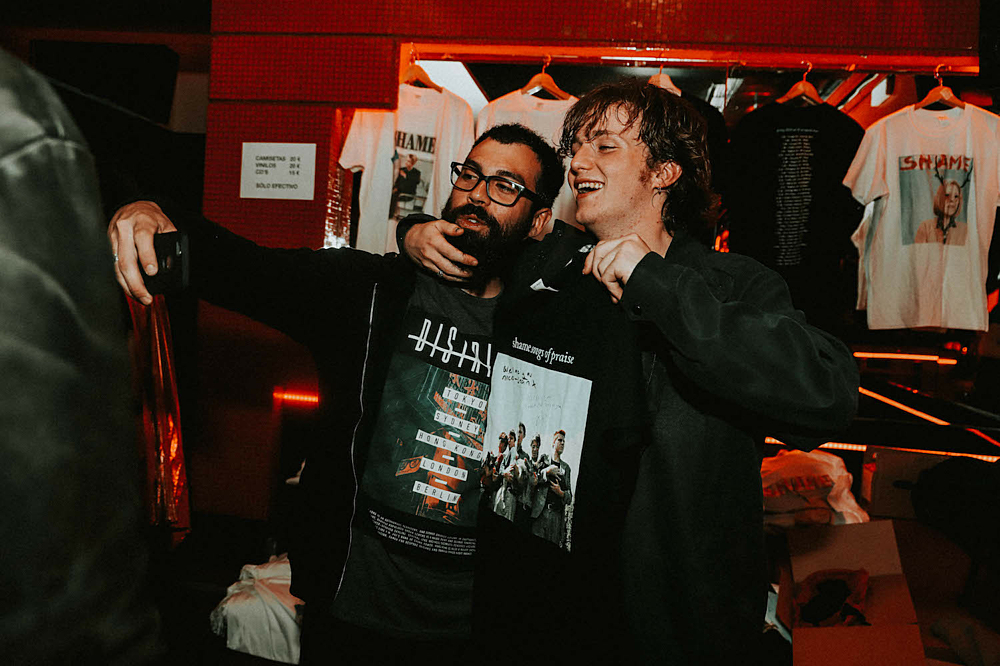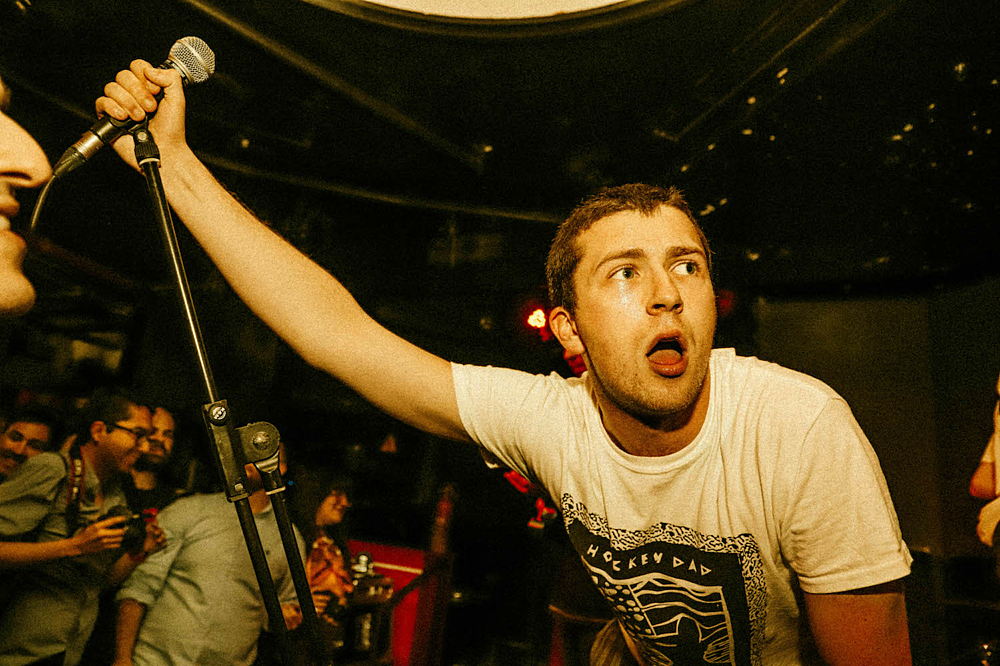 "There's not much room for relationships [in my life], because I'm in a relationship with four other guys."
— Charlie Steen
The connection is shown better than ever at the Madrid show; it's a simply unstoppable thrash. Standing atop the crowd, as much an icon as simply another member of the audience, Charlie's even more animated tonight, barking his way through 'Friction', his eyeballs inches away from the front row, every next line that's spat out forming a deeper connection than the last, before the show comes to a gloriously messy climax. 'Gold Hole', already complete with a mess of sweaty bodies clambering all over each other, sees Josh break a bass string, and Sean manage to grab a replacement and hand it to his bandmate only to discover it's a left-handed guitar, to a mixture of worried faces and schoolboy cackles, while Charlie rages on oblivious, still shouting his gospel until there's no breath left and he goes again the next day.
The sign of a band having the time of their lives while starting to mean far more to many more people than they ever thought possible, unlikely heroes Shame may look and feel, but heroes they might just be becoming.
Shame's debut album 'Songs Of Praise' is out now.
Taken from the June issue of DIY. Read online or subscribe below.
Read More