Back with a new name, a new track and a new BFF of the unlikeliest kind, Isaac Holman and Laurie Vincent are ringing the bell on the next era of Soft Play.
If it weren't for Blur, Soft Play might not be here right now. Indeed, not so long ago, Isaac Holman and Laurie Vincent had semi-resigned themselves to never making music together again. The question of "Is this it?" had been raised in a loose manner, and though they'd tried writing together again - and it went well - they weren't seeing enough of each other for their creative flow to gush back into life. Isaac had even got himself a 'proper job' as a gardener, and he was loving it; "It's so grounding, and it just takes you somewhere else," he notes. He's still doing it part-time now.

There may well have been a vision of his future where, instead of performing the duo's 2018 song 'Magnolia' in front of heaving festival crowds, Isaac was growing actual magnolias. Last Christmas, however, an opportunity to support Blur at their Wembley Stadium reunion shows was dangled in front of the Tunbridge Wells duo, and it seemed too exciting not to seriously consider.
"We were like, 'Well, they're one of our favourite bands…'" recalls Laurie. "That opportunity presenting itself to us gave us a massive kick up the ass." And so, the pair committed themselves to doing the necessary work to resurrect the band. Starting with a name change. "It was something I'd known that, if we were going to get back together, we needed to address," the guitarist says. "We needed to look at how our relationship was and, if we [were to] do it again, how we were going to be with each other."
They didn't even end up getting the Blur gig in the end, but the work had already been done. Then again, it might not have been the only possible thing that could have saved Soft Play either. "I think we probably would have found our way back to each other again," Isaac reckons, "but I don't know when that would have happened or how." "I needed something to pull us back," Laurie adds. "Once that got rolling again, the magic was there."

"Making shit together again feels amazing. Playing live, you don't get that buzz from anything else."- Isaac Holman
The lights were out for Soft Play for almost half a decade. In that time, Laurie began living what he calls a more "intimate life", centered around being there for his family and raising his young children. Both he and Isaac agree that it was vital for them to disentangle their identities from their occupations; when your job is your passion, it's easy for the line between work and life to become fuzzy, and for what you do to swallow your sense of self whole. "We've done it for so long, and I felt like it was every part of me," nods Isaac. "I didn't really have much of a life outside of it. I think having that time off was really helpful as well for me to work on the shit that was actually important."
Crucially, the time and distance they had in their break afforded the pair a rejuvenated passion for the things that make their jobs worth doing - writing music, creating, making a noise on a big stage - the stuff musicians actually sign up for when they join a band, rather than being entangled in the industry machinations. "Making shit together again feels amazing," says Isaac. "Playing live, you don't get that buzz from anything else. Our job is to make stuff."
"The other stuff taints it," furthers Laurie. "I feel like that's why I got jaded towards the end of our last spell as a band, because we - or rather I - was definitely focusing too much on the industry bit and not the creative bit. Now, it feels good to have our heads aligned and to really understand what's important to us. We're not taking it for granted anymore."
Their live comeback this summer was explosive. It began with a headline slot at Cheltenham's 2000trees in July and, six weeks later, they made a surprise appearance at Reading & Leeds, packing out the tent and receiving the rowdiest kind of heroes' welcome. "It was completely wrong and right. Everything had changed, nothing had changed," Laurie recalls. "There's something we share that no one else will ever share apart from us in that moment, hitting our drums and strings in the same time. There's such a synergy between us. But then it was also like, 'What the fuck?! There's people here and we've not been here for years'. That's been a really humbling experience. It's good to have those roots and re-establish them."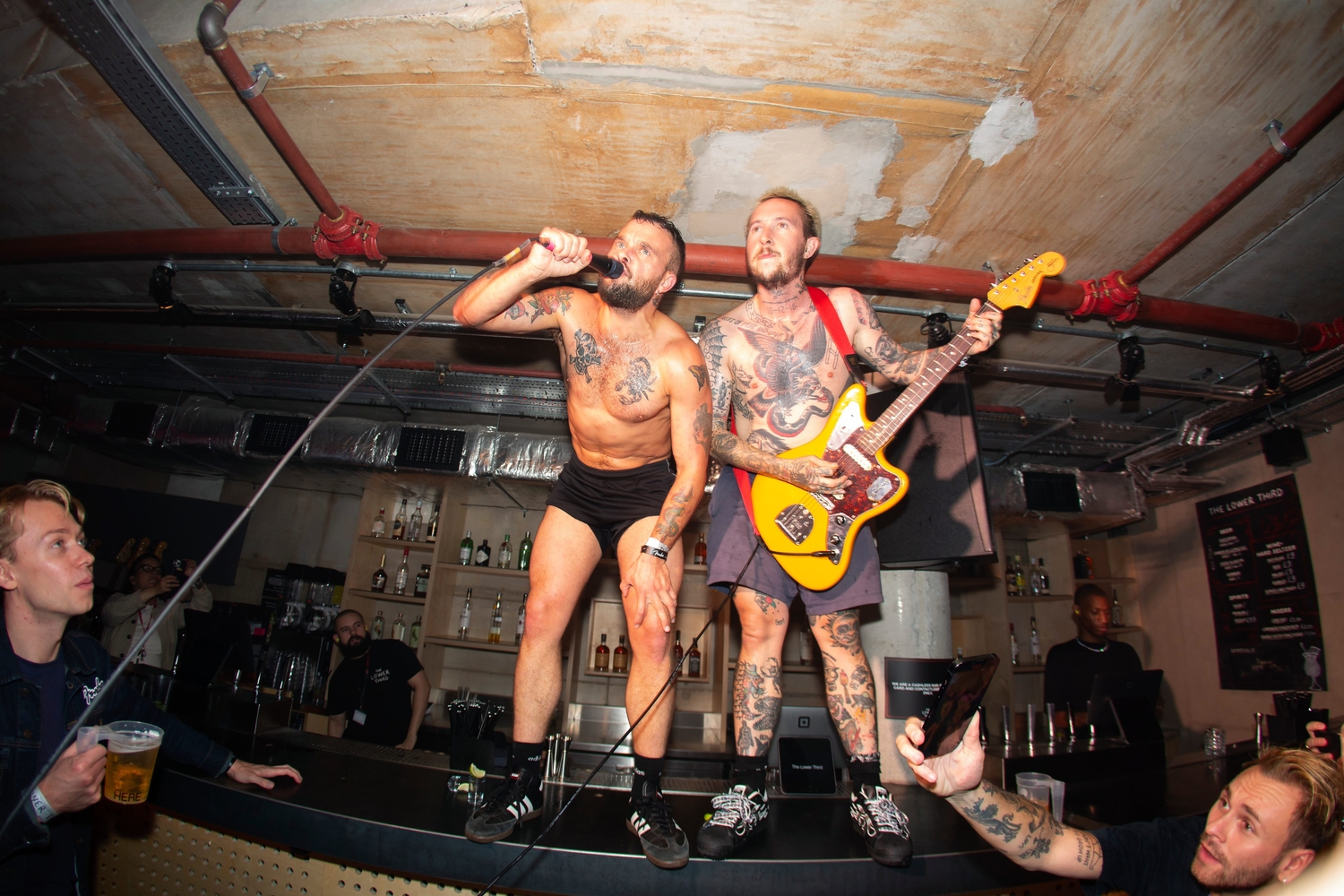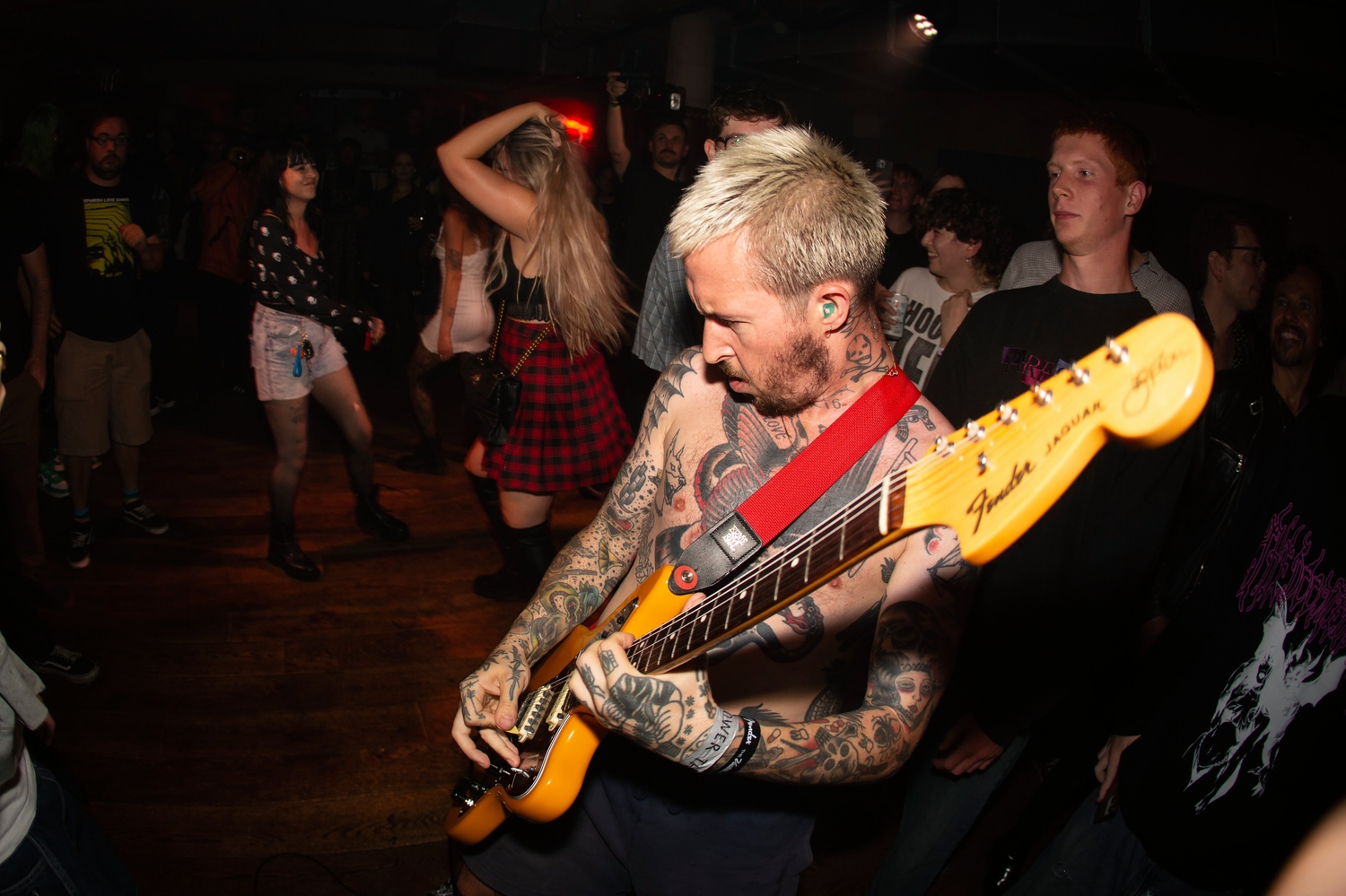 It feels good to have our heads aligned and to really understand what's important to us. We're not taking it for granted anymore." - Laurie Vincent
Nestled among their big hits in the setlist was a new song: the snotty, adrenaline-fuelled rager 'Punk's Dead', which doesn't so much take aim as lob tomatoes at the idea of political correctness taking the venom out of the genre. As fiery it sounds, however, it's almost aggressively cheeky, and pushes Soft Play's fun side into the spotlight.
Isaac and Laurie went this way because they were following a gut instinct. "When we're in the studio, laughing, making music, that's the essence of what our band is about," says Laurie. "If you look at our most popular songs, they always have this element of comedy. That was something that we wrestled with for a long time, because we didn't want to be a funny band, because then it becomes your thing - 'Oh yeah, they're the funny ones'. But now we've come to the acceptance that that's what we're fucking good at."
Listen to the track's bridge, meanwhile, and you'll hear a familiar voice who was ingeniously assigned lines such as "Snowflake, snowflake / Cherries on the woke cake". After they were unable to get a children's choir to sing the bridge because of the swearing, Isaac and Laurie called in a favour from a new friend, who just so happened to be the most punk and not-at-all punk guest they could have had – Robbie Williams.
"I woke up to a video message from Robbie about a year ago," Laurie recalls. "He was like, 'Hi Laurie, it's Rob. Hope you don't mind that I got your number. I want to make music like you guys'. At this point, we weren't even making music. I said 'What the fuck?' and showed my partner, and she was like, 'Yeah, that is Robbie Williams'. That then sparked a WhatsApp relationship." Robbie wasn't available for the 'Punk's Dead' video shoot however, so they decided on the obvious next idea – filming his part remotely as a Teletubby sun.
More music, meanwhile, is on its way, with Soft Play aiming to have a new album out next year. Back in action and having fully regained their mojo, Laurie stresses that 'Punk's Dead' "isn't an accident"; they've rediscovered the joy in making music, and when the album drops, you'll be able to feel it. "It feels like people just want it heavy," says Isaac. "People want something loud, and they want to go to gigs and have fun. We want to facilitate that. It feels like it did when we started again."
Read More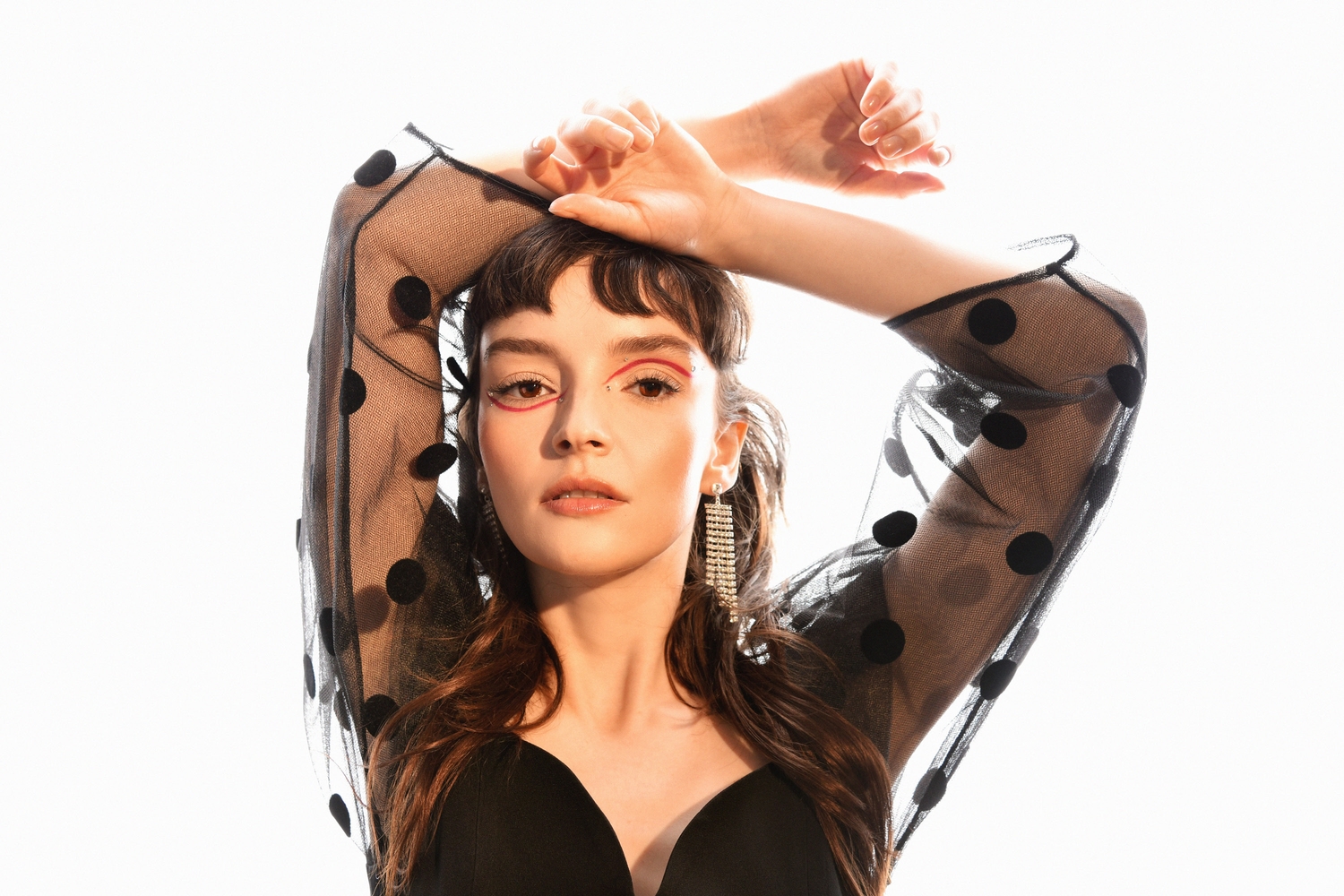 Our new issue also features Holly Humberstone, Bombay Bicycle Club, The Kills, Soft Play and loads more.
9th October 2023, 2:00pm
It also features a very familiar face…
30th August 2023, 2:38pm
Featuring King Gizzard & The Lizard Wizard, IDLES, Tkay Maidza, Sleater-Kinney and more.