Interview
The Big Bang: The Killers
Nearly two decades into their tenure at the top of the indie rock summit, The Killers return with 'Imploding The Mirage' - a sixth album that actually contains a whole heap of firsts.
When The Killers first ascended to the top of Glastonbury's Pyramid Stage back in 2007, as kings of the then-current indie boom with two UK Number One albums in debut 'Hot Fuss' and follow-up 'Sam's Town' to their name, things did not go quite how they were supposed to. With sound problems rendering their set more of a whisper than a bang to the majority of the field, the Vegas showmen were later quoted as saying they were "gutted" by the gig: you didn't have to read the minds of Brandon Flowers, drummer Ronnie Vannucci, guitarist Dave Keuning or bassist Mark Stoermer to know there were some wrongs to be righted on the world's most famous stage.
Cut to summer of last year and a Saturday night second shot that proceeded to rightfully claim what should have been theirs more than a decade before. Far from volume issues, The Killers' headline show was recorded as the loudest the festival has ever seen; five-star reviews across the board swiftly followed. But there was still some uncertainty back in the band's HQ. "There was this pressure because [the show] was kinda coming out of the blue in support of no record. What does it look like? What is this for?" recalls Ronnie. "I'm so happy with the way it turned out, but I'm sort of glad it's over. I get nervous thinking about it even now. Everything [normally] ramps up to having a new record, and doing new shows in support of the record, but then we recorded the record and the bottom dropped out, as it has done for everyone on earth."
"Brandon and I could only go so far [alone] before we were so up our own asses we would totally lose perspective."
— Ronnie Vannucci
Speaking to us from an Airstream at the bottom of his property in California during renovations, "watching people go in and out of the carcass of the house, annoying every subcontractor known to man", the affable drummer might have been affected by the pandemic the same as everyone else, but it's safe to say his summer has been altered more than most. With The Killers' sixth LP 'Imploding the Mirage' laid down following last year's festival highs, their newest showcases soaring highs and anthemic clarion calls inspired by and born for the stage - now, it's one that likely won't house them for a good while yet. However, Vannucci and Flowers have become somewhat used to adapting to life's curveballs of late. Following the decision to retire from touring duties in support of 2017's 'Wonderful Wonderful', 'Imploding the Mirage' marks the first Killers record to deviate from the band's core four-piece line-up. Keuning, says the drummer, "was not there at all", and Stoermer "was there when he could make it, which wasn't a lot".
"They're doing their own things in life and asked to have that license to do that, and it's a free country but we wanna make a record," he shrugs. "I was really fearful that we wouldn't have a most excellent record because we have excellent records with those guys; I was a little worried about losing that in their absence. But it didn't turn out that way - a lot of great work was done, with a lot of surprises, and we had a lot of people involved that filled that void. But I still think it sucks; I would still like to have everybody in it again, but I totally understand life and how that works."
Stepping in to fill the void came producers Shawn Everett (Alabama Shakes, The War on Drugs) and Foxygen's Jonathan Rado, while the pair adopted something of an open door policy when it came to accepting new input. "It was like, well fuck, what do we do now? Brandon and I had been spending a lot of time in the studio together, but I think we could only go so far before we were so up our own asses with ideas and would totally lose perspective, which is when it becomes really important for other people to be involved," Ronnie begins. "That's when it gets fun, when you have this license to experiment more, call a member of Fleetwood Mac… now we're having a bit of fun."
Enter legendary in-again-out-again Fleetwood guitarist Lindsay Buckingham. "Lindsay showed up, and I helped him out with his pedals - 'Oh where would you like these, sir?' - and then he became like a member of the band," he grins. "It was so easy that I did a couple of times have to snap out of it and be like, wait a minute, it's because of him that I'm a drummer and I'm in music."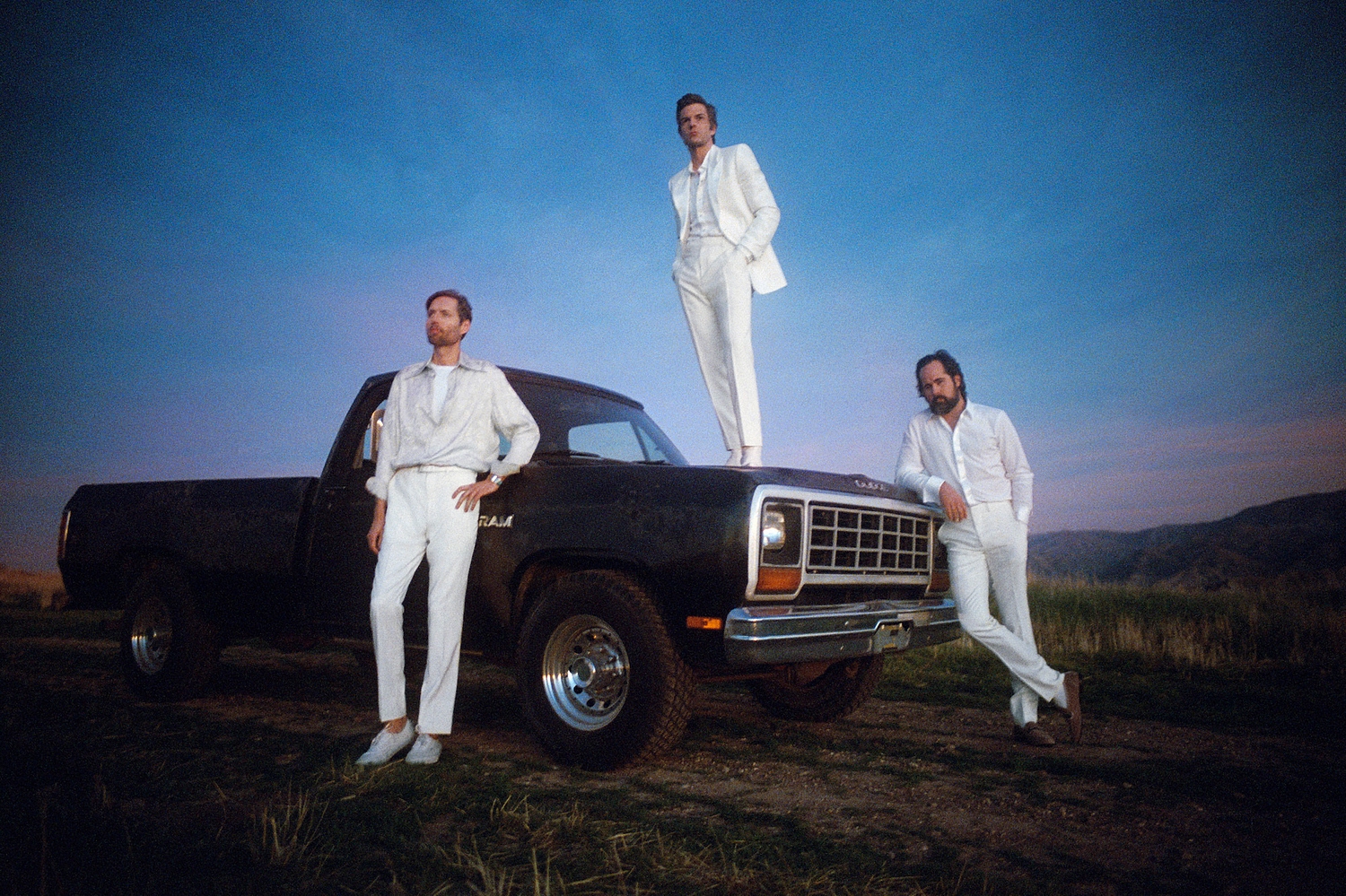 "I still think it sucks; I would still like to have everybody in the band again."
— Ronnie Vannucci
Yet, if life as a Killer is often filled with these pinch-yourself moments, then the writing process for their latest was by no means all roses. On 'Wonderful Wonderful', Flowers began to talk about the complex PTSD that his wife had been diagnosed with; on 'Imploding The Mirage', it's a subject and a healing process that writes itself all over the record. "I think, just as humans, if there's a fire somewhere then you wanna help with that fire. If it's a good fire you wanna keep it going; if it's a bad fire, you wanna put it out. So if you see your friend, or your brother, in the midst of a fire and you don't have a bigger fire, then my job in that scenario - in the last two records - has been more supportive: to try and understand and help get the message across," Ronnie explains. "Even if it's not playing, it's just being there. Because in the last two records it's been introspective and a personal thing, so I guess it's just more like being a friend, and then a musician."
Which is not to say there aren't songs as big as any the band have ever laid their name to present here. It seems a cruel trick that the effortlessly massive 'Caution', or the sparkling keys of 'My Own Soul's Warning' will have to wait to be lapped up by a live crowd, but the fact that, from troubles both personal and interpersonal, The Killers can still sound like the most joyous group around is testament to their prolonged powers. "That's the trick, right?" chuckles Ronnie. "To get the message out in a palatable, fun way so we can stand ourselves first and people like it, second. We're just coming from as honest a place as possible, and I think we're sensitive dudes like that where we can pick up on the bullshit of it all."
Next year will mark the band's 20th anniversary since forming as a group of barely twenty-somethings at the turn of the century. With their seventh LP already in the works ("we're not touring so we may as well"), they've outlasted almost all of their peers, and show no signs of stopping. They're still, says Vannucci, striving "to push ourselves and our band to a higher artistic place", and they're still evidently in love with what they do - as that triumphant Pyramid turn proved once and for all. So what's the secret?
"I think it's a combination of things," Ronnie ponders. "I mean, the stories have all been written. All the cocaine, the whiskey, the women - it's been written already. And I'm not saying we didn't dip our toes in the water of that stuff, but even early on it was an opportunity that [we weren't going to take for granted]. We didn't come from wealthy families, we were all working stiffs, and so when you have this opportunity - maybe you don't realise it holistically, and even now I don't still fully grasp it, but we knew what a gift that was and what a chance to really change your life this would be, and I don't think we were going to risk that for anything.
"This doesn't happen a lot, so don't fuck it up."
'Imploding The Mirage' is out now via EMI.
Read More