The People Have The Power: Mystery Jets
Having already set their sonic sights on the '80s and outer space, on 'A Billion Heartbeats', Jets' feet are firmly back on Earth, documenting the here and now in their most important work to date.
It's 2019 and the noise is relentless. The external noise of a world audibly slipping into political, ecological and social chaos, and the constant internal hum of doubt brought about by life reflected and warped by a screen. It's a cacophony that you can try to escape but, as Mystery Jets' Blaine Harrison found out, it's one that perhaps only starts to quieten when you confront it head on.
When the London band finished touring 2016's 'Curve of the Earth' – a "really intense" three-year album cycle that saw the quartet living in each other's pockets, the singer and bassist Jack Flanagan even sharing a bed for half the making of the record ("Nothing happened," Blaine notes with a chuckle) – they emerged out the other side, understandably in need of some space. A series of personal events had also taken their toll. Blaine had ended up hospitalised for three months, and Jack, going through a rough patch, temporarily left the band. "I developed a bit of an ego and became a difficult person for a while," the bassist concedes, now back to his usual, characteristic ball of eager energy. "But I took some time out and decided that I missed these three loves of my life, and came crawling back on my knees."
With all roads pointing to a well-earned mental detox, Blaine decided to employ his usual creative trick. He would separate himself from the hustle and bustle of the capital and his daily life, head to somewhere hyper-remote and wait for inspiration to strike. "I ended up in this little fishing village in Iceland," he recalls now, sitting with his bandmates in the converted tram shed basement studio that they call home, "and songs were coming but I realised I wasn't writing from an isolated headspace, I was writing about home.
"I tried very much to disconnect from it all, but the one day I switched on my data, it happened to be the Women's March. I saw all these pictures, and I had this really strong impulse that that's where I needed to be. Even though I was in this incredibly utopian glacial environment, I knew we needed to go into the thick of it and that's what this record needed to be about: about exactly what's going on now," he nods. "And when I got home, that was when the songs started to come."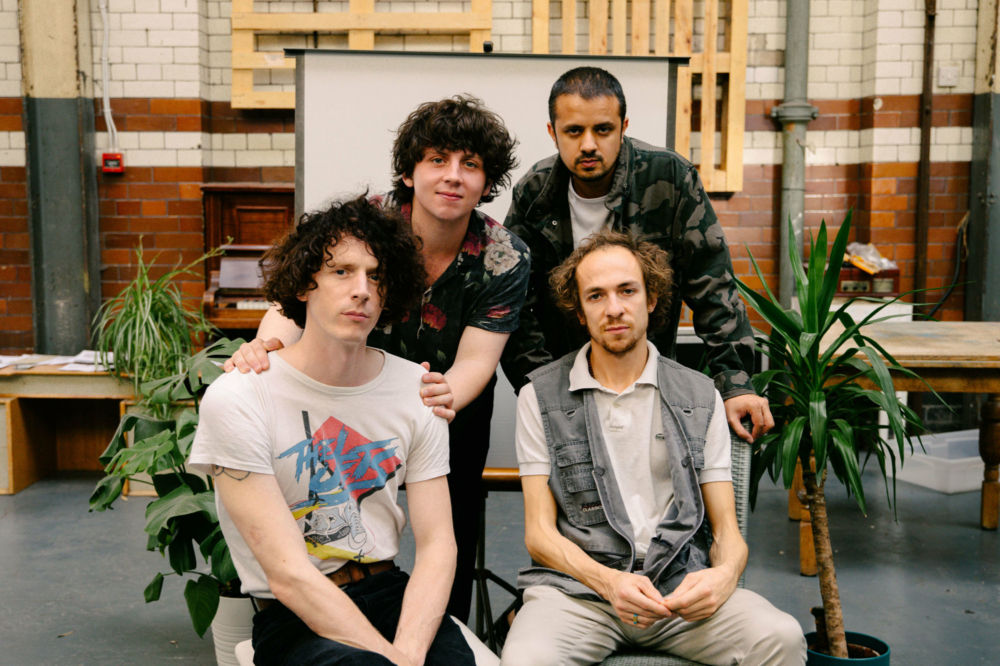 "I've always felt as an artist that your currency is empathy."
— Blaine Harrison
Mystery Jets have always been a band associated with a certain romance. The romance of escapism in their early days as thrift shop-clad sonic tinkerers and the wide-eyed, widescreen Americana of 'Radlands'; the pure, heart-on-sleeve rush of romance in its giddiest form on 'Twenty One' and 'Seratonin'. However even the most doe-eyed of daydreamers can't ignore the very modern horrors all around us, and it's into this fragile world that the band deliver forthcoming sixth album 'A Billion Heartbeats'.
Written from within the scrum of it all, Blaine moving into a guardian property above Trafalgar Square where he'd witness weekly protests and see the issues of the nation literally daubed in paint before him, it's an album that's more connected, more rooted in the present than anything the quartet – completed by guitarist and occasional vocalist Will Rees and drummer Kapil Trivedi – have ever released. "It was [written] during 2017 when all the Brexit protests were happening," begins Blaine. "The Women's March happened; there were two big NHS marches; Black Lives Matter; the Britain First protest. Every weekend, I'd be woken up by this noise on the street and I'd go down and join the melee as a way of finding out what people were shouting about and what the messages were."
But rather than soaking in and sending out an album of anger and frustration – the stereotypical sentiments of politically-responsive art – what the singer took from his experience was that, at their heart, these protests weren't about slogans and shouting. They were about people. "When you see reportage in the media of a march, the lens it's seen through is of kind of a mob," he continues. "But when you go down there, you have the sense that this is 40,000 individuals with different opinions and views and experiences, and the more you speak to those people the more complex you realise that these matters are." And from there came a record whose main tools instead lie in compassion, and a desire to communicate and start a conversation rather than end it.
"I've always felt as an artist that your currency is empathy, and there are things you can articulate in a song that are difficult to talk about in everyday conversation," Blaine says. "But when a listener puts on a pair of headphones, they can feel seen and heard and listened to."
Blaine's Gone to Iceland
And, as it turns out, he found more than a value pack of chicken dippers…
Blaine: On New Year's Day, I went to one of the hot springs. I was feeling a bit miserable as most of the world does on New Year's Day. I sat down and the rain started coming down and I looked to the right of me and there's fucking Bjork. It's like going to Narnia and meeting Azlan.
Will: Did you talk to her?
B: You don't disturb Bjork when she's in her natural habitat.
Kapil: She's oh so quiet…
Perhaps the clearest example of this comes in the form of 'Hospital Radio'. Written after Blaine's aforementioned prolonged inpatient stay, it's an ode to the importance of the NHS and an emotional, lyrically hard-hitting listen made all the more weighty by the singer's own experiences. Born with spina bifida, he's spent a lifetime in and out of hospitals and it's a sense of cold, hard reality, of having seen people suffer in the way that only those on the inside of those walls will likely see that informs its vulnerable defiance: "When you're lying in your bed, raw cold and bleeding, wondering when the hell it all went wrong/ Praying that your prayers still hold some meaning, we will be the spell at the end of your tongue." The 'we' is, of course, the NHS itself.
"You spend time in an NHS hospital and you have a real sense of what the future might look like if you don't fight for it," he says. "The album isn't telling you what to think, but this [track] is the one case where I felt it was important to communicate quite a distinct message of fingers being pointed at the establishment, because the people that are suffering the shortcomings of that system the most - people from less fortunate backgrounds, and a growing older population, and disabled people – are often the people who don't have a platform to air that voice on."
The announcement and release of the record itself was even almost delayed when the frontman caught an infection and was forced to spend another stint in the ward earlier this year. Instead, they decided to release the track as the album's first taste, going around local hospital radios before heading to St. Thomas' in London to perform for the staff and patients ("St Thomas' is like the Brixton Academy of hospitals," Blaine winks).
Across the record, the band tap into a series of very present concerns: from the Will-penned 'Endless City', a look at the difficulties of living within such a demanding metropolis and feeling like your city might be "leaving you behind", to 'Petty Drone' and its themes of technology and surveillance. The ideas Mystery Jets are posing aren't new theories; we all know, on some level, that these fears are everywhere. But they're ones that bear repeating. "What I find quite interesting is that the internet and social media were invented with good intentions and they're very useful things, but they've just become a mirror to who we are," says Will. "They're these Frankensteins that reveal our ugly nature right back at us and they've become so far removed from their initial practicality. They've become this quagmire of noise and narcissism."
"One of the reasons mental health issues and anxiety feel like such hot topics among people is because we're living in these bubbles of our own making," continues Blaine. "Every time you switch on your phone you're seeing a party you're not at, or a holiday you're not on, or a body you'll never have. You see all these things that fuck with your head, and you've got to ask the question of where this is leading?"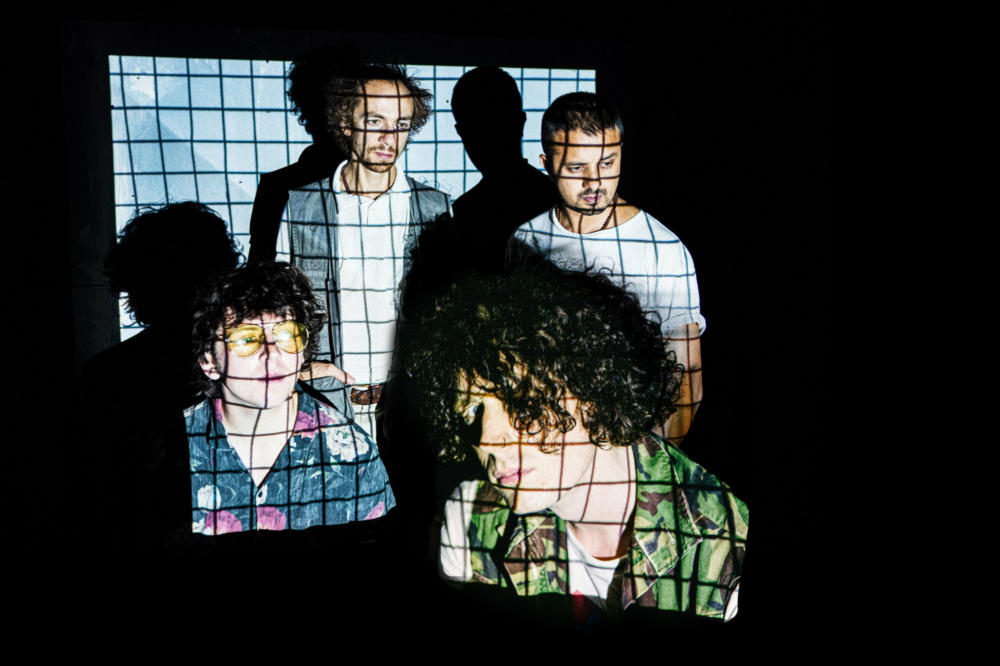 "You see all these things that fuck with your head, and you've got to ask the question of where this is leading?"
— Blaine Harrison
On 'A Billion Heartbeats', the band ask these questions and bolster them with a record that's soaring and tender and sparkling as only they know how. Yes, these are songs with more weight than the casual Jets fan might be used to, but they're also ones that approach these topics with accessibility and enough cathartic punch to make you feel like maybe it'll all be OK after all.
Produced by the band themselves for the first time, and recorded across nearly two years of gruelling sessions in their studio, it's a labour of love that sonically fulfils the visions that its lyrics set out. Opener and recent single 'Screwdriver' is perhaps the best song they've ever laid to tape – an enormous, immediate monster of a call to arms, while the title track takes you to the edge of an emotional precipice and closer 'Wrong Side of the Tracks' ends in a moment of hope.
Though, they explain, there is no conclusion to be found here, no instruction that claims to be able to answer the problem, there is a message in 'Screwdriver' that seems at the heart of the matter: "Fight them with love". "You look at the Tommy Robinson protest marches, or when Farage was doing his campaign trail and it was essentially National Go Throw a Milkshake at a Nazi Week. Whereas I think the message we're trying to put across is just to listen to people," says Blaine. "We're all together, guys! We've got nowhere else to go! We need to make caring sexy," he laughs. "That's our mission statement."
'A Billion Heartbeats' is out now via Caroline International.
Read More