Interview
Triple threat: boygenius
What started as an inside joke between three of indie rock's brightest new solo talents soon turned into a new band, a tour and a full EP. Meet boygenius.
Life can be tough on the road, so it helps to have friends along for the ride, especially when those friends are coming from the same world as you are. For Phoebe Bridgers, Julien Baker and Lucy Dacus - who met whilst performing on the live circuit, sharing the same line-ups - it felt only natural that their friendships would eventually turn into making music together.
Their plans began small. At first, they simply set out to record a track together in support of the US co-headline tour they're heading on this November. But their ideas snowballed, eventually becoming a six-track, self-titled EP by the trio, who have dubbed themselves boygenius from an inside joke that soon became the essence of the whole project.
"[We were] just talking about different men or boys in our lives who'd been told that they're geniuses and how that's actually a toxic way to refer to somebody," Lucy explains. "But if you think you're a genius, you probably have the confidence to try something that's risky or be innovative and so that's something we were trying to harness when we were recording."
"In our society women are socialised to make themselves small and to minimise their ideas," Julien adds. "If you're female or if you're younger, or if you're both - as I think Phoebe and Lucy and I are in a lot of situations - then the legitimacy of your opinions or the validity of your ideas is questioned, where it never would be if you were male. So that sort of phenomenon is something that we've all experienced and we use the term 'boygenius' jokingly to describe that kind of person…"
Made in just five days at Sound City Studios in LA (with one day to write and arrange the songs, then another four to record), the band's debut EP brings together both the sharp, introspective lyricism the three have become known for in their respective work as solo artists, as well as a look into their relationship with their fans and their life on the road.
"If you're female or if you're younger, or if you're both - as I think Phoebe and Lucy and I are in a lot of situations - then the legitimacy of your opinions or the validity of your ideas is questioned."
— Julien Baker
When the chorus of EP opener 'Bite The Hand' delivers a devastating blow in the line "I can't love you like you want me to," it sounds as though Lucy - who sings lead on the track - is dissecting the breakdown of a relationship. "For me, it's [actually] in a fan relationship context," she clarifies. "It's confusing to know how much you owe a person, especially someone who is, one, funding your life and, two, affected by and appreciating of your work. It's really easy to think you owe them something, but the truth is, the music is all that you owe people and even then, it's not owed, it's a gift. I care about the people that listen to my music so much but I can't love everybody the way that they would want me to, and I think that Julien and Phoebe would agree."
On another track 'Ketchum, ID', the band explore the melancholy of life on the road, their voices joining in harmony for the chorus: "I am never anywhere / Anywhere I go / When I'm home, I'm never there / Long enough to know".
"Sure, one day you're playing this beautiful catered festival and people are like, fanning you and peeling you grapes," Phoebe jokes, "but then you spend two days in the van inhaling each other's barf and sitting in a pile of trash. There's just a big gap in the lifestyle. I don't have to explain to Julien and Lucy why it's OK to complain about the food I ate in Germany or wherever. They're gonna know I'm not spoiled; they're gonna know exactly where I'm coming from; they're going to know that I wouldn't do anything else [with my life] ever."
In the studio, this affinity and shared experience meant recording the EP came surprisingly easy. When recording another track 'Salt In The Wound', Phoebe remembers, "Lucy and I were telling Julien, 'Fucking shred dude!' She was like 'I could really shred but that's what a dude would do, so I don't wanna do that'. And we were like 'Dude, if a dude can do it… fucking give it to them! Do it!' And we were hyping her up and she let loose and riffed this insane guitar solo. That was special."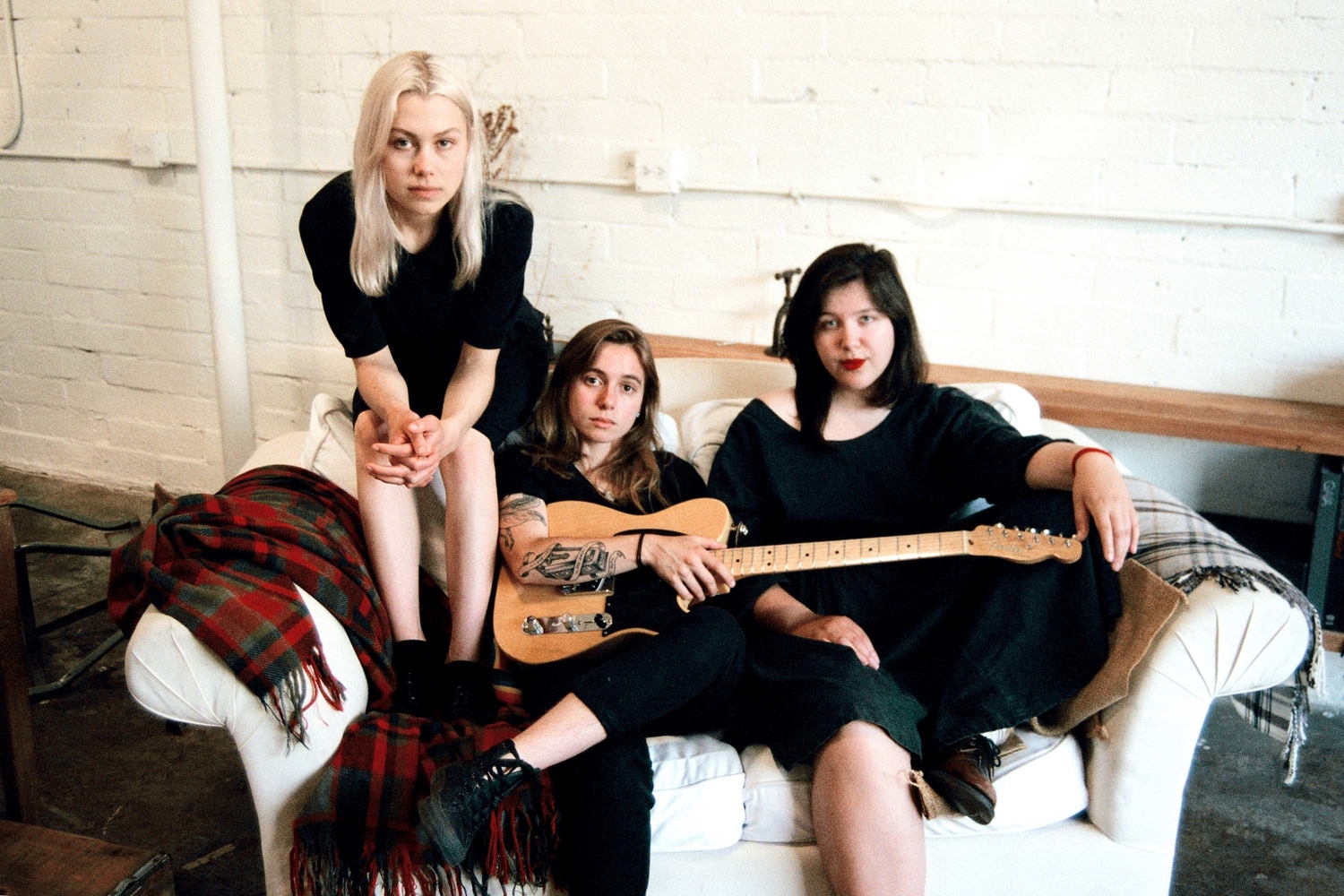 "Lucy and I were telling Julien, 'Fucking shred dude!'"
— Phoebe Bridgers
With their own solo careers taking up the bulk of their time, all three say they're unsure yet whether boygenius will be a short-lived project or go on to become something bigger. Whatever happens though, their first EP serves as a time-stamp in the life of three friends battling the often strange experience of being young musicians together in the public eye.
"We're all in the exact same place, so that's what struck me the most about meeting them," Phoebe muses. "There was a bunch of shit I didn't need to explain to either of them about where I was in my life and I think that's also what was special about getting to know them and immediately starting on this project."
"We like making music together so it's not like we've spent our full energy together," Lucy suggests on the prospect of their future as a band, "But, who knows?"
'boygenius' is out now digitally, and physically on 9th November via Matador.
Read More