Number One Popstar drops new track 'TV'
Her debut album is on the way.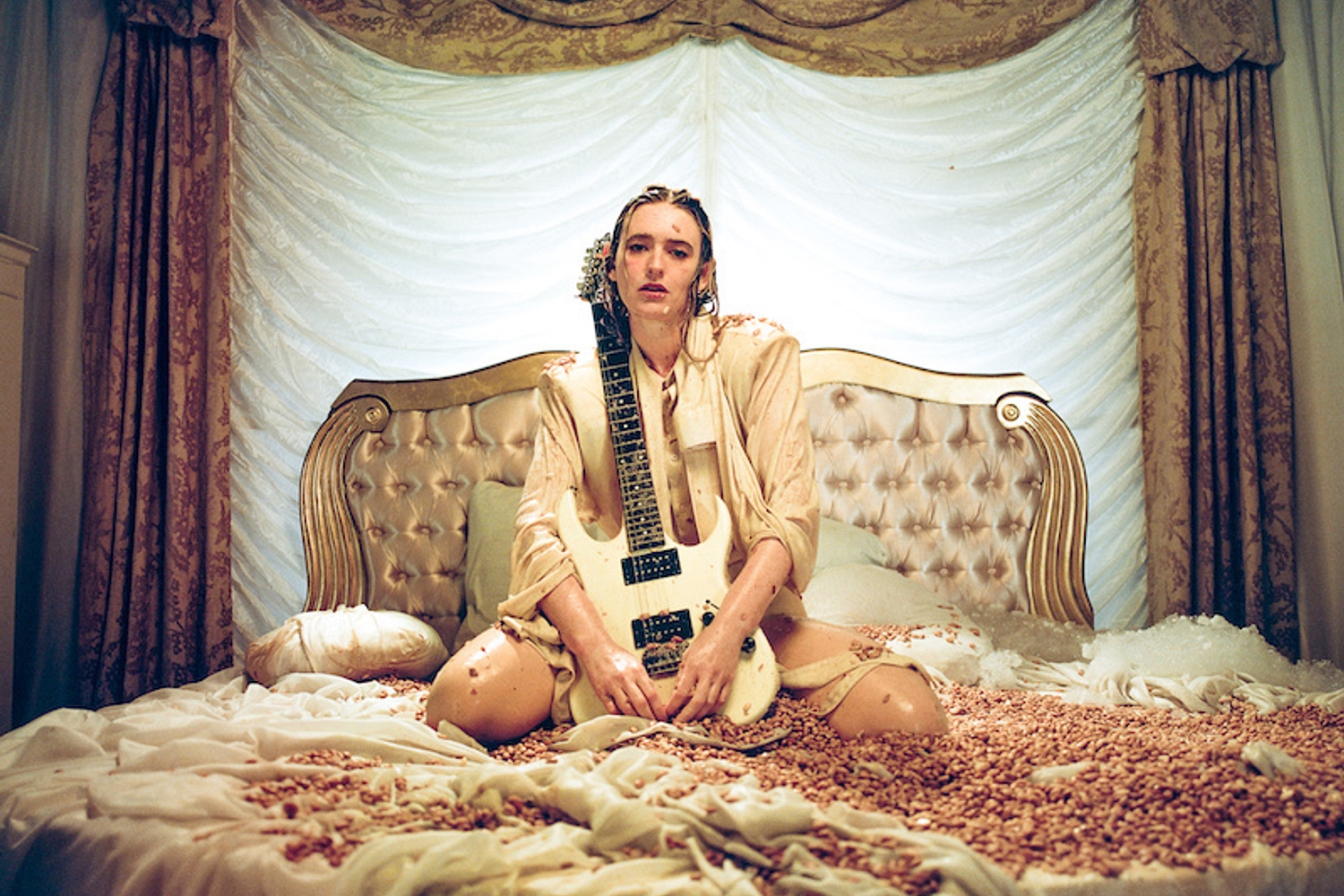 Photo: Lance Williams
With her debut album on the way, Number One Popstar - the synth-pop moniker of singer/filmmaker Kate Hollowell - is sharing new track 'TV'.
"I wanted to capture and satirize our cultural obsession with fame," she explains. "With new platforms and algorithms promising endless exposure and instant notoriety, we've created an existential crisis that's only alleviated by the constant approval and validation from strangers.
"I'd recently watched the explosive and unhinged foam and bean scene from the 1975 rock opera by The Who called 'Tommy' and instantly wanted to recreate it. The film is absolutely insane (you can tell everyone was on a lot of acid) and visually it's an absolute dream. 'TV' was the perfect song to pay homage to this scene and I quite literally couldn't let go of the idea. For months I told people 'I want to shoot this bean sequence' and I'd show them the reference. Everyone's general reaction was the same; shock and disgust, which I loved.
"There are a lot of parallels between the film 'Tommy' and the storyline of the song 'TV'. One of the central themes of Tommy is the play between self and illusory self. In the music video, the character can only be happy when they're identifying with the illusory self they've created. For Number One Popstar, the fame seeking self is the illusory self. 'TV' is me outing my shadow and my desire to be known forever. But in the end, as a disgusting amount of beans pour from the television screen, we recognise that fame is an ugly, messy, empty and unfulfilling achievement.
"I love unnecessary challenges, and I knew the filming and logistics of shooting a music video like this were terrifying, but I put together what I coined my dream "Deam Bean Team." I'm the only person I know who would spend their own money to have beans dumped all over them, so I just embraced it. We built the entire set from scratch in an empty warehouse with mostly free and found objects off craigslist and painted them all white.
"Projecting foam and beans from a giant TV at a velocity that was impactful was a game of trial and error. We rented a special effects grade foam machine and then 10 seconds into the first shot I almost died. What I didn't realize until after the fact was that it's probably not a smart idea to open your mouth as wide as possible and inhal special effect grade chemical foam. The foam instantly started closing up my throat and within seconds I felt like I couldn't breathe. I ran off set and for a few seconds thought I might die. At that moment I had the thought 'what a weird headline….'Girl Dies From Foam Machine' …but also, maybe then I'd finally be famous? We called poison control who said I should be fine. They said they get 'calls about inhaling special effects foam all the time'. The art department had an alleyway filled with buckets of beans soaking until the last moment. It was a group effort to pour those vats of beans through a tunnel. But don't worry, no beans were harmed in the making of this film."
Check out 'TV' below.
Featuring King Gizzard & The Lizard Wizard, IDLES, Tkay Maidza, Sleater-Kinney and more.