Rays of light:
Weaves light it up in the video for 'Walkaway'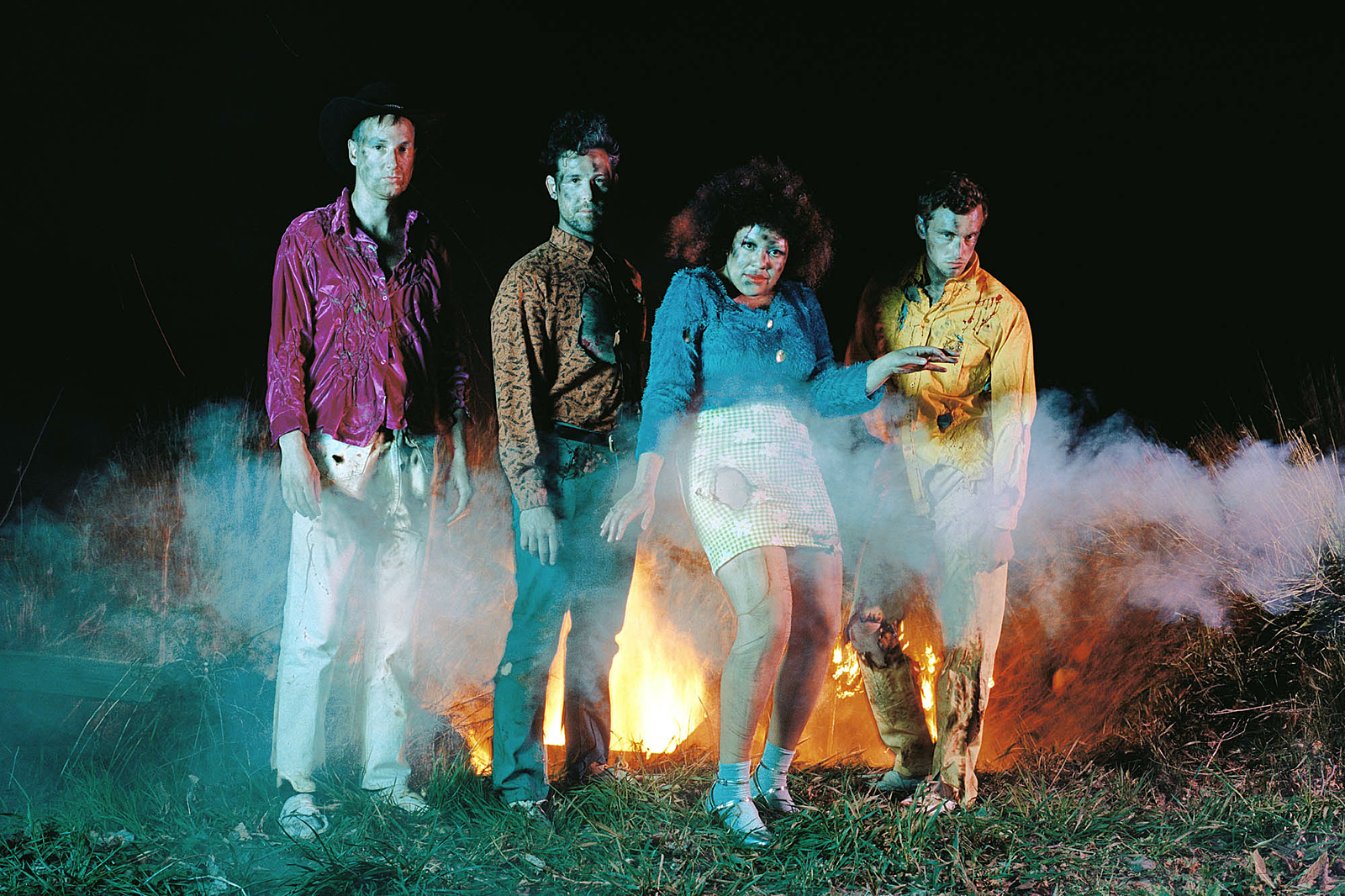 The Canadians' new album 'Wide Open' is out in October!
A few weeks back, Canadian pop weirdo wonders Weaves announced that they'd be releasing their second album 'Wide Open' on 6th October through Memphis Industries – and the crowd went wild!
At the same time, they revealed the rollicking '#53' and now they've lifted the lid on a new single (and a brand new video!), 'Walkaway', described by Jasmyn Burke as "a song about empowerment and finding light in the darkness". It also happens to be one of their overtly pop moments to date, with its video capturing the sense of finding light, as they set a bunch of fires out on the darkened plain.
Jasmyn says of the clip: "We shot the video and the album cover at the same time, and it makes sense to me to tie those images to this song, as, like a lot of this record it's about personal agency and finding your way in difficult times. There's this fire and destruction surrounding us on the cover, which was initially inspired by the scene in the movie Heathers where Winona Ryder's character stops her ex-boyfriend from setting off a bomb in the boiler room of the high school. She is covered in soot and blood, and she's smoking a cigarette, as she re-enters the school with a new found clarity — she doesn't want to try and fit in or be perfect anymore. I like that sentiment".
Weaves are also set to tour the UK in November, heading across the country and playing everywhere from Cambridge to Glasgow, Leeds to London in the process. Tickets are on sale now.
Watch the video for 'Walkaway' and see all of Weaves' upcoming UK tour dates below.
NOVEMBER
13 Cambridge, Portland Arms
14 Leicester, The Musician
15 Glasgow, King Tut's
16 Leeds, Oporto
17 Manchester, Eagle Inn
18 Newcastle, Think Tank?
19 Birmingham, Hare & Hounds
21 London, Oslo
22 Brighton, Green Door Store
Read More