Festivals
Wireless Festival 2014
Finsbury Park, London 4th - 6th July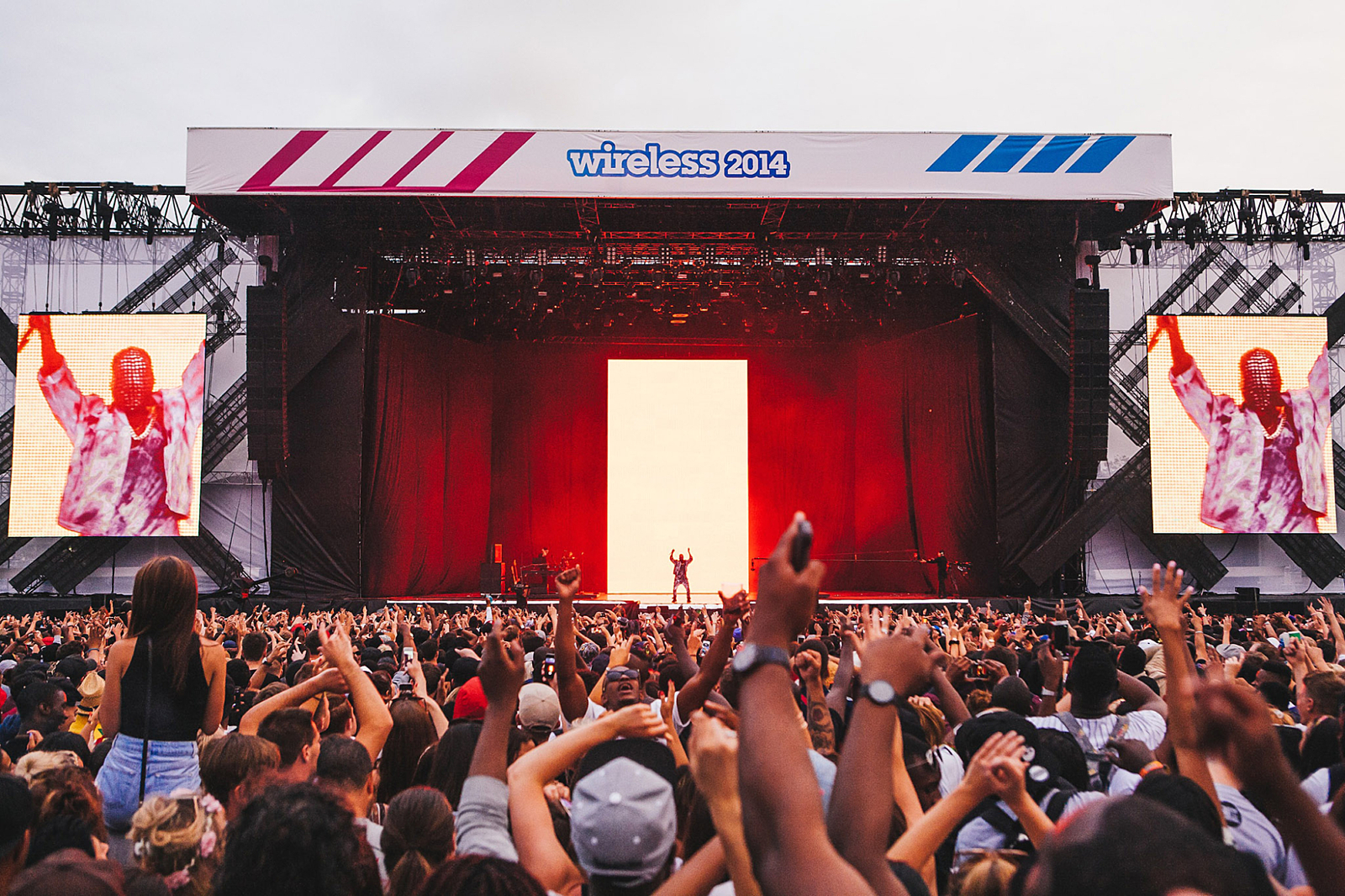 Kanye's bored, anxious, almost definitely victimised, and wants us to feel sorry for him. Sorry, but no.
"This Is Yeezus". Three words it's impossible avoid at this year's Wireless festival. Yeezus, Yeezy, Kanye – whatever – is headlining not once, but twice, due to Drake's last minute cancellation, and he's on top, angry, hysterical form.
"It's the prophet!"
"What a tosser!"
"Who are yer!"
Three different audience reactions to Kanye West's 'Runaway', which descends into a 15-minute autotuned solo, or as widely reported, 'rant'. It has just started raining – pathetic fallacy, perhaps – as an image of a waterfall fills the central screen, replacing the hellish, blood-red backdrop and billowing dry ice. Are we in limbo?
'Yeezus' material has dominated the set so far and it's all worked surprisingly well. As abrasive as any Nine Inch Nails show, anti-earworms 'Black Skinhead' and 'Blood On The Leaves' send West, concealed behind a white, checked head mask, romping around the main stage and collapsing intermittently. There's endless, iconic Old Testament lightness and Jesus comparison-making. It's unrelenting. It's blasphemous. He's a drama queen, we know that much, and he lives up to the rep.
Sometimes, though, you just wish he'd shut up. Twice – once each night – he flips onto splurge mode. He waxes delusional on topics like the connivances of the press, his Grandad, Forrest Gump, and what the American Dream ideal really is, to him. He claims he isn't angry, admits to a smidgen of arrogance (at last!), but also preaches his inherent shyness – the whole crowd smirks. "Y'all my clique", he tells us, having stopped Jay-Z collab 'Clique' mid-way. He's too restless. Most of the classics, the best songs he plays, notably set highlight 'Power', a reworked 'Touch the Sky' and 'College Dropout' cut 'All Falls Down' are all truncated, then cast aside. Despite their shortness, they still make for the most rousing moments. So, play them for longer. Duh. But Kanye's bored, anxious, almost definitely victimised, and wants us to feel sorry for him. Sorry, but no.
West should probably learn a thing or two from Pharrell Williams, who plays before him, avoids the between-song patter and charms the crowd with an exhausting, career-spanning set. Impeccably attired, Williams dons garish yellow Chanel sneakers, a sized-down Vivienne Westwood hat, excessive bling, a baggy 'Humanmade Coffee' t-shirt, and, of course, that enigmatic cheeky grin. He certainly looks the part, and the crowd lap up his every move.
Tunes from his early Neptunes and N.E.R.D. days ('Hot In Here', 'Drop It Like It's Hot', 'She Wants to Move') brush shoulders with the recent Daft Punk and Despicable Me hits, as well as the singles from 'G I R L' and widely maligned banger 'Blurred Lines'. But what's really amazing is how thoroughly honoured the man, the legend appears. As audience members climb trees, throw shapes, swoon, and sing back every word, he seems dangerously close to shedding tears. ­­­­­
Jess Glynne, meanwhile, proves there's much more to her than mere guest vocalist (see Clean Bandit's 'Rather Be' and Route 94's 'My Love'). Technically the best selling artist of the year so far, she fills the Pepsi Max stage for a tricky, early lunchtime slot. Her powerhouse vocal has much more range and depth then her features suggest (new nickname: the "Glynne-mill"), and her solo arsenal involves much less house, much more soul. While she won't go quite as far in the balladeer direction as Sam Smith post-Disclosure, songs like new single 'Right Here' and future smash 'Long Time Coming' hint at a Motown-inspired future with all their muted trumpet parps and buoyant, pulsating strings.
Similarly brilliant is Sinead Harnett, whose soulful vocal demonstrates Amy Winehouse-like expressiveness, but fellow newcomer Kiesza is all about the bass. An ex-naval sharpshooter (yes, really) and current purveyor of a mohawk, the Canadian's performance of updated 90s dance (think: thunderous old school beats and infectious piano jingles) on the appropriately titled Boombox Stage is enthrallingly energetic. Although 'Hideaway' and 'Giant In My Heart' are undeniable jaw-droppers, Kiesza, née Kiesa Rae Ellestad, unfortunately doesn't have enough material to fill even a half-hour set.
Back at the Pepsi Max stage, perhaps the biggest revelation of the weekend comes courtesy of Kwabs. In the main, it's a relief to see so many live instruments, but also to get DJ/compere Tim Westwood off the mic (who in the meantime spits 'delightful' lines like "ladies scream if your pussy's clean"). Introduced, hilariously, as "crabs" by Westwood, Kwabs proceeds to wow a packed tent with his unique, noirish soul. The Londoner's delicate Marvin Gaye-like voice, syncopated bass-lines and gospel backing vocals hold the crowd in suspension, in awe, taken aback. He thrusts his hips, squats, scowls at the audience. And whether it's the pummelling bass of Sohn collaboration 'Last Stand' or the jittery samba of 'Into You', it's genuinely great to hear some pop beats that aren't tinny, pre-recorded Diplo commissions.
Earl Sweatshirt follows him and turns the crowd into a leaping, sweat-caked swarm of animals, but he has nothing on Chance the Rapper. Today he has a full live band, trumpeter and keytarist included, and the songs from breakout mixtape 'Acid Rap' are rehashed with pizzazz. His singular style of gurgle-rap, set to an ironically naff acid jazz backdrop, produces an at times cabaret-like feel. Brass crescendos, cymbal clatters, drumrolls, glammy guitar flourishes and strip club synths: it's overblown brilliance.
Throughout the set, he capers around the floor, rebounding of the sides of the stage like a panicked bumblebee in a jam jar. Ronny Jordan-inspired guitar lines embellish set highlight 'Pusha Man' and a drawn-out, proggy 'Cocoa Butter Kisses' has the loudest singalong of the weekend, but nothing tops his cabaret-reggae cover of the Arthur theme tune, with emphasis placed on the feel-good closing line 'Everyday it could be wonderful'.
Kanye delirium over, Sunday is a much more relaxed affair. Ellie Goulding's icky-sweet stadium-pop pleases a sun-dappled crowd on the main stage mid afternoon, whilst new boyband-with-guitars and future heartthrobs Rixton prove surprisingly proficient over on the Boombox, despite being quite annoying. Before them, Sasha Keable plays a funky set of tunes from her EPs Black Book and Lemongrass and Limeleaves, whilst Indiana's downcast electro-pop falls a little flat just after.
But it's left to one band to really steal the show – and that's Outkast. Blasting through a set which does a miraculous job at summarising their twenty years in the biz, André 3000 and Big Boi, dressed like futuristic clowns, provide a masterclass in bustlingly brilliant, cartoonish ridiculousness. Whether it's the moment they bring 10 girls on stage for a crazed rendition of 'Hey Ya', or when Sleepy Brown comes on for a whimsical 'The Way You Move', or even when they joke about the supposed family-friendly canine references of the lyrics "crazy bitch / stupid ass bitch" in 'Roses', it's all utterly bonkers. 3000's yapping style meets its (obviously) perfect counterpart in Big Boi's deeper, faster flow, and together, they solidify their status as one of the best, most consistent hip hop groups of all time.
Photo: Richard Johnson
Read More