Album Review
Dave - We're All Alone In This Together
4-5 Stars
At the rate he's working at, watching him fill out the chapters to come is going to be a gift that keeps on giving.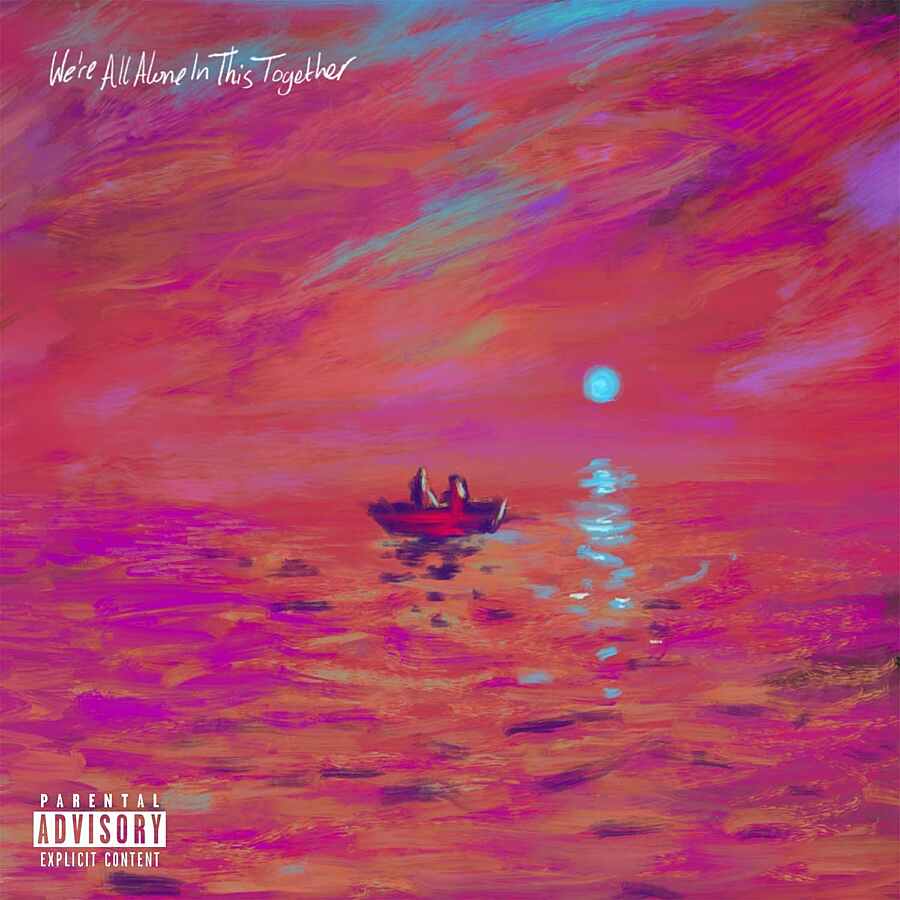 All eyes have been on Dave since debut 'Psychodrama' arrived off the back of a run of high-flying singles. He proved across the 11 tracks that he was the real deal who can operate in the album format - a fine storyteller who can strip the most difficult of subjects back to its core; race, domestic abuse, his brother's prison sentence, nothing seemed to stump him. While 'Psychodrama' used the framing of a therapy session to look inwards, 'We're All Alone In This Together' looks outwards.
On track one Dave excavates the connections he's made to his fans through music. "In twenty-three years, I done so much wrong / but in that moment, I just felt like I made it right" he raps on opener 'We're All Alone" as he recalls the transaction with 'a kid' who sought his counsel from the brink. "Somethin' special when he messaged me and told me that I saved his life." A scattershot drum-pattern breaks up the soaring strings as a ghostly vocal hangs over the instrumental.
The fun starts around 'In The Fire', a seven-minute mic exchange between the greats of grime atop a Kanye-style chipmunked gospel beat. Fredo and Ghetts cut through with their razor-sharp delivery before Giggs steps into frame with that unmistakable baritone. Each are given a moment to trace their story from hard beginnings to the status they've climbed to. 'Three Rivers' is an ode to immigrants, a trilogy of stories stacking up to paint a rich picture of the UK's problematic dealings from Windrush to refugees fleeing from war-torn countries. "They're deporting our people and it makes me sick / 'cause they was broken by the country that they came to fix," he raps.
From allowing the godfathers of his genre to shine to politics, love and heartbreak, it's an album of tremendous scope, both in subject and musical reference points. The Latin-flavoured bop of 'System' features a sticky hook from Wizkid which is eventually soothed by swelling strings. 'Twenty To One' finds Dave trying out his singing chops as he intriguingly leaps between melody and spoken word in a fantastically unique fashion. Later, the gorgeous 'Both Sides Of A Smile' - where an argument between two lovers bleed out - is underpinned by James Blake's chirruping vocal and soulful piano chords which only adds to the heartbreak. "You can ask James Blake, I ain't seen the colour in anything," he raps, cleverly referencing his collaborator's 2016 album.
Setting such a high bar on your debut can be a poisoned chalice but Dave weathers the storm with his astute penmanship, impeccable musical taste and cool, collected delivery. 'We're All Alone In This Together' is an album that'll be excavated for years to come, but remains just as impactful on first listen. At just 23, Dave has already built the foundations of an impressive body of work - at the rate he's working at, watching him fill out the chapters to come is going to be a gift that keeps on giving.