Album Review
Speedy Ortiz - Foil Deer
5 Stars
A snarling, twisted, mischievous creation, 'Foil Deer' is a leaping, high-spirited joy of a record.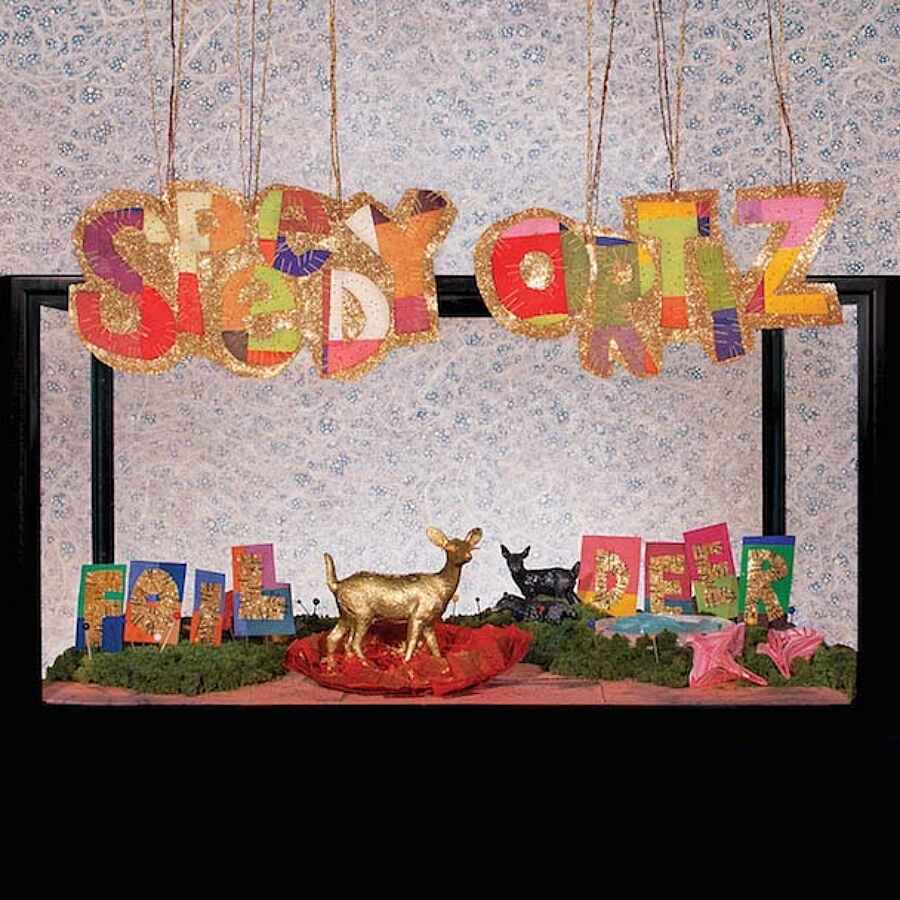 Speedy Ortiz have always been a little bit obsessed with comic strips. The band's named after Eulalio 'Speedy' Ortiz from culty series Love and Rockets, and they also chose to announce their second album 'Foil Deer' with a slice of pen stroke Sci-Fi by their artist buddy Michael DeForge. Fast-forwarding a thousand years, to a new age where the world is saturated with micro-particles of shiny aluminium it predicts - with tongue firmly in cheek - that this record will transform the universe irrevocably. "Scientists are still trying to piece together the origins of 'Foil Deer' by Speedy Ortiz", it says, talking from the year 3015. "It represents a crucial key to our ancient past - when mankind was loving, cruel, exuberant… covered in skin and easily hurt."
The band's previous album 'Major Arcana' reached magical heights; an unstable, tense debut with all the dangerous captive energy of a severed mains wire. Mainly due to budget constraints it was a live record, pouring the band's formidable show out across the black wax. For all its fuzzy, battering onslaught, it came from a place of vulnerability, too, and at times Sadie Dupuis sang like she was carefully balanced on a wobbly core of anxiety.
'Foil Deer' might not literally have the power to disperse into thin air and coat humans with a fine, impenetrable liquid foil for all eternity, but it certainly feels like it's an unbeatable and a far more assertive kettle of fish - or rather, deer - than the band's debut. Stuck behind someone on a coach who won't stop thrashing around and tousling their hair into your face? Accidentally pour yogurt onto their foot. Unlucky enough to get on an already-packed train on the same day as the "could you move down inside the carriage' convention's monthly outing? It's time to enjoy coughing freely in your intruded-upon personal space, blessing them with your latest bout of the common cold in the process, with this album blasting into your lug'oles.
Wild dreams of sci-fi transformations aside, there's something inherently empowering and bullshit-banishing about 'Foil Deer' from the very beginning. 'Raising The Skate' busts right into the joint, slamming the door open in a deft demonstration of intent, and from then on, things are playful and self-assured, with the wheels firmly skating in the same direction. 'The Graduates', regaling tales of stoned receptionists and ducking out of French class to smoke cigarettes on the balcony isn't exactly whimsical - not with a un-oiled beast of a chorus that big, anyway - but Sadie Dupuis' lyrics are more waggish than anything she's ever written before, the melodies craftier, more complex. Along with the monumentally lurching guitar solos we've come to expect as standard from Speedy Ortiz, there are unexpected Gary Numan keyboards peering from behind the scenes with a smirk, subtle sprinkles of vocal manipulation throwing light and shade. A second album bursting with its own personality, Speedy Ortiz have poured everything onto an album all over again. A snarling, twisted, mischievous creation, 'Foil Deer' is a leaping, high-spirited joy of a record.