Album Review
Stormzy - Heavy Is The Head
4 Stars
Like life itself, there's flashes of humour, love, heartbreak, politics, fun, vulnerability and identity.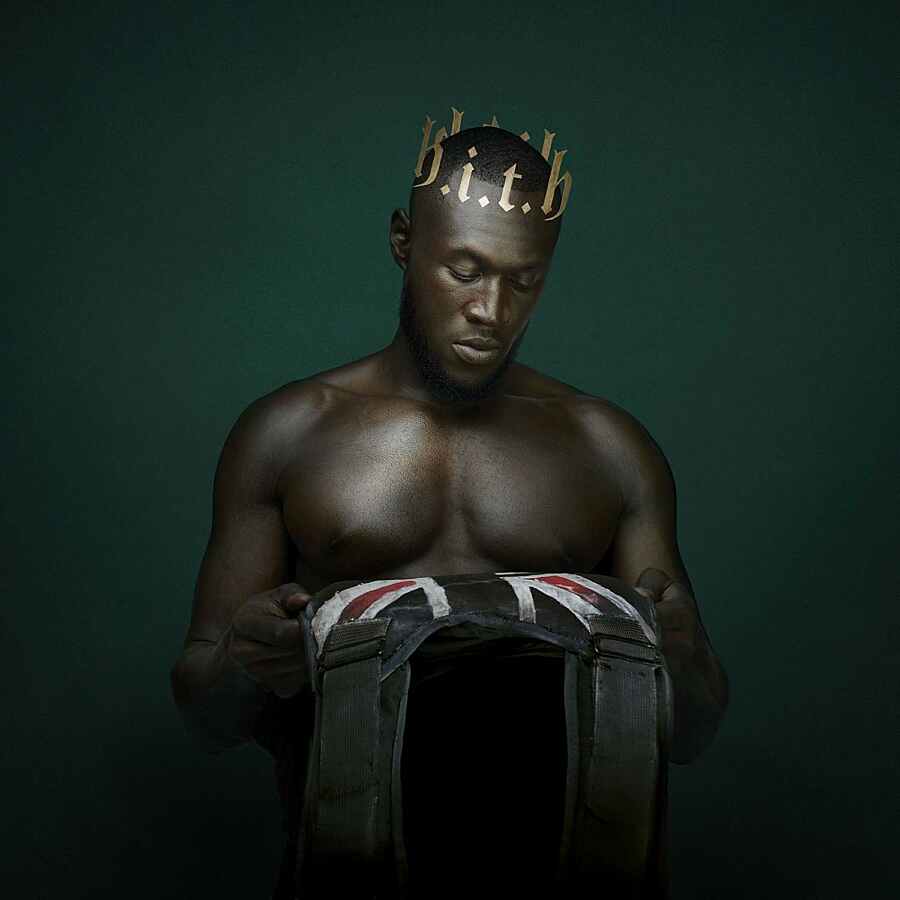 Before you even reach for the play button on 'Heavy Is The Head', it goes without saying that Stormzy has a lot to prove. Second albums are difficult at the best of times, but it's a much fiercer beast to tame once stoked with the expectations brought on by a killer headline set at the biggest festival in the world and following up a platinum-selling, Number One debut.
The decision to drop the LP on the morning after a critical general election shows Stormzy facing his duty as the voice of his generation head on, a heavy obligation captured on the album's cover as the rapper casts a sorrowful glance down at the Banksy-designed stab vest emblazoned with the Union Jack; our broken Britain. "When Banksy put the vest on me / I felt like God was testing me," he spits on 'Audacity'.
Let's face it, there's only so long an artist as big as Stormzy can keep the gap between expectation and reality on a level-playing field before it catches up with him, 'Heavy Is The Head' demonstrates he's kept these opposing forces in perfect balance. Like life itself, there's flashes of humour, love, heartbreak, politics, fun, vulnerability and identity (in both its searching and celebratory form) across its 16 tracks.
Opener 'Big Michael' is grime in its purest form, a balls-out battlecry of bravado bubbling on top of an urgent instrumental littered with stabs of brass. The aforementioned 'Audacity' follows providing a double-shot of adrenaline, before the more meditative spirit of 'Crown' spills through the speakers as he attempts to make peace with his position as "the voice of the young black youth".
Beyond these first handful of tracks, Stormzy's engulfing snarl is largely kept at bay in favour of a smoother style which drops in and out of melody; a skill he's become well-versed in. The second half of 'Rachael's Little Brother' is a beautiful slither of piano-led balladry featuring full-on singing, and the interlude 'Don't Forget To Breathe' sees Yebba providing a lush counter-melody to his soulful croon.
The arrangements are well crafted and the production remains irresistibly smooth throughout, but at times you partly wish he'd been a little more playful, as it's the more experimental moments that really flourish. Particularly standout 'Rainfall' which features lo-fi guitars, marimbas and a stunning sequence that emulates the melodic turns of '90s R&B girl groups to dazzling effect. Later, the use of varispeed on 'Handsome' gives an idiosyncratic twist to an otherwise stone-cold banger.
There's also a handful of breakup tracks here that most likely chronicle his split from Radio 1 DJ, Maya Jama, "I know things are OK but I need you to do better," goes the forlorn refrain over bass drums and finger snaps on 'Do Better' as he takes a walk in his ex-lover's shoes.
Stormzy certainly has a mainstream audience to appeal to now - he recently sold out a number of dates on his UK arena tour for 2020 which begins with a three-night stint at London's O2, it's a victory not only for the man himself but for the wider genre he represents; especially as it went unrecognised by the masses for so long. Yes, there are poppier moments here, namely 'Superheroes' and 'Own It' featuring Ed Sheeran and Burna Boy, but it never feels forced or like he's pandering to his newfound audience, as he explains on the fun throwaway of 'Pop Boy' - "I'll never stop popping, I'm the pop boy".
The labyrinthine complexities of human nature are explored here in all their grit and glory, but it's the combination of Stormzy's charm and his knack for storytelling that allows 'H.I.T.H' to glimmer with a universal appeal that will please both his mainstream audience and grime fans of old; an almost impossible task that he's amazingly pulled off.