Album Review
The Jaded Hearts Club - You've Always Been Here
1-5 Stars
In short, it is fucking dire so, of course, it has arrived in our desperate, joy-deprived laps now just to rub salt in the wound.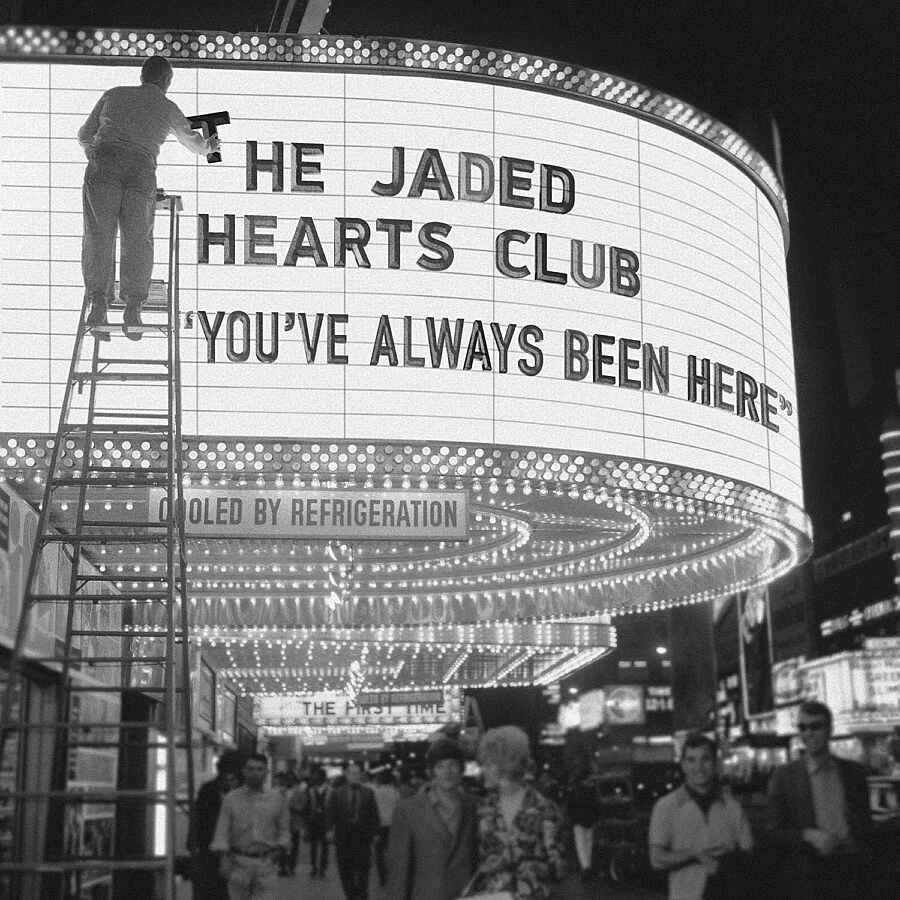 If Charli's lockdown bop collection 'how i'm feeling now' and Taylor's stripped-back surprise release 'folklore' showed themselves as records that seemed to, in disparate ways, mirror this strange old time, then no record has truly encapsulated the spirit of 2020 like that of The Jaded Hearts Club.

A new 'supergroup' comprised of Muse's chief warbler Matt Bellamy, Alex Turner's chief sidekick Miles Kane, Graham Coxon - who really should know better - and a couple of blokes from The Zutons and Jet, 'You've Always Been Here' could not be more appropriate for this gleaming shitshow of a year if it coughed on you and then popped off to Barnard Castle for an eye exam. It's the quarantine passion project created after too many days of 4pm drinking. It's the existential crisis on Week 12 of drifting, structure-less furlough. It's the desperate clutch at nostalgia that finds you trawling through your old school friends on Facebook at 2am, sobbing for A Simpler Time. In short, it is fucking dire so, of course, it has arrived in our desperate, joy-deprived laps now just to rub salt in the wound.

The thing that's truly upsetting about this whole ordeal is that the band's members are all, in their own ways, actually genuinely talented. Sure, not even the members of Jet have thought about Jet in at least a decade, but singer Nic Cester can belt out a tune. Say what you like about Miles Kane (and a lot of people have), but he's got a decent pair of pipes himself. Graham, meanwhile, is pretty much definitely the best guitarist of his generation. So to see it all squandered on such an achingly pointless endeavour is a bit like someone using a Gucci bag for a tactical vom: it's just such a WASTE.

The story of how we ended up here goes something like this: guitarist Jamie Davis (the sixth Heart in the club) needed a wedding band, so he roped in a bunch of musical mates to come and play Beatles covers for him. Having invested in top-quality matching leather jackets, and subsequently finding out that vacancies to present Top Gear were not currently available, the group then seemingly decided to keep the party going, throwing some attempts at The Four Tops ('Reach Out (I'll Be There)'), The Sonics ('Have Love Will Travel') and, most disturbingly, Peggy Lee's 'Fever' into the mix.

And here is where the error lies. Because there's a reason that wedding bands very rarely go to Number One, isn't there. There's a reason that the sort of throwback frivolity that your Aunt Doris likes to shake a leg to after a bit too much free Prosecco isn't likely to trouble the Mercury Prize shortlist next year. And it's that weddings exist in a microcosm of extreme joy and extreme drunkenness where taste levels go to die. You cannot be cynical at a wedding, you just hoof back another rosé and get on with it. But life is not a wedding. And wedding bands are not for normal life. And, much like eating that fifth slice of lockdown cake, just because you CAN do something, doesn't always mean you SHOULD. So yes, welcome to the most 2020 album you're likely to see. Thanks universe, you massive arsehole.