Live Review
Charli XCX, Village Underground, London
19th June 2018
The capital's Village Underground sees a brilliant, electrifying showcase of friends and collaborators.
Over the past few years, Charli XCX has become an artist of two halves. Playing a series of huge festival slots last summer, and opening up Taylor Swift's new 'Reputation' stadium tour on both sides of the Atlantic, the singer can easily put together a world-beating set of bubblegum pop hits, throwing out the towering bangers of her 'Sucker' LP and chart-topping collaborations such as 'I Love It' (with Icona Pop) and 'Fancy' (Iggy Azalea).
Though this looked like the path she'd always head down, across the past 18 months, she's been focusing her attention on a different vibe, a pair of mixtapes alongside PC Music's A.G. Cook that take a turn towards weirder, plasticy and even more euphoric places.
Tonight, the second of these mixtapes - last December's 'Pop 2' - gets the full works in a blindingly brilliant showcase of friends and collaborators. Beginning with mixtape highlight 'Unlock It', the crowd is simply at fever pitch, and the atmosphere rarely drops below sheer pandemonium. While those in the cheap seats on the Taylor tour will happily roar along to 'Boom Clap' and 'Boys', Charli's also fostering a different kind of adoration from a new audience, one who are just as devoted.
Every word from any track from 'Pop 2' or its predecessor 'Number 1 Angel' are belted back at her with joy, and the crowd adoration is truly shown when even officially unreleased tracks 'Focus On My Love', 'No Angel' and 'Girls Night Out' (the last of which was leaked when tracks slated for the singer's long-awaited third album were shared without her consent last year) are given some of the biggest reactions of the night.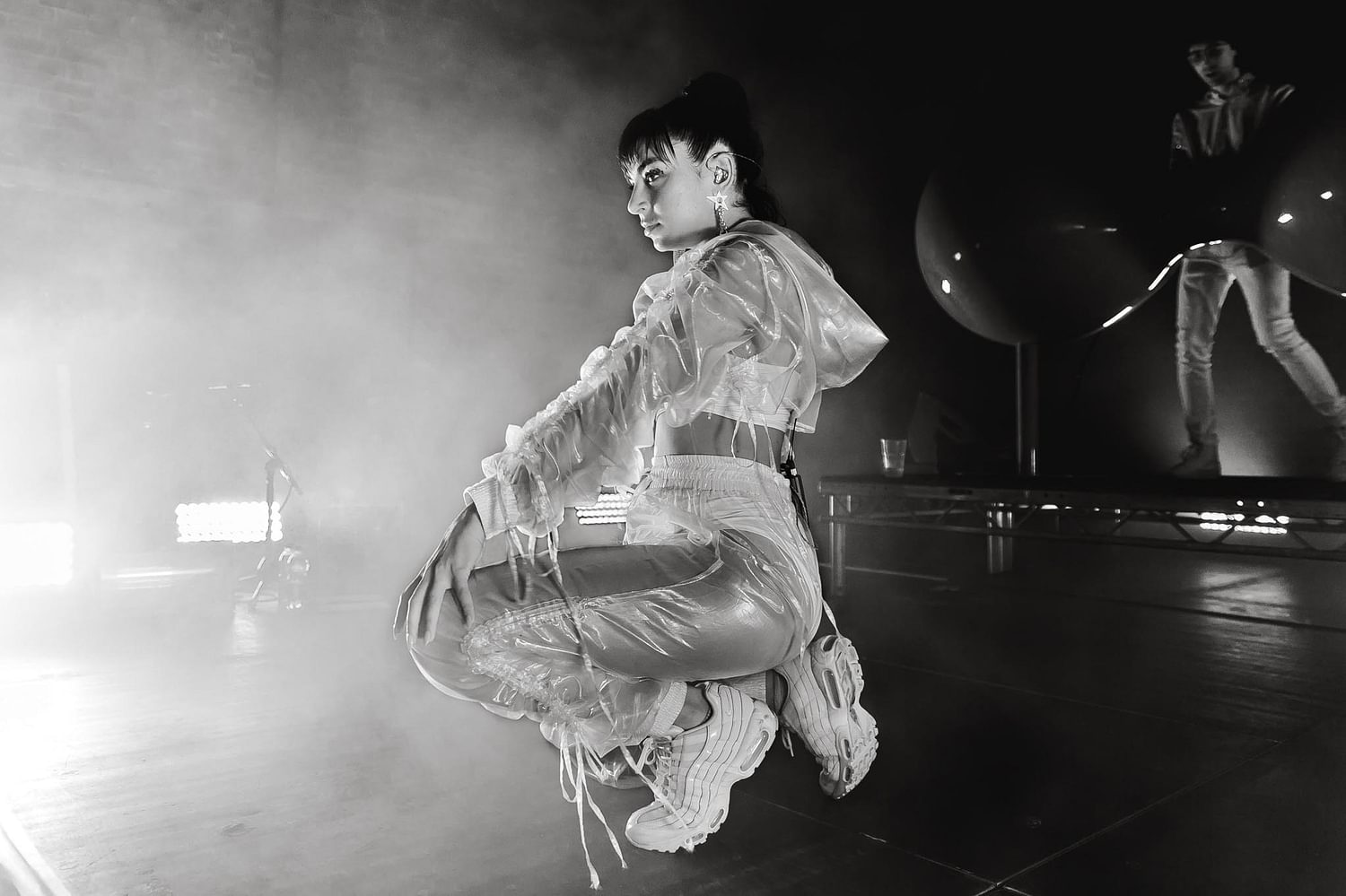 The show is also packed with special guests, a tactic which goes both ways across the mammoth 90-minute-plus set. Rina Sawayama more than fills the absent Carly Rae Jepsen's shoes for a twist on 'Pop 2' opener 'Backseat', while Raye makes an electric if short entrance on 'Dreamer' and Dorian Electra comes out for the brilliant 'Femmebot'.
Estonian oddball Tommy Cash then comes out for a euphoric run through 'Delicious', sporting a leopard-print backpack (because obviously), but his following rendition of new track 'Mona Lisa', which sees Charli leave the stage, falls a little flat.
Before 'I Got It', one of 'Pop 2''s most intense, thudding cuts, Charli explains in detail why its featured artists - Cupcakke, Brooke Candy and Pabllo Vittar - couldn't make it. She then repeats the sentiment before Cupcakke's relentless, brilliant verse: "If Cupcakke was here, she'd kill it!" she yells, asking the crowd to carry the verse themselves. It plays down what's already a stellar list of guests that are here tonight, when Charli could comfortably carry the show all by herself anyway.
For a suitably celebratory rendition of 'Boys', she's joined on stage by a host of drag queens, before SOPHIE emerges for a fierce, rapturously received version of 'Vroom Vroom' into her track 'Whole New World'. As the list of friends and guests looks like it must surely be exhausted, Hannah Diamond then emerges for a run through 'Paradise', before her track 'Fade Away' gets one of the biggest reactions of the whole night, and a sense of collaboration is at the heart of everything tonight: a scene Charli has embedded herself in and now appears as its glorious figurehead. "I may not be the biggest, but I'm definitely one of the best," she smirks half way through the set, and on this evidence she could soon become both.