Festivals
Lizzo, Amyl & the Sniffers, Pottery and more bring SXSW 2019 to a highlight-packed climax
The Texas extravaganza may be done for another year, but it's leaving on a high.
As SXSW 2019 comes to a close, it's with the exhausted but excitable sense of the last day of a holiday; bands squeeze in their umpteenth show of the week, punters try and fit in all the last artists on their lists and everyone attempts to tick off as much as possible before going for an enormous sleep.
Luckily, there's still literal bucketloads of highlights to be found, kicking off with the Levitation day party at Hotel Vegas that sees Brooklyn's The Mystery Lights dish up the kind of '60s garage-psych jangles that seem purpose-built for a sun-baked, dust-filled slot supporting Oh Sees (who rock up later with a crowd-surfing man dressed as a panda, ofc). Possessed with a strangled howl and a good line in high jumps, singer Mike Brandon guides the band through a set that's literally the least forward-thinking thing we've seen all week but all the better for completely knowing and owning its own, nostalgia-indebted charm. Japan's Chai follow them, beginning with a cover of Daft Punk's 'Get Lucky' before launching into their own irrepressible brand of hyperactive, ADD pop. There's colour co-ordinated outfits, masks bearing pictures of their album cover and an endearing speech about accepting your own body complexes. If Chai's raison d'etre has always been to bring a new, empowering slant to their country's 'kawaii' ideals, then today they're cute but also righteous and full of odd, brilliant bangers.
Down at hotspot Barracuda, London four-piece Another Sky's gloomy, pounding post-rock translates thunderously. Helmed by the booming, unique vocals of Catrin Vincent, the band use intensity as their greatest weapon, and closer 'Avalanche' represents the sonic equivalent of such a natural phenomenon, all crashing guitars and foreboding lyrics that lean on the dark side of things but feel hopeful at their core.
The rest of the lineup is less heavy, but provides intensity in different ways. Following Another Sky on the inside stage are Melbourne's Oh Pep! who bring highlights from last year's 'I Wasn't Only Thinking About You', acoustic jams that fold out into something more forceful and biting. The band's countrymen Amyl & The Sniffers then take to the outside stage, confirming their status as one of the most talked-about bands of the festival, barrelling their way towards the release of their debut album with intoxicating energy, all channelled through the relentless, scrappy charm of Amy Taylor. They're joined outside by Jess Williamson, who pops up in all corners of Austin this week to prove herself a brilliantly affecting singer-songwriter, twisting the country genre in new, fresh directions.
Also providing twists on classic formulas is Mattiel Brown, the Jack White-approved songwriter whose take on garage and blues rock is defined by its inherent weirdness, and proves a crushing highlight.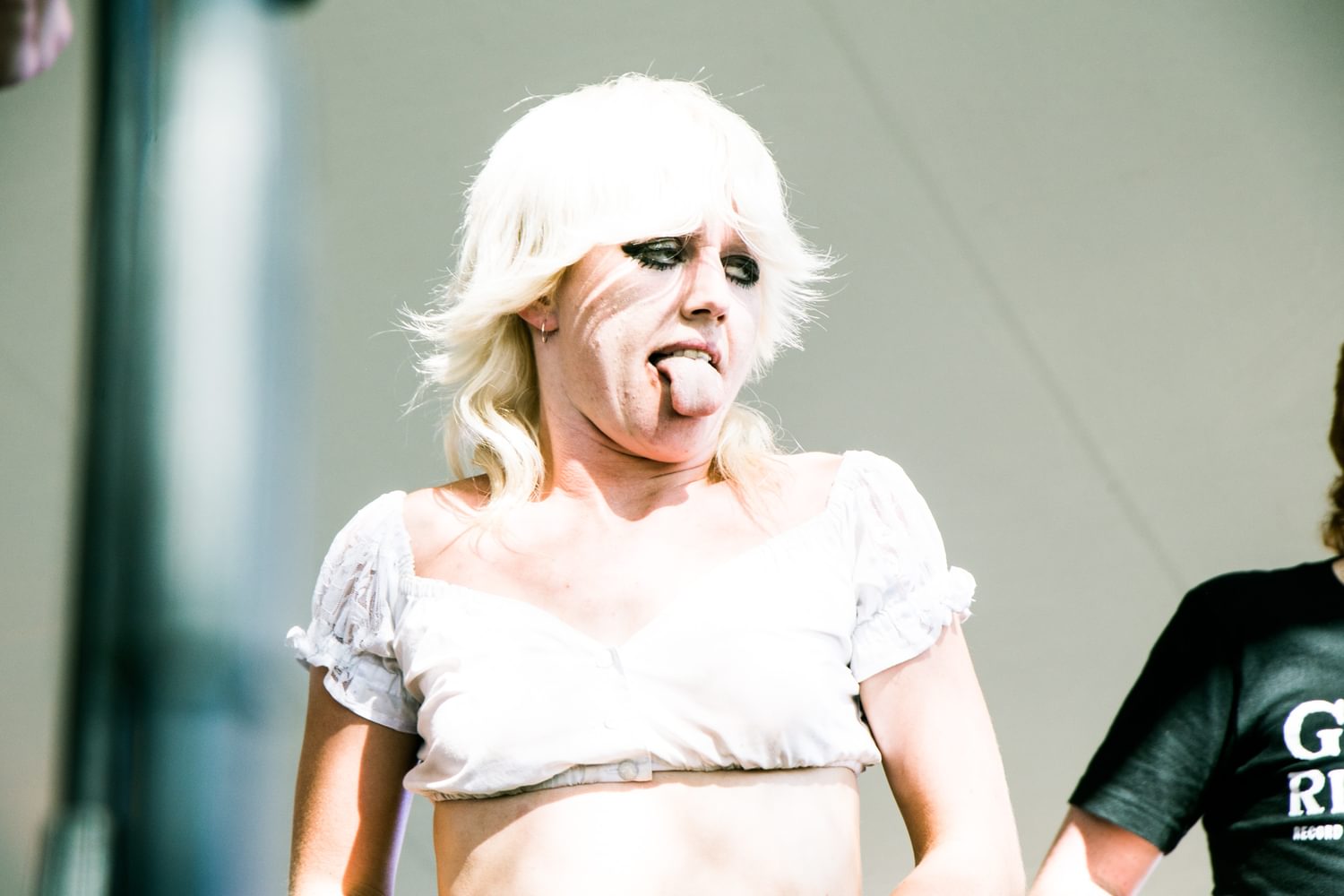 Taking to the stage at Stubb's BBQ – a huge outdoor space hidden behind the famous meat haunt – Cherry Glazerr kick off an all-star line up that proves one of the week's biggest draws. Striding the stage, singer Clementine Creevy is a magnetic presence although tonight her vocals struggle to punctuate the cavernous surrounds. Though she's always had a tendency for slightly thin high notes – it's part of the forceful band's innate duality – tonight she eschews any of the punchier low end, instead keeping things reigned in throughout. It's still good, and you can't argue with a closing 'Told You I'd Be With The Guys', but old classics 'Nurse Ratched' and 'Had Ten Dollaz' feel a little undersold.
King Princess follows and, despite the fact that she's still only one EP into her still-fledgling career, the NY singer is received like an old favourite. Cracking jokes about getting high, she takes it in her stride with an easy confidence, but it's headliner Lizzo that's the undisputed superstar tonight.
Emerging to the exultant sounds of recent single 'Cuz I Love You', decked in a sparkly, stetson-hatted tribute to Texas (where she grew up, as she informs us), the singer is an effervescent, absolutely undiluted presence from the word go. Her set is filled with empowering eulogies to the power of loving yourself, peppered with commands for "everyone to make some noise for [her] backside" and the announcement of her "official candidacy for President – Lizzo 2020"; at one point she brings out her "annoying ass accomplice" named Sasha Flute, an actual flute that she merrily toots for a bit. Beyonce, eat yer heart out.
Full of choreography, and with old singles 'Good As Hell', 'Boys' and more sung back word for word, it's a suitably celebratory atmosphere, interspersed with the 'Back To Black' snarling balladry of new song 'Jerome Go Home' and, naturally, a final, party-starting 'Juice'. Lizzo might not be in the White House come 2020, but she looks set to be the queen of 2019.
Cheer Up Charlie's is once again a hub of activity early on the Friday at SXSW. Over two stages of fresh, exciting guitar music, the lineup across the day champions new and unusual ideas. Detroit's Stef Chura kicks things off inside, debuting tracks from upcoming LP 'Midnight'. Her debut record 'Messes' was defined by a playful heaviness and the singer's wonderfully unique twang of a voice, and teasers of 'Midnight', including the infectious clap back of new single 'Method Man', hint at more of the same on LP2. Following them outside are Public Practice. Formed from the ashes of the superbly exciting and sadly now defunct WALL, the NYC punks strut their way through half an hour of superbly confident, '80s-leaning dance punk numbers, their taut punk turning on a sixpence and disappearing down unusual alleyways on a journey that you can't help but follow them on.
Partisan Records, meanwhile, are having something of a purple patch and follow a huge week for Fontaines DC with equally exciting and buzzy new signings Pottery. Hailing from Montreal and with only a couple of singles to their name, the quintet are impossibly tight, cribbing from bits of Television and Talking Heads but updating them with sharp, slick, modern twists; their patronage from recent tourmates Parquet Courts, essentially, makes a great deal of sense. Bottle blonde lead singer Austin Boylan is a hard-edged no-nonsense frontman, twisting and jerking his way through a set that shoots in unlikely directions but retains its power and propulsion at all times. It's possibly the highlight of the whole weekend, and the ideal way to round off a week of stupidly exciting new discoveries.