Foals, Savages, Chvrches and more also headed to the Norwegian capital.
"This is a free space," announces Christine & The Queens figurehead Héloïse Letissier just minutes into an opening set that draws one of the most packed-in crowds of Øya 2016's whole weekend to the Sirkus tent; "You can be whatever you want." As she laces tracks from debut album 'Chaleur Humaine' – left-field summer anthem 'Tilted' the inevitable high point – with an otherworldly stage presence and a troupe of rubber-band-jointed backing dancers, it's a fitting kick-off point to a festival that exists solely within its own microcosm. "No judgement here," she goes on, thanking the crowd for coming down so early, "only love".
That sentiment is nailed to the proverbial mast at Oslo's Tøyenparken throughout Øya's four-day extravaganza – nestled in the natural amphitheatre that forms its Amfiet main stage, it's a music lovers' paradise that houses all manner of eclecticism. From the Three Trapped Tigers-esque noise rock of Norwegian two-piece Aiming For Enrique, through to the softer breeze of Ary's blog-baiting synth pop, Norway's homegrown talents do a valiant job of promoting that diversity before the first sunset's even reared its head.
Skepta proves to be day one's highlight, though. With the summer in the palm of his hand and a Mercury Prize nomination in his back pocket, his trajectory's practically vertical at this point. Øya's Hagen stage proves to be the ideal platform for a party – as he hammers through cuts from 'Konnichiwa', mosh pits from his "energy crew" popping up left, right and centre, he's never looked more on top.
It's a set that day two's Stormzy faces an uphill struggle to match, despite the frankly mindboggling crowd of thousands that he pulls to the festival's tiniest corner. Following a more subdued start to the day from Julia Holter and Floating Points, Michael Omari ups the ante tenfold from the second he steps on stage. 'Shut Up' predictably erupts, the crowd lapping up his demands to pass on the track's less-than-amicable regards to other cities around Europe – "I want everyone to know that it's all about Oslo tonight" he roars. By the time 'Know Me From''s boisterous blast echoes out across the park, anticipation for that debut album couldn't be higher.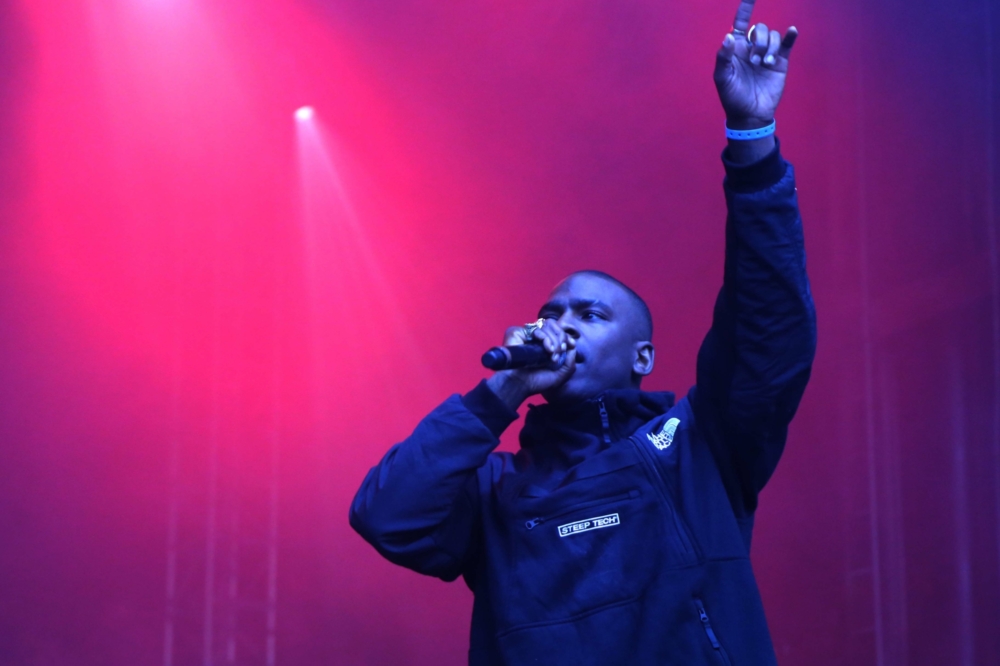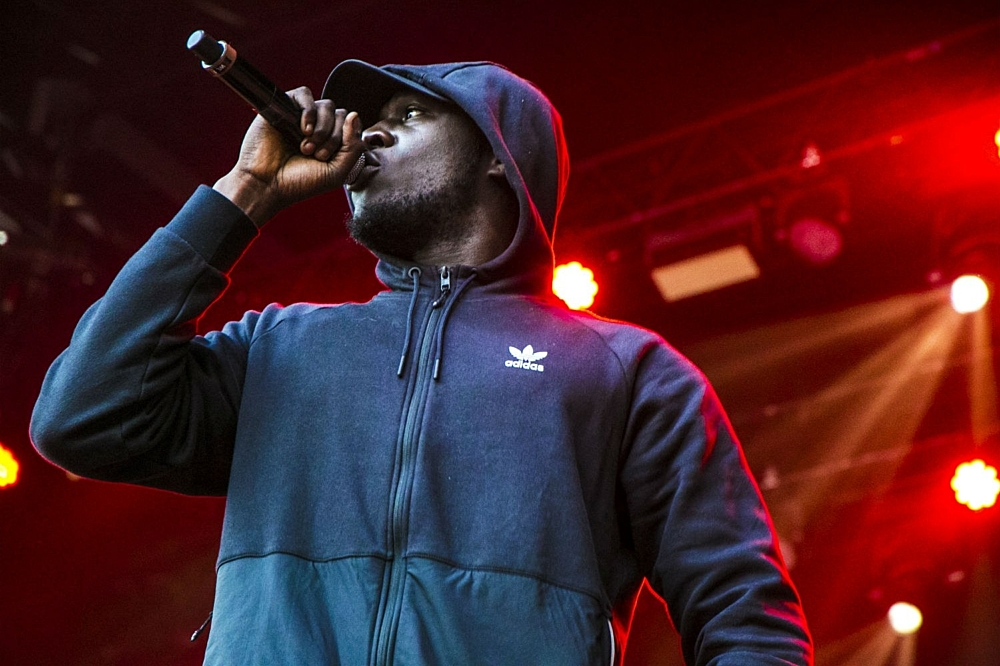 Over on the Amfiet, Mastodon cause a very different kind of ruckus, Norway's metalhead core treating them like returning heroes, before the main stage is later dominated by PJ Harvey and her ever-swelling big band. Rollicking new album 'The Hope Six Demolition Project' takes centre stage throughout, but it's when she lets go of the bombast that she really excels, '50ft Queenie' and 'To Bring You My Love' finding Polly Jean Harvey at her vicious best.
While rainfall mars much of Friday, it's a setting that Daughter undoubtedly thrive in. Ironically, the clouds part slightly for Elena Tonra and co.'s arrival, but it's no less dramatic a showing of their billowing and blubbing soundscapes. Chvrches, though, are an entirely different prospect. Gone are the days of Lauren Mayberry's awkward, stage-shy persona – nowadays she's a bottle-rocket, zipping every which way across the stage from the starting gun. Thundering onto the stage with a quick-fire one-two of 'Never Ending Circles' and 'We Sink', they're slicker than ever, the three-piece's diamond-encrusted, cascading synth work the perfect antidote to a mud-slicked site.
It's an escapism that feeds right through to New Order's set later that evening – one that's defined by its closing crescendo of 'True Faith', 'Blue Monday', 'Temptation' and the now customary, still heart-breaking run-through of Joy Division's 'Love Will Tear Us Apart', backed by a projection of Ian Curtis.
There's desperation in the air come Saturday's closing hours – that near-end panic setting in amongst the 'don't wanna go home' crowd. All bets are off by the time FIDLAR take to the Hagen stage. "This song's about drinking beer," announces frontman Zac Carper, as 'Cheap Beer' is then greeted by a sea of cheers and more than a couple of decidedly pricey pints shot skyward. The lager-soaked crowd then hits full throttle, with '40oz On Repeat''s stop-start recount of an equally gear-shifting lifestyle met with a tangled mass of limbs and, bizarrely, a homemade-crown being thrust at Zac, his name scrawled across it. Sober though the Cali punk may be these days, he's clearly still a hero to the drunk and disenfranchised.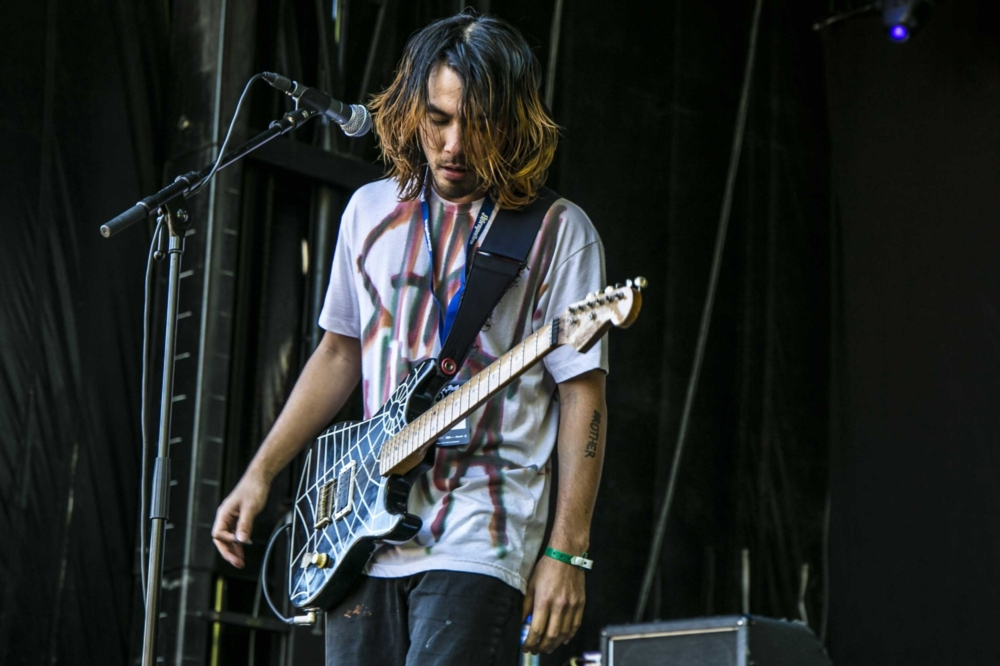 Savages, by contrast, struggle to get out of the parking lot. Guitarist Gemma Thompson, plagued by a crackling guitar lead, spends much of her set with her back to the crowd, desperately seeking a fix. Jehnny Beth feels a world away, too, repeatedly demanding more energy and leaving more than a few bemused and dejected punters to head off elsewhere. At their best, they're a locked-together machine like nothing else, but tonight Savages' steely stares are far too inward facing to leave an impact.
Final day weariness almost gets the better of Foals' crowd, too, but Yannis is never one to let his prey escape unharmed. Yelping and screaming like a man on the warpath, he breaks cover on more than one occasion, goading the front rows into a frenzy that finally rears its snarling head for closer 'What Went Down'. It's a world away from Grace Jones' final night headline slot, her poise captivating a field-filling throng from the off, but it's no less animalistic in intent. "It was raining all the way here," she cackles during one of many impossibly speedy costume changes, "let's bring some of that darkness that I love." 'Pull Up To The Bunker' sees her hop down into the crowd for a strut that'd make even the most uppity housecat blush, before 'Slave To The Rhythm' finds her whirling a hula-hoop around her midriff for what feels like an eternity. An impossibly accomplished showcase of an artist whose career's lasted longer than the average age of tonight's attendees, it's the perfect closure to a festival that's longevity looks assured.
Photos: Louise Mason

Get your copy of the latest issue
Read More