FKA Deers:
Deers change band name to Hinds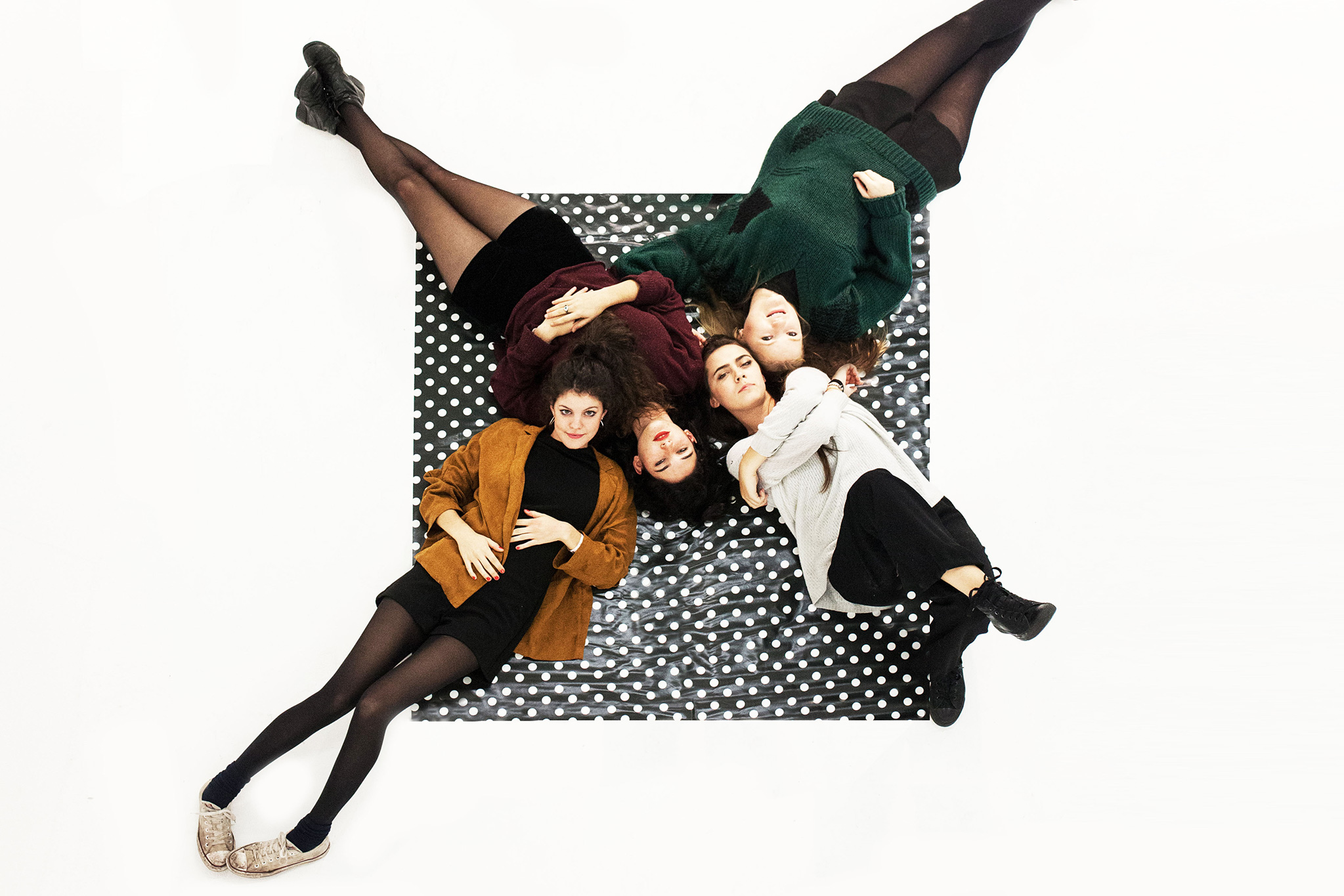 Madrid group approach 2015 with a new moniker.
Madrid four-piece Deers have changed their band name to Hinds.
The band posted an extensive, hand-written note (see below) on their Facebook explaining the change and why everything is going to be ok.
"This is sadly the most official post we've ever made: we have to change our name.we mean… they forced us to. we received an email from a canadian lawyer saying that our name created confusion with his band's name. and that name is not even deers (LOL). We tried our best, really, but we have no choice," they explained.
2015 already looks like being a big year for the Spanish group, who broke through in 2014 with two singles on Lucky Number Music / Mom + Pop: 'DEMO' and 'BARN'.
The band have scheduled several dates for the beginning of next year - they're also confirmed to play next year's SXSW.
Get to know the group in our introducing, Class of 2015 interview.
Full 2015 dates:
JANUARY
10 Toulon, Midi Festival
11 Lyon, Sonic
12 Paris, Pup Up Du Label
14 Groningen, EuroSonic
17 Hamburg, Molotow
18 Copenhagen, Vega
19 Berlin, Comet Club
21 London, Boston Music Room
22 London, Electrowerkz
23 Brighton, The Joker
30 San Sebastian, Gazteszena
FEBRUARY
14 Bangkok, Grease
MARCH
04 Oslo, by:Larm
13 Austin, SXSW
28 Santa Ana, The Obersvatory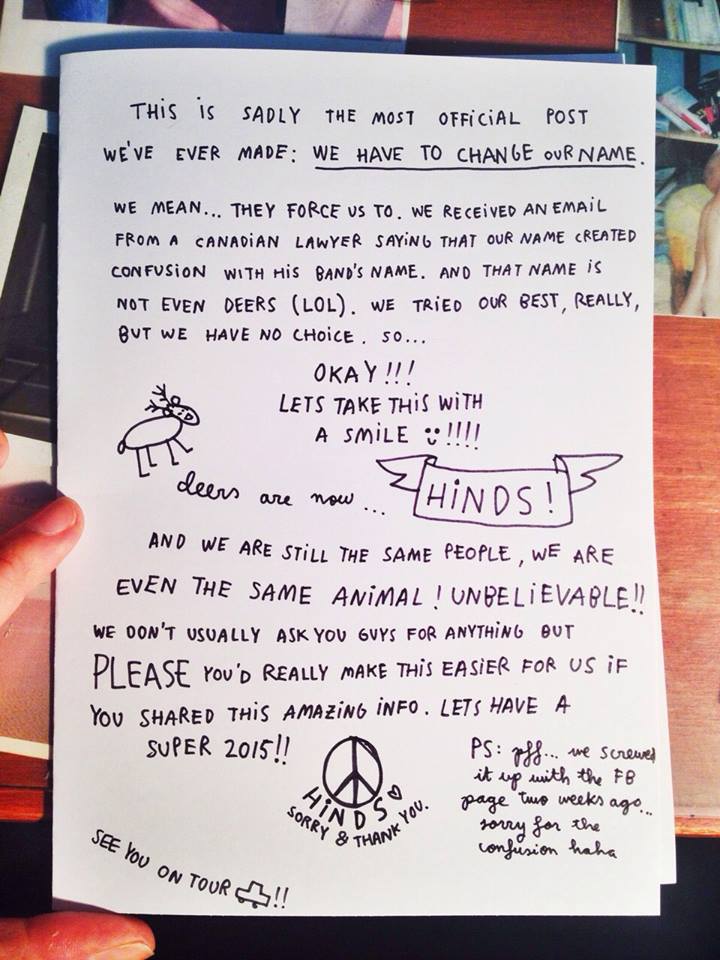 Alongside the hand-written note, Hinds also uploaded an exclusive insight into the 'name deciding' process. Hundreds of words are scrawled out on a blackboard, some of the brilliant, some of them tragic, most of them legally disastrous. Below, we select our favourites.
1. Nike
Because nothing says "bring it on" to big-wig lawyers like this bold move. See also: Saint Pepsi, who is inevitably going to have to face the music.
2. The Strokes
Alternately, they could have gone for Deers + The Voidz.
3. Deerios
Your favourite breakfast cereal, with added garage punk - best served chilled.
4. Diir
A clever nod to DIIV, who also had to change their name from 'Dive' due to legal proceedings.
5. Fat Kiddos
Because honestly, they should have gone for this one.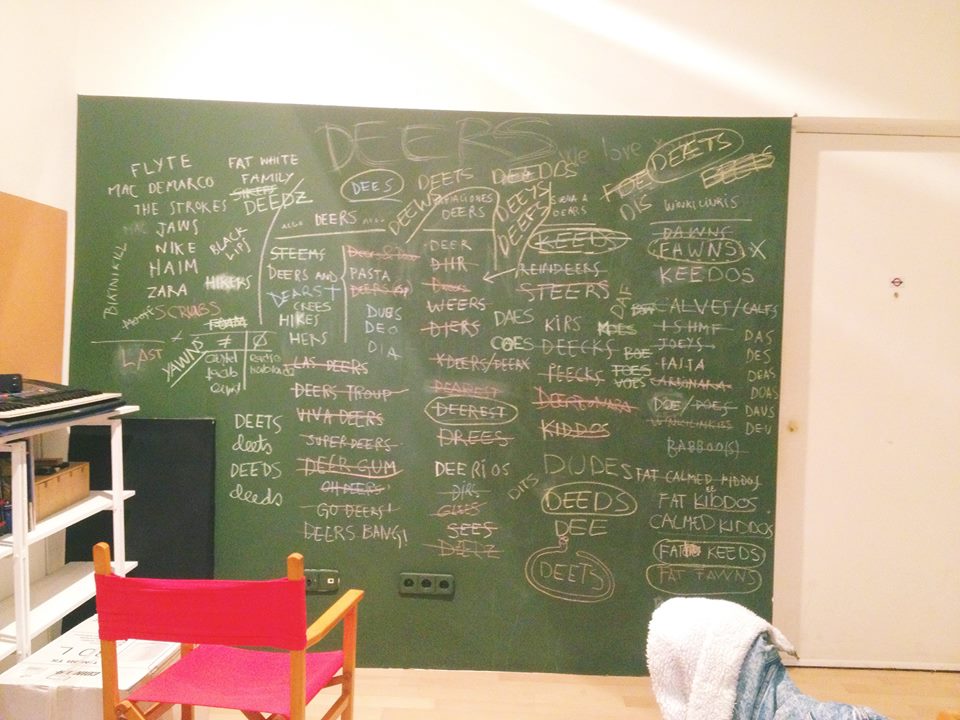 WE'VE GOT A FAVOUR TO ASK
We're often asked by potential advertisers about you, our readers. So we'd really appreciate it if you'd offer up a bit of information about you, and your music-loving habits by filling in our 2019 readers' survey.
Click here to reach the 2019 DIY readers' survey.
(Don't worry, none of what we're asking for is personally identifiable - and no questions are compulsory.)