Class of 2015:
Spain's hottest new export, Deers: "We're a band, we're not a girl band"
With more enthusiasm that you could vigorously shake a stick at, Deers are taking on 2015 with gusto.
"We have big plans," declares Deers' Ana Garcia Perrotte, her brow raised mischievously. "You can't imagine!" pipes up Carlotta Cosials, clapping her hands together so vigorously she almost falls backwards, "it's going to be a crazy year!" The rest of the girls on the table nod in agreement, before erupting into an explosion of infectious cackles and excitable shouts. For those of you who are not privy to the ups and downs of the internet's hype machine – Deers are very much on the 'up' side of things. Despite having barely a handful of demos available online, the Spanish garage-pop quartet have built up a fan base that's as excitable as a Jack Russell with its face stuck in a Quavers packet – and for very good reason. They're raw, rickety and rambunctious, making music that's overflowing with sangria-soaked alegría.
Originally a duo, Madrid's Ana and Carlotta met through their ex-boyfriends and have remained fiercely close ever since. Opting for the name Deers because of the animal's associations with the 'horns' of adultery, one can probably hazard a guess at what threw these two together. "We don't want to give details, it would be rude," Carlotta says with a cheeky smile. "One year later we met Ade [Martin] who was the girlfriend of one of my best friends, and then we met Amber [Grimbergen] via Facebook. She had a profile picture playing drums, so we added her as a friend." Ana laughs, raising her canned energy drink in salute – "we're modern lovers!" However, despite their near-constant joviality, the group almost spit out their drinks when the term 'girl band' is mentioned as a potential description. "No, no, no! No please." Carlotta exclaims, waving her hands wildly. "We're a band, we're not a girl band. It's like a boy doing music; it's exactly the same. We are doing music as boys do music."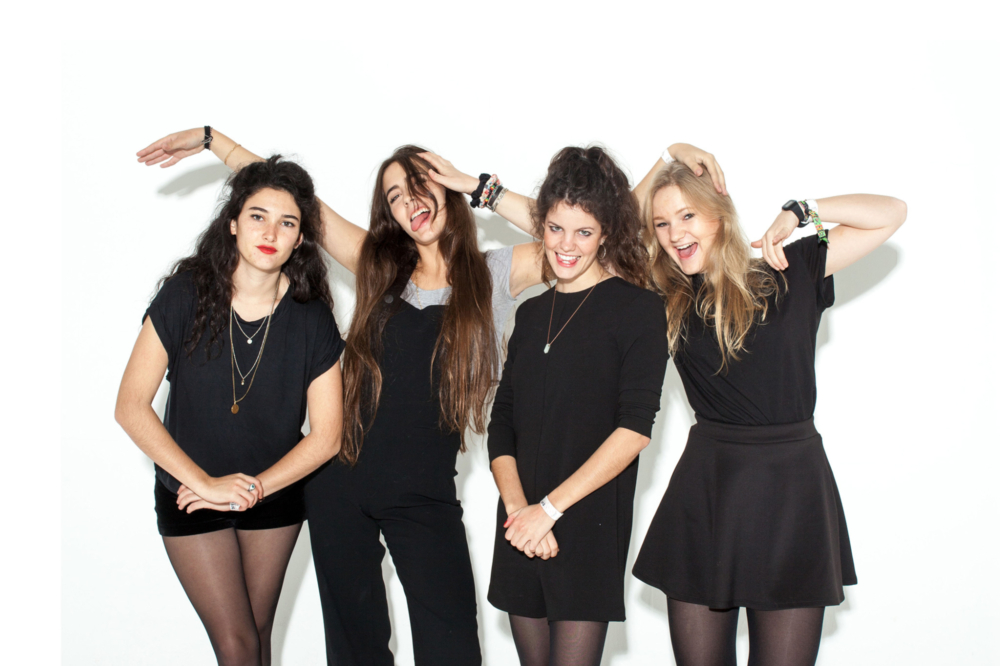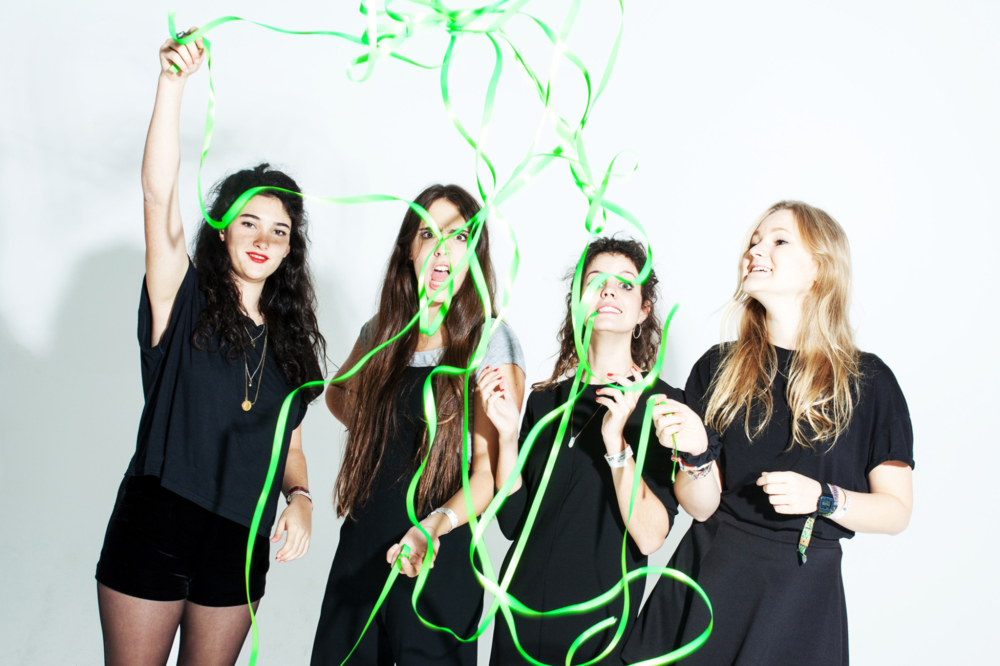 And what music it is, by the way. With a lot of comparisons already being drawn to Phil Spector's girl groups of the 60s, Deers' harsh melodies and heartfelt lyrics slide woozily between the then and the now – without straying too far into heartbreak territory. "They are love songs, but not sad ones," Ana stresses, before reeling off the inspiration behind several of the tracks – "It depends. 'Trippy Gum' is about fun and [being] drunk. And 'Castigadas en el Granero' is about sisters… We want to mix our life and a friend's life or her feelings with other feelings." Carlotta nods, "it's personal, but it's very much a shren, a shh, shrin…" – she stops, trying to figure out the right way to pronounce it – "a sharing thing."
So now it's time for 2015 and the bright, shiny future ahead for Deers. As soon as the subject comes up, all four of them burst into a frantic hum of excitement and dream scenarios. With hopes to start recording their first album in April, the main priority before then is to polish up their live shows – something they're particularly enthusiastic about. Do they have any big ambitions? "I think our music will never be in a stadium," Ana ponders, "I really think that this kind of music never gets a stadium full." Instead, they talk about their decidedly less elegant live experiences with a hopelessly romantic sparkle in their eyes. "Oh, it's so cool! We have no tour manager, no driver – it's just us," Carlotta explains. They laugh merrily, but it's clear that they are genuinely a bit enamoured by it all. "We've had a lot of fun, and we've learnt a lot about – not only music – but life. You learn a lot from the people you meet. You learn a lot. We learn from the streets." And there's not much doubt that 2015 will see all those lessons become a lot more thrilling – and a lot more fun.
Read More