Listen:
JAWS unveil 'Bad Company' single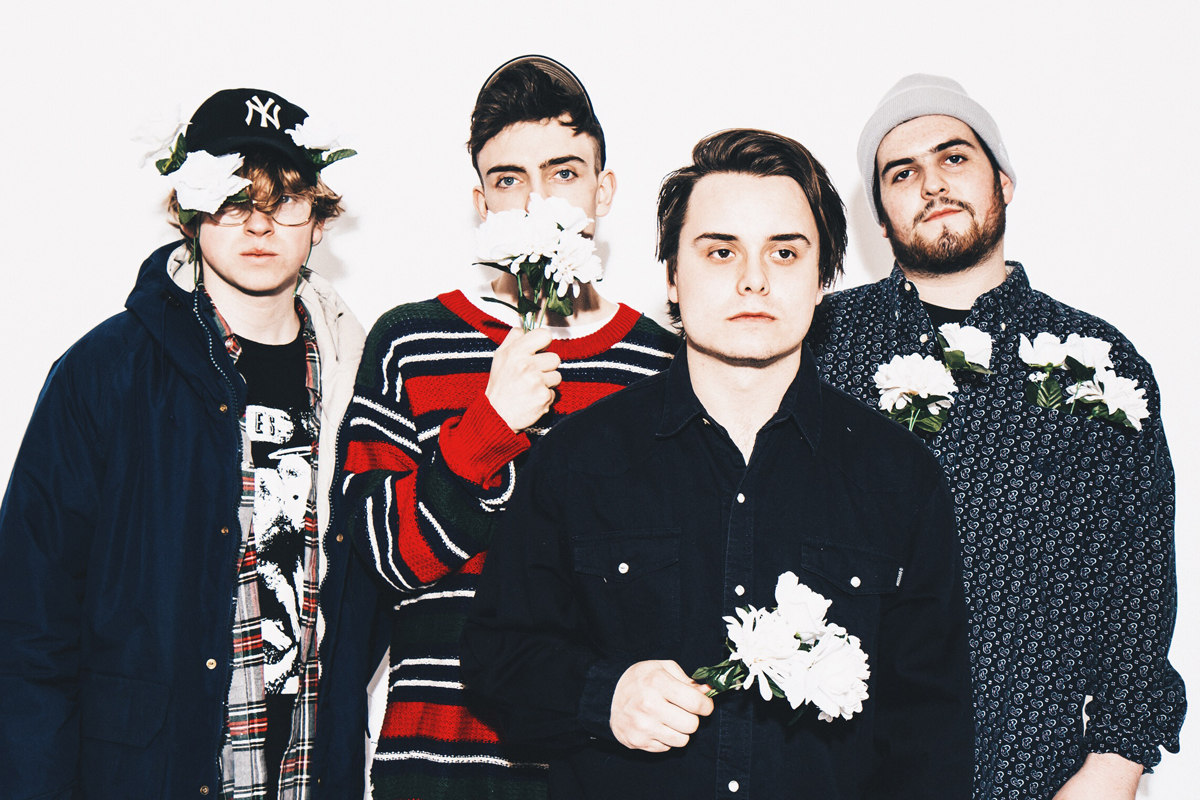 Birmingham group embrace their grungy side with first new material since last year's 'Be Slowly'.
JAWS have unveiled a riff frenzy of a new single, 'Bad Company'.
Streaming below - having just picked up a play on Huw Stephens' Radio 1 show - the track goes leaps and bounds beyond 2014 debut 'Be Slowly'. The Birmingham group have also showcased a grungy, more atmospheric edge, lurking behind their dreamy synth-pop. But here it comes centre stage.
Speaking to DIY, frontman Connor Schofield says the new song draws influence from Title Fight and other hardcore heavyweights, and he claims it's "just a glimpse" of everything else up their sleeve. Read the full interview below. One thing's for sure - JAWS are joining the long list of bands embracing a completely new direction with zero warning. Swim Deep's sudden psych movement was just a drop in the ocean.
Read our interview with JAWS below a first play of 'Bad Company'. The new single is out 8th June. JAWS play Southampton's Common People (23rd May), Wakefield's Weird Era (24th), Camden Rocks Festival (30th), Birmingham's Jubilee Club (6th June), Leicestershire's 110 Above Festival (21st) and Oxford's Truck Fest (18th July).
Let's talk about the riff. THAT riff. Where it did it come from, and can we expect more of the same?
I feel like it's a riff I've been trying to play for years then one day it just happened. I remember at practice just playing it and Eddy (drums) was like, 'Yep'.
Each time we saw you live, you seemed to develop a grungier sound - is it fair to say you honed the craft by playing live?
Yeah, I guess so. When we play live, we tend to beef up a lot of the poppier numbers - we always do some crazy jam at the end of 'GOLD'. At band practice we always take the piss and play our song 'Friend Like You' really fast, as if it was a hardcore track, and then end it with huge breakdown.
What sort of stuff have you been listening for inspiration? There are hints of Title Fight in 'Bad Company', for instance.
Title Fight are a huge inspiration to me to be honest. I think you can hear bands like Swervedriver or The Smashing Pumpkins in this song specifically, maybe. Those bands always managed to take a huge riff but also give a song a great chorus.
While making the departure to a new sound, was it still important to retain a sense of pop? This song still packs a big, melodic chorus.
Oh, 100% - this track is just a glimpse at one side of our musical world. We've probably written nearly 30 tracks for the next record now, and for every one that sounds like 'Bad Company' there's one that's equally as poppy or jangly. I've always had an approach to writing that is "just go with it" rather than trying to write something because you know it works. We could have easily written something that sounded exactly the same as 'Be Slowly' but that'd be boring.