Album Review
Noname - Telefone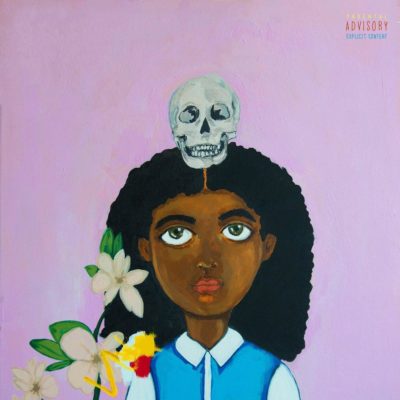 Fatimah Warner's new mixtape packs fantastic R&B songs, coated in a sense of impending doom.
Label: Self-released
Released: 3rd August 2016
When she appeared on Chance the Rapper's 'Lost' in 2013, Fatimah Warner - better known as Noname - rapped about loneliness, depression and a psychiatrist's advice that she should "pill pop" to seek happiness. It was a small window into her world, one where things often seem terribly bleak.
On her first mixtape 'Telefone', there's a sweetness that puts rose coloured glasses on top of that darkness. It's a record swathed in simple but effective neo-soul melodies, echoing Chance, but also early 00s R&B with its gentle pianos and smattering of light hi-hats and percussion. Warner's own languid style of delivery only adds to the lilting nature. Guest spots from the likes of Raury, theMIND, Saba and Chicago singer Ravyn Lenae also provide a diverse but never jarring range of additional voices.
Make no mistake though: 'Telefone' is dominated by Noname and her expertly weaved narratives. Her bars are often marked with interesting, evocative details. She even laments the amount of "incomplete similes" in modern rap during 'Reality Check' before going on to inject her own dose of poeticism deftly: "seventeen moments and cloudy days on my snap / Mysterious aberration illuminated the trap."
There's still a distinctive cloud of impending doom hanging over 'Telefone,' however. On 'Yesterday' Noname decides to "check my Twitter page for something holier than black death," while on 'Diddy Bop' she goes into detail about the trials and tribulations of growing up in a rough neighbourhood. 'Casket Pretty' is a frank examination of gang violence, where Warner states that "no one is safe in this happy city," praying for her phone not to ring bearing more grim news.
It's 'Bye Bye Baby' that proves to be the most heart-breaking track. Here, Warner raps about an abortion, detailing the experience itself but also showing flickers of regret. Pondering how she and her child will have a "play date up in heaven soon," Warner seems to try to convince herself that she made the right decision by repeating "I'm gonna fall in love again" like a mantra. It's rare to hear such candid, emotional storytelling.
Still, there are brief glimmers of positivity and a desire to keep moving on past the hardship. As she says on 'Freedom Interlude,' "I know this is a song for overcoming." With that same steely determination injected into every track, 'Telefone' ensures that Noname won't be anonymous much longer.

Get your copy of the latest issue
More like this