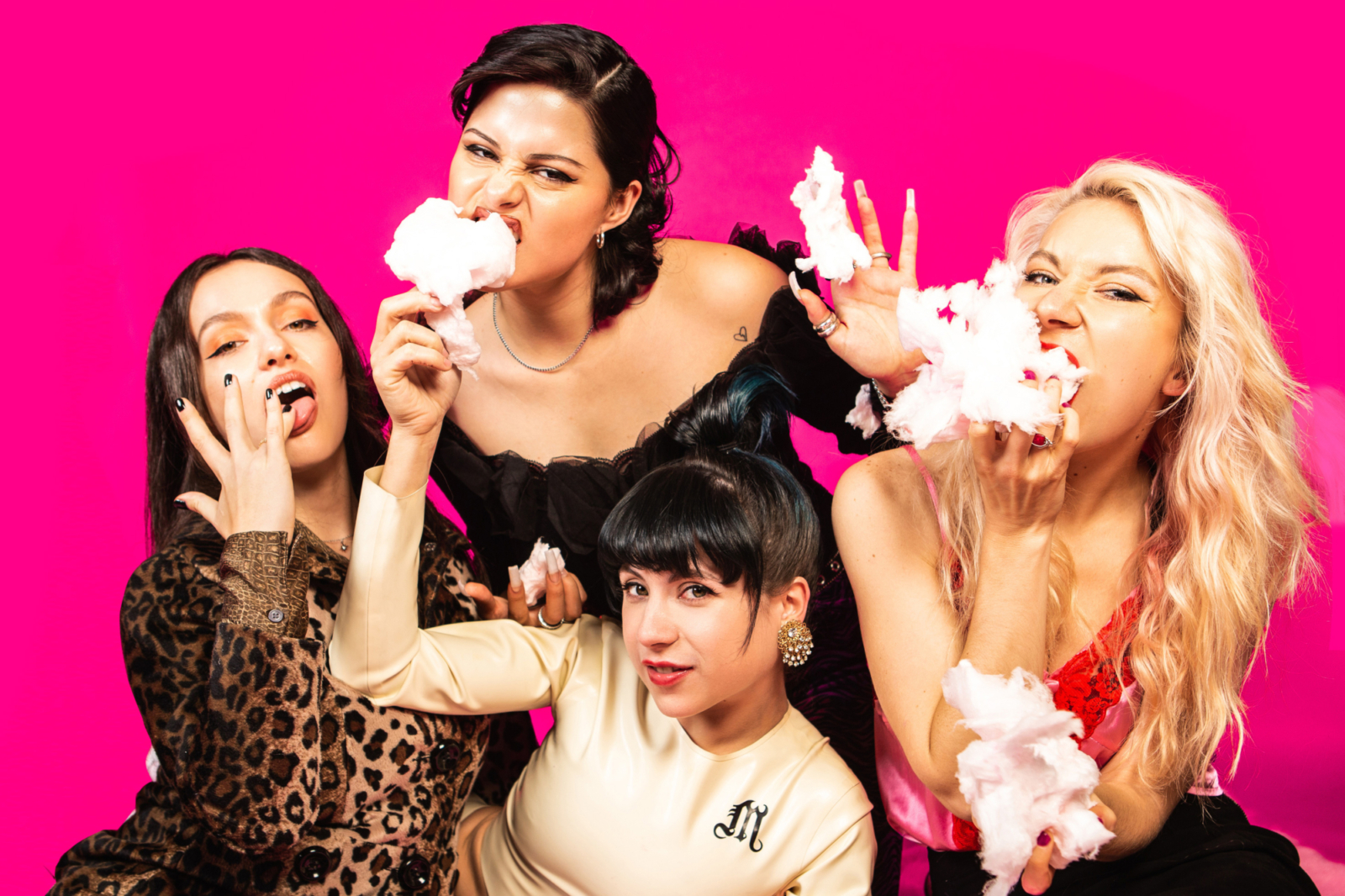 Photo: Jenn Five
Tracks: Nasty Cherry, Bright Eyes, Celeste and more
The biggest and best tracks of the past week, rounded up and reviewed.
It's finally the end of the week, and we have a brand spanking new edition of Tracks - our weekly round-up of the biggest and best new tracks around.

There's more brand new music from Nasty Cherry's 'Season 2', plus more new Bright Eyes, Matt Maltese, Whitney covers and more.

For what we have to say on this week's biggest and most exciting tracks, scroll on! And if you're itching to check out even more, subscribe to our Essential New Tracks playlist.
Nasty Cherry - I Am King
An unapologetic ode to having a big ol' wank, the latest from band-slash-reality-stars Nasty Cherry arrives in a flurry of self-pleasure and lyrics about getting your rocks off in your car (whatever works for you, babes). There's something about the quartet's '90s pop bitch aesthetic that can sometimes be a turn off: an attempt at no-fucks-given empowerment that just comes off like the Mean Girls who wouldn't let you sit at their table. But in their latest slice - which pits its one track mind over simple, fuzzy guitar stabs - the combination makes sense. There's no point pretending to be cute here, let's face it. That said, the spoken Gossip Girl-ripping "Xoxo" outro remains unforgivable. Know when to quit while you're ahead. (Lisa Wright)
Bright Eyes - One and Done
There's something so bloody soothing about Conor Oberst's near-faltering vocal that means it's possible to zone out completely, comforted, to 'One and Done', the latest track revealed from the returning trio's forthcoming album. With suitably understated - yet still v much present - bringing the group's signature sound into the '20s, it's also the latest in a series of eerily prescient musical moves from pre-lockdown times ("This whole town looks empty, but we knew it wouldn't last"). (Emma Swann)
Celeste - I Can See The Change
You could say 2020 got off to a rather strong start for Celeste, after she bagged herself the much-lauded BRITs Rising Star award, and topped new music tastemaker charts like there was no tomorrow. But, according to new single 'I Can See The Change' - a track written for a time when she felt "disconnected from [herself] and the world around [her]" - things weren't quite as they seemed. A predictably gorgeous offering, which comes produced by Finneas, just for a bit of extra added wow factor, her newest release is a bittersweet but redemptive track which glimmers with hope. (Sarah Jamieson)
Matt Maltese - Queen Bee
Where Shame have been busy washing a tour van full of dirty kecks and working on LP2, and Sorry have only just released their debut, Matt Maltese - who broke through as part of the same scene - has already racked up two albums to his name with an imminent EP (due in August) on the way. He's a prolific lad, one who rarely lets the quality / quantity ratio slip, and on 'Queen Bee' he shows that he's got more of a knack for a commercial crossover than those beginnings might have suggested. There are still enough cheeky lyrical winks ("National timebombs, trolling drunks…") to show Matt's not lost his deft touch, but really 'Queen Bee' is a pretty classic radio-friendly love song. Put him in the writer's room for any of pop's heavyweights, and he could make a secret fortune. (Lisa Wright)
Lucia & the Best Boys - Let Go
Where, you wonder, does an up-and-coming indie frontperson head when suffering a bout of ol' writer's block? To Los Angeles to meet up with the man responsible for making his home state an earworm, obviously, if you're Lucia Fairfull and you oh-so-casually have the number of Phantom Planet's Alex Greenwald. And while Mr 'The OC pays my bills' may have only been responsible for finishing Lucia's track, his casual MOR waft is all over it, her raspy vocal almost floating through the whole shebang. Sunnier than the West Coast of Scotland, that's for sure. (Emma Swann)
Club Intl - Crush
An indie supergroup of sorts, formed of Chromatics' Johnny Jewel, John Eatherly of Public Access TV and Madeline Follin of underrated early-'10s types Cults, 'Crush' wastes zero seconds in making its romance-drenched introduction. Erupting in a wave of overdriven synths - the kind made for late-night make out sessions with your fashionably-clad beau - it's a track that very much does what it says on the tin; 'Crush' by name, crush by nature, it's a three-minute swoon of giddy melody and breathy, lovelorn vocals. Imagine that scene in Grease when the guy comes down on a cloud to croon his tale, and then set it in a '00s New York hipster bar. There you go. (Lisa Wright)
Joyce Manor - House Warning Party
If the punk greats taught us anything way back when, it's that you can pack a lot of punch into a small space of time, and on the lead single of their latest release, Joyce Manor prove that's still very much the case. 'House Warning Party' may come in at a short-but-sweet 1.07 running time, but it's packed tight with the rambunctious energy and rollicking guitars that the quintet were always so good at delivering. Rough and raw around the edges, it's a satisfyingly scuzzed up pop tune and if you're not humming this punky number under your breath in the sunshine this weekend, you're doing it wrong. (Sarah Jamieson)
The Lemon Twigs - Moon
Much like close compadres Foxygen (who's Jonathan Rado crops up on production duties again for their forthcoming third LP), The Lemon Twigs have never been afraid of going out on a limb, amping up the theatricality and reinventing themselves in a conveyor belt of evermore ludicrous guises, and if 'Moon' is anything to go by, meanwhile, then their third looks set to go full-on rock opera. It's an utterly overblown romp, full of character-soaked vocals and the kind of big piano crescendoes that haven't been in fashion for at least 40 years. Honestly, it sounds a bit like Meatloaf. And that's… a good thing? Yes, we're not sure how they do it either. (Lisa Wright)
Remi Wolf - Disco Man
The humble discotheque may feel like a thing of the past - right now, especially - but its spirit will always live on: not least in the new funky number from LA musician Remi Wolf. Having already established herself as someone who is quite fond of a good time - shout out to the care-free pop nugget that was her last single 'Woo!' - dedicating an entire track to the 'Disco Man' - who has a lot of disco pants, fyi - feels even more addictively fun. Sugary sweet and perfect for the scorching summer we're all praying we have, dig out your shades, buy yourself a tinnie or two and let your hair down to this one. (Sarah Jamieson)
Whitney - Take Me Home, Country Roads & Rain
Returning with their first new (kinda) material since last year's 'Forever Turned Around', this week Whitney gave some old classics their own spin, sharing covers of John Denver's '70s hit 'Take Me Home, Country Roads' and '90s big'un 'Rain' by SWV. Both two formative songs for the band, they've given the tracks a bit of Whitney-shine, led by drummer and vocalist Julien Ehrlich's signature vocals. Adding a little something extra special into the mix for 'Take Me Home, Country Roads', they enlisted Waxahatchee's Katie Crutchfield to add some haunting melodies to the country-sizzler, while SWV's 90s slow-burner gets an indie shimmer. (Elly Watson)

Get your copy of the latest issue