EP Review
Deap Vally - American Cockroach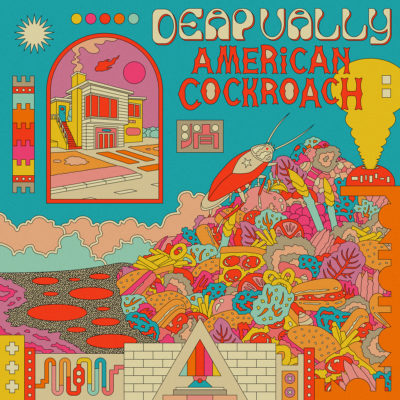 This is a triumph.
Label: Cooking Vinyl
Released: 18th June 2021
They might not have released their own album since 2016's 'Femejism', but Deap Vally have remained productive. Last year saw them team up with the Flaming Lips for 'Deap Lips'; back in February they released 'Digital Dream', an EP with guest spots from Warpaint's Jennylee, Peaches and more. This time it's a four-track release that suggests they're testing the waters before they make their next stylistic move. 'American Cockroach' features two collaborative numbers; there's 'I Like Crime', a fizzing scuzz-pop track that features new Eagles of Death Metal bassist Jenny Vee, and 'Better Off with Nothing', which is a very different beast. A brooding, sludgy post-punk track with Ayse Hassan of Savages, on which overlapping harmonic vocals stand in stark contrast to the ominous bass line, it's a juxtaposition that shouldn't work, so it's to the LA duo's credit that it really does. Opener 'Give Me a Sign' is also a long way from the furious rock and roll we've come to expect from Deap Vally; a softly swooning ballad that brings to mind another two-piece, The Kills, who took a similar turn with 'The Last Goodbye'. The title track, meanwhile, is considerably closer to the Deap Vally we know; a swaggering punk track with a massive chorus. It might be that they're figuring out their next move with 'American Cockroach', or maybe they're just flexing their stylistic muscles. Either way, this is a triumph.

Get your copy of the latest issue
More like this