Cover feature
Tender Is The Night: Arlo Parks
In three short years, Arlo Parks' life has changed beyond recognition. Yet, between global acclaim and a move to LA, on second LP 'My Soft Machine' she's learning the importance of the small things.
Over the last year, Arlo Parks has been trying to stay focused on the little things. "You know, like watering the plants," she offers cheerily, chatting from her home in LA, "and checking the little tray at the bottom to make sure there's not too much overspill. Going and getting a new set of spoons. The small things; tending to the little nest that I've built for myself."

As we speak, an adorable black pooch named Wednesday – in honour of the Addams Family's antagonistic daughter, of course – is nestled on her lap, belly up and staring a bit too intently into the singer's eyes. She belongs to Arlo's partner, fellow musician Ashnikko, and also answers to the name Simba. All of Arlo's beloved houseplants – Bernard the rubber plant and Shrek the unknown bathroom shrub – are equally well-pampered. "I have this weird impulse to name inanimate things," she laughs. "It drives my friends crazy, but I think it's funny.
"Wednesday is quite unfazed by music in general," she shrugs, returning to the slightly overbearing dog nestled across her legs. "She's completely unfazed by either of our [own] music. She lives on her own doggy wavelength. We play a lot of ambient music in the house, and I think she's a fan of that? Björk is one of her favourites. I don't know why we decided this, but that's the one that rings true to her personality."
It's probably for the best – things could get dicey if any favouritism started to become apparent. However, with Wednesday decidedly nonchalant about the whole thing, the two musicians have become sounding boards for each other's work instead. "I feel like we're both each other's cheerleaders," Arlo laughs.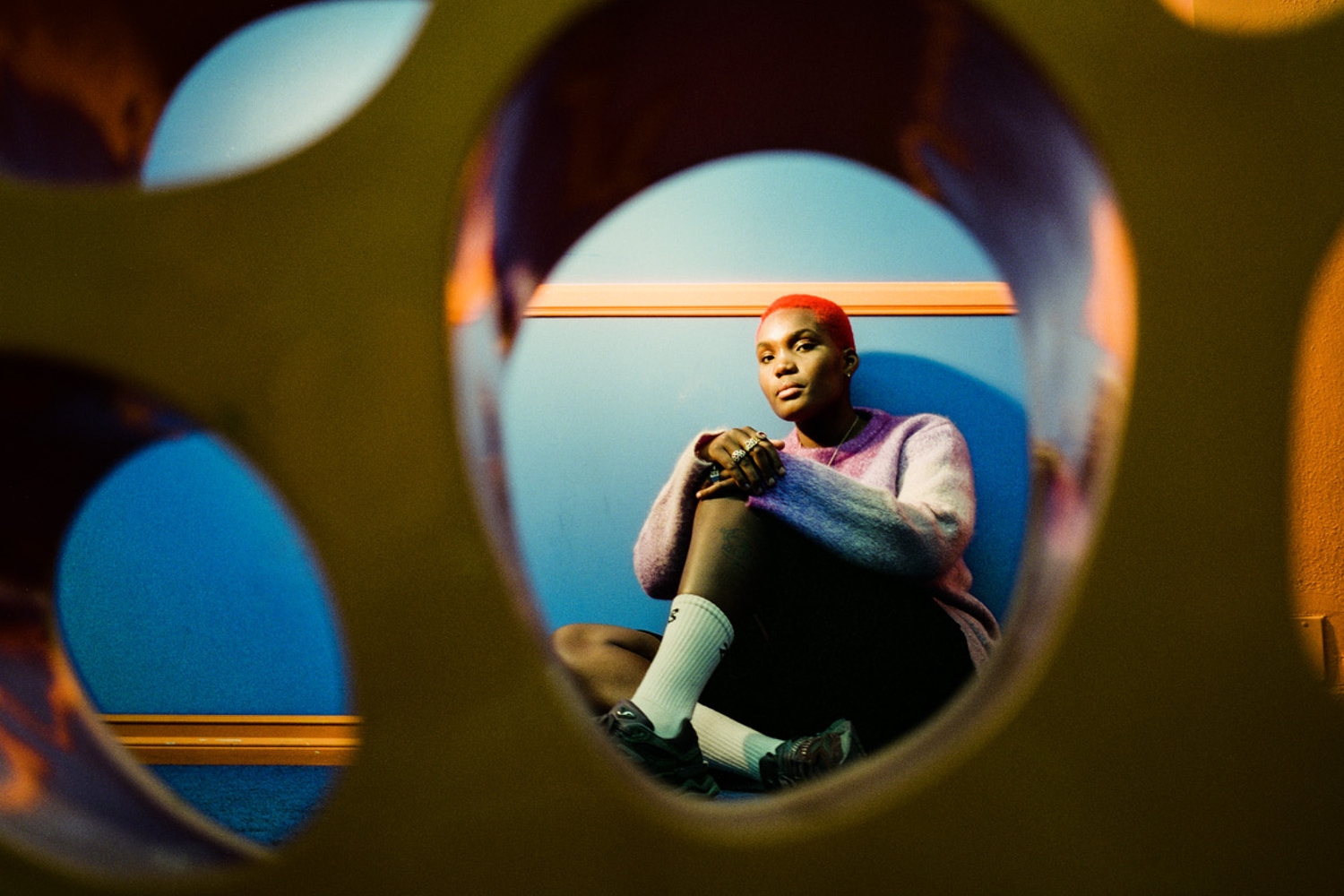 "
There is something about not feeling like the only person who's struggling that's really powerful.
You sense that the 22-year-old particularly values the sanctuary she's created for herself in Los Angeles, having lived out of suitcases for the majority of the last few years. Originally from Hammersmith, London, the musician was first lured to the city by its community of like-minded creatives and the easy access to national parks like Joshua Tree and Yosemite. "I think that what I've realised really over these past few years is how much nature grounds me and how much it makes me feel small in the best way," she smiles. "Especially when a lot of your work demands you to be around people or talking to a lot of people, which I find really enriching and lovely - I love that side of myself – but sometimes you do need to just be alone with trees." To be fair, trees are excellent listeners.
Usually, the sunshine is another big draw, though today there's a storm brewing and it's lashing it down with rain. "It's kind of cosy; it reminds me of London a little bit," she says. "I kind of went into it with the same idea of LA that I'd gathered from films and Joan Didion," she continues, referencing the late American author who often wrote about the grit and dangerous glamour of the city, with its filthy neon signs and long, concrete boulevards. In the year she's been based there, though, Arlo has found her own "little corner" of LA.
"I didn't realise how little time I spent at home building a base for myself until I moved here," she says. "You're kind of forced to do that, I guess, because you're in a new place. Now, I like buying plants and going vintage shopping, and finding an appropriately large Radiohead poster to put up in my house. Those little things have made me really happy."
"
It's important for my own health and heart to know that there are things that I have just for myself.
All of this has been a conscious shift, explored in intricate detail through the small, everyday scenes that populate the musician's second record, 'My Soft Machine'. On opener 'Bruiseless' we first hear Arlo's voice giving a deep and uncertain sigh. "I just wish that my eyes were still wide," she says on the final line of the spoken-word track, her words underpinned by woozy synthesisers and a skittering trip-hop beat.
Though she speaks elsewhere on the track of finding a love who is patient, feeding her cheese and making her happy in the process, Arlo's narrator still sounds raw and wobbly, honing in on the smallest of details – "a peony ripped by the chain of a dirt bike" or "pollen sniffling over grazes" – in order to stay level. It sets the tone for 'My Soft Machine' as a whole; gathering together scenes of domesticity and tiny intricacies to try and get back to the everyday kind of magic that feels slightly missing. While it also documents some harrowing lows in the process, as a record her second is always questing towards that wide-eyed, almost childlike state. "It is magic on a small scale, " she says. "For me, that's something that often goes unnoticed. I think there is a lot of magic around us. We just move too fast to see it really."
After rapidly breaking through as a new artist during the lockdowns of 2020 at a thoroughly bizarre moment for the music industry, everything has happened very quickly for Arlo Parks. The artist's genre-blending debut was embroidered with the fabric of a London that then felt very distant – tinnies at Peckham Rye park, poems scrawled on night buses, and the hustle and tacky chaos of Oxford Street's slightly suspect American sweet shops; meanwhile, the tender embrace of early singles like 'Black Dog' tapped into the deep anxieties of the time. "It's so cruel," she sang, gently, "what your mind can do for no reason."
Back then, Arlo still lived at her parents' house, and took up the pandemic hobby of DJing techno to keep busy. Once restrictions lifted, the promotional treadmill was seemingly non-stop; in the course of a just a few consecutive days she supported Harry Styles on the Dublin leg of his world tour, raced off to play Glastonbury, nipped to London to open for Billie Eilish, and then headed back to Worthy Farm to link up with Phoebe Bridgers, along with Clairo and Lorde, for a pair of duets.
Debut album 'Collapsed In Sunbeams' – released in 2021 – would go onto win the Mercury Prize, but that same period was also marked by crushing lows. By the time Arlo's US tour rolled around in the autumn, she was completely exhausted and burnt out. In a statement, she told fans her mental health had "deteriorated to a debilitating place" and she needed to take some space to get better. "I am broken and I really need to step out, go home and take care of myself," she wrote.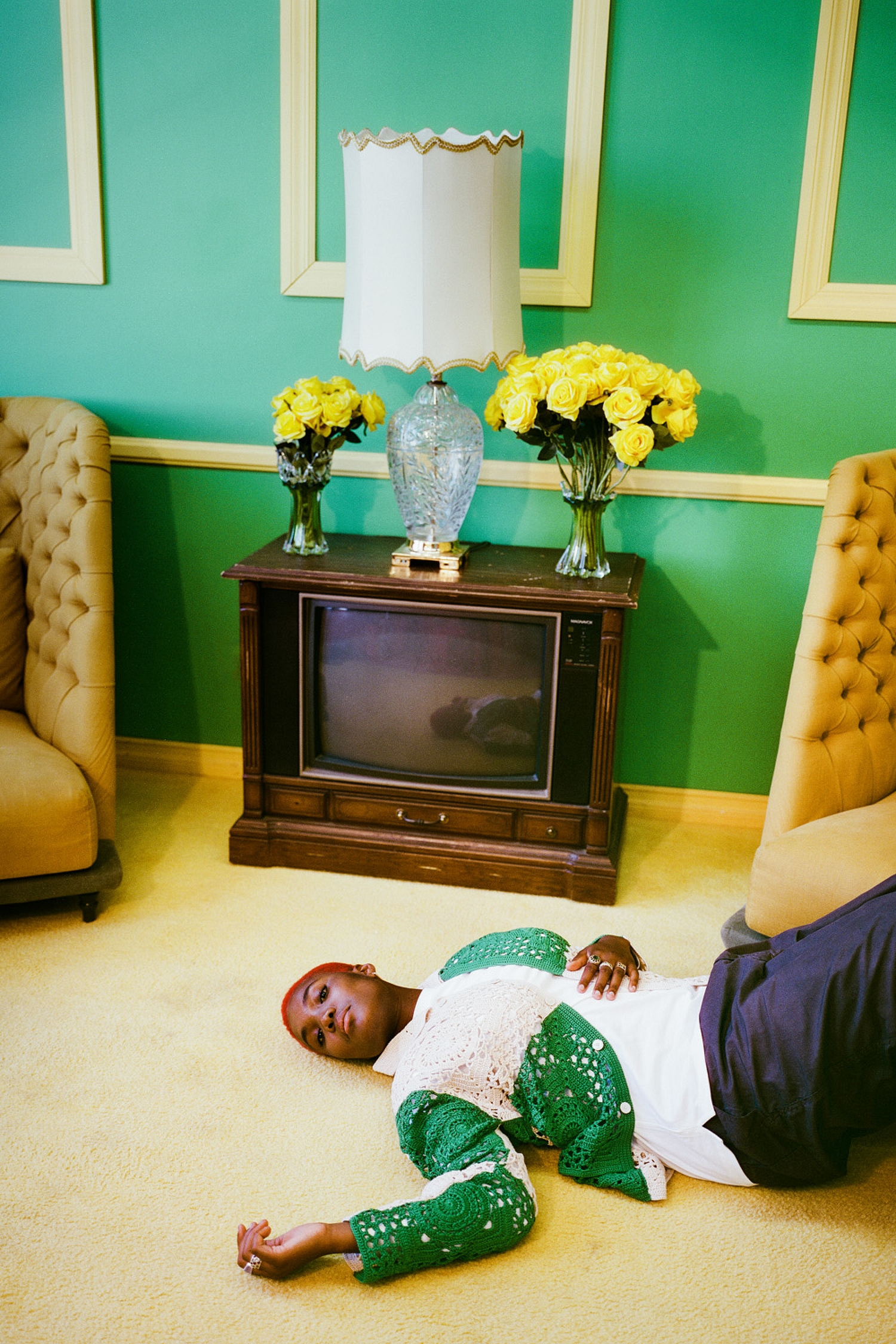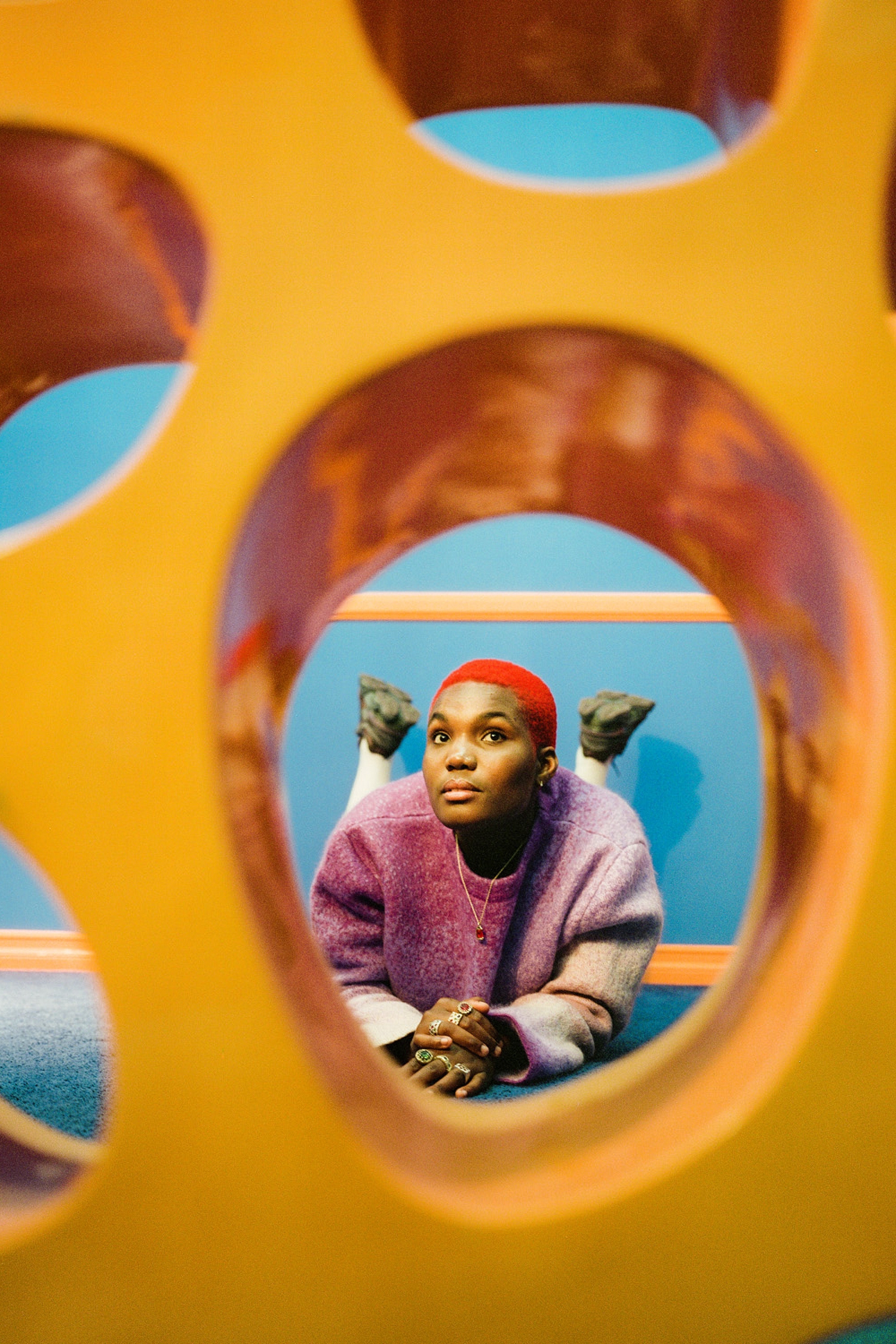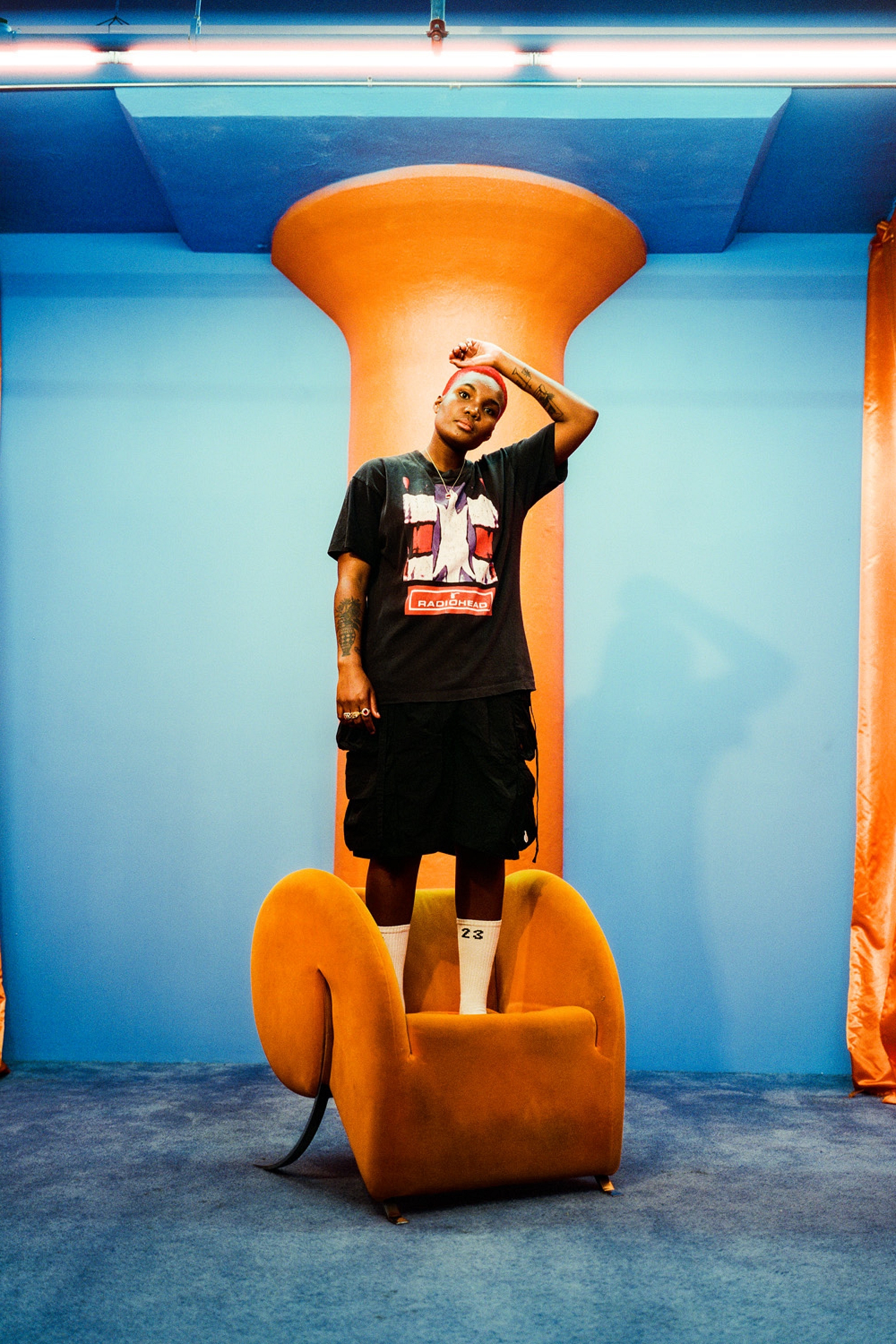 "
I think there is a lot of magic around us. We just move too fast to see it really.
Arlo would prefer not to go into detail when it comes to the specific circumstances that caused her to take a step back, though she does point out that the sense of support she felt from her team and peers in the industry when she made that initially daunting decision was absolutely vital at the time. Normalising these kinds of discussions is something that she encourages and supports going forward.
"I definitely think that I felt supported," she nods. "This is my hope, at least, [that] the conversations around artists' mental health and burnout, and the pace at which artists work and travel… I hope that more of those conversations are being had around how to protect people. My main source of support was and always has been just my friends, and the other people who make music, who can understand, beyond just empathy, what it is actually like to live the life that we do. I felt everyone throw their arms around me immediately, and that made me feel so safe and happy. There is something about not feeling like the only person who's struggling that's really powerful," she says quietly, her voice cracking slightly. "I was really grateful for that, for sure."
This time around, the artist has been trying hard more generally to "put up boundaries, firmly but gently," when it comes to keeping some more personal experiences just for herself. Is this something she's felt herself becoming more acutely aware of since becoming a household name over the space of just a few years?
"I definitely think that, as the work reaches [further], and more people are aware of who you are, then there is this desire to know more and more about you that I don't think is malicious. I think it's real curiosity," Arlo says. "When you first are introduced to the world, the perspective is very introductory; it's like, 'How did you get your name? And where are you from? And all these things," she points out. "As time goes on, people know the basic information and there's a bit more depth to the probing sometimes. I'm just quite a private person, and I think a lot of what I want to say is in the songs.
"It's important to be able to say, 'Actually, no. I think that's just for me and my friends or, you know, whoever'. It's important for my own health and heart to know that there are things that I have just for myself."

"
I definitely think the record in a way has catalogued that process of falling in love with LA and California.
Since rocketing to fame, Arlo has become friends with many of the artists she grew up admiring, and Lorde in particular has proven a source of some very important wisdom. "She's one of my favourite people, who I see as this extremely wise aunt. I mean, it's just very simple: she's just always reminding me about rest, reminding me about the fact that opportunities come back around, but if you're not taking care of yourself then everything crumbles," she says. "Her reminders of rest, and just general wisdom and kindness were something that I really treasure, for sure."
While debut 'Collapsed in Sunbeams' unearthed a sun-shot soft-pop sound and ran with it, 'My Soft Machine' draws more heavily on intricate smatterings of electronica, spikier chugs of guitar, and the melodic beats of collaborators like Chance the Rapper producer Al Hugg and BROCKHAMPTON's Romil Hemnani. On 'Devotion' – a riff-driven track that unfurls into headliner fireworks – Arlo's hunger to get back on stage feels apparent. "I found myself in front of people a lot, and there was this sense when I was making a song in the back of my mind of, OK, how is this going to feel live? How are people going to move to this, dance to this, cry to this? Is this going to move people?'" she recalls. "That can happen in a million different ways; it can be more of a 'Black Dog' moment that feels very emotional and small, or it can be a moment like 'Devotion' which is just like, super volcanic and outwards – a release."
Billie Eilish's 'Happier Than Ever' was an influence for the latter. "I love that song," she says. "There's this gentleness to the beginning, and then this sense of foreboding where you feel like it's going somewhere and you're not quite sure where. When it happens, it's so euphoric."
Just as the influence of the UK capital bled through the edges of 'Collapsed in Sunbeams', Arlo's new home ultimately shaped the widescreen sound of its successor. "I mean, I just love a reference," she laughs, knowingly. While some musicians keep their influences somewhat guarded, Arlo has always been an open book about hers, detailing the many places, books, films, poems, art pieces and other inspirations that did their bit during the sponge-like absorption phase of her writing process.
"I mention the Dayglow cafe, which is a coffee shop I used to go to before going to the studio," she says of her daily ritual recording on Sunset Boulevard. "There's a line on 'Impurities' where it's like, 'Piling in the Escalade, my chest is buzzing like a blue bird cage'," she says. "That was about one of the first nights that I went out in LA; we kept calling normal Ubers, and for some reason, these [Cadillac] Escalades – massive black cars – kept pulling up. We found it so funny, and we felt like teenagers again, rushing around the city. I wanted to bottle that feeling of community and finding a chosen family. I definitely think the record in a way has catalogued that process of falling in love with LA and California."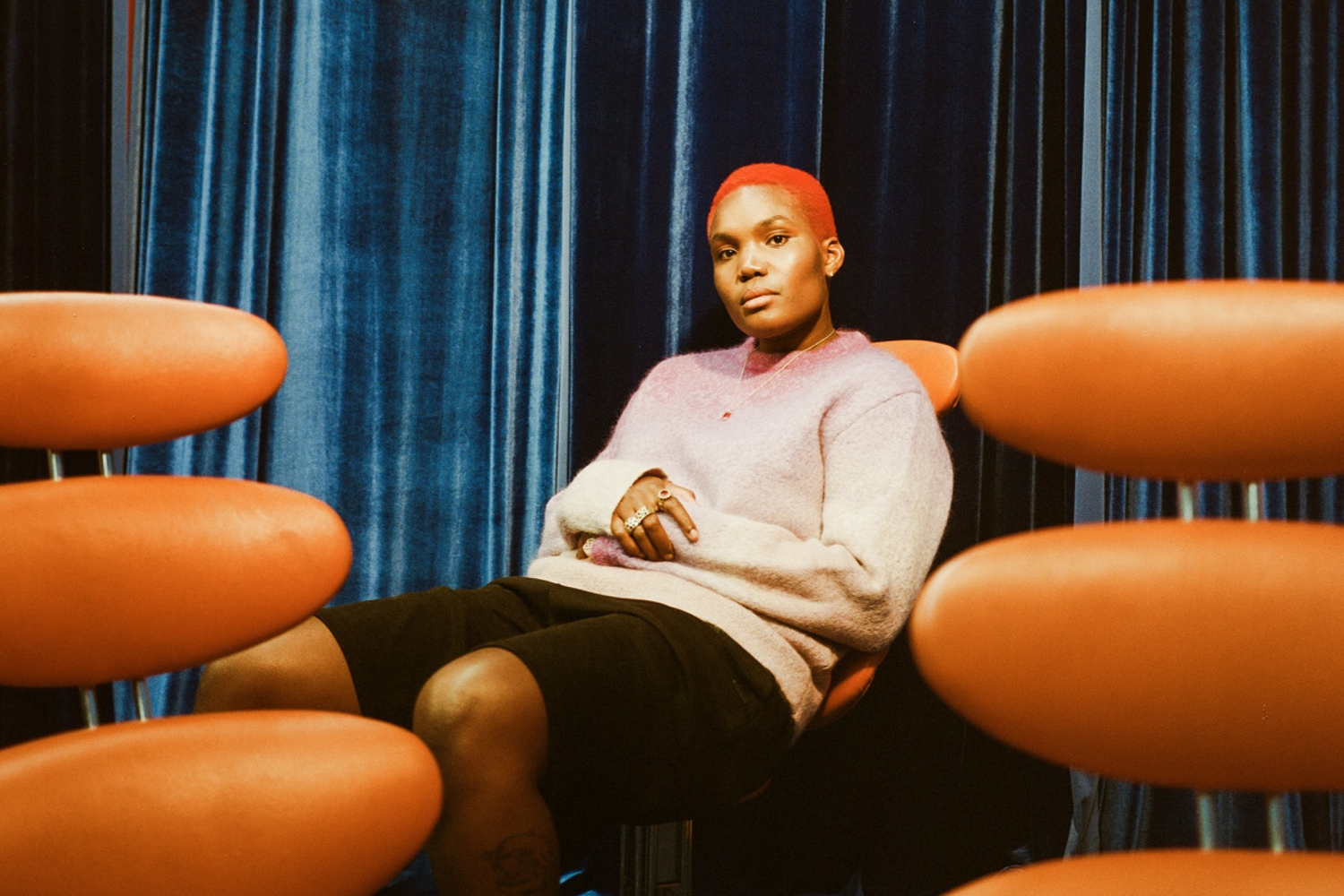 "
Lorde is one of my favourite people, who I see as this extremely wise aunt.
Detailing some of her other influences, Arlo highlights Autobiography of Red – Canadian writer Anne Carson's retelling of the myth of Geryon and Herakles - as a notable one. In the original Greek story, Herakles kills Geryon (a monstrous red creature with huge wings) almost as an afterthought, with a single arrow through the head. Carson's version reimagines the pair as queer lovers, with Geryon finding solace from his personal trauma in art and photography. "It inspired me to add 'red wings' in parentheses at the end of 'Room'," she explains. It's easily the darkest song on the record, with Arlo's narrator singing of her own wings being clipped, and detailing her intense fears of losing a person who keeps her grounded. "B-roll of us in my lids, dusting the coke off your fist," she sings. "You were so far up, I would worry desperately.
Carmen Maria Machado's memoir In The Dream House – the author's haunting reflection on memory, narration, and an abusive queer relationship – was also embroidered into the tapestry that created 'My Soft Machine'. "It's very affecting," Arlo says, "especially in a queer landscape, and having this element of surrealism and poetry. It feels so viscerally real. I spoke to Carmen actually, for [Arlo's 6Music show] Dream Fuel, and I was very starstruck. The way that she crafts her book - it's kind of nebulous in terms of its genre, but it just feels like itself. That's something that I gravitate to in everything – that's always the goal."
And at its core, 'My Soft Machine' feels like a similarly edge-blurring record about love, and the messy, vulnerable, free-falling feeling that comes from opening yourself up to somebody else fully, no matter how scary that may be. "Some of my favourite pieces of writing around love, or pieces of music, have this openness," Arlo agrees. "They show themselves being ripped apart by the feeling," she concludes. "When you're that open about something, then you also encourage people to hold the mirror up to themselves."
'My Soft Machine' is out 26th May via Transgressive.