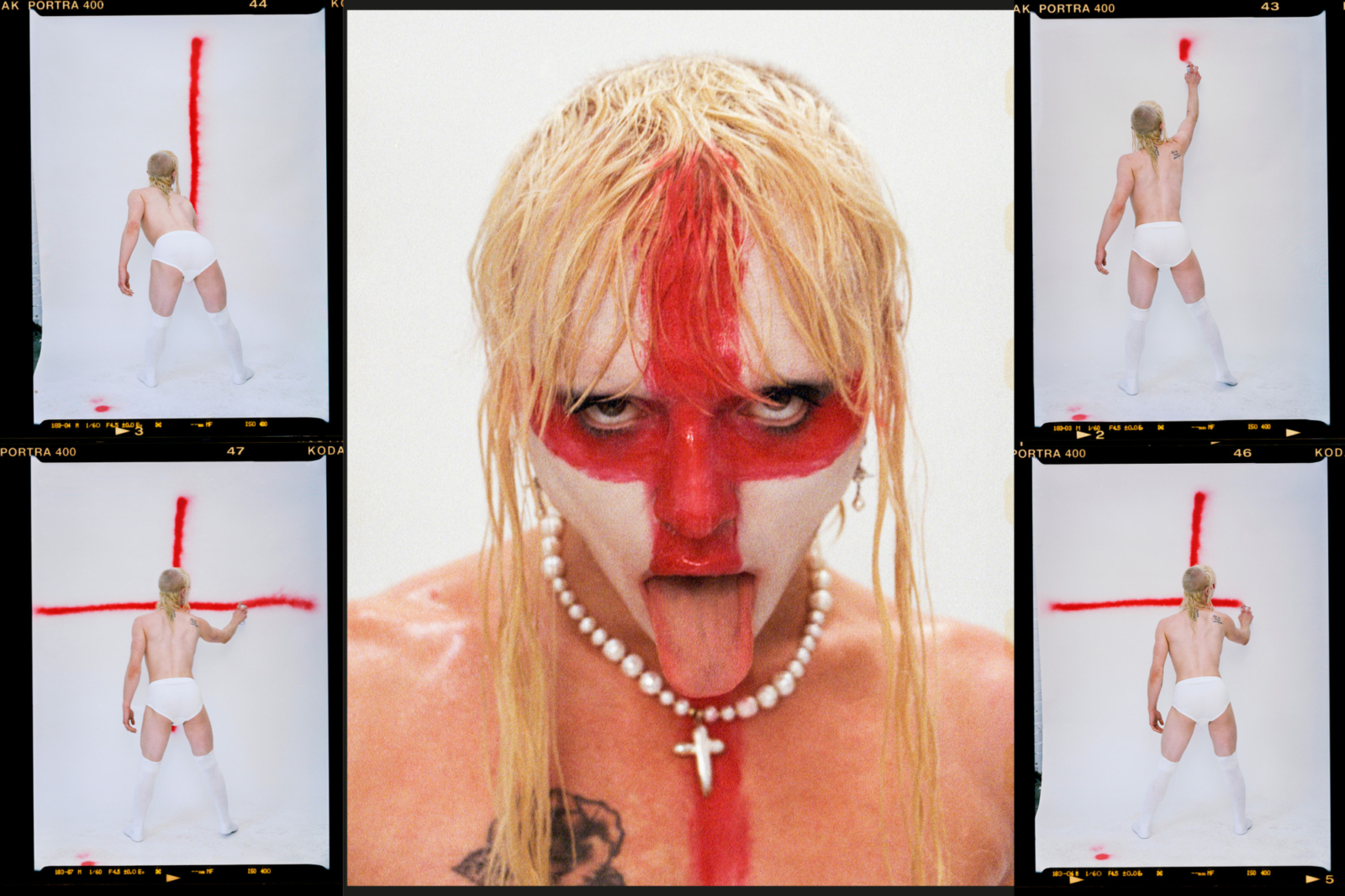 Bimini: They Are The Culture
Emerging as the star of RuPaul's Drag Race UK, Bimini is a multi-hyphenate creative powerhouse, breaking down boundaries at every turn. Now, they're ready to smash the music industry stereotypes too.
It's the middle of June at Download Festival's 2022 edition and, amid a line-up still headlined by old school rock stalwarts and populated almost entirely by a male-fronted supporting cast, the bleached blonde vocalist pacing the stage in a ripped black gown adorned with the image of a doe-eyed Princess Diana is cutting a notably different silhouette.
Stepping onto Sunday's Dogtooth tent as the first drag artist to ever play the event, backed by an all-queer band and thrashing through a set combining a couple of punk-tinged originals as well as a series of playfully-curated covers (Peaches' steamy 'Fuck The Pain Away' and The Prodigy's 'Breathe' among them), the booking was a boundary-breaking one. But 'boundary-breaking' is a descriptor that consistently prefaces 29-year-old TV star-turned-multi-hyphenate-creative-whirlwind Bimini's activities these days.
First making their name placing as runner up (to much public outcry) in the 2021 second series of RuPaul's Drag Race UK, in the time since, they've released a book, become the first non-binary person to sign to Next Model Management and, most recently, signed a major label deal with Sony offshoot Relentless Records - home over the years to the likes of Headie One, Lethal Bizzle, Ms Dynamite and more. If their infiltration into the UK festival scene's less traditionally broad-minded bills marks yet another step in the star's mission to break down gender barriers and genuinely help forge a more unified society, then it's just one milestone in an increasing series of many.
"Download was a weird one for me. I didn't really think about [being in that environment] until we were on the way there," Bimini muses today. "But if you can take up space in that space… I mean, I've always looked up to people who were very visual with their looks, and rock people - we're not that far removed. Half of them have probably got more makeup on than me, just look at Kiss…"
Taking up space and defying old-fashioned binaries lies at the heart of what Bimini does; at a festival full of artists claiming adjacency to punk, there are probably few people genuinely embodying the meaning of the word - rebellion, standing up for what you believe in, pushing for change - than them. "Punk was a 'fuck you' but it came with kindness really. There's an aesthetic, but punk isn't a mohawk, punk is an attitude - punk is about how you navigate yourself and about standing up for things and people," Bimini posits. "When you think about how punk was shaped by music and fashion, that's what's happening now; you're seeing a lot of blurred lines and long may that continue - and long may it allow me to be a genre-bender," they add, letting out the first of many wicked cackles.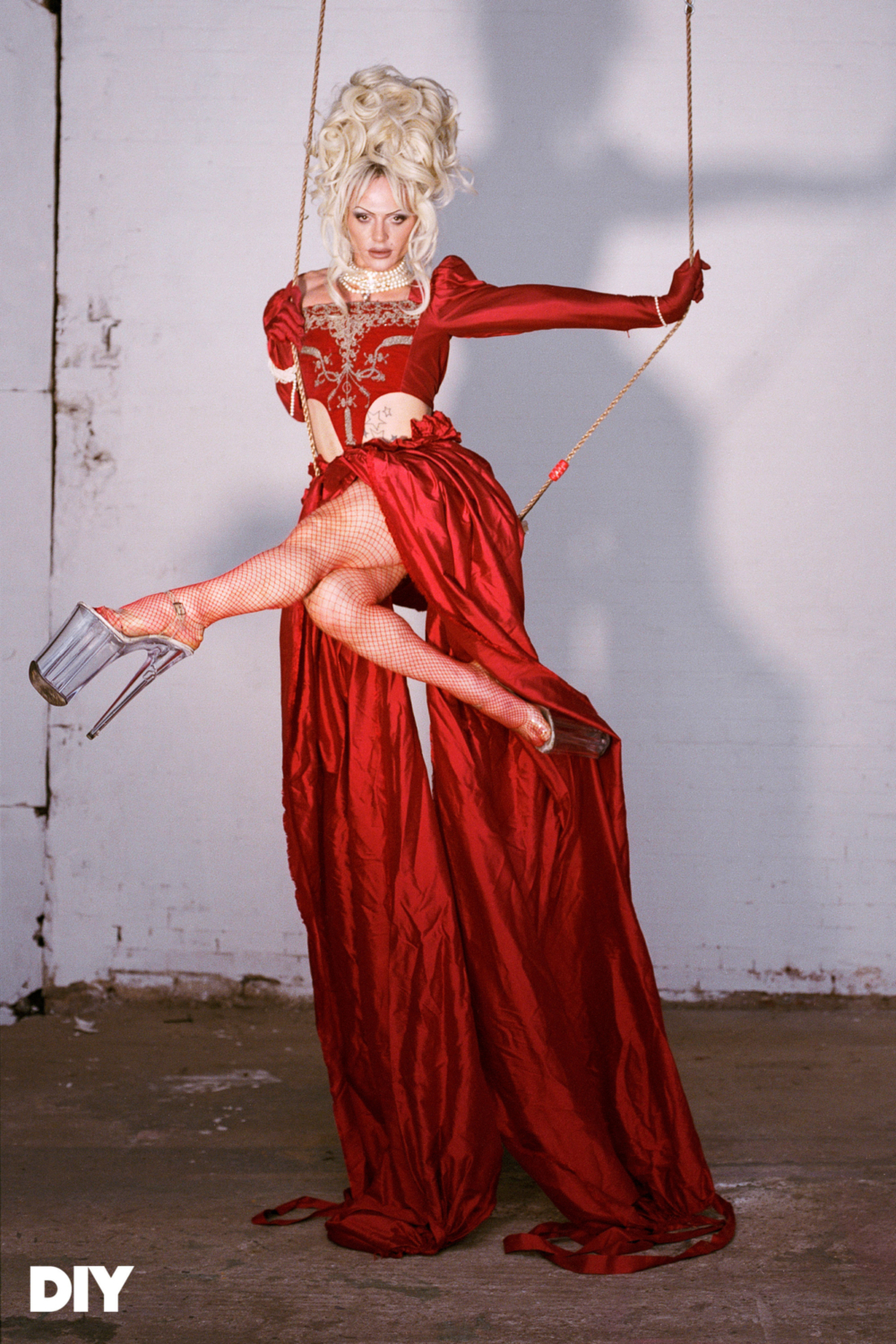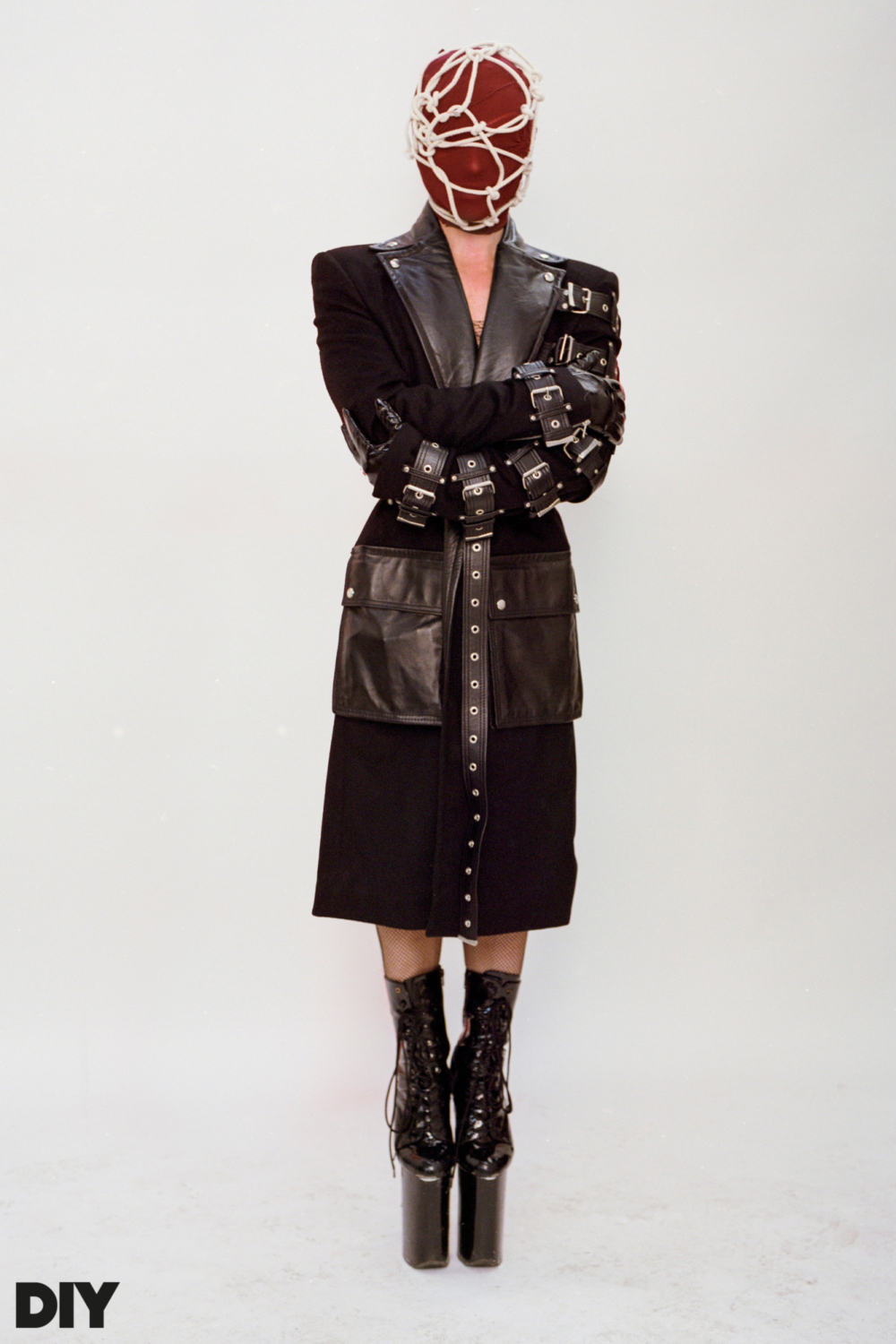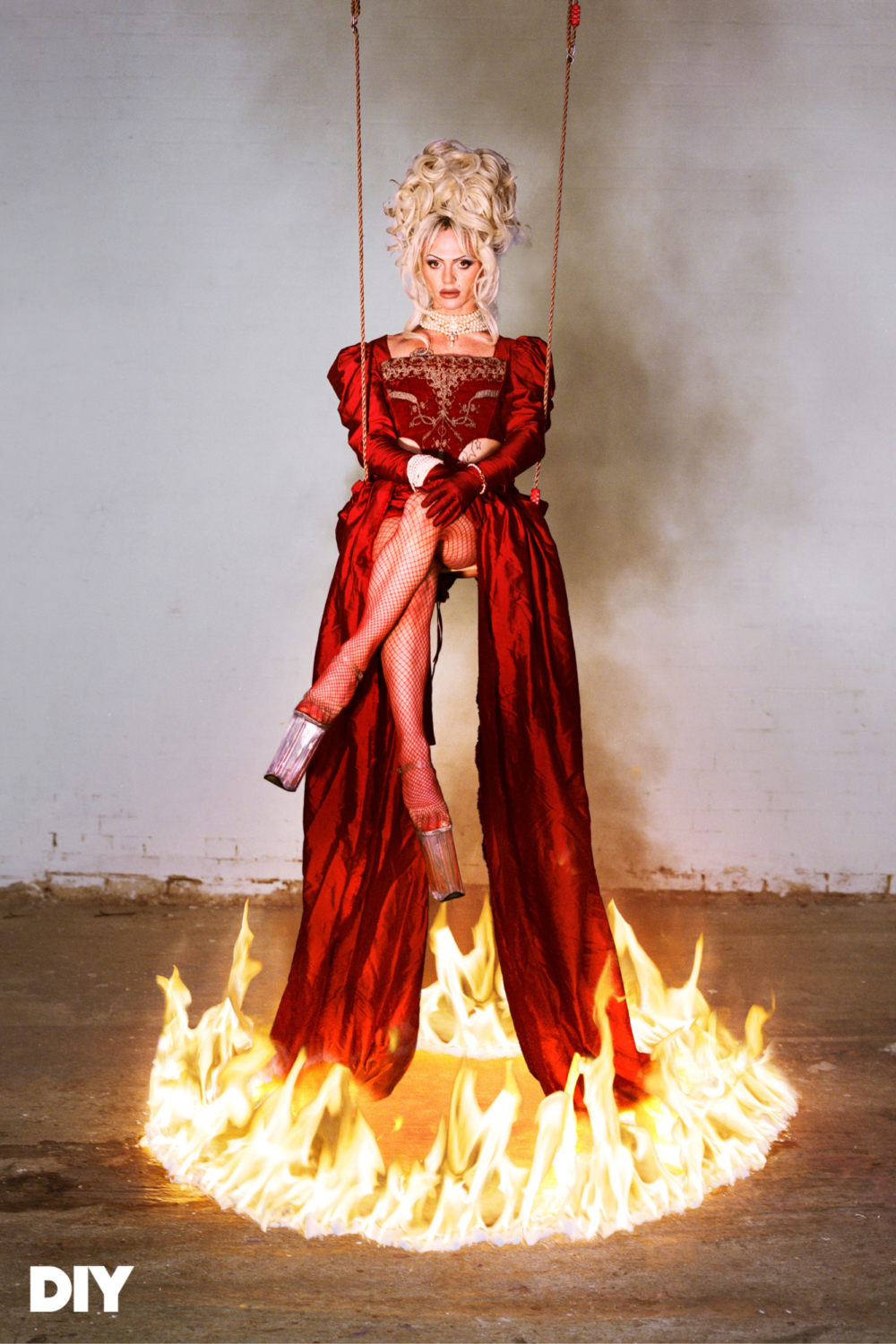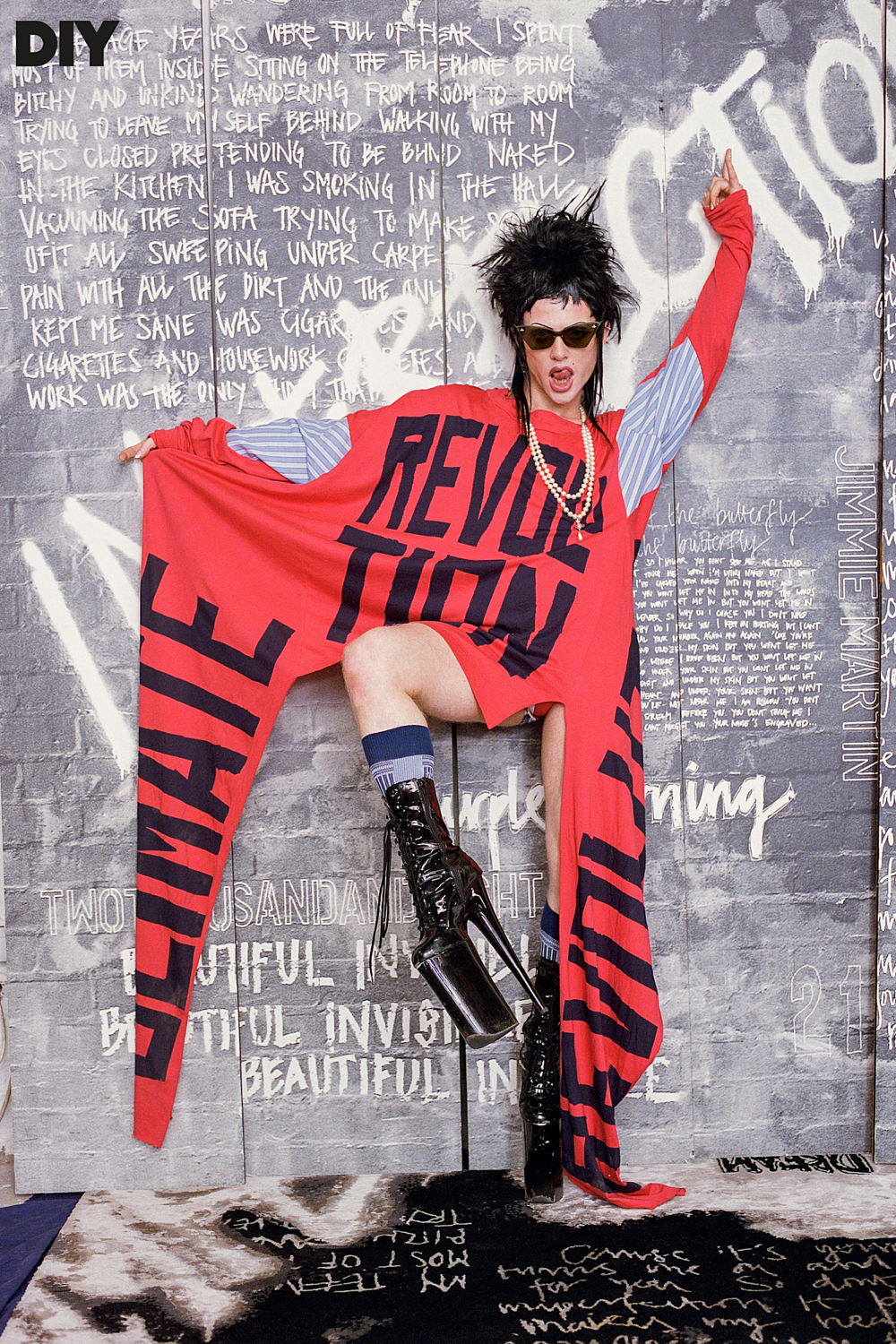 "
Punk isn't a mohawk, punk is an attitude - punk is about how you navigate yourself and about standing up for things and people.
It's notable that, from conceptualising to carrying out today's shoot, Bimini lands as perhaps the most hands-on cover star DIY has ever had grace its front page. Not only is there a distinct lack of OTT team on the ground today (Bimini requests one hairdresser, one makeup artist and arrives with their manager), but they're present and active in the lead-up too, sending over mood boards laced with images of Kate Moss and '70s Toyah Willcox, and even posting an Instagram story flagging how excited they are to be on a shoot where they feel in creative control.
Whether clambering onto the roof of today's studio in approximately eight-inch Pleaser heels, a Union Jack thong and Barbarella-by-way-of-Peggy Mitchell hair; contorting themselves on a swing in a regal Vivienne Westwood-esque fantasy complete with tea set ("I'm spilling the tea!" they hoot), or emerging to the garden for today's chat in a loose T-shirt dress bearing the slogan 'Climate Revolution', there are many faces of the artist fka Bimini Bon Boulash, known to their Mum as simply Tommy Hibbitts. Each of them, however, ties together, emblematic of a creative who knows exactly what they're about and who, it turns out, has spent a reasonable amount of time recently rediscovering the passion to embrace and really harness it.
"I always had strong opinions and something to say. My first performances were politically-based, and even on [Drag Race] I had - not a political agenda - but I was talking about political and social topics," they begin. "But I think after the show, I was thrown into this world and was trying to navigate it, and there was a point where I lost myself and what my message was. There was a point where I became a bit of a mannequin for people and I was being dressed in things I didn't wanna wear; at the time [it was exciting] because I'd never done that before and I'm a working class kid. But I had to really bring myself back, and writing music has helped with that, and finding new ways to be expressive has helped with that. I never wanted to be a fashion darling; I always wanted to be a fashion provocateur."
These days, Bimini isn't sure if they'd class what they do even as drag. "I'd say I'm just me, who went into drag and that's been a tool. Drag is like having your first puff of weed," they chuckle. "You know how they say it's a gateway [drug]? It was a gateway to explore my gender and who I am and my identity. If I wear a dress like today, I'm not tucking, I'm not shaving my legs - I'm not doing a female illusion because who says that's what a woman has to look like? There are certain ideals that people have because of drag that actually reinforce stereotypes whereas it should be about breaking them down."
Instead they're more interested in exploring the potential of their creativity in all its forms, with fashion and music co-conspiratorially taking the front seat. They're aware that some people who might have seen them on the TV might be cynical about their next moves ("With music, people are probably like, 'Oh it's a vanity project'. But it's really not, it's what I've always dreamt of doing but the opportunities have come now," they shrug). Indeed, there's probably a fair volume of people who won't understand why Bimini is on the cover of a magazine like this. But while their musical career is still in its nascent stages, the inspiration that they're imbuing by putting it out there feels exponential.
"Being an artist is about just continuing to explore yourself and growing and changing," Bimini asserts, oat milk coffee in hand ('Bimini invented veganism about seven years ago,' states the tongue-in-cheek bio of their book). "At the minute, I'm really enjoying the space I'm in artistically and I also love that I've found a confidence in myself to express that. So continuing that is my main priority, exploring the creativity I have inside me, and I want everyone to do that - everyone has it and I didn't believe I did. Anyone that doesn't believe they're creative, just do something you're scared of, because who knows what you can do?"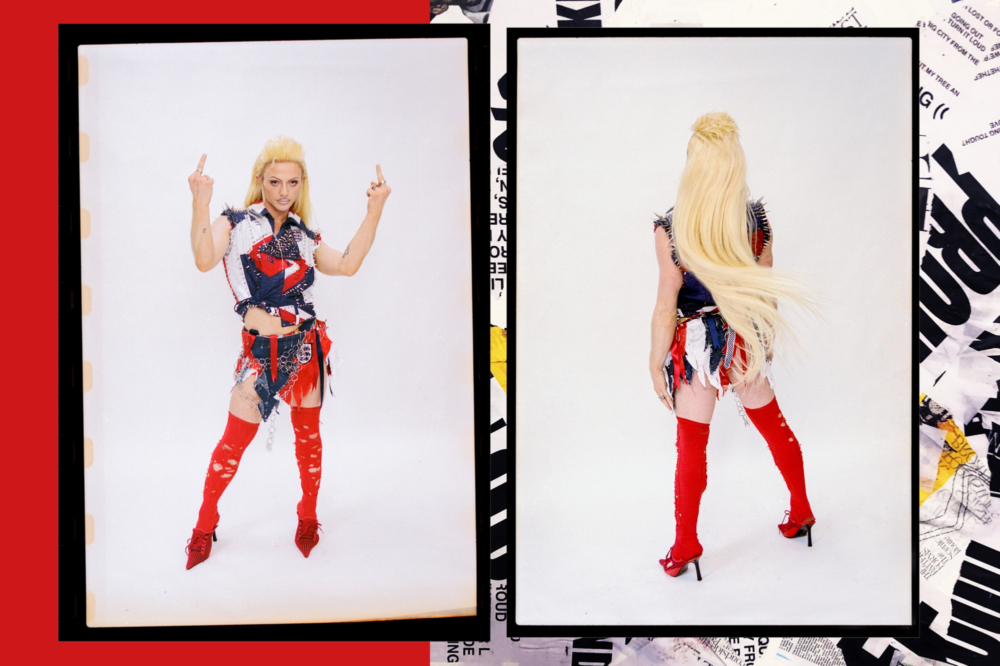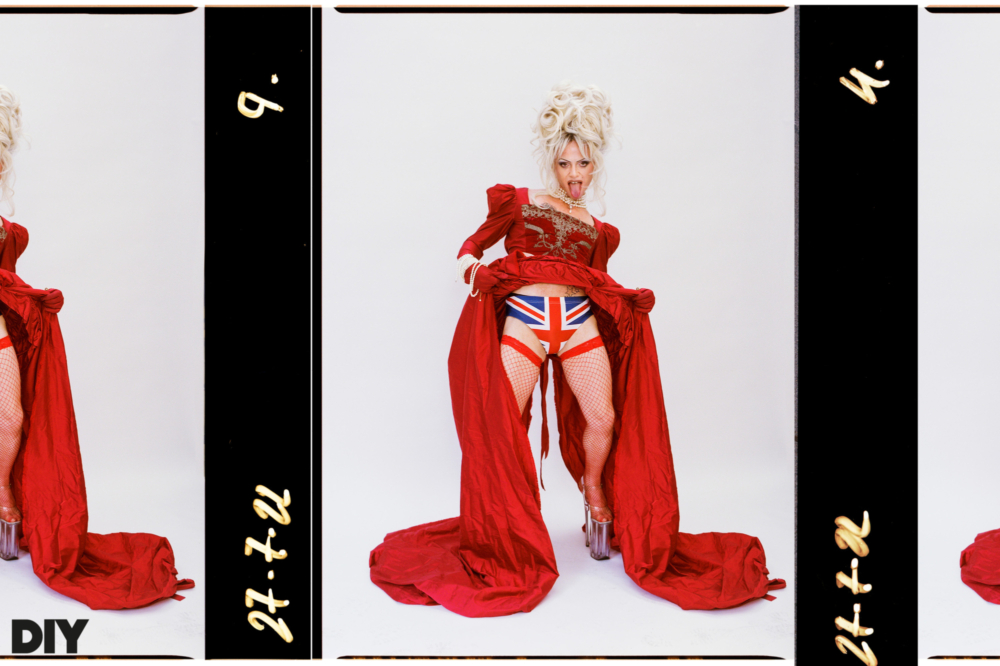 "
I never wanted to be a fashion darling; I always wanted to be a fashion provocateur.
Born in Great Yarmouth in 1993 before moving to London to study journalism, Bimini recalls their teachers labelling them academic rather than artistic. Though they describe themself in retrospect as "an attention-seeking child" ("I'd do cartwheels in Tesco - that sort of kid, annoying as hell…"), you can trace a direct line between the time it took for a young Tommy to embrace their artistry and the vociferousness with which Bimini talks of spreading that same encouragement now.
"I grew up being told I wasn't creative because I couldn't really draw that well. But I'd have an idea up here in my noggin, and that's what drag has allowed me to explore and I'm just continuing to explore it," they enthuse. "I loved fashion and styling and writing, but I never believed it was art. But now I'm doing what I've always wanted to do and being unapologetic about it, and it keeps opening up other avenues. It's been really therapeutic."
As a youth, they recall the fairly classic trajectory of anyone born around the start of the '90s - going from a childhood love of the era's pure pop (S Club 7 get a notable shout-out) to "getting into more alternative music in my teenage years and going to Bowling for Soup gigs" to finding a taste that aligned more with their adult self as the years went on. For Bimini, that was the '00s London scene that embraced its Britishness and wore its accents and culture with pride. "I got really into Jamie T and Lily Allen and Amy Winehouse - all those really British acts. We have British artists now but everyone sounds American, whereas they all had this really unapologetic Britishness about them which I love," they enthuse. "I have that with my music; I don't switch up my accent, I don't switch up what I'm talking about."
Taking that idea and transferring it to a visual medium, today one of Bimini's self-styled looks sees them adorned with a painted England flag. Half-jokingly, we check that it's not going to read as a little bit Brexit… "It's the opposite," Bimini counters. "Flags have so much symbolism and power and meaning, and what I'm trying to do by wearing it is ask where has that unity gone? We're not united, we're so far away from that, and flags have become a symbol of this really toxic culture. So me [doing this or] wearing Union Jack underwear - if it's gonna piss the other side off, that's why I'm doing it. My UK is for everyone."
Head back to Yarmouth now and you can still find Thomas H. hairdressers - the salon named after them, run by Bimini's Mum. Growing up in a working class family of strong women ("I just power through - that's what my Mum taught me, just keep on going because no one else is gonna feed ya," Bimini notes of their current insanely busy schedule), there's also an important strain of representation that they're trying to show here - be that through a loving portrayal of Katie Price on Drag Race's iconic Snatch Game episode (which Bimini won) or by embracing their accent and putting it front and centre on national TV and in their music.
"I went on the show and put any savings I had into it and took out a loan: it was a massive gamble. [These days], there's a complete lack of working class people in the media, and running the country and everywhere," Bimini says. "In the media, you see what's happened to working class women especially - they get brought up and torn back down. Tulisa and people like Caroline Flack, the way [the tabloids] were able to get away with how they treated them, it blows my mind. I can understand why Kate Moss keeps herself so private. You can be a Kardashian or a Kate Moss; maybe I'll aim for somewhere in the middle. But also it's good to be public because I like to hope my experiences can help someone else who feels different or like they're struggling…"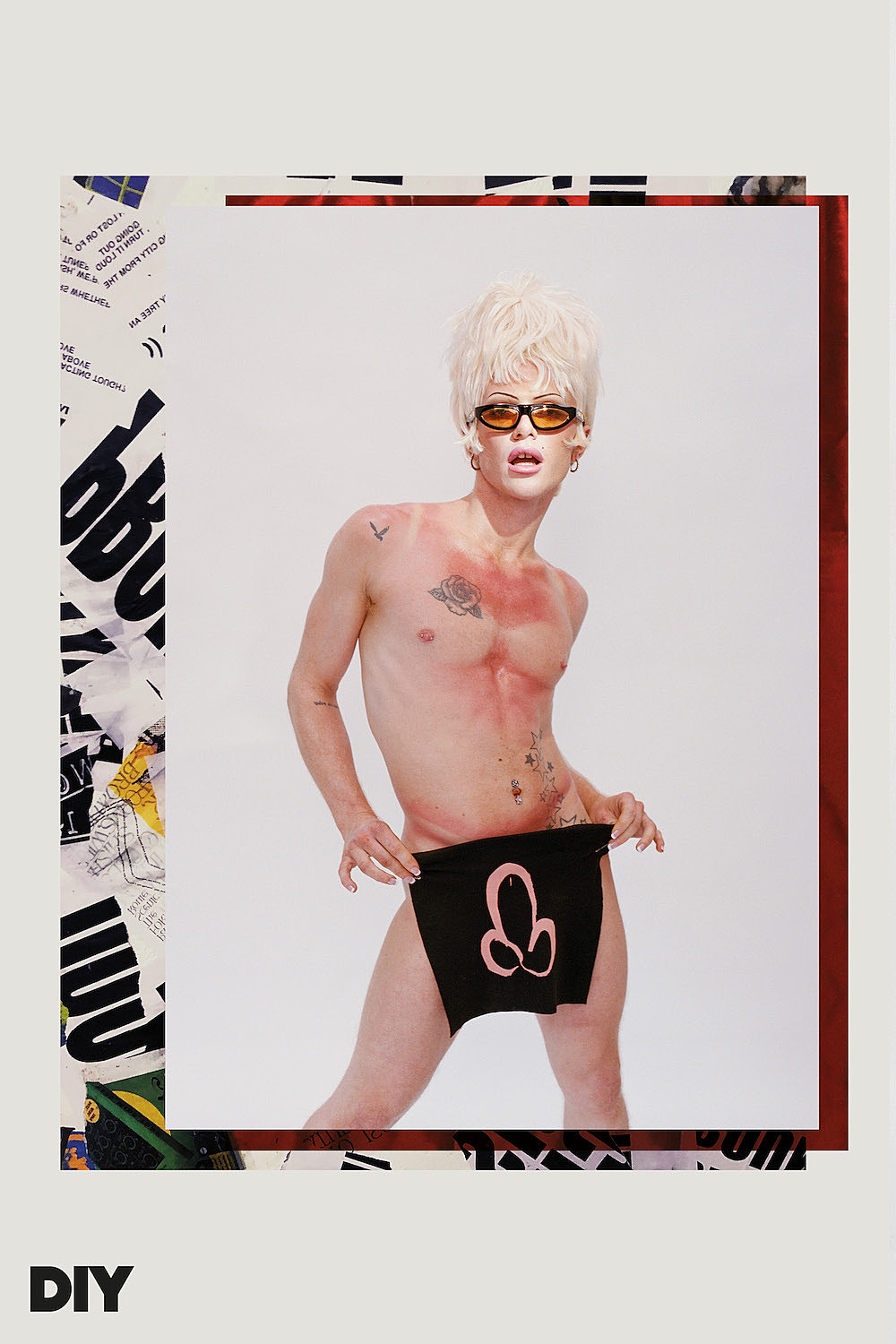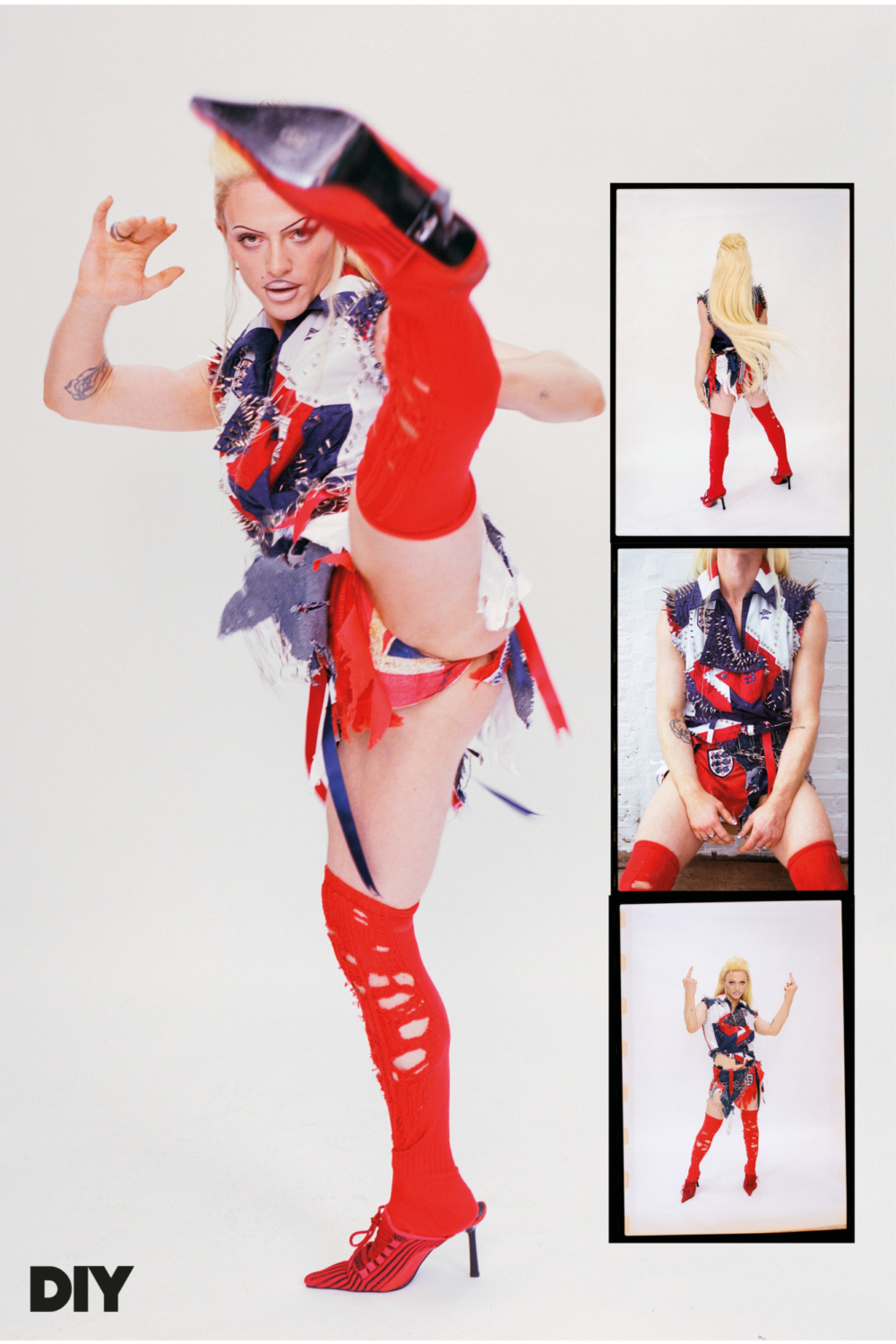 "
Drag is like having your first puff of weed. It was a gateway to explore my gender and who I am and my identity.
And so to the music. At the time of writing, Bimini has released precisely 1.25 songs - their debut solo single, last year's cheeky manifesto 'God Save This Queen', and their input as one quarter of United Kingdoll's unexpected post-Drag Race hit 'UK Hun?'. That track landed Bimini and their fellow contestants a Top 40 placing, its nonsensical chorus ("Bing bang bong / Sing sang song / Ding dang dong / UK hun?") connecting with a delirious world suddenly thrust out of lockdown and back into the giddy, boozy party of real life once more. It's possibly the most surreal way to begin a music career in recent memory (although, as Bimini grins, they were also nominated for a "bing bang Bafta" for their verse), but it's also far from indicative of Bimini's aims for this next move.
They've been writing secretly for the past 18 months, they tell us, working with a team to create a collection of tracks that they describe as "depression with a beat - proper sad bangers, some of it". Bimini suggests the result is somewhere between Robyn and Mike Skinner; to our ears, the two tracks we're played today - 'Rodeo' and 'When The Party Ends' - have something of the Charli XCX and Calvin Harris to them respectively. They're clubbier than you might guess from the person sat in front of us sporting a spiked, jet black 'do, but emerging with the unexpected is sort of the point. And while Bimini is evidently excited about continuing to share their wares ("To see after a second verse or chorus people singing it back - it's just mindblowing," they grin), then perhaps the most important idea is of the music as a vehicle for something bigger. "I want to make music that people listen to, but I want to continue to have a message and to have that reflect in everything," they state.
In the space of barely 18 months, Bimini has graced runways and magazine covers, played grotty pub venues (their first gig was at London's Old Blue Last) and festival stages, all while embracing a message of total self-acceptance. They speak of an increasing sense of "gender euphoria" - the joyful opposite to gender dysphoria - that's growing constantly, and of the importance of being open to new ideas and change. "No one knows all the answers and I think that's what's so beautiful about humans - we can be open and we can be wrong and we can continue to learn," they urge. If the most game-changing artists are the ones with a distinct world view, that open up doors and invite everyone in, then Bimini belongs on any stage they want.
"I do wonder if I'm gonna sit back in 10 or 20 years and be like… 'Oh that was cool!'" they chuckle, that infectious, throaty laugh belying the sizable achievements they're reflecting on, "but I'm just trying to enjoy it. I was 24 when I got into drag which is really not that long ago and, since then, things have happened that I didn't even realise could happen - things that have blown my mind. So if I can do this and get to where I am now, anyone can do it - you just have to really fucking believe in yourself and go for it and not listen to what anyone else has to say. You've just got to know your truth."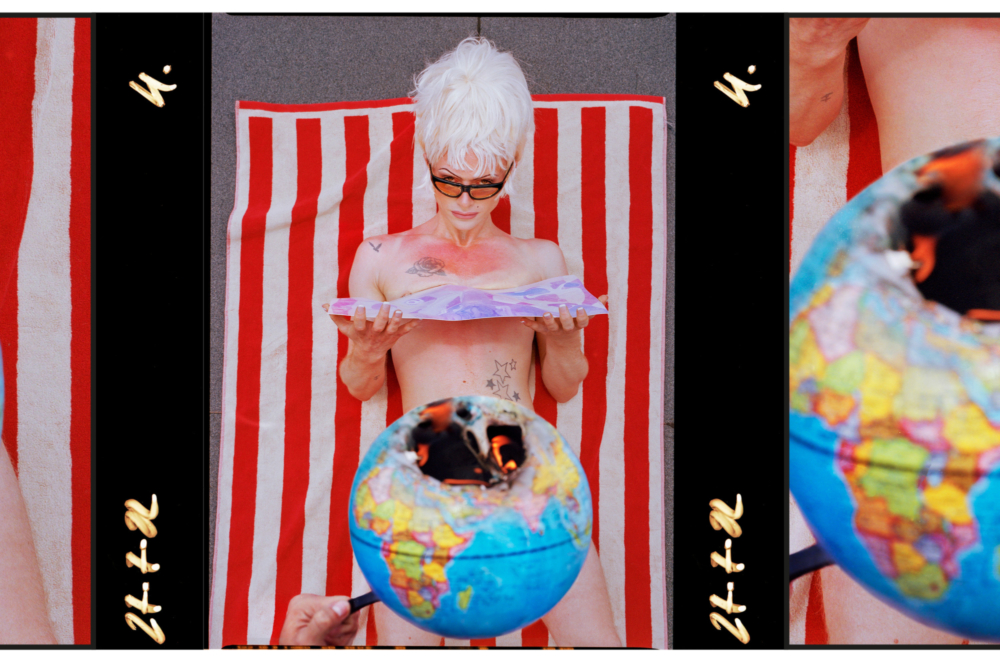 ASSISTANT: JAMES HOBSON
STYLING: BIMINI
MAKE-UP: BYRON LONDON
HAIR: LAUREN BELL
ASSISTANT: CHARLIE HAJICHAMBI