Stepping sideways after a decade fronting CHVRCHES, Lauren Mayberry is launching a solo era that lets all of her suppressed femininity, theatricality and rage fly free.
For years, Lauren Mayberry told herself no. Don't wear that. Don't write those kinds of lyrics. Don't say that on the record. Don't do anything outside of the band. Don't be yourself, not entirely. Call it an exercise in self-preservation, in learning how to adapt and make yourself smaller. However, on a Saturday night in the trendy Williamsburg neighbourhood of Brooklyn, New York - the second stop of her first solo headlining tour - she's finally allowing herself to fully take up space.
Floating around the stage, she dances and twirls in an intimate haze of red velvet and glitter, jumping on the luminescent beat to "a bunch of songs you don't know," as she jokingly tells the crowd in her sharp Scottish lilt. One of those propulsive pop songs, 'Change Shapes', finds the 35-year-old shedding her skin: "I bend over backwards / Tiptoe along every wire / I guess I'm quite the actress / No one knows I'm a liar… I change shapes 'til I get what I want from you". This acute self-awareness cuts through the evening's pulsing nocturnal energy like a knife.

She designed the show with Bob Fosse's Cabaret in mind - dark, lush and theatrical; a rousing palette of carménère and stardust - as evidenced by the pre-show playlist, which concludes with Liza Minnelli's 'Maybe This Time'. The set is a short and sharp 47 minutes long: eight new songs and a lone cover of Madonna's 'Like a Prayer', Mayberry's signature soprano tone sounding celestial. Emerging through a cloud of smoke, standing on the same stage where, a decade prior, her band CHVRCHES performed one of their first gigs in New York, she gazes into the audience, morphing before their eyes into a bona fide pop star.
Before kicking off the tour, Mayberry had released just one single, the tender piano ballad 'Are You Awake?' - co-written with Tobias Jesso Jr and her friend Matthew Koma, who also produced much of her forthcoming solo album. The quietly jarring track sounds nothing like the layered synth patches of CHVRCHES, the Glasgow-born trio Mayberry has fronted since 2011. The track scorches the earth of what came before it, defying expectations, yet it wasn't ever her intent to even release it. "For a long time, I didn't want to do anything outside the band. I didn't want to let people down," she begins, settling into the makeup chair for today's cover shoot, as a single swoop of bold, crimson graphic liner is drawn onto her eyelids.
She thought 'Are You Awake?' would be just another file on her computer, and its lonely ruminations would remain scribbled in her notebook for her eyes only. Amid studio sessions for CHVRCHES following the release of 2021's 'Screen Violence', however, Koma convinced her otherwise. "He was like, 'You have all these ideas, you should do something'," she recalls. "And I was like, 'Shut the fuck up, man. What am I going to do? Why would I be doing that?' And then he was like, 'Why would you NOT be doing that?' It had occurred to me, but it was helpful to have somebody be like: you're allowed to do that, you know. It's alright to do that. Don't worry about the consequences of something you haven't even done yet."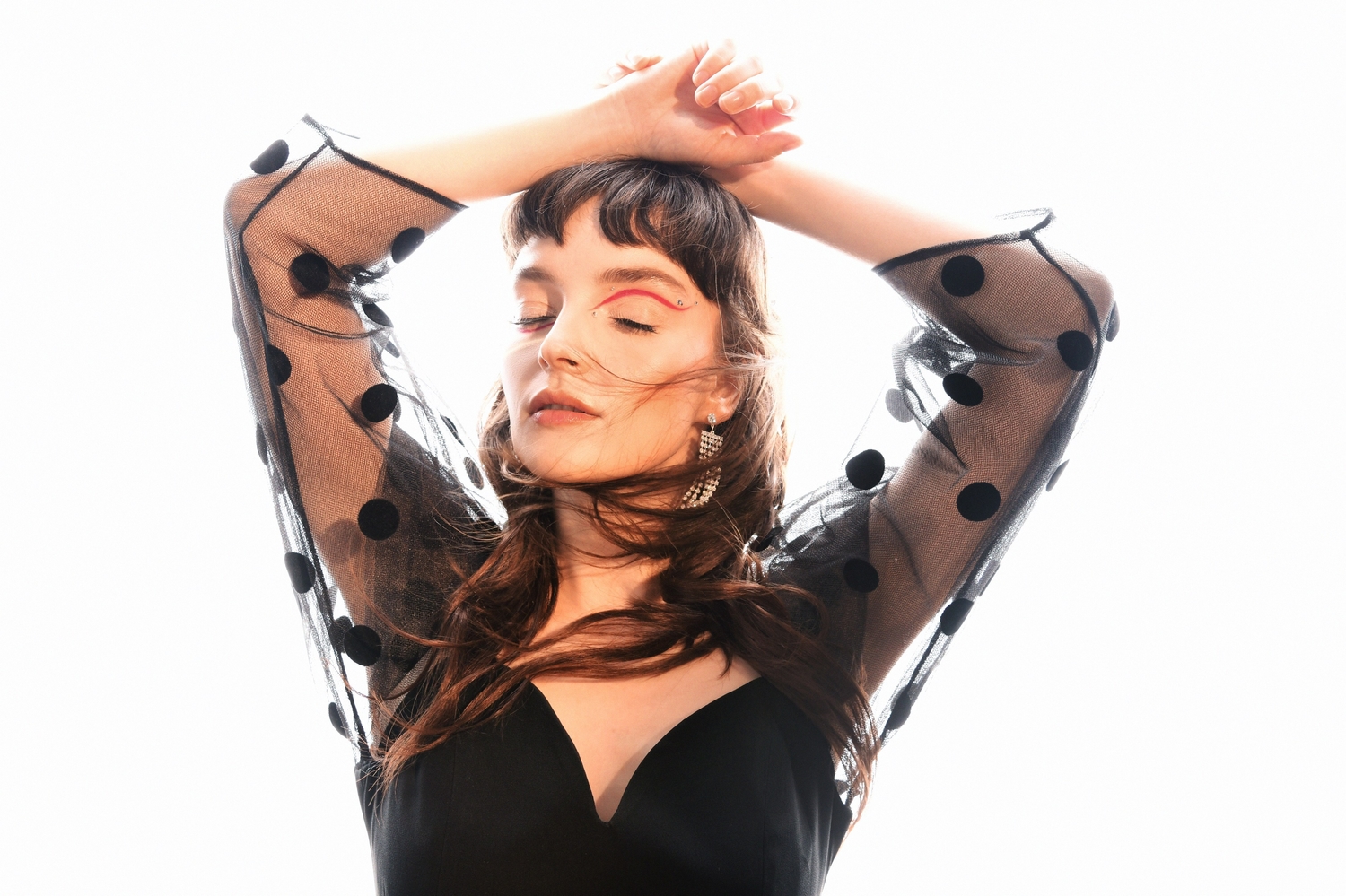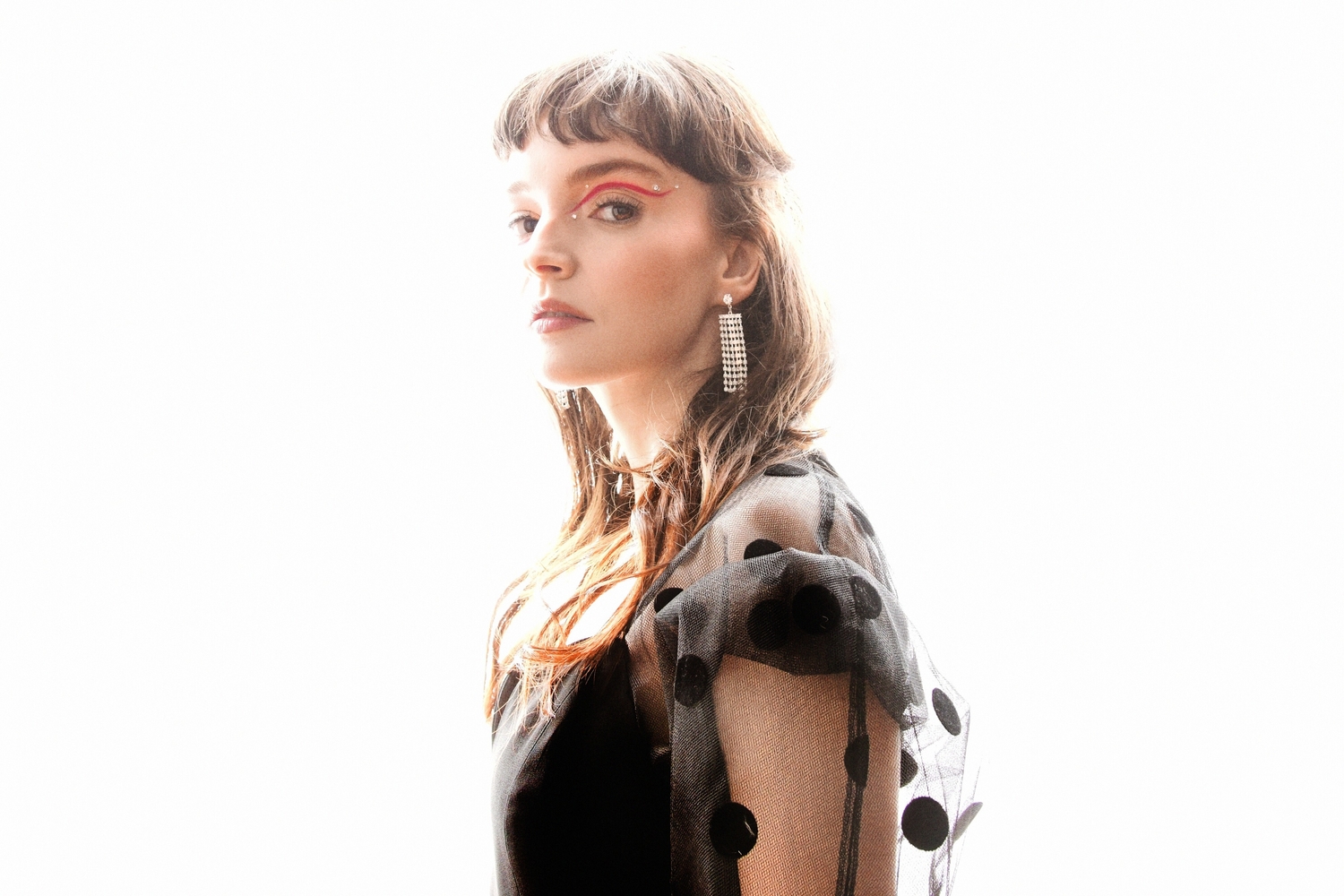 "
"All my twenties were spent in a context where you're the only woman in a structure that's not designed for you."
The black socks Lauren is sporting today read 'Diva': a souvenir from the afternoon she recently spent perusing the current V&A exhibition of superstars past and a word that her new era feels like it's somewhat attempting to reclaim. On the same day, she had taken the first press shots of her solo career. She recalls it feeling like a surreal moment she wanted to bottle up and keep in her drawer forever; a celebration of glamour and divadom, a glimpse into her future on the eve of her creative rebirth.
There's a distinct narrative about frontwomen who break away to pursue solo careers which never applies to men who do the same thing. "When female singers do something outside the band, it's viewed quite differently," she says. "Some people use Gwen Stefani as a verb. You wouldn't say that about a male frontperson. Nobody's saying Thom Yorke doing a side project takes away from Radiohead. I feel like so many of the interviews we've done so far, I've been like, 'I'm not breaking up the band. Don't be angry at me'."
If fans were angry, you wouldn't know it by looking at the sales; tickets for the US leg of this debut solo tour sold out in minutes, most of them purchased in blind faith. But anyone following CHVRCHES' trajectory over the past decade knows they've always been a word-of-mouth band. They attracted an initial following on SoundCloud with their rich, immersive soundscapes, arranged by producers and multi-instrumentalists Martin Doherty and Iain Cook. Lauren's crystalline vocals soared above the synths, defining CHVRCHES' sound for a generation of music bloggers. By the time the band signed a record deal in 2013, they were already a live fixture, selling out shows locally and beyond. At the time, performing as a trio was an adjustment. Before the band, she played keys and drums in the post-rock outfit Blue Sky Archives; when she sang, there were always instruments to hide behind. In CHVRCHES, however, it was just her and the mic. "I hung onto that mic stand for dear fucking life," she laughs, recalling the group's first album, 'The Bones of What You Believe'. A "type-A researcher" at heart (she holds degrees in law and journalism), Mayberry began to study how frontmen used their physicality and mannerisms, trying to contort herself into a masculine mould. "I was 23 when I met the guys and 24 when we started working [together]," she says. "In hindsight, when I look at it, I'm like, 'Oh yeah, that's the end of my girlhood'. And then all my twenties were spent in a context where you're the only woman in a structure that's not designed for you."
Mayberry has a complicated relationship with the word frontwoman. She never wanted to be the face of the band and, as the spotlight grew, she tried to shrink herself. She didn't want to be the girl in the band who was pushed to the front to sell albums and increase ticket sales, so she wore less make up on stage, dressed in baggier clothing, did anything she could not to attract the 'wrong' kind of attention. But none of these moves stopped people from projecting it onto her regardless. "You're either this sexualised coquette who clearly can't be involved in any of the creative because you're just there to get leered at, or you're this aggressive bitch," she says. "Neither of these personalities is true. They're just stereotypes and archetypes of women."
In 2013, Mayberry penned an essay for The Guardian: "Objectification, whatever its form, is not something anyone should have to 'just deal with'," she wrote. The explicit DMs and online sexual abuse didn't stop; in fact, it got even more violent and cruel. She doesn't regret speaking up, but she's not sure she would make the same decision now. "When I look back, I'm like, for better or worse, it solidified an identity for the band in a way that I think was positive," she explains. "Because everything up until that was more like, 'Does she want to do an interview where she'd wear a pretty dress?' But I think if I knew then what I know now in terms of what the after-effect would be, it would have been harder to make that decision."

"
"My gender and my body were always talked about at me - I was never really a part of that conversation."
Having opened up about the daily harassment she encountered online, her pain became an open goal for people to exploit. "The question I used to get in interviews was, 'What's it like to be a girl in the band?' And then it's like, 'Oh, that's awful, so… rape threats on the internet - how does that make you feel?' They don't want the answer; they just want to tick it off their list. Then it moved on to, 'How do you feel things have changed in a post-#metoo universe?' It's an evolution of the same question. I don't think it's a change if somebody is only changing their actions because they don't want to get caught. Then the only reason you're apologising is because you have to."
She unpacks these feelings with depth and scathing precision in the song 'Sorry, Etc.', in which she screams, "I sold my soul to be one of the boys" over big, filthy synths. It's a head-thrashing banger, inhabiting a similar space as CHVRCHES with its noisy dynamism and undercurrent of melancholy, but digging even deeper into the murk. Her direct lyricism has never sounded so unrestrained and filled with rage and, compared to the hushed heartbreak of 'Are You Awake?', the emotional scope of the record starts to crystallise. For all of her anxiety about what people might think about her new music - and there's a decent amount of it - she sees it as an opportunity to feel deeply without judgement. "I feel like there's just certain things that you won't write if you're part of a collective unit, especially as the only female in the band," she says. "I wouldn't ever have tried this in my twenties." That doesn't mean the ideas weren't present. There are dozens of notebooks and jars in Mayberry's house, brimming with words and phrases that she's scrawled onto scraps of paper over the years, stockpiling them away for future musings. She's very particular about the size and colour of her Post-It Notes, and she prefers to write with one of the dozens of hotel pens she's stolen over the past decade (mainly for sentimental value). A tactile songwriter, she explains that she likes to hold the pen in her hands, feeling it glide onto the paper and savouring the sound of its scratches as her "messy, soft, vulnerable" thoughts flow onto the page.
Fiona Apple, Jenny Lewis, Tori Amos and PJ Harvey are cited as a few of Mayberry's most formative influences in life and in the music she's been working on. They're women who pour themselves and their experiences into their art; storytellers who craft an image so vivid and emotionally charged that it places the listener alongside them in the room where it all imploded — the sadness, love, and self-discovery. "I don't think that you could do any of that in the band," she says, "so it was nice to dig into those things that feel a lot more specifically female in their storytelling and visual language."
She creates a Pinterest mood board for every project, pinning images from film, fine art, and photography. It often starts with a visual reference or a colour that evokes a feeling. "When I think about the colour scheme for the record, it's all reds, greens, metallics, monochrome," she says. "But when I think about the music, it feels less polished than people have heard - intentionally less polished but not less thought out. The way that I've been writing, it's like: lyrics first, title first or concept first. Then it's like, 'OK, what would that sound like?'"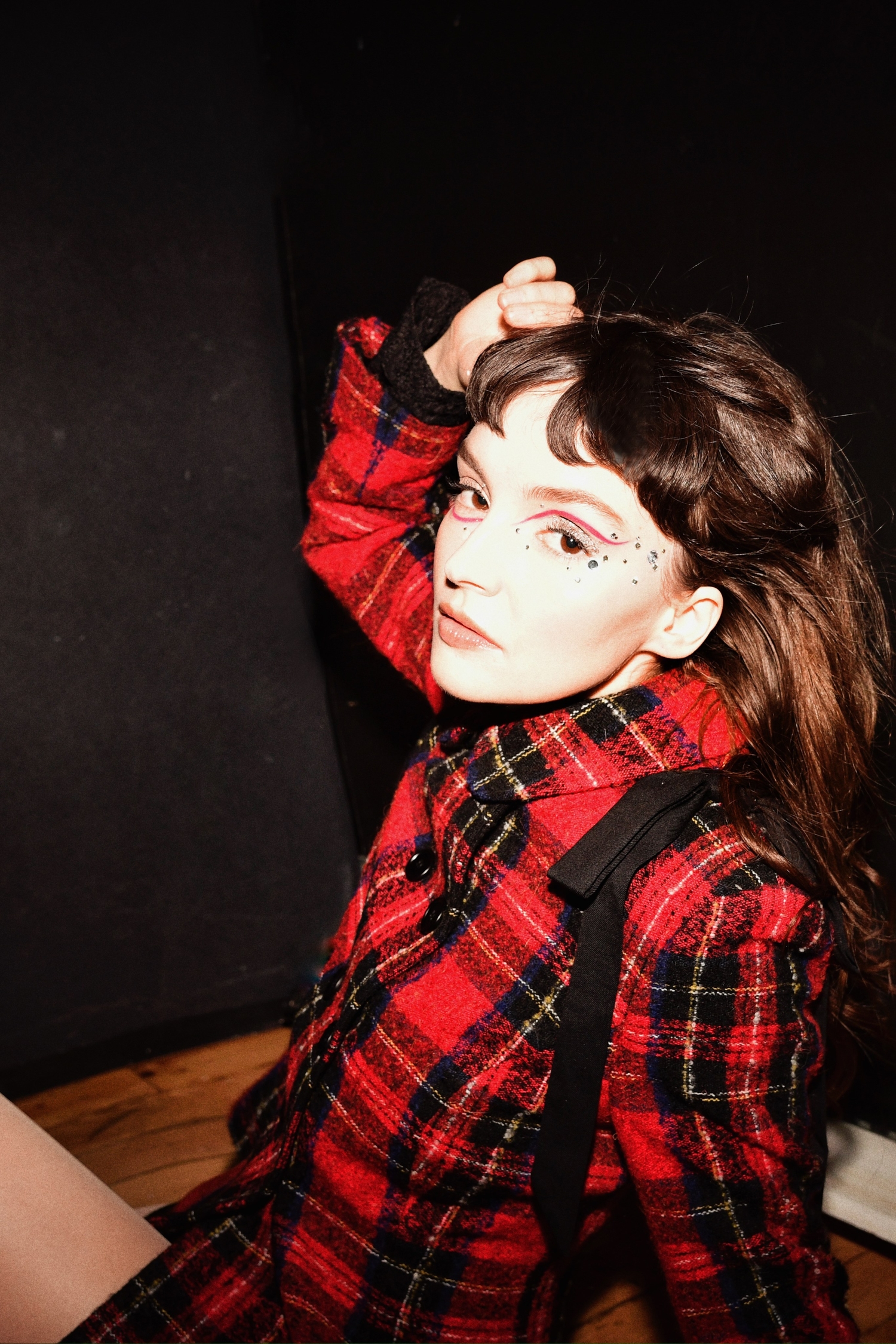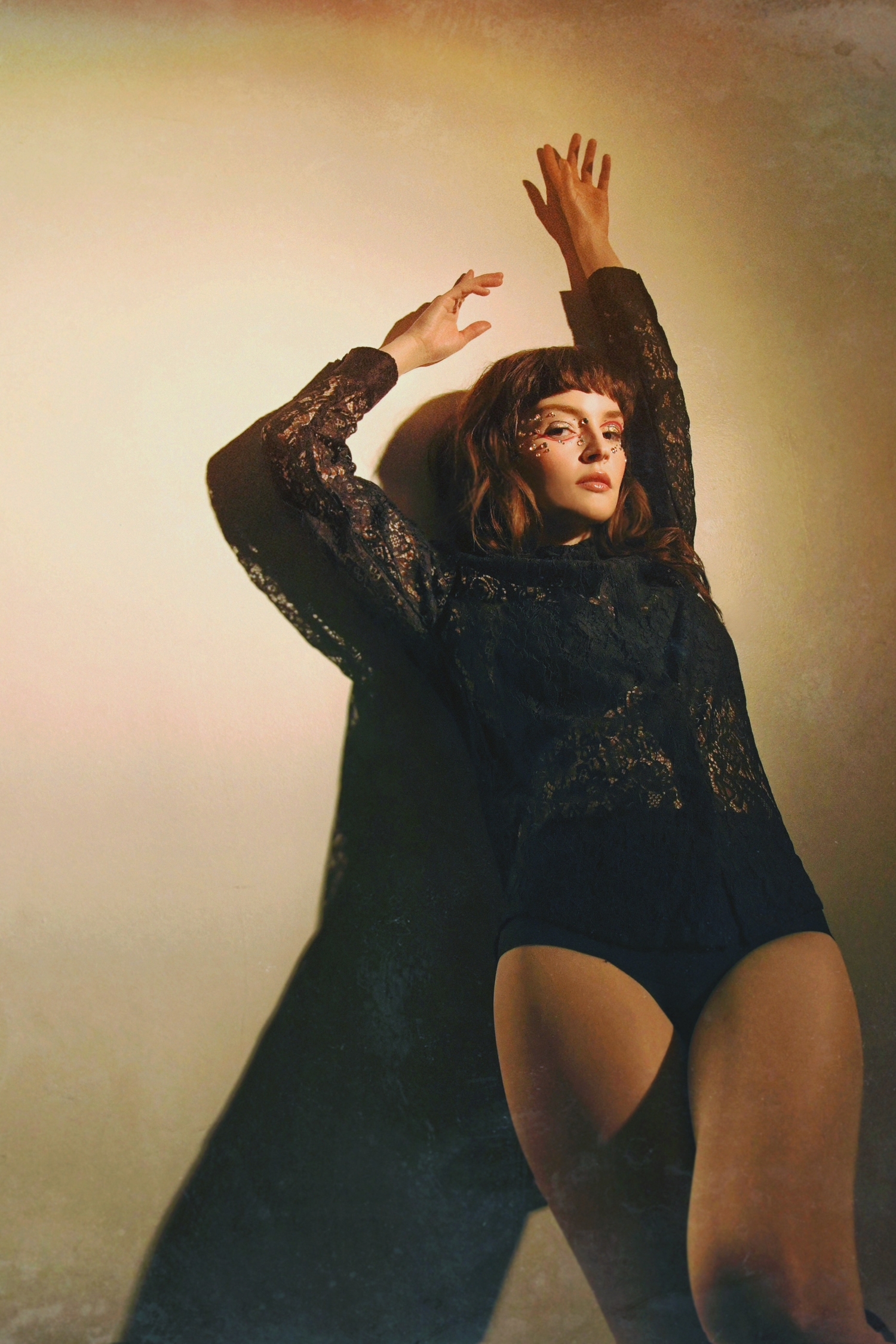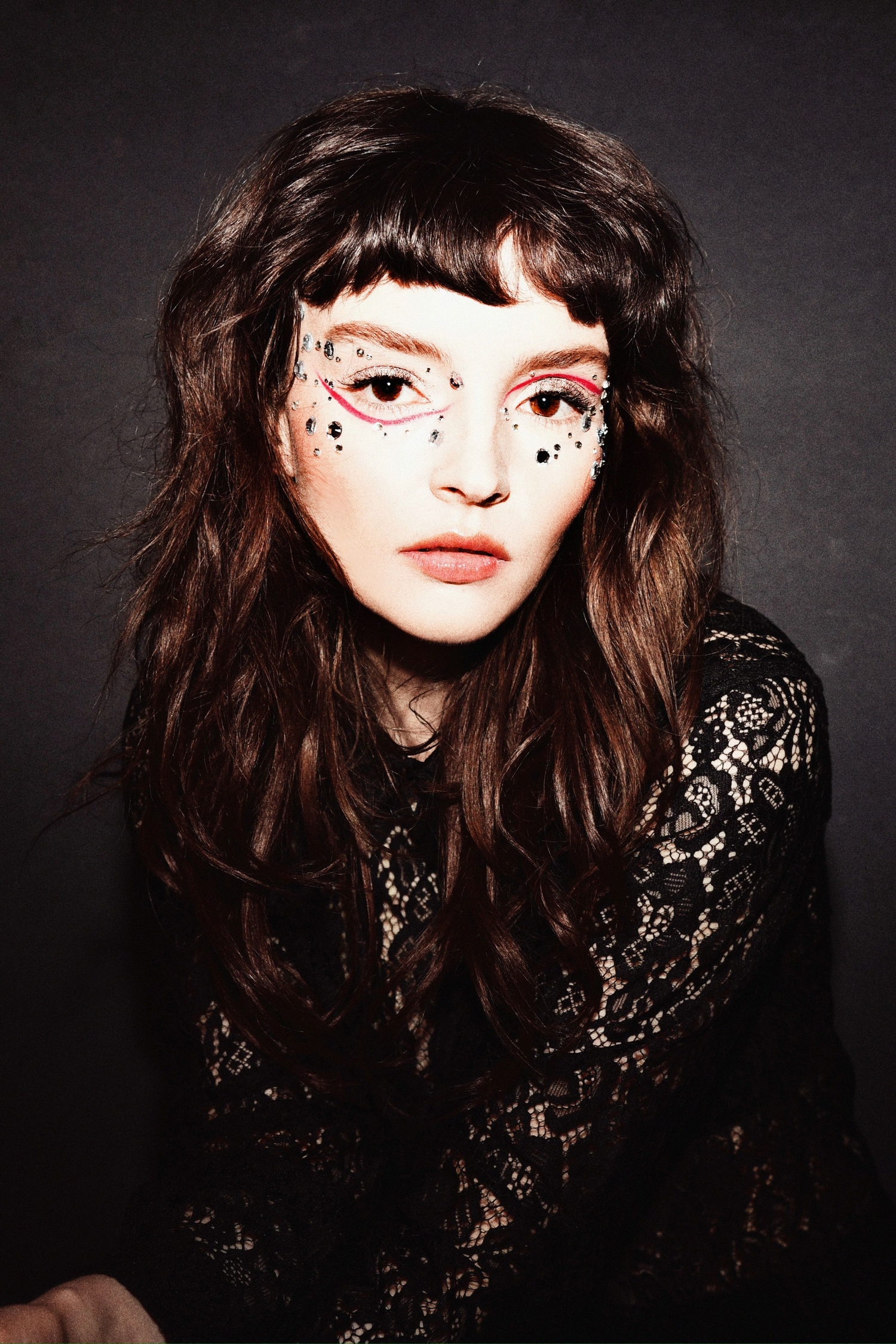 "
"When female singers do something outside the band, it's viewed quite differently. Some people use Gwen Stefani as a verb."
For her live shows, meanwhile, she prioritised setting a mood over bringing in fancy production but didn't skim over any details. "I wanted it to feel very physical and visceral," she says. "Within the budget, that meant glitter curtains, flowers and gloves." The intuition on stage also comes from the camaraderie between her and the band of women and nonbinary musicians she assembled for the tour. "I'm in a girl band, finally!" she exclaimed during the first show at a neon-lit club in Washington, DC.
Mayberry has discovered a more profound sense of community on the road. "It's a very different energy," she says. "I don't know how to describe it. It's a different level of interpersonal care." The band have matching water bottles that they bought during a Target run. They drink wine at the end of the night and do face masks together. They discuss their favourite fizzy water flavours and dissect episodes of And Just Like That... Most importantly, they check in. Their "pre-show thing", as Mayberry calls it, is telling each other what they're most grateful for that day. It helps her get out of her head, to stop spiralling over the dozen things that can go wrong at any moment and focus on the present.
While she's grateful for her CHVRCHES bandmates and their empathy, it never felt like this. "I can code-switch into music dude very easily," she says straightforwardly. "But no music dude has ever switched into my reality. And my reality is Fiona Apple and Liza Minnelli."
There's an element of escapism to the world Mayberry is creating. The drama is heightened yet grounded in terrifyingly real emotions, as illustrated through a series of spoken-word vignettes that break up the set and "put the songs a bit more in context". Her voice pitched lower and more resonant, she quotes Margaret Atwood and reads excerpts from several of her most sacred texts: Charlotte Perkins Gilman's The Yellow Wallpaper, Janice Galloway's The Trick Is to Keep Breathing, and Zadie Smith's On Beauty. "They're books that have been important to me, especially when thinking about this record," she explains. "I'm just a dramatic bitch." It's partly a joke delivered at her own expense — her favourite kind of defence mechanism. Yet, watching as the number of face jewels multiply around her eyes throughout the duration of today's cover shoot, there's also an element of truth to it. On this tour, Mayberry is reclaiming her loud, vibrant self-expression through the copious amounts of glitter she applies to herself and the flashier, more feminine pieces of clothing she's been wearing on stage. "I look back on many of those [earlier] experiences, and I don't think they were terribly positive," she says. "My gender and my body were always talked about at me - I was never really a part of that conversation. It was quite dissociative." It's taken her years and many lyric jars to get comfortable inside her skin again, to feel ownership over her body. "If everybody's always using my body as part of their narrative anyway, it'd be nice for me to feel more connected to that."
The process of reconfiguring her relationship with herself, as an artist and as a woman, is something Lauren Mayberry is still figuring out through this project and solo tour. How does one mentally prepare? "Honestly, I don't know that I did," she shrugs, the insinuation being that all you can do is simply allow yourself to take up the space. It's a lesson she learned more than a decade in the making, but as she concludes: "No matter what happens with it, I won't regret giving myself the permission to do it."
Read More