Versus: FIDLAR and Bully get quizzical ahead of their UK tour
The fuzzy fun-merchants are heading out across the UK together - we got them to go head-to-head to celebrate.
Should've guessed, really. Releasing two of the year's best albums was never gonna be enough for FIDLAR and Bully, two acts who've grabbed 2015 by the scruff of the neck with their respective brands of fuzz, fun and fury. Nope, despite the fact that both FIDLAR's 'Too' and Bully's debut 'Feels Like' received the full five stars from DIY this year, they're keen for more. Starting tomorrow (11th November), both acts are heading out on a UK tour together. VANT are hopping aboard too. Madness, we tell thee.

It's bound to get sweaty and a little bit debauched, so we figured it was probably best to sit down with them both before the silliness gets a-rolling. Below, Zac Carper of FIDLAR chats to Alicia Bognanno of Bully about everything from recording techniques to Shia LeBouf. Then we flip-reverse it, Alicia grilling Zac on various Star Wars-related battles and 'van vibes'.
Full dates for what will undoubtedly be one of the tours of the year can be found below, too. Our previous, less chaotic (only slightly, mind) interviews with FIDLAR and Bully are here and here, respectively.
Zac of FIDLAR, to Alicia from Bully: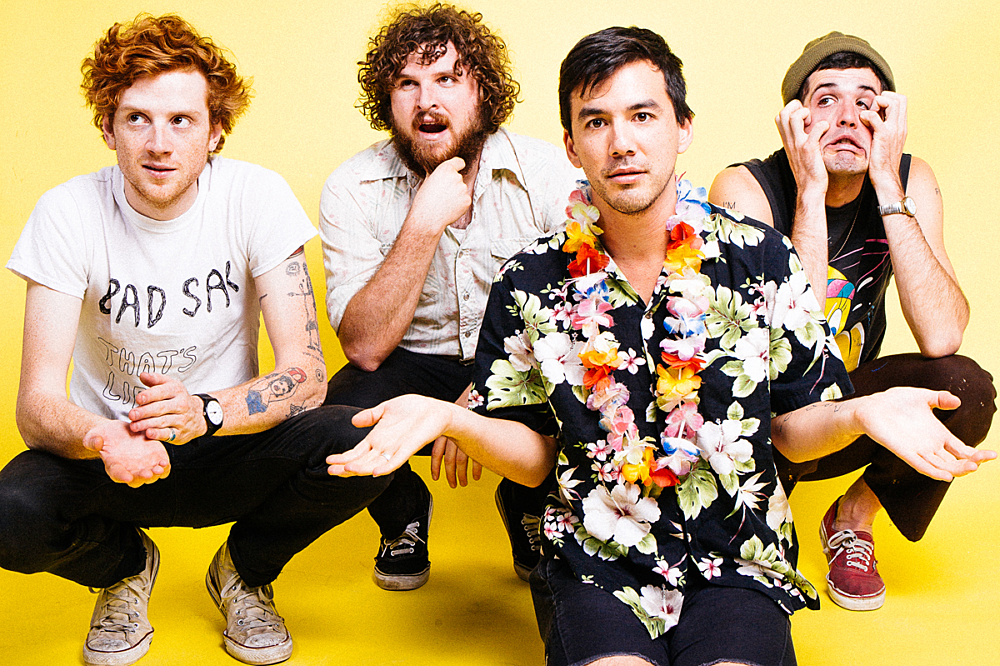 So, whats the deal with the name Bully? I think its an awesome name, just wondering where it came from.
I wrote the song 'Bully' before we even had a band name and when it came down to picking the band name it seemed like it fit. The song 'Bully' is sort of about weighing yourself down and - as cheesy as it sounds - being your own bully. A lot of our songs are based off personal experiences and coming up from a low point so with all that in mind I thought it was a pretty suitable band name for us. I also like that it's simple and pretty easy to remember. :)
Listening to your record, it seems that it is very band oriented. Do you guys all write together? Or is it more of a "here's a song" kind of thing?
I write my guitar and vocal part or at least the melody of it then I bring it to band and try and tell them how I think the song should feel. After that we just go from there and try and work it out. Sometimes it all goes really smoothly, other times we just end up scraping it.
I thought being in a band meant you had to teach yourself how to record. It seems like you had the same experience. You went from working at a recording studio to being in a band. Could you see yourself producing in the future? Or rather, could you see yourself working with a producer?
Producing or being a producer isn't something I am very interested at the moment. I don't think a band should come to me to tell them how they should sound because how would I know what's best for them? The same goes for us when it comes to having a producer - there isn't anyone that I know well enough or feel so connected to that I would want their input on how the record should sound. Writing and recording a record is a very personal thing and I feel strange adding someone outside the band into that process. With that being said we only have one record out right now and maybe along the way we will want to bring something new to the records or find someone who we think would be perfect to work with. Aside from producing I would definitely love to engineer other bands' records and hopefully once I get some down time I can focus more on that.
Nerd out with me for a second… do you compress and EQ pre-tape or in the mixing stage (post)?
The only things I compressed and EQed pre tape were bass and kick and I believe with vocals I compressed a little but didn't EQ pre tape, everything else I do post, unless I'm feelin' risky! Good question, good question!
What was the first band? You know what I'm talking about… the first band you listened to and obsessed over. The first one you wrote on your folder in social studies.
Stewart - Yes
Alicia - The Pixies
Clay - Weezer
Reece - Green Day
One of my favourite songs on 'Feels Like' seems to be a bonus track called 'Shark Tooth'. Was that on an EP before? What's that song about?
Yes, that was on an EP before. When we tracked it for the record we couldn't decide if it would flow with the rest of the record or not but also we were under the impression from our label that whatever we had on previous EPs that didn't make the record would be taken down. Ultimately we weren't ready to lose the song for good so we kept it and put it at the end as a bonus track. To keep it simple the song is about people who are very particular, unintentionally stuck-up and passive aggressive - do you know the type of person I'm talking about?
If you were stranded on an island that had a TV and a DVD player, and you had a choice between two movies… There Will Be Blood or Transformers (the first one with Shia). Which would you choose?
Stewart - There Will Be Blood
Clay - There Will Be Blood
Alicia - There Will Be Blood
Reece - Transformers
Alicia of Bully, to Zac from FIDLAR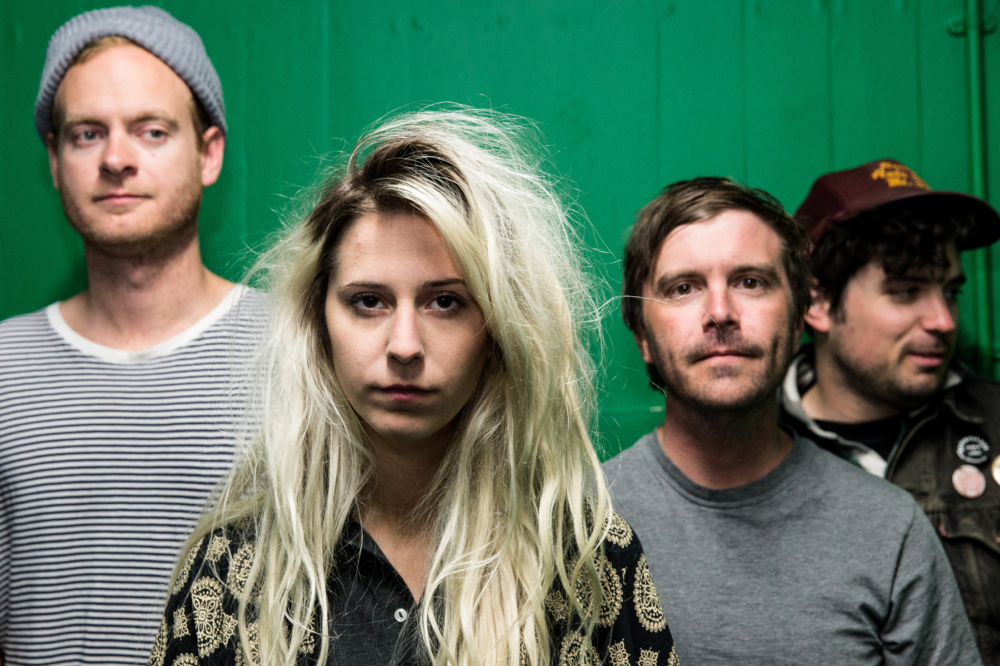 Who would win and why:
Yoda VS Gandalf: Yoda hands down. That dude's got the force.
Terminator II VS Wolverine: Wolverine because duh.
Voldemort VS Emperor Palpatine: Emperor Palpatine because a teenager killed Voldemort…
Whats everyone's van vibe? Who reads, who is loud, who snacks the most etc.
Our podcast game is pretty solid. Brandon and Max watch a lot of TV shows together. Elvis listens to music and throws stuff at Max. I talk to Brandon in different accents.
Are you guys able to write at all when you are on tour or do you usually do it all when you are back home?
I write a shit ton when I'm on tour. And I also just got some gear to be able to record on the road. I've done a couple ideas already and its super fun.
Who is your dream tour manager (real or fictional, living or dead) and what would be the ultimate vehicle to tour in?
Bill Nye. A Prius tour bus.
The '40oz On Repeat' video pays homage to a lot of iconic videos. Did you guys choose which videos you wanted to recreate or was that a collaboration between you guys and the director?
Ryan Baxley definitely had a heavy hand in it. He is my brother and he is our dude when it comes to video/art/creative. He also helps me write lyrics sometimes.
Out of all of the tours you have done which one was the most fun and why?
I would probably say our very first west-coast tour was my favourite. We didn't have a tour van then so we had to borrow Max and Elvis' parents Suburban and we all piled in it. It was mainly house parties. Not having a place to sleep every night really puts you in some weiiiiiirrrddd situations. And that tour was full of them.
What's the first thing you do or place you go when you get back from tour?
Urgent Care, 'cause I always get sick when I get back home.
Is there a certain amount of time you can be on the road without loosing your mind? Or does it differ depending on the circumstances?
I'd probably say seven weeks is my cut off. By the fourth week, I'm kind of over it. By the fifth week, definitely over it. Sixth week, 'get me the fuck out of this van'. Seventh week, I hate myself and I want to die. First week back home, 'oh, this is nice'. Second week back home, 'I'm so fuckin' bored, what do I do with myself'. Third week back home, 'get in the van!'
NOVEMBER
10 Bristol O2 Academy
11 Manchester Ritz
12 Glasgow Garage
14 London The Forum
15 Birmingham Institute

Get your copy of the latest issue