Two's Company: Bachelor
When Jay Som's Melina Duterte and Palehound's Ellen Kempner met, they instantly became bezzies. A few years later, they're introducing Bachelor: a collab built on mutual, big-hearted admiration.
You could guess a few theories behind why Bachelor - the new 'supergroup' project of Melina Duterte (aka Jay Som) and Ellen Kempner (aka Palehound) - might have named themselves as they have. A meeting of minds behind two of US indie rock's most thoughtful protagonists, perhaps it was a stab at a still male-dominated industry, or even a nod to their own new union following predominantly solo careers?
"You know The Bachelor? I'm a HUGE fan of that extremely chaotic TV show - I'm obsessed, I love reality TV, I love Love Island and all of it," chortles Melina. "So I got Ellen into that when we were recording and she was the one who said we should name it Bachelor. It's funny because we are two of the gayest people that are naming ourselves Bachelor, and it's such a hetero word." "Today one of the bachelors came out as gay so I'm not saying we had anything to do with that, but we didn't NOT have anything to do with it," notes Ellen sagely. "I feel like we put that vibe out there…"
In conversation, it becomes quickly clear that an evening spent hooting at the exploits of TV's more eyebrow-raising stars is far more befitting of the pair's mutually adoring friendship than anything overly serious. Meeting for the first time at a shared gig in 2017, both profess to having been rapturous fans of the other's work before they became pals; immediately feeling "a really special bond", from there the seeds of this month's debut 'Doomin' Sun' were sown.

"Everything's designed to pit us against each other and that's a part of music that's so dumb."
— Ellen Kempner
Written during a two-week stint out in Topanga, California, the pair describe the experience as one entirely full of "hyping each other up, having fun, laughing". Rather than an ego match between two people used to fronting their own projects, Ellen recalls the tone of divvying up their new wares: "'You can sing this one if you want to!', 'Ah no man, you take this one' - that was the vibe the whole time, never any fights or weird tension," she smiles. "I'm an Aries and Ellen is a Gemini and I think that's a match made in heaven," says Melina. "It just works well like that. You've got to trust astrology."

Though they fondly regale tales of 'crazy time' - the inevitable 7pm point in the day when neither could function - there's evidently a bigger shared viewpoint and mutual understanding that lies at the heart of the record's sonic freedom. Loose-sounding and smart, yet warm and inviting, 'Doomin' Sun' rattles between tracks like the heavier 'Stay In The Car' and the slow-burning 'Sand Angel' with an ease that's palpable.
"We were having these really deep and vulnerable conversations with each other that made it really easy to share ideas," explains Ellen. "Writing lyrics is embarrassing, no matter who you are! But I didn't really feel embarrassed [here] because we really had gotten very raw with each other already in every way." "We grew up at opposite ends of the spectrum in terms of music taste, but we were both gay, and being two queer musicians that's something we can talk about with each other - about how it affects our daily lives and our careers."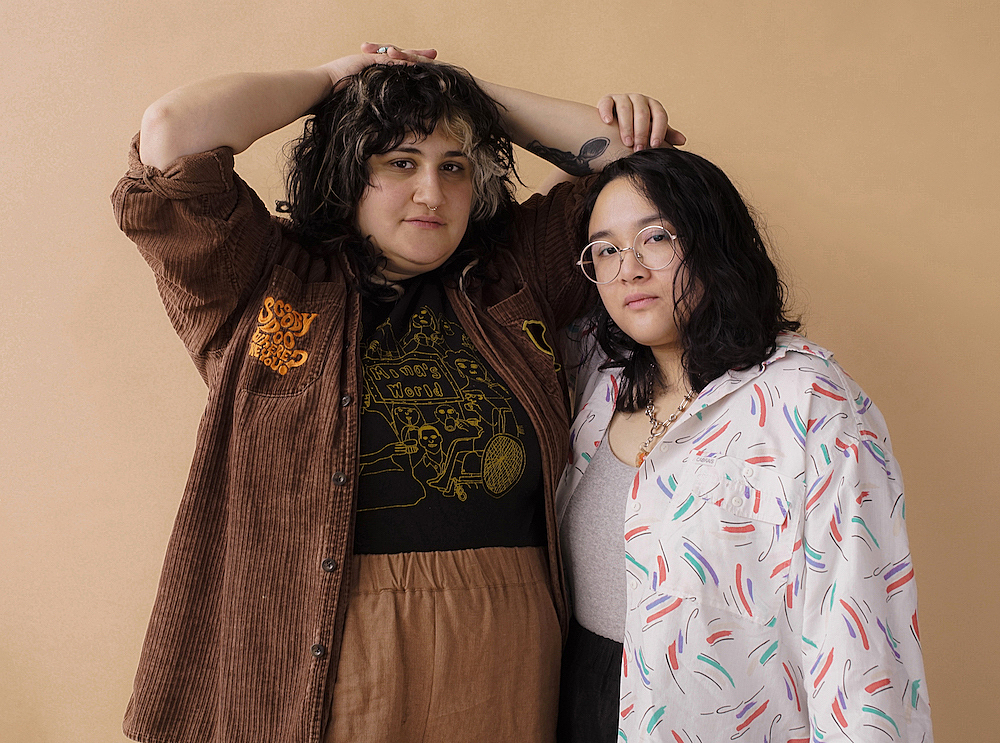 "I'm an Aries and Ellen is a Gemini and I think that's a match made in heaven."
— Melina Duterte
Offering a support network between each other and between musicians in general is something Bachelor are vocally passionate about. Like boygenius (the trio of Phoebe Bridgers, Lucy Dacus and Julien Baker) before them, Jay Som and Palehound's musical union is a notable two-fingers to notions of competition and rivalry within their spheres.
"That's one thing I've noticed over these last couple of years, the gatekeeper-ness of the industry and how unfriendly it can be, how people want to pit you against other people because you also are a person with a guitar and you play this sort of music, but it shouldn't be a competition," says Melina, as Ellen picks up: "Everything is designed to pit us against each other. Shit's designed to feel very competitive and we're supposed to be insecure and we're supposed to be trying to outdo each other. People love competition and comparing people, and it's a part of being in music that's so dumb. Sometimes I feel like I'm on a reality TV show…"
Reality TV is clearly inescapable, but thankfully the premise for any show based on these two would be a far less provocative one. It might not make scandalous gossip column inches, but theirs is the perfect formula for a truly solid, supportive relationship - and one that's only set to get stronger. "Ellen is moving to LA and you know what that means!" grins Melina. "We're just gonna be closer to each other!" "That's one of the main reasons I'm moving," beams Ellen, "it's really exciting the idea of being close and doing this [band] whenever we want to."
Sod creating pointless conflicts to vie for an imagined crown - this Bachelor's all about shared victories and mutually manifesting something magical.
'Doomin' Sun' is out 28th May via Lucky Number.
Read More