Interview Burning down the house: The Japanese House
The Japanese House's long-awaited debut is fuelled by death and heartbreak, but there's a defiance to it too. We meet Amber Bain in Berlin to talk mushrooms, weird dreams and new beginnings.
Amber Bain has been having weird dreams. It might be, she tells us, because her and her bandmates in The Japanese House have smashed their way through four series of Game of Thrones in the two weeks of their European tour so far - it's her fourth run-through of the medieval dragon orgy fest to date - but things have started to get more than a little strange.
"The one last night was soooo creepy," she exclaims, slightly nervously. "I announced a new show the other day, and Julia Cumming from Sunflower Bean commented on Instagram saying she was excited about it. Then last night I had a dream that I was backstage at a show about to go on, and she was there, and said to me 'I've never heard your music, but I'm excited to see you play', and I thought 'That's weird, you commented saying you were excited about that show I'm doing?!'. Then she got her phone out and started playing 'Saw You In A Dream' out loud in front of me. She said it was the most boring song she'd ever heard! Anyway, this morning I wake up and go on Instagram, and the first thing I see is a follow and a message from Julia, saying she loves my music, and her favourite song is 'Saw You In A Dream'. What the fuck. A song with THAT title too," she chuckles. "It's been happening a lot recently. I'm definitely the chosen one. Not sure what I'm chosen for, but…"
The singer is sitting in the corner of the musical and cultural hub that is Berlin's Michelberger Hotel. It's a bustling place, full of life. Amber lets herself fall further into her theories about why these too-good-to-be-true dreams keep coming. It's a week until the end of her first tour of the year, a three-week European run in advance of the release of her long-awaited debut album, the revelation that is 'Good At Falling'.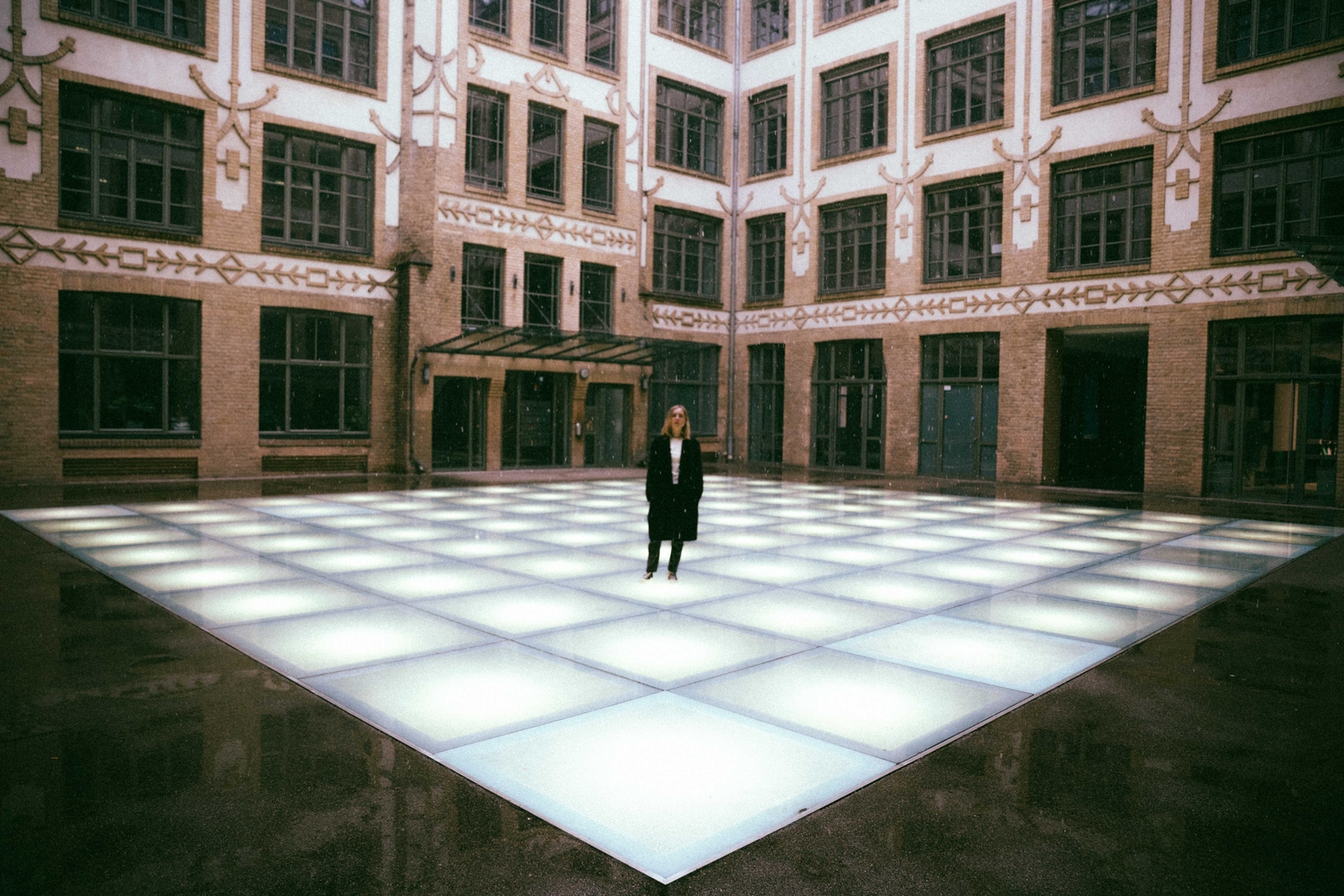 "I'm definitely the chosen one. Not sure what I'm chosen for, but…"
Releasing debut EP 'Pools To Bathe In' back in 2015, The Japanese House emerged in a shroud of mystery, as so many projects do. A four-track collection of heavily autotuned vocals and skittish, lush production, it was an intriguing introduction, but one that revealed very little of the person behind it. Rather than a marketing ploy to keep anonymity. This evasive tactic was rooted far more in real life.
Growing up as an extroverted child, it was with the breakout of severe acne in her teens, resulting in extreme bullying at school, that saw Amber retreat within herself. "The only reason the project was 'mysterious' in the beginning was because I was so genuinely terrified of having my photo taken," she reflects. "It wasn't meant to be some genderless, anonymous thing."
In the two years and three EPs that followed, Amber's music went through gorgeous, considered progression, the confidence gained from lauded live shows, support tours with Dirty Hit labelmates The 1975 and picking up a cult-like following bursting out in songs that saw her emerge from behind her initial cloak of anonymity to become something approaching a rock star. The self-criticism still exists to an extent ("I have a habit of searching 'Amber Bain is shit' on Twitter," she laughs. "Luckily there have only ever been 20-or-so tweets to that tone!"), but the near-four-year lead up to her debut has witnessed an artist changing, growing and learning to share.
It's all solidified on 'Good At Falling', an album that puts Amber front and centre on the most direct, confrontational and confessional music she's released to date. In 'Follow My Girl' and 'Maybe You're The Reason', she's written two radio-friendly numbers, singing of uncertainty and self-doubt, but transmitting it via bright, danceable pop. The record's darker corners, meanwhile, mine the depths of grief and personal upheaval with confidence and defiance. When the album ends with an acoustic take on 'Saw You In A Dream' - the only 'old' song to make it onto the full-length - the full circle achieved is gorgeously satisfying.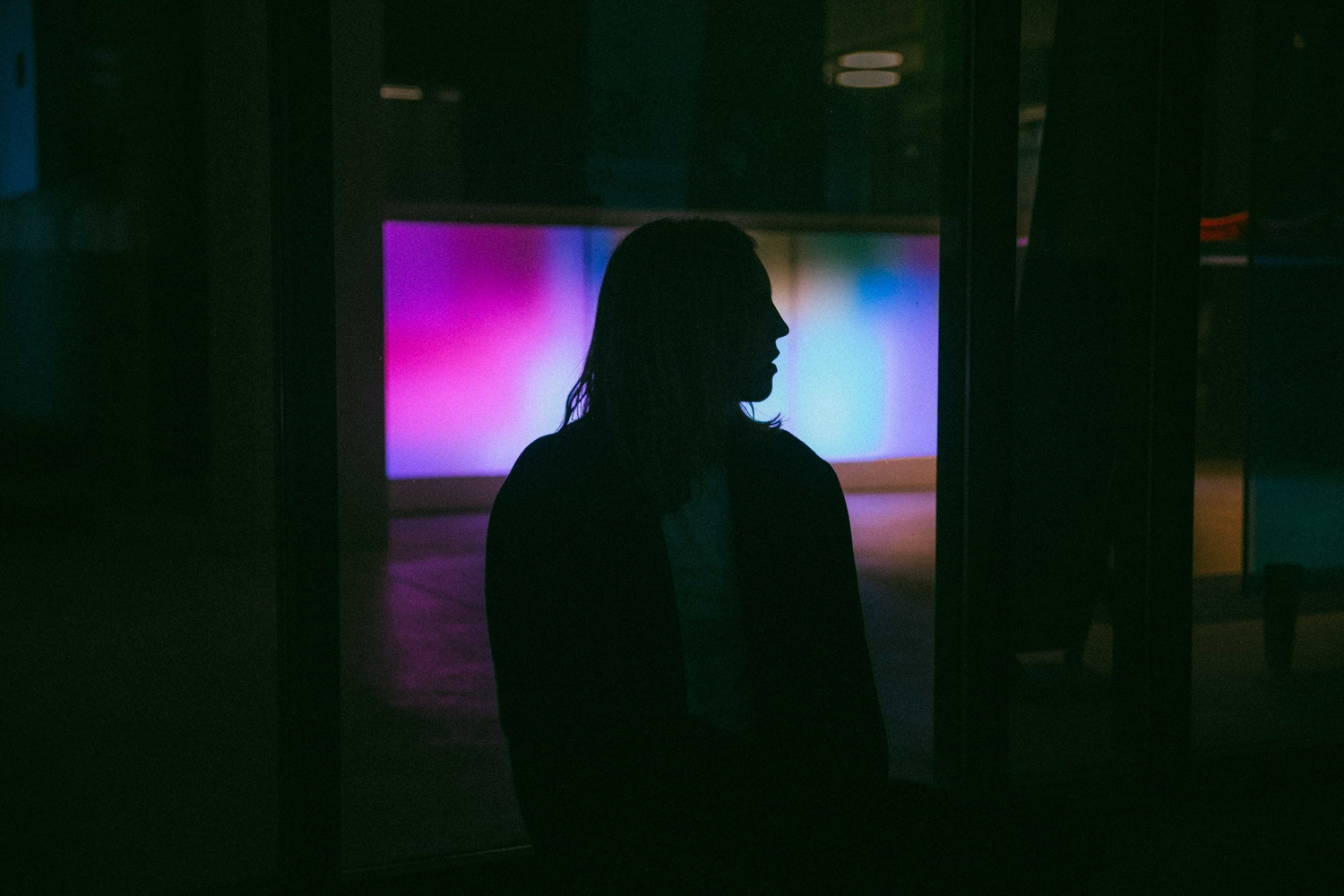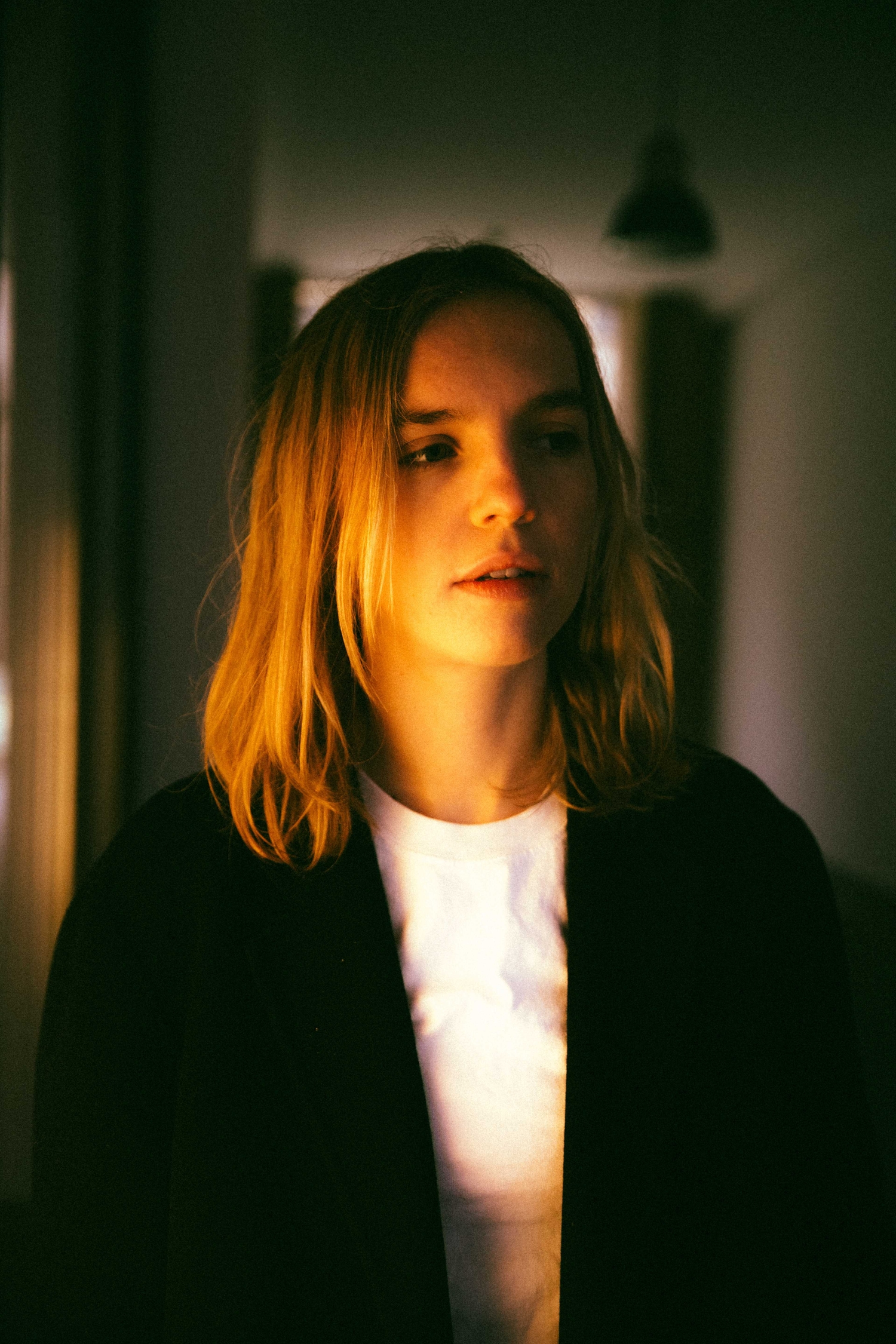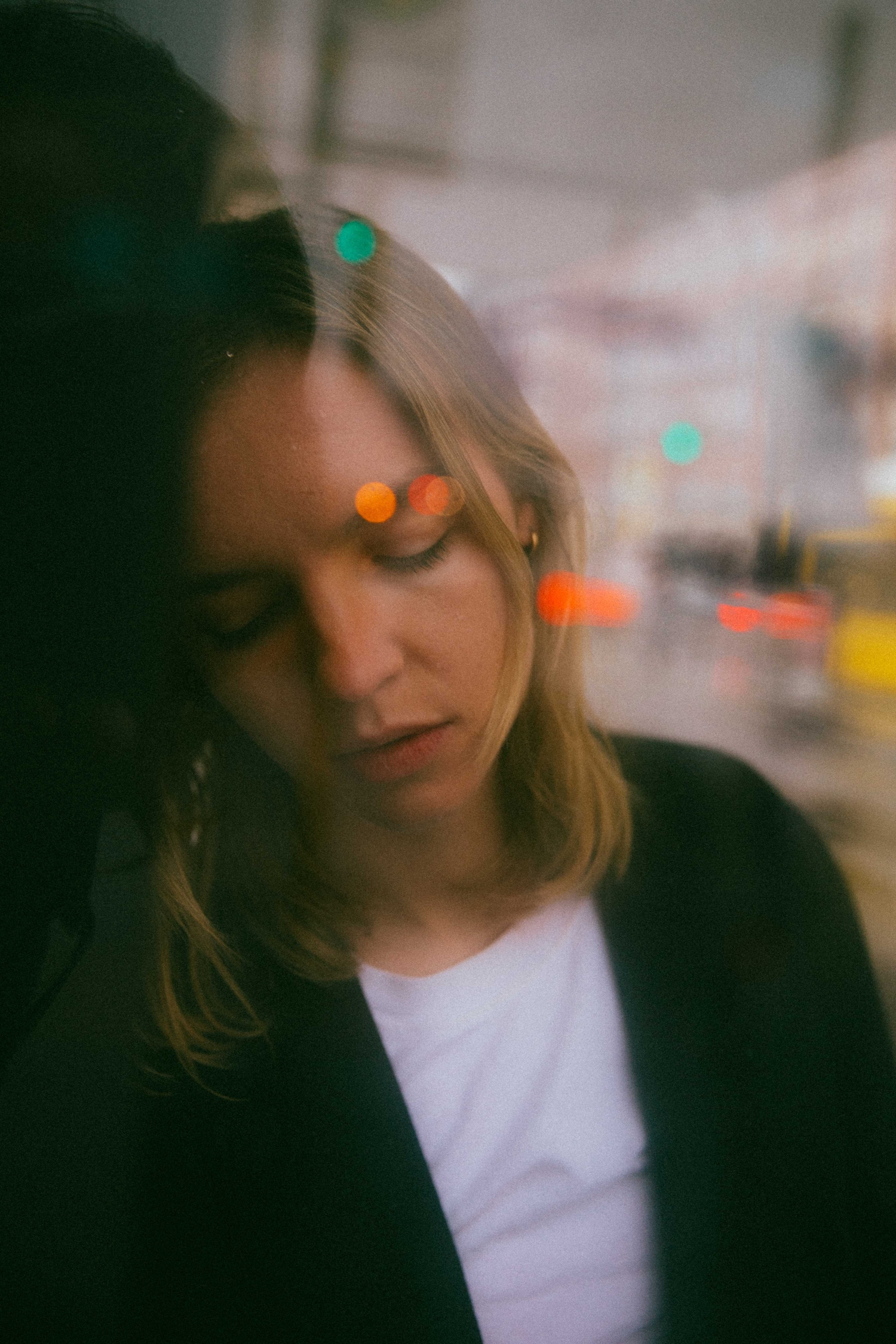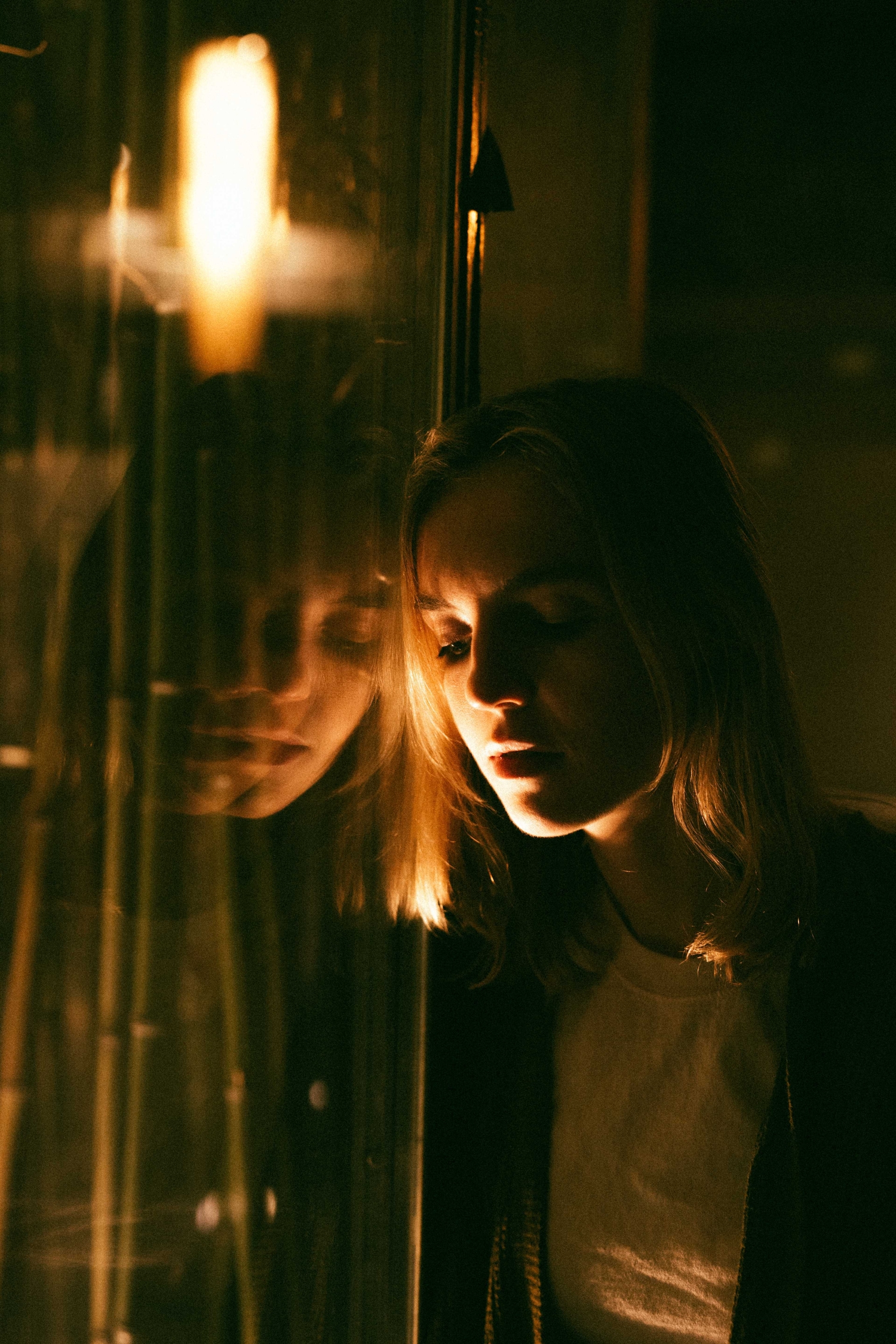 "I have a habit of searching 'Amber Bain is shit' on Twitter."
Across her four EPs, Amber worked almost exclusively with George Daniel, a close friend, and The 1975 drummer. When a timeframe started to come together for the recording of 'Good At Falling', however, the pair's schedules completely clashed, with George working on what would become last year's 'A Brief Inquiry Into Online Relationships', unable to helm the production for the debut album. A talented producer herself, Amber began working alone, but after a while the isolation and inability to bounce ideas off someone else became too much. "I knew I needed to work with someone, anyone," she remembers.
The first step to finding this someone was, obviously, typing some of her favourite albums into Google. The first three records she looked up were Bon Iver's '22, A Million', Sylvan Esso's self-titled effort, and the Justin Vernon-featuring track 'Meet You In The Maze' from James Blake's 2016 release 'The Colour In Anything'. The connection between them all? They featured production from BJ Burton.
"I reached out to him over email," Amber remembers, "and a few days later he got back saying 'I'm SO glad you received my email and want to work with me!' It turns out we'd both got in touch with each other suggesting that we work together in a matter of days, and then just started arguing about who emailed first. 'NO, I wanted to work with YOU!'" she laughs. Like those dreams she's been having, it's almost too perfect to be true. With that, she packed her bags and headed to Wisconsin.
"The only reason the project was 'mysterious' in the beginning was because I was so genuinely terrified of having my photo taken."
"It's not a cabin in the woods, by the way," Amber laughs. "Everyone's like 'I can't believe Bon Iver locked himself away in a cabin in the woods to write his first album', and, like, it's very isolated, but it's two massive studios and a whole complex. Not quite a cabin."
Working with BJ at the infamous studio - April Base, just outside Justin Vernon's home town Eau Claire - Amber found a new forward motion with the producer, spending a hugely productive, surprising and, it turns out, incredibly creepy few months in the midwest wilderness. Between stories of Kanye West's stays at the studio, daily interactions with, let's say, 'intriguing' locals, and help from certain substances, it was a wild ride. "I'd never taken hallucinogenics before," Amber says, "but one night me and BJ did mushrooms and ended up writing a song while absolutely out of our minds. We then completely forgot that we'd even done it, and it wasn't until we were out in Brussels finishing the album that BJ was looking through files and found this song. We'd lost all memory of it, but we liked it so much that it's now the intro to the album."
Despite the laid-back, often hilarious few months Stateside, on Amber's return her life was pretty much turned upside down. Within a month, her long-term relationship ended, she moved in on her own and entered what she describes as six months of the worst depression of her life. The end of Amber's relationship, with singer-songwriter Marika Hackman, is stamped all over the album, and Marika also appears as Amber's love interest in the stunning, heart-thumping video for single 'Lilo'. It seemed like the natural choice, she tells us, but also, in line with the rest of 'Good At Falling', sees her come out fighting. "It was probably a stupid idea to put myself back in that situation after being broken up for six months," she reflects, "but I'm really bad at acting, so didn't want to just have to kiss some actor." She then mentions a song set for Marika's upcoming third album that reflects on their relationship. "I want to do a remix of one of the songs on the record, and though that one makes me incredibly sad, it's the only one [of the songs] I could ever do."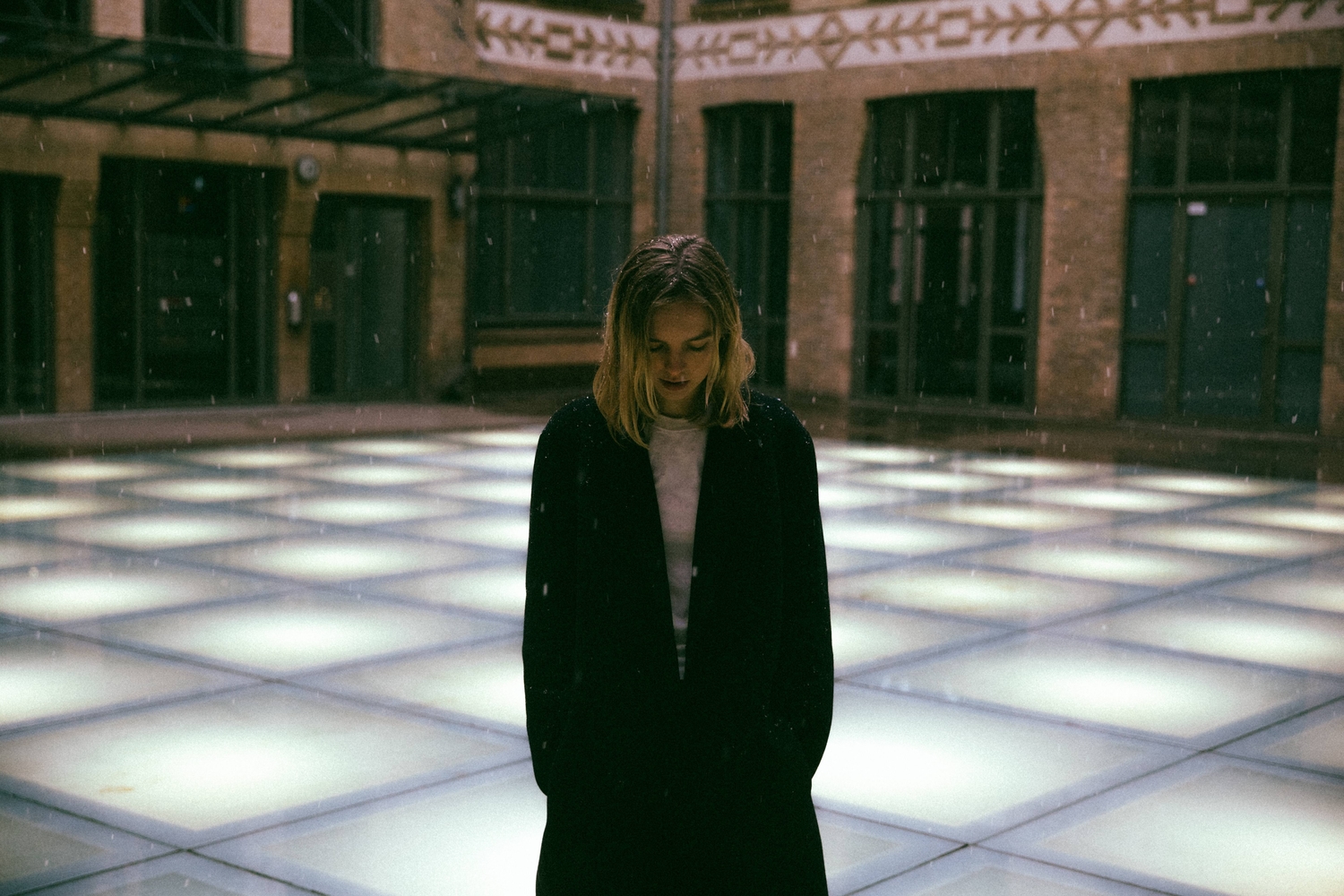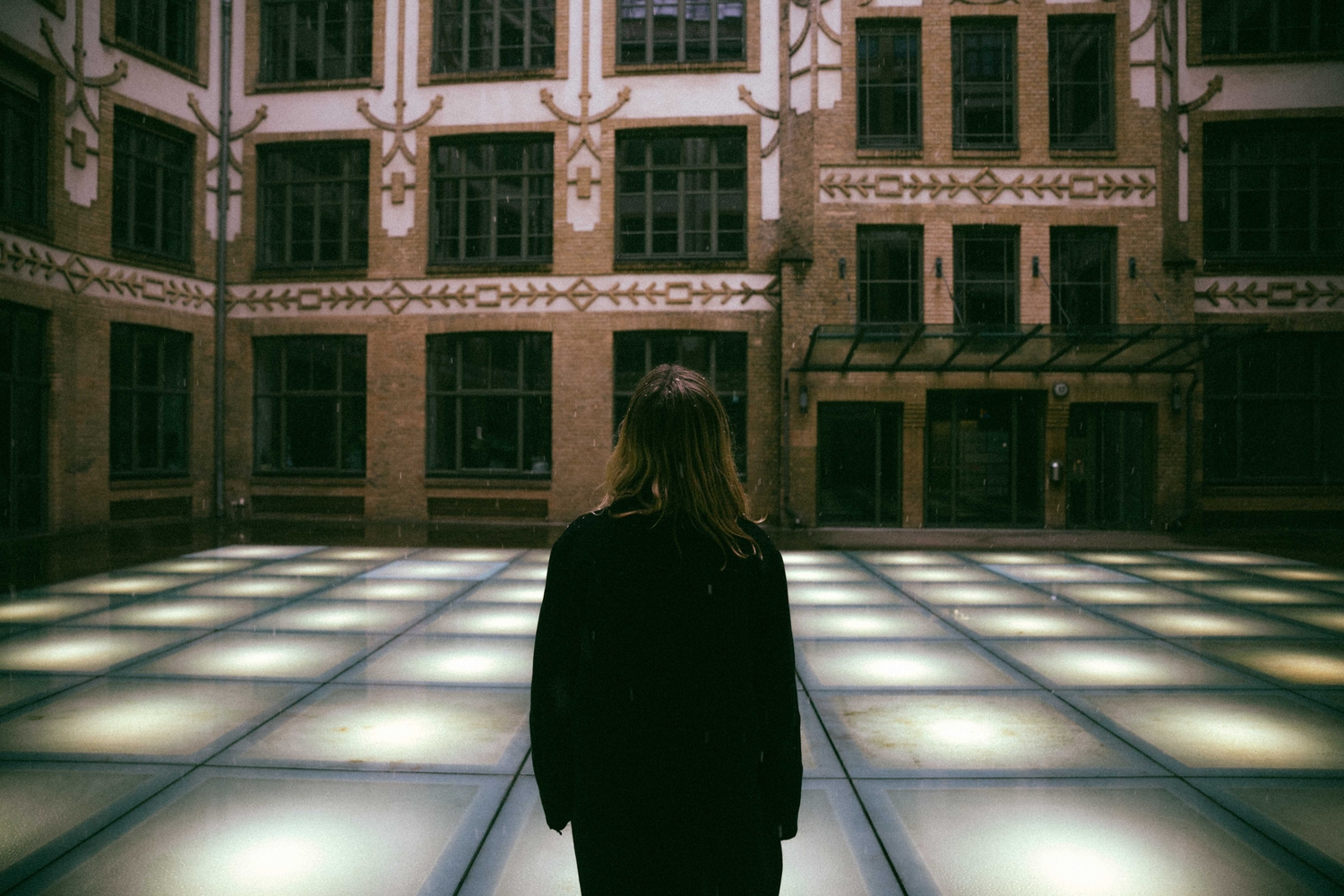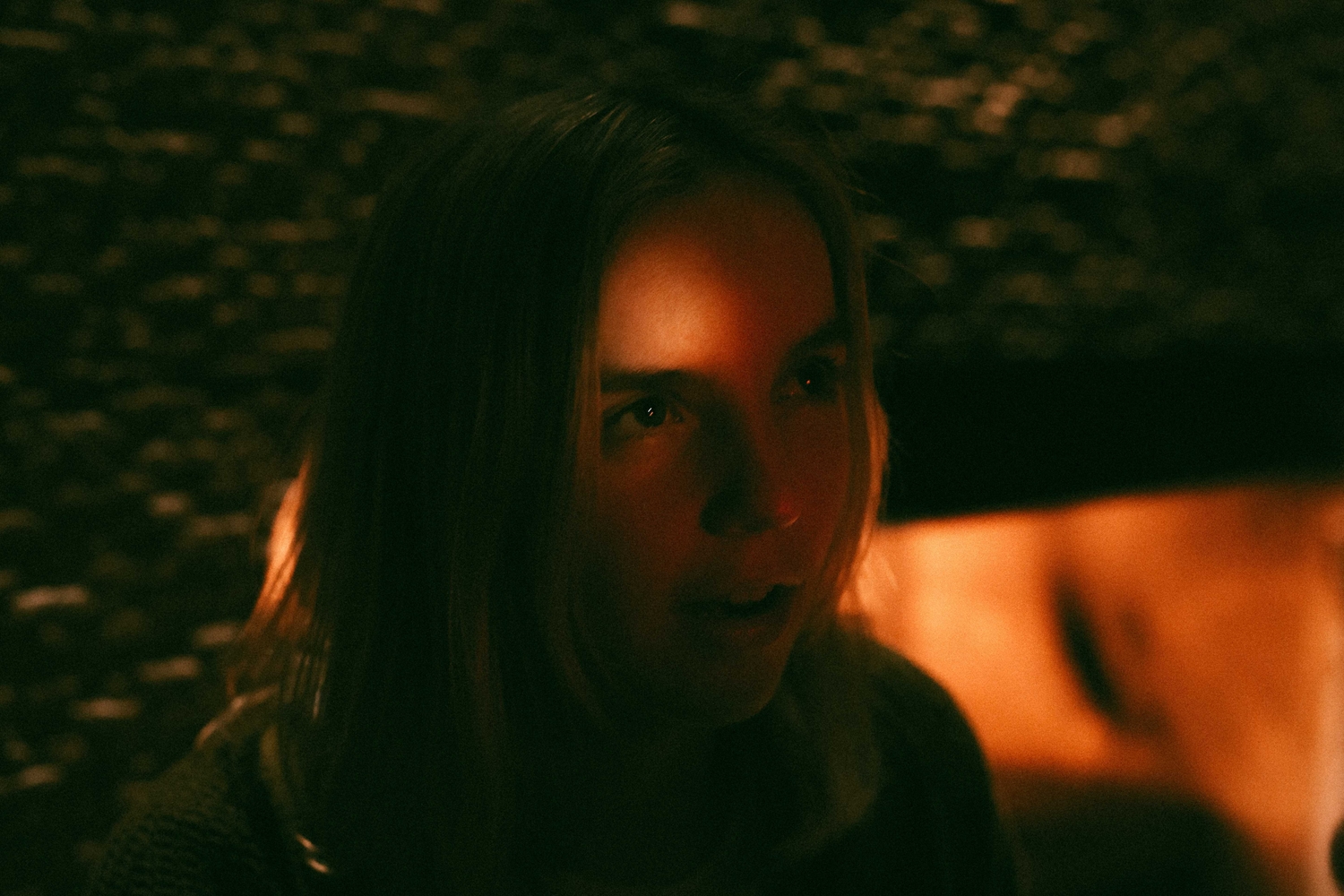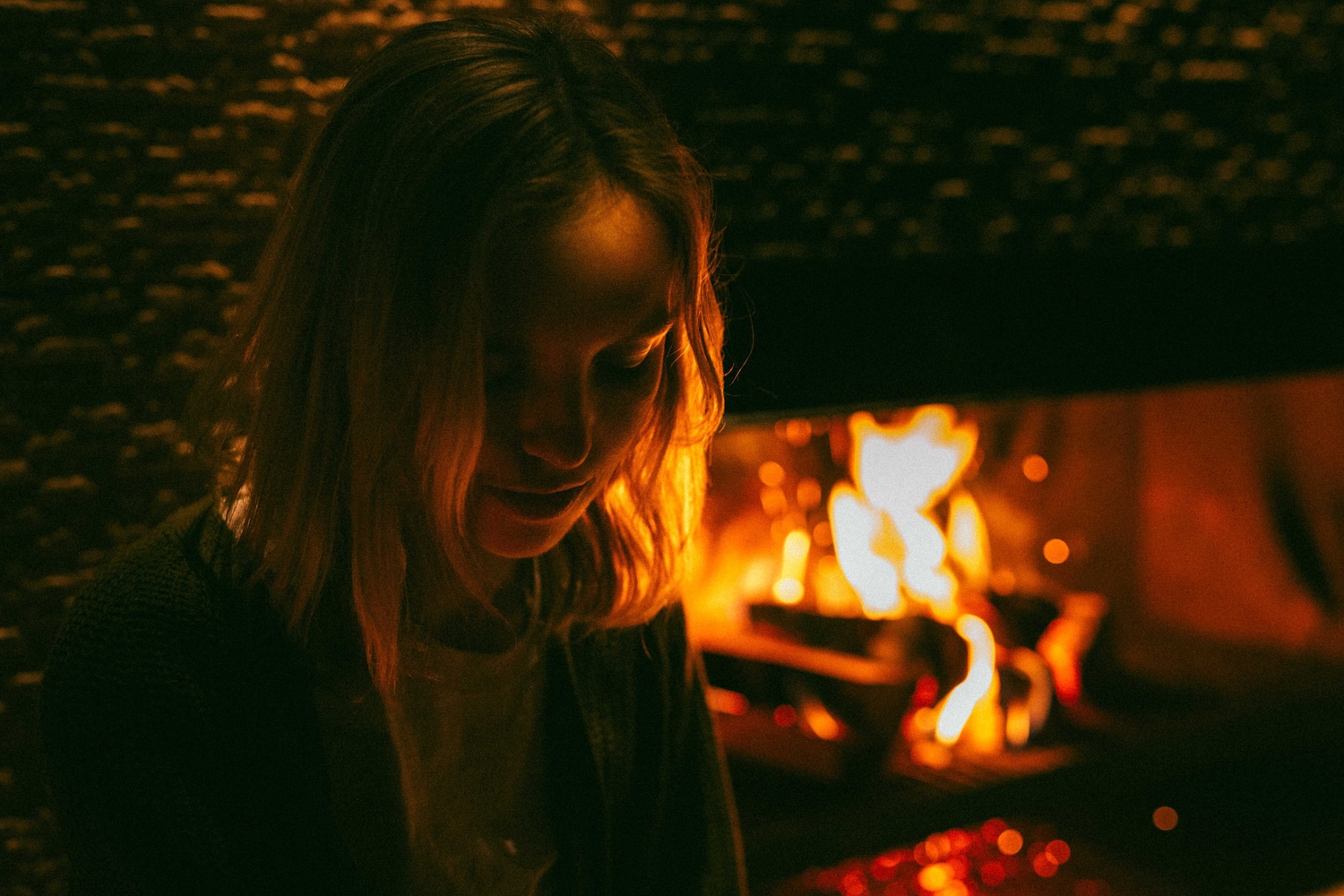 "Everything I knew got knocked down, and I had to build myself back up again."
"It's really strange, waking up one day and all of a sudden not having to spend your day looking after someone's feelings and making them happy," she reflects. "Music became the only thing I had left." Album highlight 'Worms' reflects on this, where Amber sings of "sharing a house, sharing a life, sharing a home / so much pressure not to be alone," before deciding to "invest yourself in something worth investing in" in its bright, bouncy chorus. Mulling over the idea that the end of both work on her debut album and her long-term relationship marked the end of an era, she returned to the studio almost immediately after 'Good At Falling' was completed, cutting a trip to her parents' for Christmas short to start work on album two. "I'm on medication for my skin, and that's given me so much of my confidence back," she reflects. "Everything I knew got knocked down, and I had to build myself back up again, but I'm slowly but surely learning to become a normal, functional human again."
The idea of her roaring into a new era is solidified at tonight's show at the cosy Kantine am Berghain, which sits in the shadow of its notorious superclub namesake in a industrial area of East Berlin. Shredding like a rock star on new album cuts, inviting two particularly zealous crowd members on stage for a finale of 'Clean' and demanding the crowd send forward a vodka and Diet Coke for her after spilling hers on stage, it's the most confident and commanding she's ever been, roaring towards the day she releases an album that lays out her all best and worst days with honesty and directness, all with a desire to move firmly forwards. It sounds like a dream.
'Good At Falling' is out now via Dirty Hit.
#AD
Records, etc at
Read More
Popular right now
Featuring King Gizzard & The Lizard Wizard, IDLES, Tkay Maidza, Sleater-Kinney and more.