Interview Deers: "We don't need no violins or gospel choir"
Stars of the DIY London all-dayer, Madrid's Deers are bringing broken kazoos and unlimited enthusiasm to the UK. No praying rituals, though.
There are few experiences in life quite like watching Deers onstage. A hurricane of raucous tinny melodies, and yowled, somewhat improvised vocals, wherever Deers land, things invariably turn a little loco.
It's been a busy summer for the Madrid-based band, and along the way Deers tragically lost a kazoo to the unpredictable ways of the road, and doubled in size to become a four piece.
Founding member Carlotta Cosials and new recruit Ade Martin are enjoying a pit stop in Madrid, and they're delighted with how things are going as a quartet. "It was impossible before, to play as a two," laughs Carlotta, who formed the band with Ana Perrote. "We had this thing we created with parts of drums, so when I was playing guitar I was pushing with my feet at the same time," she says, giving a quick demonstration. "It made no sense at all. We want to be a band, and to be four pilares." "Columns," translates Ade.
Ade and Carlotta are old friends from pre-Deers, and so it made perfect sense to Carlotta to coax her into the band. "She was actually our road manager," Carlotta explains, "but I didn't have a driving licence," clarifies Ade. "It's funny because we gave her a present of a bass," continues Carlotta. "When they met Amber [Deer's drummer] I was there as the road manager, and I was like 'as a road manager I think she's really good,'" recounts Ade.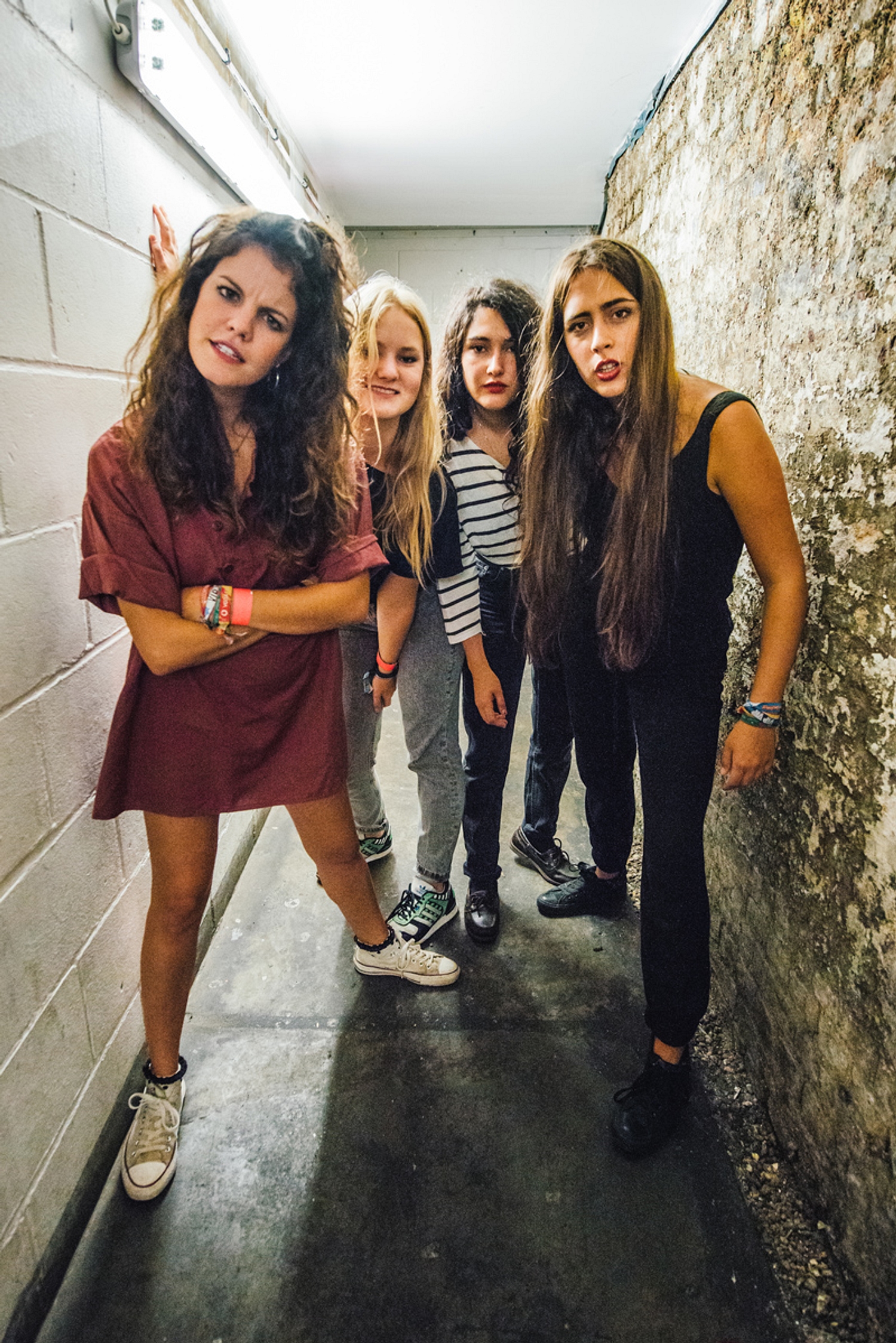 "I can't believe!" exclaims Carlotta. "How did we think it would be a good idea to have you as a road manager?"
They're not a particularly high maintenance bunch, Deers. "We don't need no violins or gospel choir in the production," states Carlotta, "and we don't have these kind of superstition things, we don't pray." Apparently the band have a ritual of slapping each other on the arms before going on stage – the reasoning behind this is unclear – and other than that, Carlotta says all that she demands is "her lucky knickers. That's it. Enough." "Then she's got the luck with her," Ade adds.
Whether they're losing kazoos at Bestival – "[Carlotta] swallowed it! Not the whole thing but a little bit," explains Ade - or plotting their dream video, which would apparently feature an oven capable of producing unlimited pasta, the band always seem to be loving every minute of being Deers. "We're not," jokes Ade, "we're crying inside." They're excited about finally having enough time to record their debut album once they get off tour, with sessions planned for April, and Deers are also incredibly excited about what they've dubbed the "DIY party" – our all-dayer show on 1st of November.
"It's the first time we are going to be elegant!" announces Carlotta, with an air of extravagance. "We're going to wear all in black, right? Shoes, not sneakers. We are very excited about that." Deers are also planning to play some new material for the first time, they reveal. "We are going back with three new songs," says Carlotta. "We're very very proud, going back with something new."
Photos: Carolina Faruolo / DIY. Deers play DIY's London all-dayer in association with PledgeMusic at The Laundry, 1st November. Their new 'BARN' single is out 3rd November on Lucky Number Music. Taken from the November 2014 issue of DIY, out now.
Read More
Featuring King Gizzard & The Lizard Wizard, IDLES, Tkay Maidza, Sleater-Kinney and more.