Launching LP5 with a sweaty secret show and a massive new single, IDLES are turning the ignition key on 'TANGK': an album all about love.
"I have no idea how this is going, but together we shall make love, figuratively speaking," declares Joe Talbot to the packed mass of bodies lucky enough to have signed up for a one-off show from a mysterious band named TANGK at London's Village Underground. Canny sleuths may have put together the pieces beforehand; for a few weeks previous to the show, TANGK merch had begun subtly popping up in the photos of a rather more well-known outfit called IDLES. Yet there's still the giddy fervour in the air of a 'moment' as soon as the not-quite-surprise reveal is made.

'TANGK', it transpires, is the name of the Bristol quintet's forthcoming fifth album, which will be announced the following day. But tonight, Talbot - tennis sweatband stretched across his temples - is revelling at the helm of their smallest UK show in years and, figuratively speaking, summing up IDLES' next phase quite neatly. LP5 is an album not so much about making, but creating love; about putting it out into the world and freeing yourself up to receive it right back.
"I need love, and if you need love then you need to show people that you're open and that you need tenderness and to be held just like everyone else," he explains, speaking ahead of the show. "There's a fable about the sun and the wind; if I want someone to take their coat off, I can't blow, I need to just shine. And to let love in, I think I just needed to let love out, so to speak."
In the run up to beginning work on the record, IDLES had been receiving the love of thousands, nightly - with both 2020's 'Ultra Mono' and the following year's 'CRAWLER' getting their simultaneous post-lockdown live debuts around the world. A third album that pushed the self-described 'caricature' of the band to its limit, and a fourth that aimed to destroy that image entirely with bold steps and, for Talbot, a vocal veer into more melodic territory, the experience led to an acute awareness of the playing field they'd created for themselves. "Playing the same songs every night really teaches you about what hits and what you feel from playing certain songs. It all just builds up a vocabulary that you take with you. You can't switch it off; it's your craft and you're learning it all the time," he says.
"There was this backstep where we had this bombastic huge gesture of an album ['Ultra Mono'] and also our most transgressive album to play with ['CRAWLER'], and we found a balance," he continues. "What happened was, we learnt a sense of everything we are artistically, and everything we can be, and everything we can leave behind. And then we started 'TANGK'."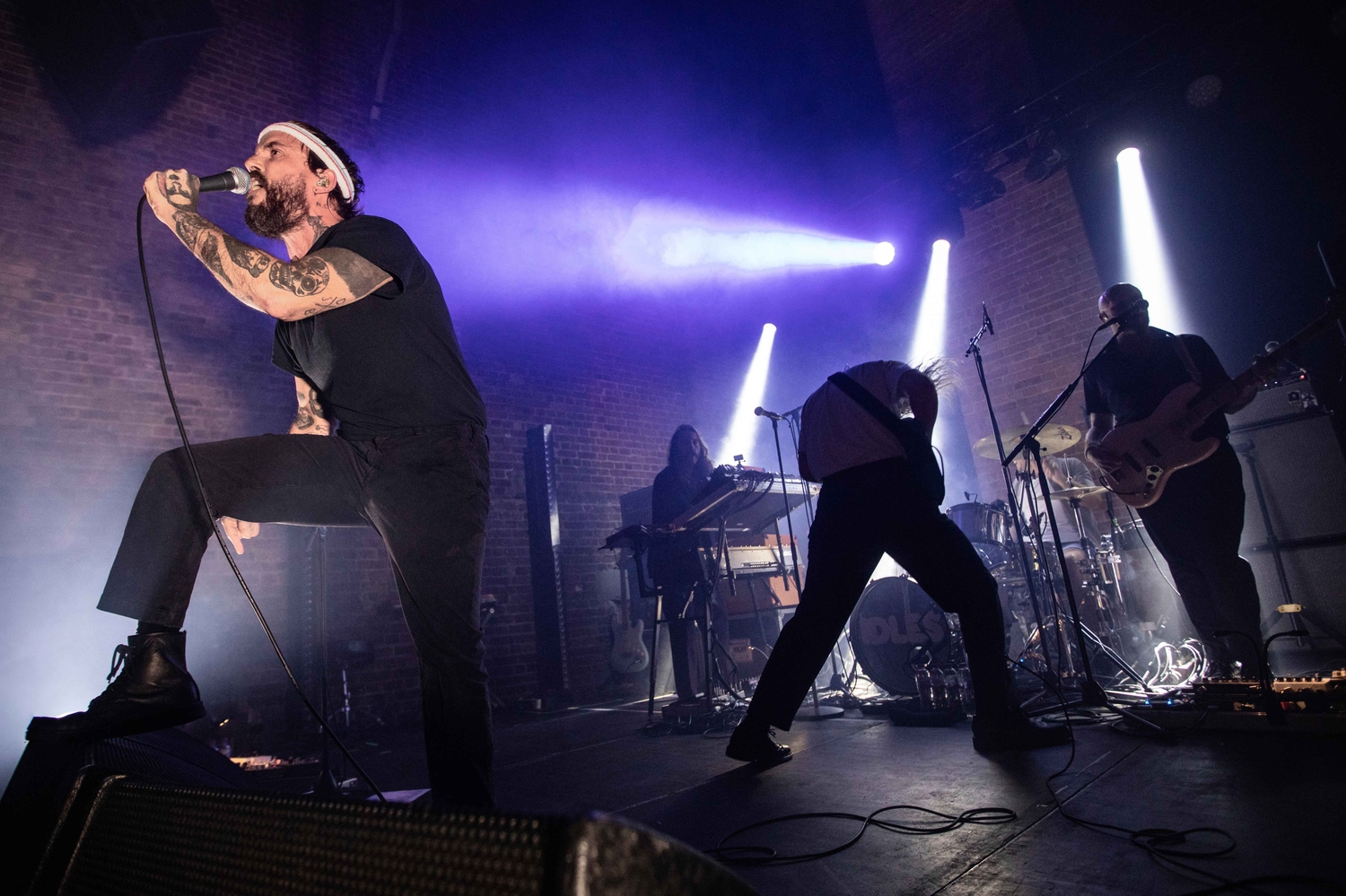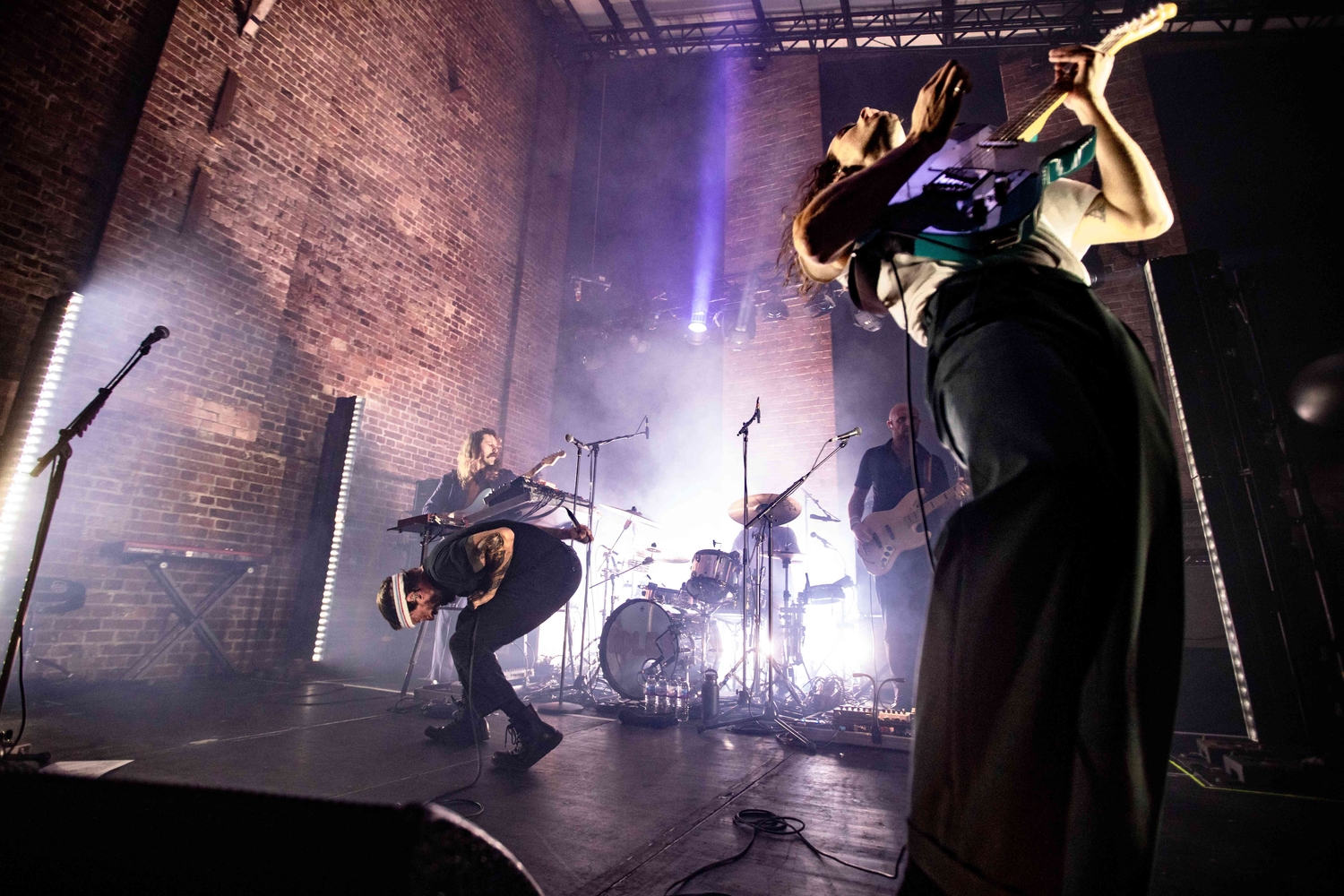 "I was obsessed with the idea of manifesting feeling in a way that forced people to want to dance." - Joe Talbot
There are several figures who came together to guide the steering wheel of 'TANGK' over an often-testing period of writing that Talbot simply describes as "taking ages". Guitarist Mark Bowen resumed co-production duties alongside Kenny Beats, who'd worked with the band on 'CRAWLER'; joining the ranks this time, and offering a studio base in Brixton where the band would meet up and plough on, several days a week for several months, was Nigel Godrich.
Famed for his work with, and fondly dubbed 'the sixth member of' Radiohead, Godrich had enlisted IDLES for the first episode of his revamped From the Basement sessions and wanted to progress the partnership further. For their part, the producer represented a statement of intent. "It has to be big; there's no point in making that marriage happen unless it's for something worthy. Don't waste everyone's time," affirms Joe. "You don't need someone like Kenny Beats, and you don't need someone like Nigel Godrich on your album - you can make an album without them. But you make those choices because you're making a gesture to the songs that they can be better, they can be more powerful or more poignant or to the point. They can sound how you want them to sound because of all that you love, and if all that you love is made by Kenny Beats and Nigel Godrich then fucking right, it's gonna sound like that."
He describes the process as "pushing [him] further than [he's] ever been". Having become accustomed to working in a certain way - finishing the music first before writing the lyrics "on the microphone", trusting his instincts - Godrich had other ideas. "Nigel's philosophy is, it's not a song without any lyrics or without any voice. There were some real difficulties in his studio with me; I was a bit like a fish out of water," Talbot admits. "I didn't want to relinquish any control to someone else but it was part of the process and I had to let go. It was hard at the start, and then it was fun. It could have gone a different way because I can be a real prick to work with sometimes - mainly because I'm scared or I'm in a bad place mentally - but their personalities and our personalities came together beautifully and made something quite explosive and enigmatic. I learnt a lot about myself and what I'm capable of."

"It has to be big; there's no point in [working with Nigel Godrich] unless it's for something worthy." - Joe Talbot
'TANGK', as a result, represents IDLES' most melodic and nuanced record yet. Where 'CRAWLER' saw the frontman draw from the resonant, hitherto-unseen end of his vocal capabilities on lead single 'The Beachland Ballroom', across its follow-up Talbot allows his voice to reach tender new places, frequently prioritising rich, inviting singing over his customary gravelly shout. It suits an album with two central tenets at its core: to make people dance and to talk about love.
"I was obsessed with the idea of manifesting feeling in a way that forced people to want to dance. Rhythm was a huge thing, and melody and singing and telling stories and poetry. Bowen was obsessed with rhythm and counts; pushing and pulling on the audience, and definitely pushing and pulling on my patience…" he chuckles. "He had some beautiful ideas in the bag, and we just had to find that thing to push against that we always have, and normally that's something a bit more rigid but this time I wanted to write a love album. It's all love. And it's like, 'Well what the fuck does that mean, Joe?'"
For Talbot, thankfully, it means things like gratitude and empathy and openness rather than any sort of soppy Sheeran-fest. Lead track 'Dancer' was written in memory of Talbot's mother, about "how she danced through her late days before she died and she was always so positive". "I was the only one to speak at my mother's funeral and I wrote a lot about her, and most of it was about her dancing," he nods. "Dancing is an analogy of finding strength from the self and inner peace. Dancing like nobody's watching is such a powerful thing to see and you know it when it's true."
For the track, IDLES brought in then-tourmates LCD Soundsystem, with James Murphy and Nancy Whang lending their backing vocals to the track. "We knew how magical and kind they were and they gave us way more than we asked for. They let us use their studio on our day off, so we spent the day at DFA and recorded the backing vocals there and they were fucking stunning. They're beautiful people, and better than you could even want them to be," Talbot nods.
The other track premiered at Village Underground comes in the form of the propulsive 'Gratitude' - a dual-hitter of soft, inviting verse and big, cathartic chorus pay-off. "I think it's the most accomplished song we've written in terms of everything from melody, vigour, rhythm; it's post-punk but it's melodic and the poetry in it is beautiful. I'm very proud of the lyrics and it's succinct: 'Gratitude' is about gratitude."
Heading into Album Five, IDLES have a lot to be grateful for. The red-faced, sweat-covered people peeling out of the pit come the end of tonight's show are testament to a rabid fanbase that's clearly going nowhere; with 'TANGK''s expansive arsenal, chances are they'll recruit even more to the cause. Having professed the motto of 'All is Love' since the beginning, IDLES are finally - musically, completely - coming good on the promise.
'TANGK' is out on 16th February 2024 via Partisan Records.
Read More
Featuring King Gizzard & The Lizard Wizard, IDLES, Tkay Maidza, Sleater-Kinney and more.