Neu Prima Queen: Baby Steps
With their debut EP 'Not the Baby', Prima Queen are steadily developing a bond and a rawly honest sound that's all their own.
"Maybe we were just another mistake / But you were one I had to make," sings Kristin McFadden in the chorus of 'Back Row', the opening track of Prima Queen's debut EP 'Not the Baby'. Immediately, we're thrown into somewhat unfamiliar territory; where breakup songs traditionally adopt the perspective of the heartbroken, the vocalist is singing from a position of agency and control. The rest of the song adds nuance and layers, bringing notes of bittersweet anguish and regret, and achieving a level of emotional complexity that immediately establishes Prima Queen as a standout new voice.
The four tracks that comprise 'Not the Baby' as a whole, meanwhile, are bound by themes of shifting relationships, life transitions and the conflicted pains and growths associated therein. The songs are pulled from the duo's real lives, and they skilfully mine personal details to reveal universal familiarities. "[Those themes ring] true for any person when you're in your early twenties," says Louise Macphail, the other half of the duo. "You do a lot of growing up in that time, and that was true for us too."
Aside from a lyrical maturity beyond their years, 'Not the Baby' shows the ease with which Prima Queen are able to compose light, harmonic indie rock that swings with an infectious, almost country-tinged breeze. They might break your heart, but they'll at least make sure you enjoy it.
The two first met in January 2016 when Kristin took a semester-long break from her studies at home in Chicago to travel to London and enroll on the songwriting course that Louise was also attending. To say they were friends as soon as they met would not quite be correct; it happened a little before that. "I really wanted to make an all-female band," says Louise. "I just hadn't met anyone that it felt right to play with. I was on the course, and they said that Kristin was coming, and I saw a video of her and I was like, 'Hmm, she's going to be my best friend…' And she was!"
The pair bonded quickly, playing and writing together in an early phase of what Kristin describes as "a lot of experimenting, trying to find our middle ground". They would take train rides, sharing headphones as they played each other music recommendations. Louise was a devotee of Laura Marling, while Kristin felt more at home with Alanis Morissette; the exact meeting point would finally arrive in the form of Rilo Kiley's 'Portions for Foxes'.
"That was a lightbulb moment," Louise remembers. "Before we met, I hadn't really listened to much music that combined direct and honest storytelling and loud guitars, especially by women."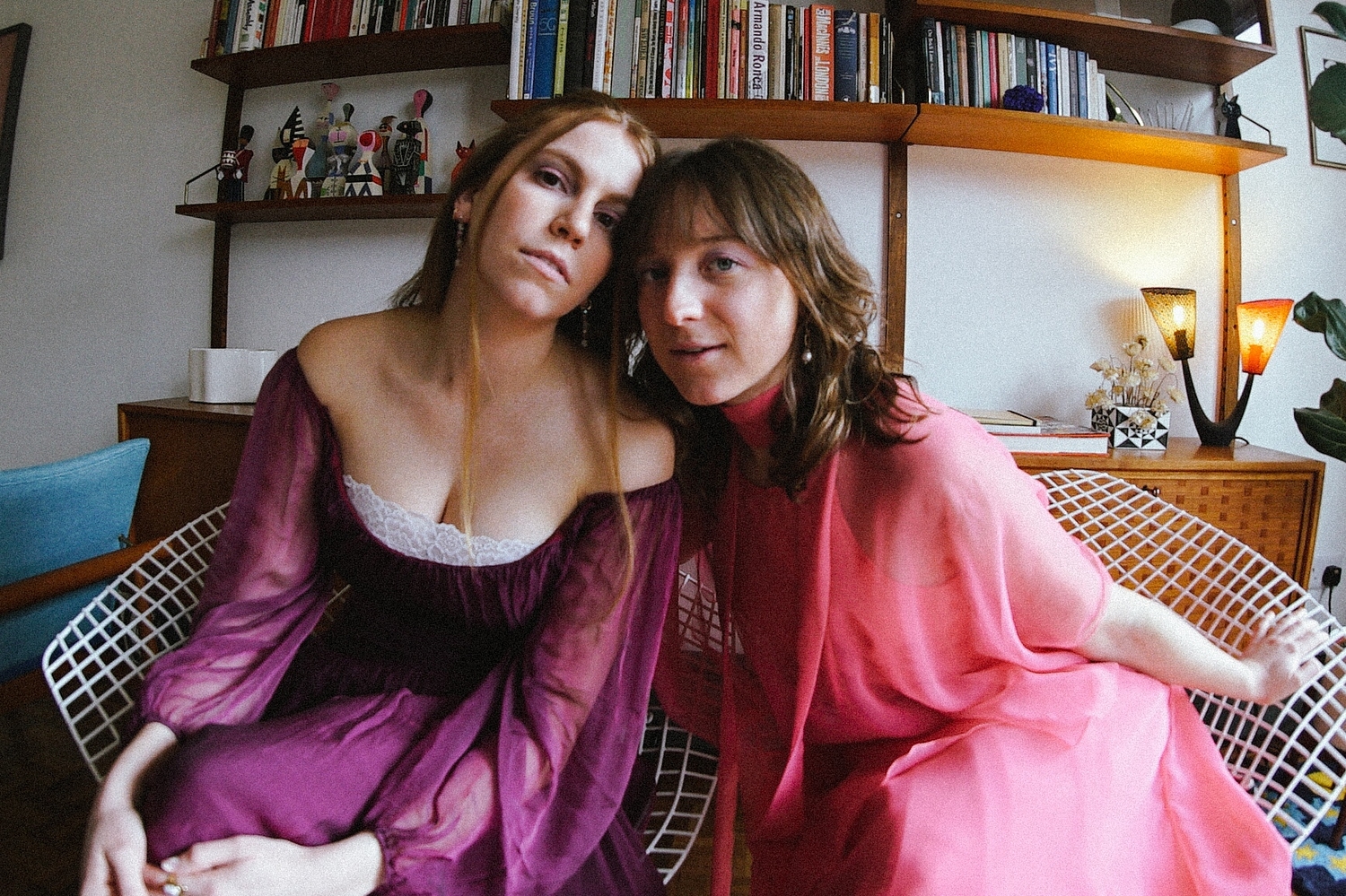 "The band wasn't really anything at the beginning, but we felt like it was the most important thing."
— Kristin McFadden
The course ended and Kristin found herself having to return to the States to complete her degree, but it was the last thing she wanted. "I cried the whole plane ride home, I was heartbroken," she says. Already, however, the two had developed their collaboration to the point where they were not about to let anything get in the way of a musical future together. "The band wasn't really anything at the time, but we felt like it was the most important thing. We took it so seriously, even though we were just babies," Kristin says. "We'd talk or text every day for over a year, working on new songs and sending them back and forth."
Their connection and commitment to the cause survived their separation and when Kristin returned to London in 2018, Prima Queen were able to finally start moving through the gears. Writing sessions became passion projects, with the two bouncing ideas before giving each other homework to finish specific details before their next meeting.
These years spent writing and investing in their friendship have clearly stood them in good stead; listening to 'Not the Baby', you sense the sheer joy that the duo derive from piecing songs together. On 'Dylan', you can almost hear their smirk as they repeatedly smuggle the six-syllable "megalomaniac" seamlessly into a chorus while, for all the intensity of their subject matter, Prima Queen's music is a shot of positive energy, charged with the excitement that their dream project is now becoming a reality.
In the last year alone, the band have shared stages with The Big Moon, Wet Leg, Sunflower Bean and Whitney and recently wrapped up their first SXSW. The release of 'Not the Baby' ought to be what is currently consuming them, but their enthusiasm clearly can't be contained by the next hurdle alone. "We're really excited about this EP and we're proud of it," says Kristin. "But at the same time, we can't wait for what's next. We're always looking ahead. We're ready for the album now!"
'Not The Baby' is out now via Big Indie. Prima Queen will play at Paper Dress Vintage in Hackney for the latest SON Estrella Galicia showcase this Thursday (14th September).
Read More
Featuring James Blake, Romy, Marika Hackman, yeule and more.