When Two Door Cinema Club returned from the brink with 2016's 'Gameshow', it was sink or swim. Now, they're ready to float right to the top of the pack with their most experimental album yet.
"It was nerve-wracking for a very long time. There were about three years where we didn't play shows and for a long portion of that we weren't even talking. Things got bad, and if we hadn't taken that break it definitely would have been the end," begins Alex Trimble. "Kev [Baird, bass] and I had some really big beef; we totally hated each other. It went from shouting matches to total silence, and that's even worse. When you're in the same room, and you don't even talk…"
Sitting in a sunny North London pub garden, supping on his second bank holiday Guinness of the afternoon, the frankness and humour with which the Two Door Cinema Club singer deploys these bleak anecdotes of the Bangor band's still-recent time in the wilderness seems surprising at first. Though they've been back in the ring since 2016's third album 'Gameshow', the years preceding that were nothing if not rocky for the trio - completed by guitarist Sam Halliday. In 2014, they cancelled their Latitude headline set due to Alex's deteriorating mental and physical health; after that, they took an extended break, from the band and from each other, that could very easily have turned permanent.
But, after a series of tentative steps back into the ring, the trio emerged with a record - one that Alex now retrospectively regards as an album that "took chances out of necessity, because we'd become different people so we had no choice". And then they braved the potentially even bigger test of getting back in the van and taking it on the road. "Starting to tour was definitely weird; every night we'd be wondering if anyone was gonna come. Even if we were playing midway up the bill on a festival, we'd be thinking that people were just waiting for whoever's next," he says, "but at some point everything just flipped on its head. We've been a band for 12 years, and we always had this feeling of not belonging, but it only took a few months after 'Gameshow' came out when we thought, you know what: we're allowed to be here."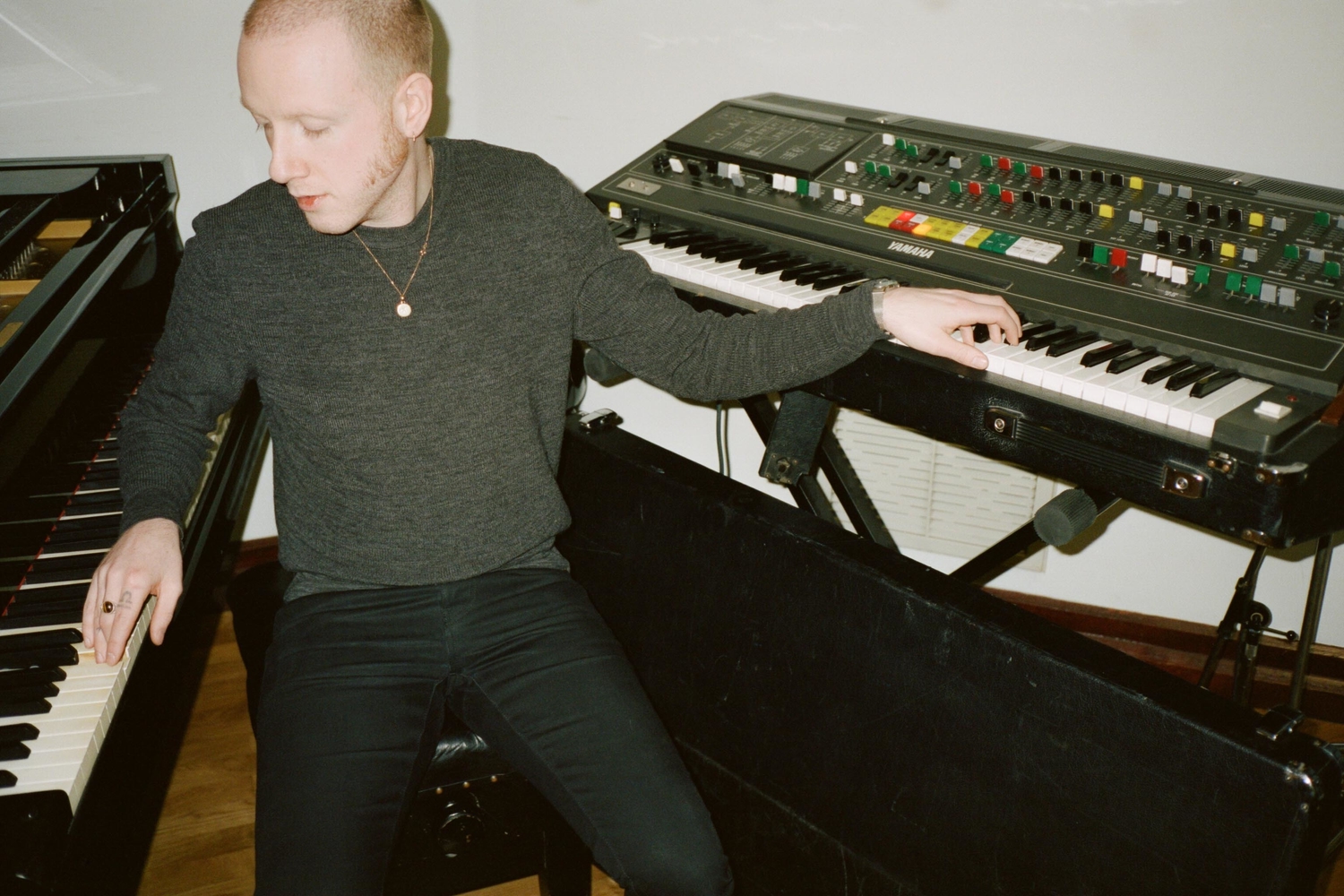 "We always had this feeling of not belonging, but after 'Gameshow' we thought: we're allowed to be here."
— Alex Trimble
It's this confidence and newfound sense of freedom that forms the sparkling backbone of the band's forthcoming fourth album 'False Alarm'. After years of trying to find their feet and catch up with the rapid success that was thrust upon them as young men at the turn of the decade, and a subsequent period having to re-establish themselves interpersonally and to the rest of the world, now Two Door Cinema Club seem to finally be comfortable in their own skin and are reaping the artistic spoils that come with it.
"There was a real tentativeness about how we approached everything we did before, but now everyone is so much more at ease," grins Alex. "It sounds strange, but we'd never had even a hint of a conversation about what we actually wanted out of [the band] before. But now we've left no stone unturned and there really is no fear that we're gonna go back to the shit."
Writing began while the band were still touring 'Gameshow', but it was in mid-2018, when Alex decamped to the US to work with frequent collaborator Garret 'Jacknife' Lee when things began properly taking shape. "We'd been working on about 10 songs, and then I sent them to Kevin and Sam. I was doing these characters, not that they have names and identities but they're different versions of me. Sam really got into that idea and started trying to make his guitar not sound like a guitar, and Kev was moving from bass guitar onto bass synthesiser and everyone got the bug by the end of it.
"There are some songs where I'm singing differently and [much lower], which I've always been able to do but I was scared because I thought people knew me for a certain kind of thing that I needed to stick with," he continues. "It seems so crazy to me now that I never really tried that stuff before because a lot of my heroes growing up were people that did take on personas and create characters like David Bowie and Mark Mothersbaugh from Devo. And it was OK that they wanted to be someone else; it becomes exciting and it becomes part of you. Having the risks on 'Gameshow' pay off somewhat meant that when we came back to write another record then there were no rules anymore. We could do whatever the hell we wanted and it infected everyone. Instead of being experiments that we saved for... never, pretty much all of our most ridiculous ideas made the record."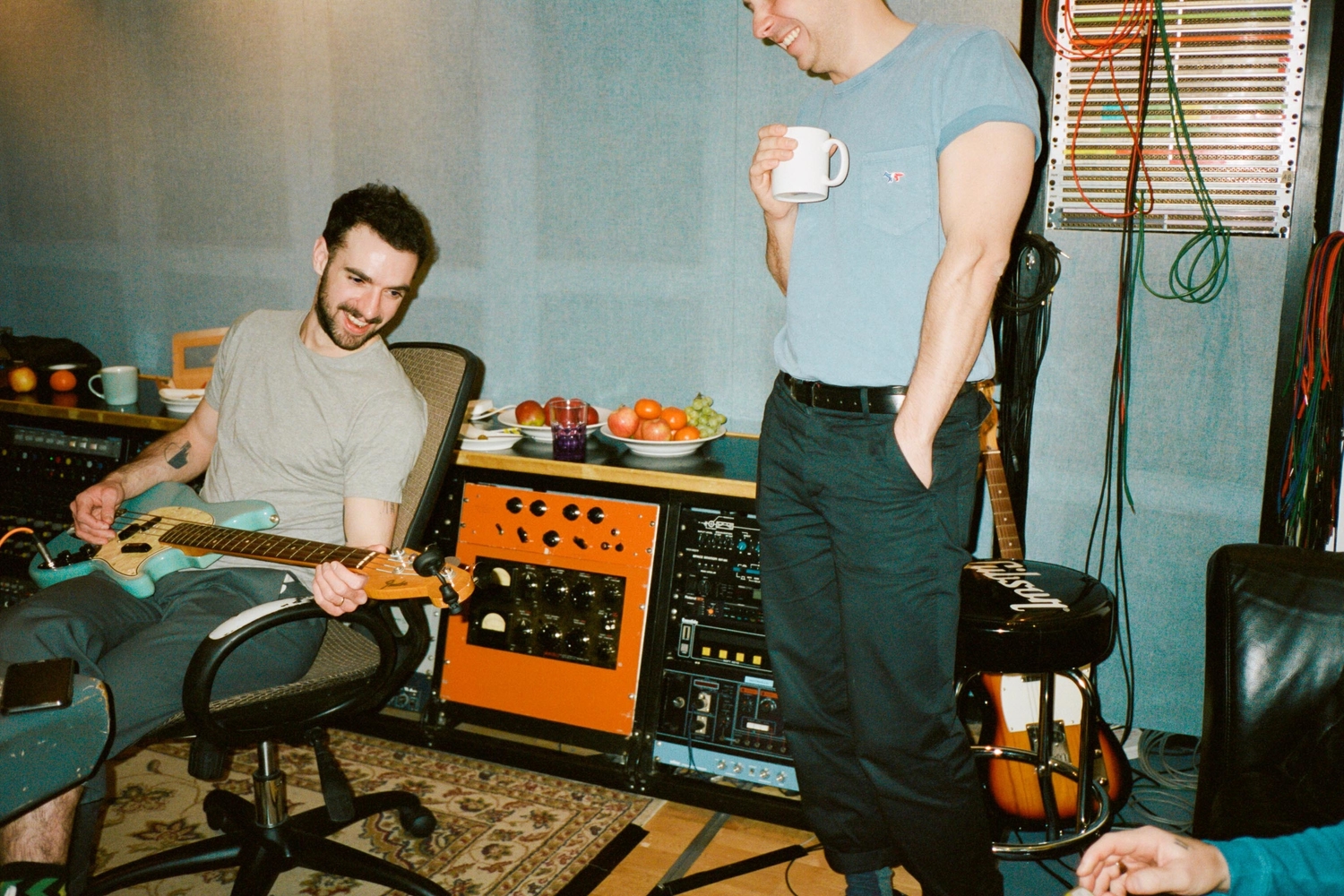 "Pretty much all of our most ridiculous ideas made the record."
— Alex Trimble
Hyper-stylised, '80s synth strut 'Talk' - with its playfully literal lyric video - might have introduced their new 'anything goes' approach, but it's recent single 'Satellite', with its unrecognisable baritone (yup, that's Alex) and verses that somewhat recall Macca's famously weird 'Temporary Secretary', that really sets the tone for what's to come. There's still a massive bop-along chorus, because this is Two Door we're talking about, but it's cheekier, more interesting, more informed by an adulthood of crate-digging than their early pop hits understandably ever could be. "Garret and I are both fairly obsessive record collectors and we'd be in the studio in the morning, having a coffee and playing records. We'd discover stuff and some of it ended up on the album," continues the singer. "[Zimbabwean group] Mokoomba are on the record and Open Mike Eagle, who I'd never heard of before he played him to me, ended up [guesting] on it. It was another part of there being no rules; if it's good, then enjoy it."
The most ridiculous idea of all? The launch of the album itself, which was heralded by literally shooting the record into space. "I've always been obsessed with space; that's my number one interest outside of creating things. So we found this company based in Sheffield that will take anything you have and put it in space," Alex laughs. "So we paid them some money and they attached our record to this weather balloon that goes 36km into the atmosphere and out to just before orbit and comes crashing down to earth. It's something I just got a kick out of, and... we can now?! Being your own record label is kind of amazing..."
"In control of their own present and future, and with a forthcoming mammoth O2 show in the pipeline to show for their troubles, Two Door Cinema Club have hauled themselves out of the mire, dusted themselves off and found genuine fulfilment in finally treading the path that suits them best. "When we were making our first couple of records, we didn't even know where we stood; we were like a mongrel band who were bred from all these different places - from Northern Ireland and playing guitars, but signed to a record label from Paris that predominantly put out dance music. People didn't know where to put us and it was horrible!" Alex exclaims. "It was horrible not having a total sense of identity, because we couldn't expect anyone to understand who we were if we didn't. But now there's been a shift, and it's taken 10 years and a few records but people get it now. It makes sense what we do now."
'False Alarm' is out 14th June via Prolifica / PIAS.
Read More
Featuring James Blake, Romy, Marika Hackman, yeule and more.