Interview:
Glass Animals dish the dirt at Best Kept Secret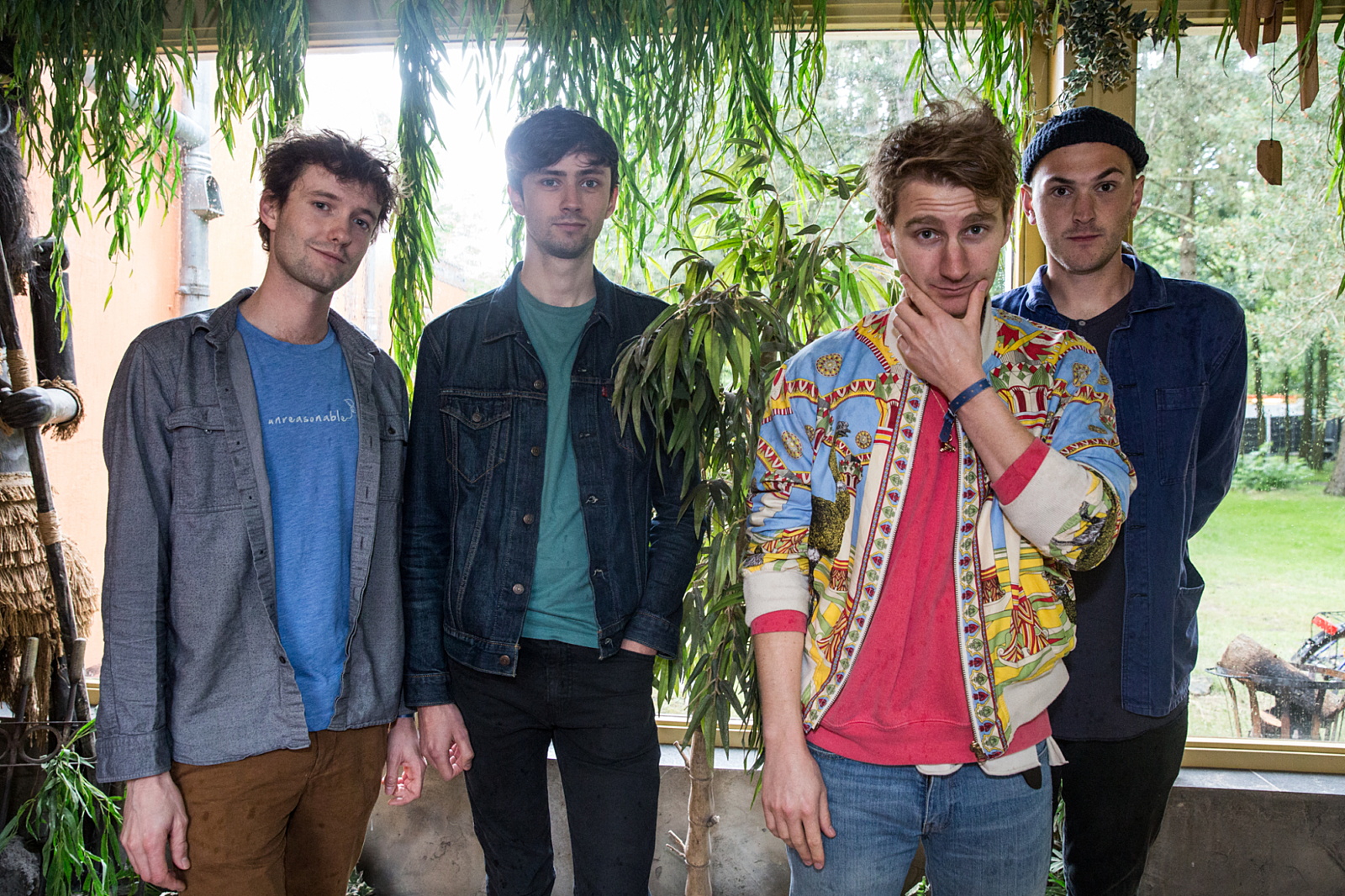 The band's Drew got arrested for climbing a road sign in the starkers, apparently.
Back for their first festival appearance in.. well, quite a while, Glass Animals are running amock backstage; hiding underneath trees from torrential rain, and stuffing strawberries. Their new album's a cat let out of the proverbial bag, with 'How To Be a Human Being' due at the end of August. Today, they're preparing to test out loads of new material on a frenzied crowd.
Catching up with the band's Joe Seaward and Dave Bayley at Dutch festival Best Kept Secret over the weekend, we asked about the new album, working with Joey Bada$$, and other such gossip. We also asked Glass Animals to dish the dirt on one of their own most fiercely guarded mysteries. It involves nudity, and law-breaking. Say no more.
Read our review of Glass Animals' festival return to Best Kept Secret here.
What are your first impressions of Best Kept Secret, then, Glass Animals?
Joe: Great! They always look after us well in Holland. They know how to put on a spread.
Dave: [tucking into some fresh strawberries from catering] Great cocktails, and great strawberries. I didn't expect Dutch strawberries to be any good, but there you go. Would you like one?
Too kind! This festival is next door to a safari park, as you may have noticed on the way in. What do you think a safari park full with animals made out of glass would be like?
Dave: You probably wouldn't be able to see them. It'd be very boring. Where's the tiger? I don't see it.
Joe: Unless there was really cool lighting.
Dave: Or unless you went around like this [mimes blowing on glass] to steam them up. Then they'd be misty animals. I still think it would be very unexciting compared to seeing a real live animal. I do think we could put [Glass Animals'] Drew [Macfarlane] in the exhibit, and he'd be very interesting to watch. I reckon if an alien were to come from space, and were to watch one human, I'd make sure he watched Drew.
Joe: A fascinating creature.
Dave: It could be a whole TV show, Drew live. I'd watch it.
Joe: I do watch it.
So you've announced your new record, 'How To Be a Human Being,' and also the bonkers video for your single 'Life Itself'. Both that video and the artwork feature the same fairly eclectic gang of characters. What's that all about?
Dave: It's sort of a mystery, and it gets slightly cleared up as more comes out. There's a lot to come out, and a lot of artwork ideas going on. I guess the idea was that each song on the new record is a story about a different person. There are some very subtle references in there where one or two of them might interact, but it's very open-ended. We spent all that time on the music, and yeah, decided to cast each one as an actor over the internet. Absolutely incredible doing casting videos. Never done anything like that in my life, and it was wonderful. All of the characters and songs are so heavily scripted. I've written down everything about them; what they eat, what their living room looks like, what stuffed animal they sleep with, if they're married, what their fetishes are, everything is written down. We cast them based on that, and dressed them accordingly. We went around to find the clothes, and made some of the clothes,
Joe: It's quite scary how similar some of them ended up being.
Dave: We're using the actors again to make all of the videos. There'll be a lot of artwork rolling out. It's been fucking hard work! I don't know if we'll do it again...
Why don't you make Glass Animals, the movie? You've already got the script and cast, you may as well!
Joe: We were talking about that as it was happening
Dave: We have so many ideas! But there's obviously a budget. We'll do what we can as time goes on.
"I reckon if an alien were to come from space, I'd make sure he watched Drew."
— Dave Bayley
You've also been off working with Joey Bada$$ on 'Lose Control'. How on earth did that come about, and was it a laugh?
Dave: He's a pretty cool dude.
Joe: There was a rumour going around that he liked one of our songs off the last record, 'Toes'. Just the one [laughs]
Dave: We'd all gotten very into his '1999' mixtape, and the album when it came out too. Then were were in New York for a Central Park show, and he lives in Brooklyn, so we got in touch and he was like, ok lets go to the studio. He's very talented, but he was a bit late...
Joe: Eight hours late.
Dave: But I mean, in that time I had three beats made for him. We went back and forth on it til 5am, and it was finished in one day. It was nice.
Your debut 'ZABA' has been out a couple of years now, so it must be fun for you playing fresh new material live from the new record?
Joe: It's fun, but it's hard. By the end of touring for the last record we were kind of comfortable with the songs, and the edge of the thing... the thing that keeps things exciting is because there's a high risk of things going wrong all the time. That's fucking scary and makes it really exciting. To have that back again to up the ante is really helpful I think. That fear factor being back in. And it's a whole new world.
"To have that fear factor back again to up the ante is really helpful."
— Joe Seaward
Given that this festival is called Best Kept Secret, can you tell us one?
Joe: Oh my god! We have such a good secret. But we can't tell you.
Dave: We have some really good secrets. We found out something about Drew the other day
Joe: Did we?
Dave: Yeah, when he got arrested. There's more to it that he hadn't told us. First, he got arrested. That's not really much of a surprise. We know he had to pay a lot of bail in America, but we didn't know how much. Anyway, he was climbing a roadsign over the road, and yesterday he told us that he was totally naked when he got arrested. I think there's a lot more to this story.
Joe: It happened about a year and a half ago.
Dave: Yeah, and it's slowly unfolding a bit more. He was with someone as well. Sounds disgusting. This is why he'd be good in a zoo.
Read More