Gnarwolves stream self-titled debut album in full
Skate punks' first work is out this September on Tangled Talk / BSM.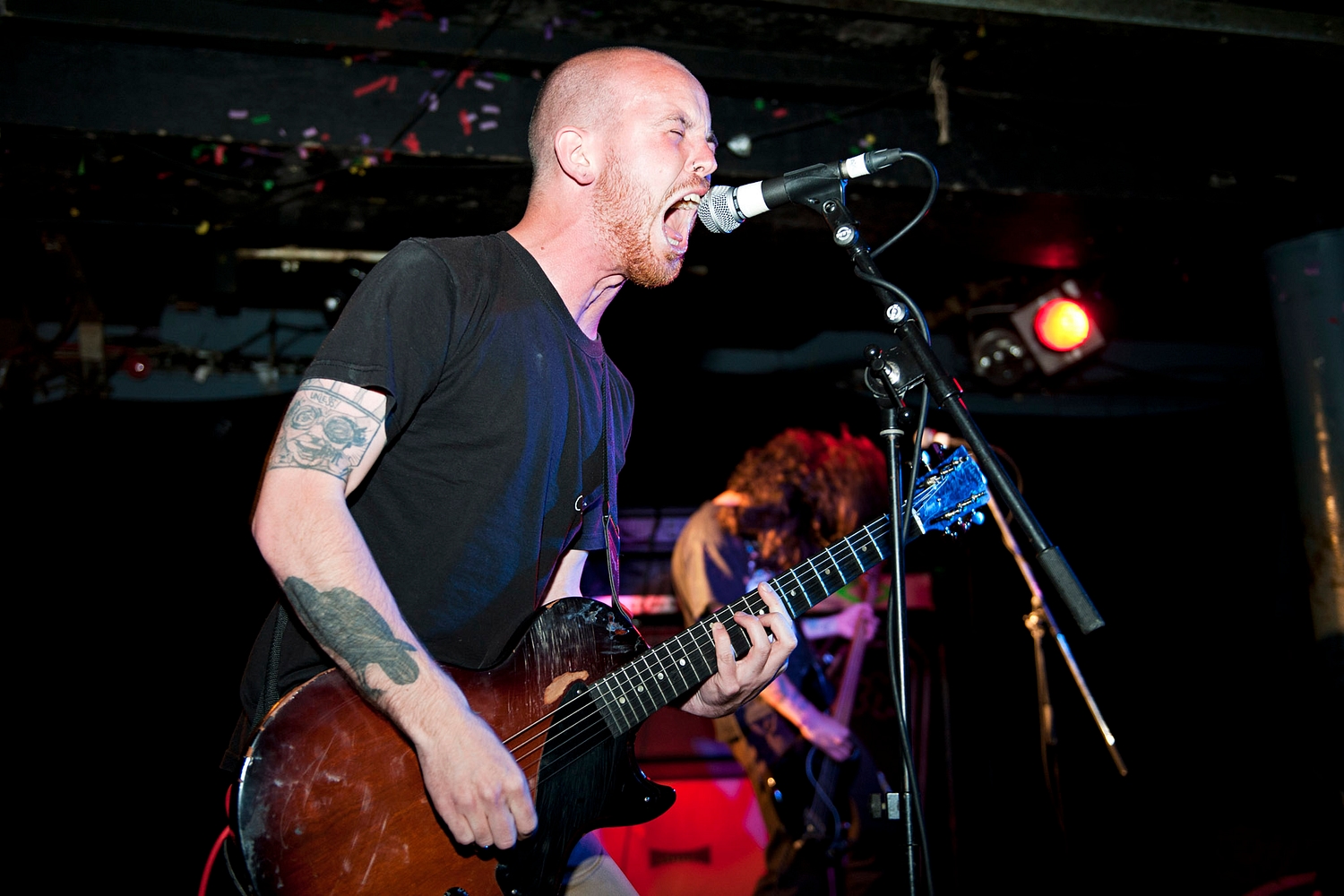 Photo: Sarah Louise Bennett
Cementing a colossal year that's been topped off with Main Stage sets at Reading & Leeds, on 15th September skate punks Gnarwolves release their self-titled debut album on Tangled Talk / Big Scary Monsters.
The thrashing trio are now streaming this first work in full, one week ahead of release.
"I think we thought about what we were doing a little bit more than we have done in the past," said frontman Thom Weeks when he spoke to DIY about the record. "We've concentrated on trying to write really good songs, and just had a little bit more time to learn how to write songs together."
DIY's four star review of the album says that it "has the knack of making you feel the urge to grab a skateboard and a six pack, head down to a local spot and spend the day having fun."
Stream Gnarwolves' self-titled LP in full below.
Gnarwolves head out across Europe this November and December, the UK leg of which begins on 30th November at Cardiff's Clwb Ifor Bach. It finishes back home at The Haunt in Brighton on 12th December.
NOVEMBER
10 Tessloo, Tessenderlo, Belgium
11 ACU, Utrecht, Netherlands
12 Dynamo, Eindhoven, Netherlands
14 Fängelset, Goteborg, Sweden
15 Underwerket, Copenhagen, Denmark
16 Bei Chez, Heinz Hannover, Germany
18 Hafenklang, Hamburg, Germany
19 Cassiopeia, Berlin, Germany
20 Beat Club, Dessau, Germany
21 Klub 007, Prague, Czech Republic
22 Roeda, Steyr, Austria
24 Durer Kurt, Budapest, Hungary
25 Das Bach, Vienna, Austria
26 Treibhaus, Lucerne, Switzerland
27 Jugendhaus, West Stuttgart, Germany
28 Gibus Café, Paris, France
30 Clwb Ifor Bach, Cardiff, UK
DECEMBER
01 Cavern, Exeter, UK
02 The Fleece Bristol, UK
03 Talk, Birmingham, UK
04 Kingston College, London, UK
05 Camden Underworld, London, UK
06 Craufurd Arms, Milton Keynes, UK
07 Nottingham Rescue Rooms, UK
08 Audio Glasgow, UK
09 Brudenell Social Club, Leeds, UK
10 Soundcontrol, Manchester, UK
11 Epic Studio, Norwich, UK
12 The Haunt, Brighton, UK
Read More
Featuring James Blake, Romy, Marika Hackman, yeule and more.