God Damn take aim at 'Everything Ever' on their new album
The furious duo's new album is streaming first on DIY alongside an exclusive track-by-track rundown.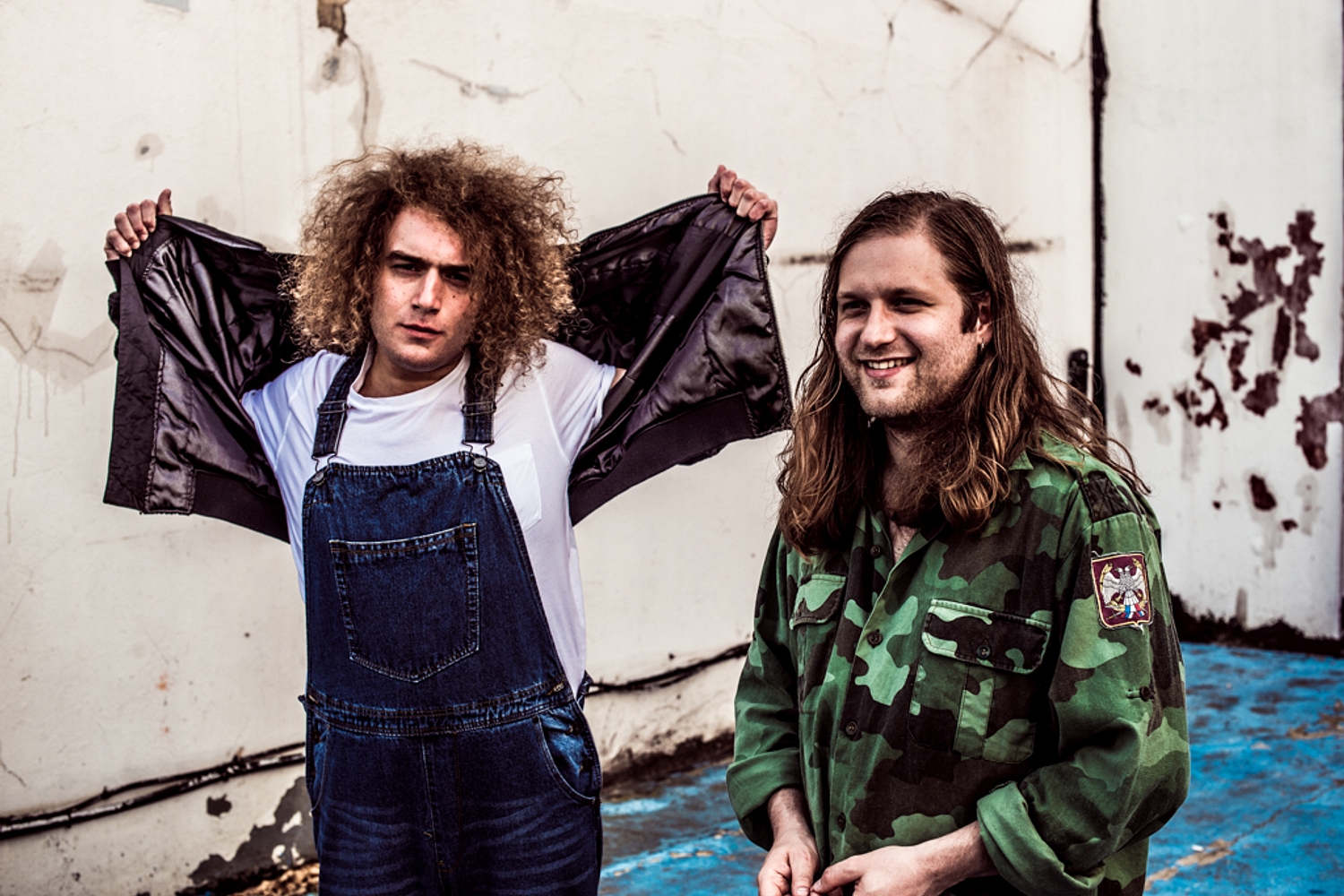 With their new album 'Everything Ever', God Damn are upping the threshold on their rage. Not content with the limitations imposed on their two-piece thrash, the duo are breaking down every boundary in their way.
The Wolverhampton thrashers take on everything around them on LP2 - throwing noise and fury at their surroundings and emerging - bruised, battered but far from broken - on the other side, stronger than ever.
Below, the duo take us through the record with a track-by-track guide to every target of their ire. We've got the first spin of the record too, so click play and get angry - God Damn have got your back.
Get your pre-orders in here. 'Everything Ever' is released tomorrow (23rd September), with the duo embarking on a big ol' UK tour to celebrate. Don't forget the ear protection.
SEPTEMBER
23 London, Boston Music Rooms
26 Brighton, Concorde 2
27 London, Koko
28 Bristol, Bierkeller
29 Leeds, Stylus
30 Manchester, Manchester Academy 2
OCTOBER
02 Birmingham, Institute 2
03 Glasgow, Garage
04 Newcastle, Riverside
05 Southampton, Engine Rooms
Sing This
For some people, it really does pain to be alive, for the masses just complain of pain. We're all idiots so sing along, shalala fucking la. Maybe I'll get that rebate on my gravestone. A bursting mouth of marshmallows, clipped to the max, down tuned guitar and big beat drums stomper. This song musically reminds me of Thee Oh Sees' 'Toe Cutter' riff meets the breakdown of The Walkmen's 'The Rat' with an arrogant Pissed Jeans 'False Jesii Part 2' delivery, and a bit of We Are Scientists harmonies thrown in. A dystopian, to the point, what is the point, end of the world, fist in the air we don't care, "coz om gunna duy annuyway, let's be aving ya" POP BANGER.
Ghost
You know those bitter types who carry around shitty, festering baggage, those wankers, you know, everyone ever. Stand out on the front lawn by the outside tap and let grandma wash you down with a hollowed out snake whilst everyone at the party eats their trifle with lashings of cocaine. You're not missing out on anything anyway, you like being naked in front of the neighbours. Think freak-beat Beatles meets 'In Utero'. Party / Sad / Party / Rad.
Again Again
No, I'm alright, honestly, I like it when you manage to coax your head out of thine arse and proceed to head-butt me, carry on, keep going, the repetition is exhilarating and besides, it's your problem not mine. Gameshow riffs, with the driving force of kraut-rock. I think Andrew WK needs to be in the video for this song, drinking beer with The Bronx and huffing laughing gas with Bo Ningen out of Jeremy Corbyn shaped balloons.
Fake Prison
A melting pot of insecurities won't get in our way. Scared of the future, well we don't need ya, fucking get on with it. The older I get the more I realise everyone else is the one who's fucked up and not me, I'm just fine. There's synth at the start but don't let that fool you, the majority of this track is my live rig mic'd up with some overdubbed, overdriven organ. An angry Depeche Mode trying to play Death From Above, it's a favourite of mine both lyrically and musically. We got our mate Rob from Wet Nuns and Drenge fame to play the keys on the chorus too.
I'll Bury You
There's a lot of Death on this album. I like the whammy guitar solo here. I wanted this to sound like Ty Segall meets some QOTSA slow jam with fairground nightmares for the verses. Have you ever had sleep paralysis? It's fucking horrific. But when you get it all the time you can learn to play with that demon thing crushing your chest, you still feel like you're going to die though. I should quote some Tom Waits here; "The Earth died screaming, while I lay dreaming".
Failure
We worked with a guy called Ross Orton on this record, in his king of Sheffield, Henderson's Relish sponsored studio. He's 44 years old, has a handlebar moustache, lovely long hair, drives a VW Corrado, played drums for the 90's band Olive and Jarvis Cocker, produced some Arctic Monkeys songs and we say lots of nasty things to each other on a regular basis, which in northern terms means we're getting married next month. This to me sounds like a heavier 'Humbug'-era Arctic Monkeys… but when making this record we both started off with American crooner / evil villain accents clad in Alan Partridge chic and ended up reyt (right) knife and fork shire.
It Bites
There's no embracing heartburn, after a while you can't even breathe it out and your mouth tastes like pennies. Calm down, lay off the sauce and have a glass of chalk. Why do all your worries and all the cringe worthy memories hit you whilst you're trying to do exactly the opposite… clear your head. I dunno, but it sure sounds like the mid noughties prog, disco, punk band Test Icicles meets noise rock slayers Lightning Bolt. We always said we'd never do a disco beat - when I say we, I mean an idiot once said. Fuck that, we do what we like now… with a wig on. Kidding, the hair is real.
Oh No
English Weezer, big dumb fun riff, Weezer, riff, key change to reach ultimate singer-songwriter levels of smugness, riff, scuzz, paradox, pow!!!! This is just a straight up strummy for dummies song with a sad/rad party riff for a chorus. We wanted to make something as stripped down and direct as possible here and we just let it happen, it's all very well being technical but save it for the bedroom musicians, sometimes it's smarter to cut the crap. Not that we sit down and go "lets write a pop song", just try not to musically masturbate all the time, or at least on this record we did.
Six Wires
All right now… This is a juxtaposition of a tune, we wanted to do the opposite of what we normally do and make all the verses heavy and lean off a little on the chorus, let the melody do the work a bit. Picture a red-blooded alpha male, riding around in his Sierra Cosworth with his subs blaring, cracked fingers and callused hands, he then pulls into a kitten sanctuary and feeds everyone including the staff unicorn milk and Kendal mint cakes. That kinda thing. It's about addiction and hobbies gone wrong, a life balance. Sometimes you need to accept that that passion for your interests has gone too far when they start to impact in a negative way on those you love and their lives. I'm a firm believer that with hard work you can do what you want in life and that's all fine and dandy until you turn into a selfish cunt, then you've fucked up.
Dead To Me
Those bell ends were right wazzocks weren't they, shaft them with ten thousand rusty knives laced with second hand toilet bleach. I think to hate someone so much is obviously an incredible waste of time and you're shortening your life in doing so, you'll wake up in the night with bald patches, asphyxiated by your own dreadlocks. Sometimes when people hate someone so much it means they must have loved them in an equal and opposite amount beforehand, so ditch that shit, you're going to bump into them whilst buying bog roll or a foot long packet of Jaffa Cakes probably and you're not going to kill them because disposing of a body is too much hassle for one bath tub and that free junior hack saw that came with the Radio Times. Proper Indie fuzz-core here, Frank Carter meets the Dandy Warhols.
Violence
Violence is fun, violence is weak, our scrapping days are over now we're grown-ups with responsibilities. A channelled aggression however is very medicinal, I think it's a fact that the heavier the band, the more chilled out they are. Having a throat bleed and seeing spots from pushing yourself so hard means it's quite difficult to be cross with anyone or anything afterwards. Yes, I'm fully aware of the double negative in the chorus, it was intentional. In my other line of work (a supply teacher) children often come up and say "ar day do nuffin sir", "well what did you do then, Champaign Paris the third?" This is probably my favourite and most lyrically political of all the songs on the album. If Tom Waits played in a hardcore band and had a penchant for sub fuzz.
Let's Speak
When writing this album, we quite naturally seemed to be penning some very concise songs which structurally hadn't been the norm for us in recent years, however upon finishing this particular song we thought of it as some prog epic, even Sleep like proportions…No!!! I looked at the clock and it was still only around the four-minute mark. You get a big fat drop, a Kyuss style riff, a James Bond drop down and a chorus that Elbow could have made millions in insurance adverts off. Is chicken string a thing? The kitchen cupboard in my childhood home, there was this big reel of wire with green plastic covering its length, I'm sure it's called chicken wire, but we called it chicken string. Never did see it get used for anything.
Easily Misbled
If you analyse these lyrics enough, you could probably find out where I live, or at least get to the (please clean up the dog shit, you're on CCTV with a flat pint of Carling) pole the council put outside my house that some kid scribbled "if you want sex call 012345678910" on. You can say Neutral Milk Hotel through Fruit Bats delivery. An acoustic number, fuzz… erm… OUT!
Read More
Featuring James Blake, Romy, Marika Hackman, yeule and more.