Sports Team, Drahla & more join line-up for ESNS 2019
Whenyoung, FEET and Black Midi have also been added to the Dutch festival's line-up.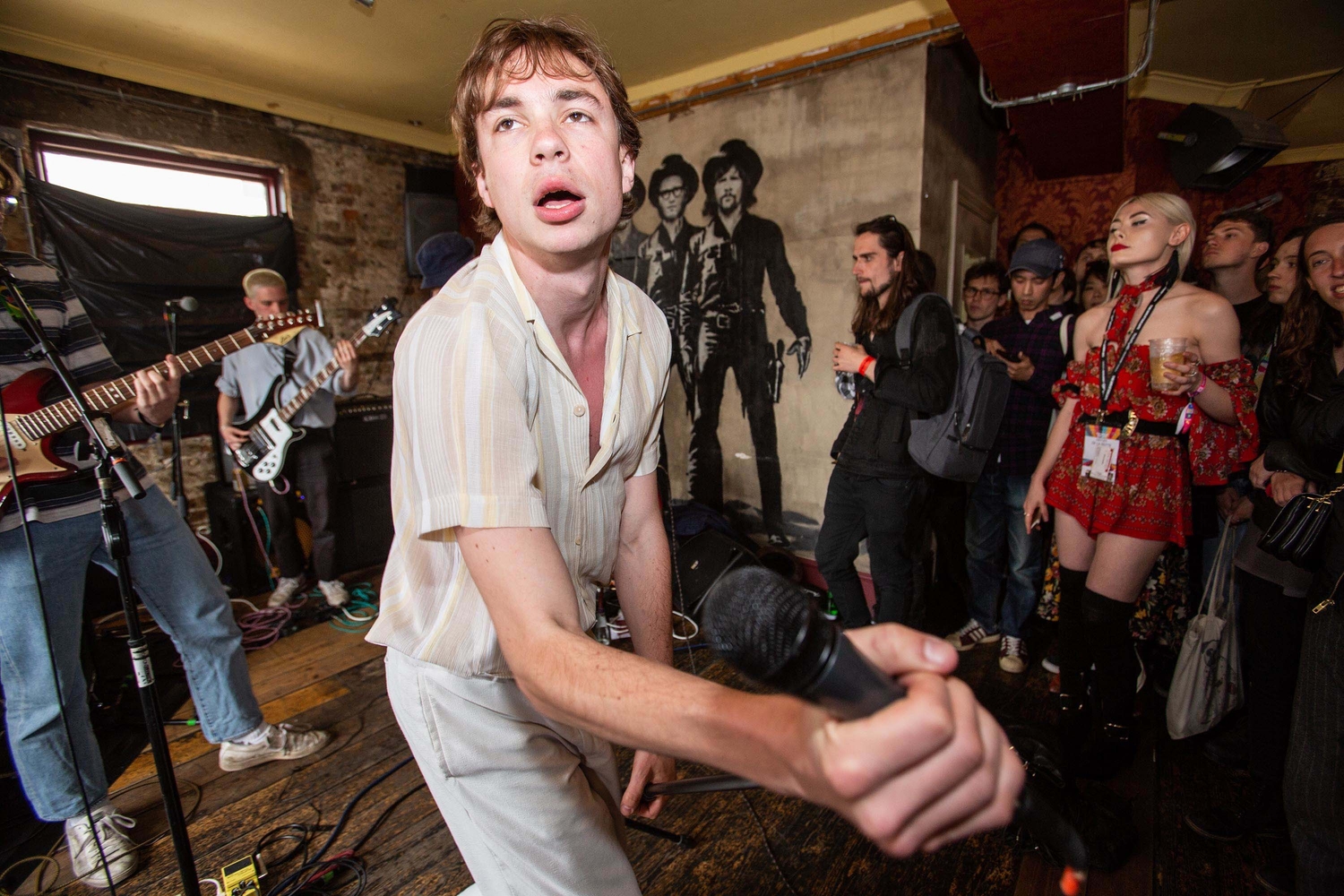 Photo: Emma Swann
Sports Team, Drahla, Black Midi and FEET are some of the latest acts to be added to the line-up of next year's Eurosonic Noorderslag.
Whenyoung, Flohio, Petrol Girls and The Blinders have also been confirmed to appear at the 2019 new music fest, in the latest round of additions.
The full list of new additions to the fest's line-up is as follows.
Adam Naas (fr), Alien Tango (es), Amanda Tenfjord (no), Annabel Allum (gb), Apey (hu), Apre (gb), Arp Frique & Family (nl), At Pavillon (at), Autumnist (sk), B-complex (sk), Babe Sila (hu), Balcony (gb), Becky And The Birds (se), Belako (es), Black Futures (gb), Black Midi (gb), Blanco White (gb), Blind Channel (fi), Blu Samu (be), Blue Lab Beats (gb), Bohemian Cristal Instrument (cz), Borokov Borokov (be), Circus Brothers (cz), Cyril Cyril (ch), Danitsa (ch), Delgres (fr), Deluge (fr), Diron Animal (pt), Drahla (gb), Dvtch Norris (be), Emma-jean Thackray's Walrus (gb), Erki Pärnoja: Efterglow (ee), Eut (nl), Farveblind (dk), Federico Albanese (it), Feet (gb), Fieh (no), Floex & Tom Hodge (cz), Flohio (gb), Flynn (ie), Free Love (gb), Gerry Cinnamon (gb), Gold (nl), GRANT (se), Hildur (is), Hugo Barriol (fr), Ilgen-nur (de), Implore (de), Indianizer (it), Ivan Dorn (ua), Jimi Somewhere (no), Juniore (fr), K-phax (dk), Kælan Mikla (is), Kara Marni (gb), Katarína Máliková & Ensemble (sk), Kelvyn Colt (de), Kiddy Smile LIVE (fr), Kojaque (ie), Komfortrauschen (de), L'Impératrice (fr), Lass (pl), Laura Perrudin (fr), Lazer Viking (cz), Lenny (cz), Lisa Morgenstern (de), Long Tall Jefferson (ch), Lonker See (pl), Louise Lemón (se), Machweo (it), Mambe & Danochilango (dk), Manon Meurt (cz), MDC III (be), Möbius (sk), Molly (at), Moncrieff (ie), Mydy Rabycad (cz), Nico Casal (es), Niklas Paschburg (de), Nvmeri (sk), O Gajo (pt), Ondt Blod (no), Our Stories (sk), Pavvla (es), Penelope Isles (gb), Petrol Girls (at), Pillow Queens (ie), Pip Blom (nl), Pipes And Pints (cz), Pitou (nl), Plàsi (se), Portland (be), Powersolo (dk), Radiant Children (gb), Rendez Vous (fr), Rews (ie), RuthAnne (ie), Sasha Boole (ua), Scúru Fitchádu (pt), Sibiir (no), Sports Team (gb), The Blinders (gb), The Canyon Observer (si), The Entrepreneurs (dk), The Grand East (nl), The Ills (sk), The Mauskovic Dance Band (nl), The Murder Capital (ie), The Pier (it), The Psychotic Monks (fr), Thisnis (sk), Thom Artway (cz), Tittingur (sk), Tomat Petrella (it), Tversky (es), Villejuif Underground (fr), Wannes Cappelle, broeder Dieleman en Frans Grapperhaus (be/nl), Whenyoung (ie), Whispering Sons (be), Wild Youth (ie), Yegor Zabelov (by), Zabelov Group (cz) and Кукла (si)
They join the likes of Octavian, Boy Azooga, Fontaines DC, Nova Twins and Gurr, who are all set to play the January fest.
The annual event takes place across the Dutch city of Groningen, next year between 16th and 19th January.
For more information on ESNS, head to esns.nl. Read up on last year's event here.
Read More
Featuring King Gizzard & The Lizard Wizard, IDLES, Tkay Maidza, Sleater-Kinney and more.