DITZ share 'Total 90' video, announce 2020 UK headline tour
The fantastic visuals from the Brighton group highlight discrimination and inequality within football.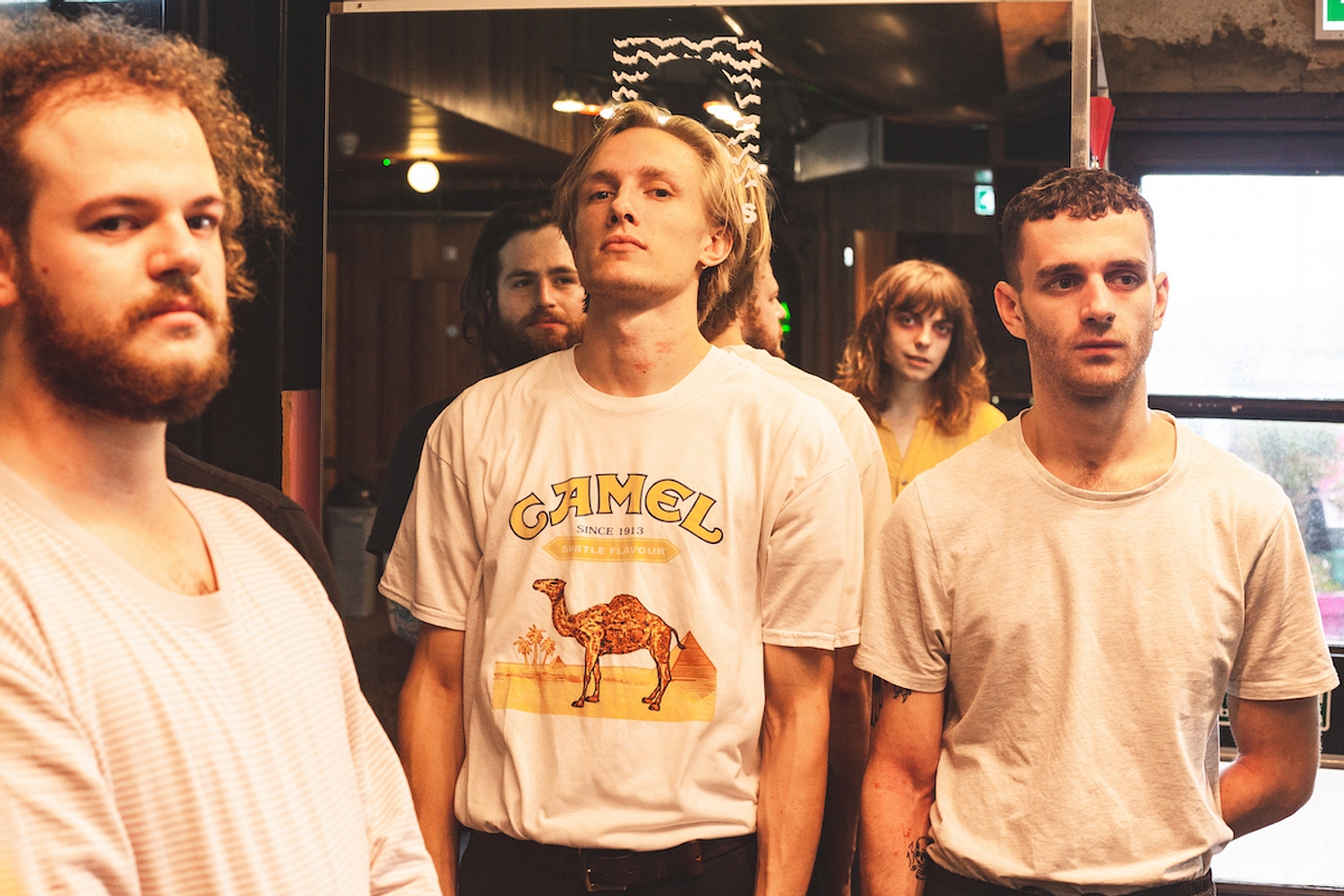 Rising Brighton quintet DITZ have shared the vid for new track 'Total 90' that "touches on the general public's reaction to LGBTQ+ individuals on a day to day basis, both positive and negative."
Recorded at The Dripping Pan, Lewes F.C.'s official ground, the vid sees the band wearing Altrincham F.C.'s Football vs Homophobia rainbow coloured kit and facing off against a team consisting of members of FUR and Slaves.
Talking about the important message behind the visuals, the group say: "Most people find it natural and easy to get involved in sports, but it's unlikely that many of us would, if we had to cope with anxiety due to a chance we'd have homophobic slurs directed at us, or something whispered out of ear shot. This happens to be the case for 84% of gay men and 82% of gay women.
"In one study we read, they found that in a predominantly heterosexual group of participants, more than 1/3 were found to use homophobic 'banter' in a sports setting. The problem is that when asked about it, the group passed it off as 'being a part of the sport'. The greater irony is that those same players reported that they wouldn't have a problem playing sports with someone who was a member of the LGBTQ+ community.
"It's terrible to consider that, in male association football, just a staggering 8 players have felt able to openly came out since Justin Fashanu in 1990.
"All of this shocked us, pissed us off, confused and bemused us, so along with some of our mates from the UK music scene, we decided to get involved and have a go at doing something about it with this video. It's a wry jab at the toxic masculinity, over the top gender norms, and all round idiocy that not only LGBTQ+ players, but also LGBTQ+ sports enthusiasts have to endure."
Watch the vid below:
See DITZ live at the following dates:
FEBRUARY
14 – Leicester The Soundhouse
15 – Sheffield Record Junkee
16 – Birmingham Hare and Hounds
17 – Manchester Yes
18 – Glasgow Broadcast
19 – Leeds Mabgate Bleach
20 – London Lexington
21 – Brighton Prince Albert
22 – Bristol Old England
Tickets on sale 12pm GMT, Thursday 28th November 2019
#AD
Records, etc at
Read More
Featuring King Gizzard & The Lizard Wizard, IDLES, Tkay Maidza, Sleater-Kinney and more.