Album Review
Rico Nasty - Nightmare Vacation
4-5 Stars
It will chew you up and spit you out, and you'll love every minute of it.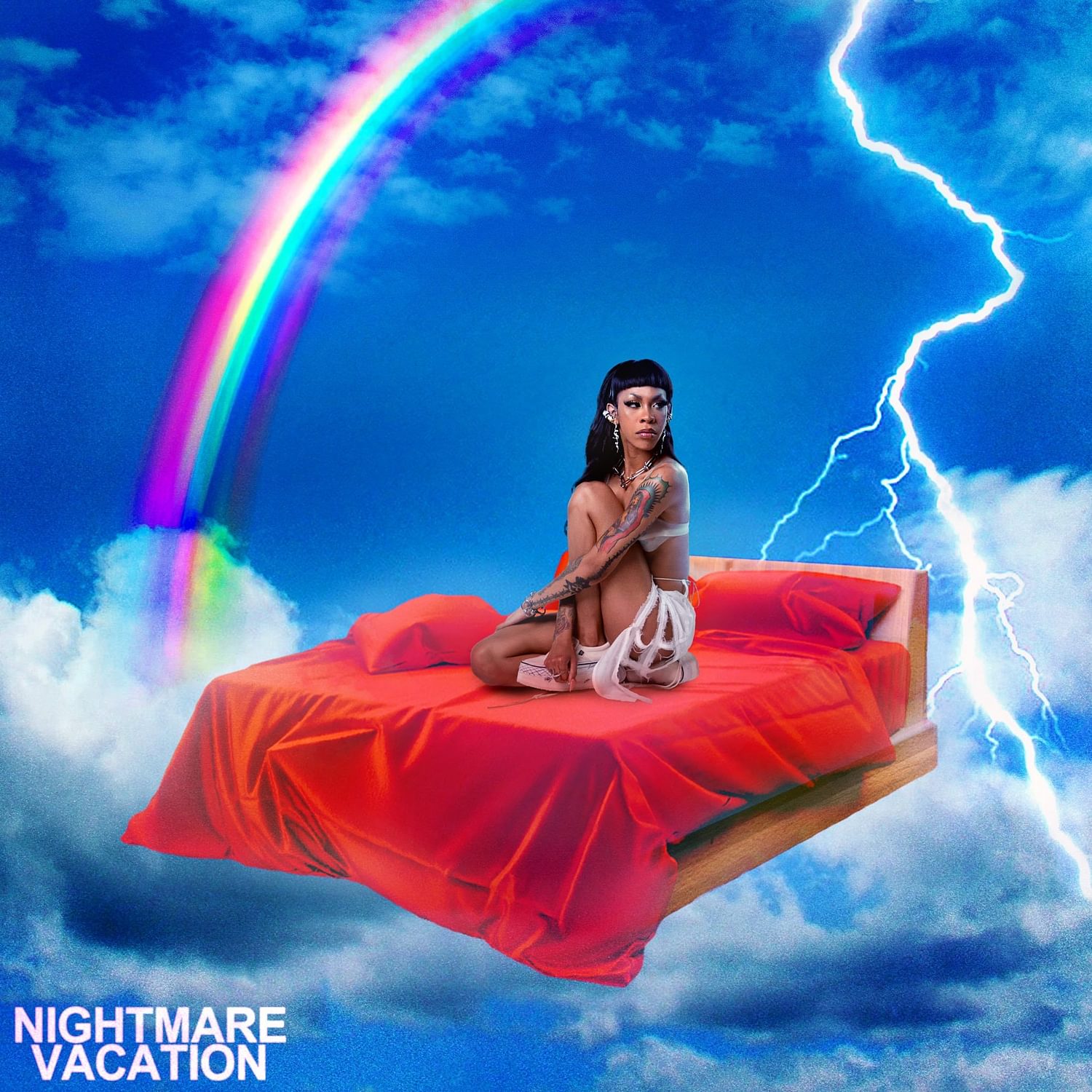 In a year that has seen female artists forging boundary-breaking new musical paths all over the place, fewer artists have shown themselves to be as much of a rip-roaring force as Rico Nasty. Having made a name for herself with a series of fiery mixtapes over the last few years, her self-coined "sugar trap" musical style, no-holds-barred lyricism, and balls-to-the-wall attitude has seen her pushing the boundaries of what a female rapper has been seen as, and now she's unleashing 'Nightmare Vacation' to solidify just why she's at the forefront of the new scene.
A snarling debut that'll leave you shaking, 'Nightmare Vacation' hits hard at every twist and turn. Darting from punk, to rap, to hip hop, to pop, to R&B and back again, her debut fizzes with the electricity of an artist doing exactly what the fuck she wants and thriving in the chaos. Best summed up in her own words on spiky opener 'Candy', she spits "On a dark and stormy night, I don't blend in, bitch, I shine bright," and shining is what she does throughout the record.
Teaming up with several established contemporaries, Rico flourishes when going toe-to-toe with her peers. Feature highlights come in the form of the '00s-leaning 'Losers', featuring Trippie Redd, which calls back to teen-flick classic Mean Girls with the lyrics "We're going shopping loser get in" and the Aminé-featuring 'Back & Fourth' which sees the duo's vocals effortlessly flowing together. But its the hard-as-fuck remix of 2018 single 'Smack A Bitch' that stands out, with Rico teaming up with fellow female rappers ppcocaine, Sukihana and Rubi Rose for a snarling reworking that will rile up even the most chilled-out listener.
However, flying solo is where Rico clearly excels, and across the 15-track album, she lets rip. 'Let It Out' is a biting punk-tinged thrasher, while 'OHFR?', one of the many bangers where 100 gecs' Dylan Brady hops on production duties, sees Rico tearing into her haters as she growls "fuck how you feel" in her signature brash vocals. 'Pussy Poppin' sees her refreshing her sugar-trap style as she spits fire about getting it on in a saccharine tone over the bass-heavy beat. 'Check Me Out' oozes confidence as she growls over dark-tinged piano chords, while 'No Debate' sees a slightly more reserved Rico flexing her musical muscles over an infectiously dance-a-long ready beat. Jumping between her kaleidoscopic influences, Rico's determined flow remains the driving force throughout every track, effortlessly guiding the differing beats with her cutting lyrical delivery, and proving why she's considered one of the best in the biz.
Biting and abrasive in the best kind of ways, 'Nightmare Vacation' finds an artist stepping up into the hype that's been surrounding her for years, and delivering on it tenfold. It will chew you up and spit you out, and you'll love every minute of it.